Horimiya: Season 2/ Episode 9 "Teacher" – Recap/ Review (with Spoilers)
---
Community Rating: 0.00% (0) - No Community Ratings Submitted (Add Yours Below)
---
This post may contain affiliate links and spoilers. Please read our disclosure policy.
---
General Information
This section Includes information about the Director, Writer, and Cast.
Release Date (Crunchyroll)
August 26, 2023
Director(s)
Jun Takahashi
Writer(s)
Sawako Hirabayashi
Newly Noted Characters and Cast
Nakamine
To Be Determined
Terajima
Satou Hana
Previously Noted Characters and Cast
Toru
Seiichirō Yamashita
Yasuda
Tsuda Kenjirou
Sengoku
Nobuhiko Okamoto
Hori
Haruka Tomatsu
Plot Recap
This content contains pertinent spoilers. Also, images and text in this post may contain affiliate links. If a purchase is made from those sites, we may earn money or products from the company.
When Will It Be My Turn? – Yasuda, Nakamine, Yoshikawa, Toru
Yasuda, as perverted as ever, gets jealous of the physics teacher, Nakamine, when Yoshikawa pulls him aside to fix a hole in his jacket. He watches from the window, with Toru, jealous of the interaction.
I Can't Tolerate Your Behavior Anymore – Yasuda, Terajima, Hori, Sengoku
It isn't clear why Yasuda is the way he is. Could it be because he is single? Maybe because he is lonely? It's hard to say. The only thing that is clear is that Terajima is getting tired of him saying inappropriate things to students. Which isn't to imply any student takes him seriously, but with talking about doing a strip search of Hori and Sengoku, with him focused on Hori's lower half, Terajima sets Yasude straight.
Note: It only lasts a day, the radical change, but it shows maybe there is hope.
New Character Description(s)
Nakamine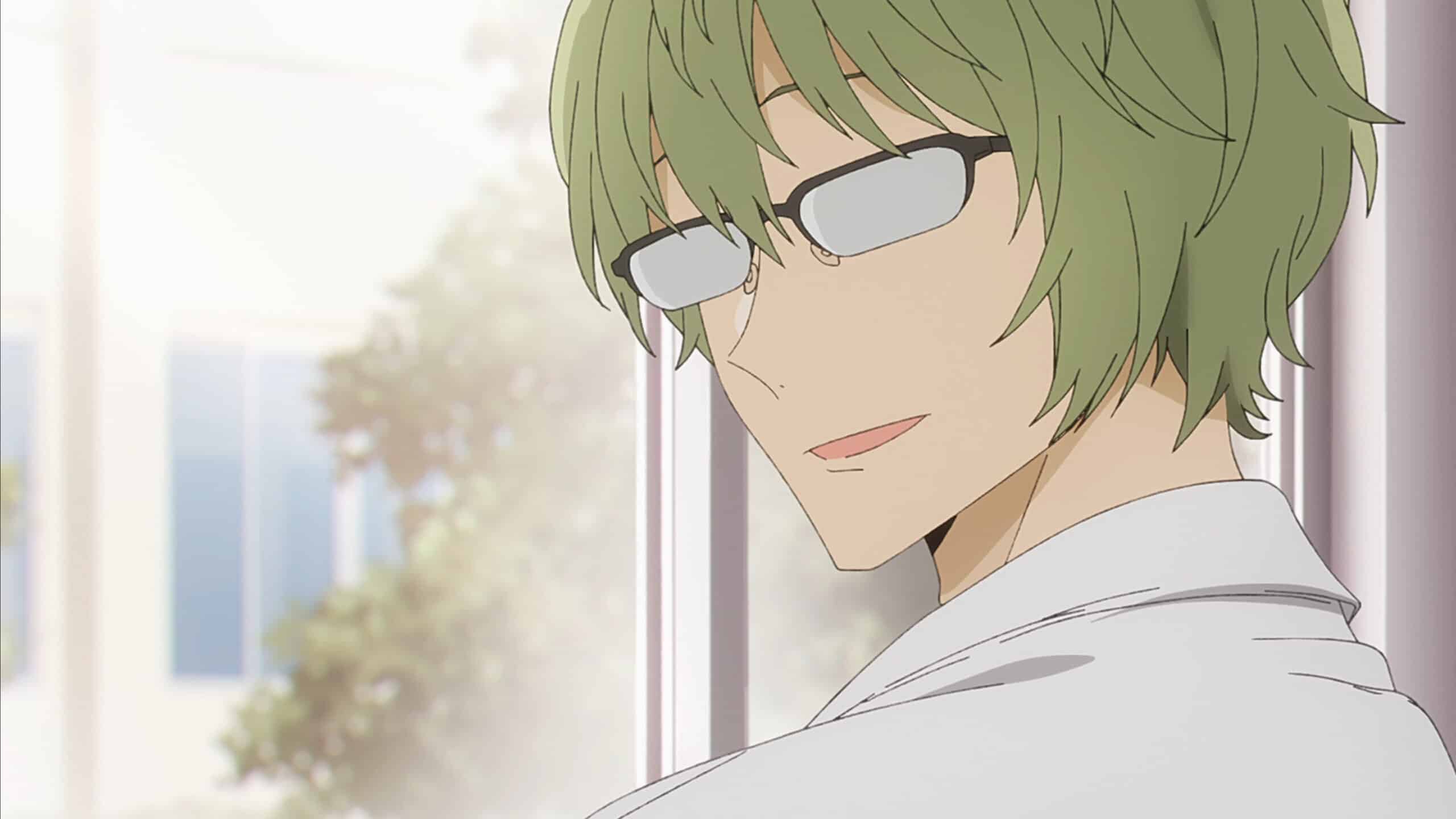 Imagine Yanagi, into physics, but still as much of a mess as he was as a teenager and a dash more nerdy.
Terajima
Think of Terajima as Hori if she ever became a teacher for she can cut with her words, is often portrayed as serious, but has a potential soft side.
Review
On The Fence
So We Got To Know The Pervert
A part of me wants to find Yasuda comical, but he is so perverted, and while everyone laughs it off or doesn't take him seriously, it still gives me pause. However, while not mentioned above, I appreciate that he seems lenient when it matters, and even if inappropriate, the kids seem to like him and enjoy talking to him.
It makes me wish we could have gotten to know what led to him becoming a teacher vs. the type of teacher he is but how this season wants to tell a story is drastically different from how the first season did. More often for worse than better.
Episode Directory
Horimiya: Season 2/ Episode 9 "Teacher" – Overview
Summary
Like most of the season, especially the last few episodes, "Horimiya" delivers something that feels very forgettable and definitely more in line with being a push to read the manga than continue to be a fan of the anime.
So We Got To Know The Pervert -

74%
Disputable
So We Got To Know The Pervert