Dear White People: Season 2/ Episode 9 "Chapter 9" – Recap/ Review (with Spoilers)
Sam heads to her dad's funeral, with Joelle and surprisingly Coco, and comes to terms with, not just her guilt, but also a renewed love for her father. Network Netflix Director(s) Janicza Bravo Writer(s) Nastaran Dibai, Yvette Lee Bowser Air Date 5/4/2018 Actors Introduced Tina Wendy Raquel Robinson William Robert Curtis Brown Guess Who Is…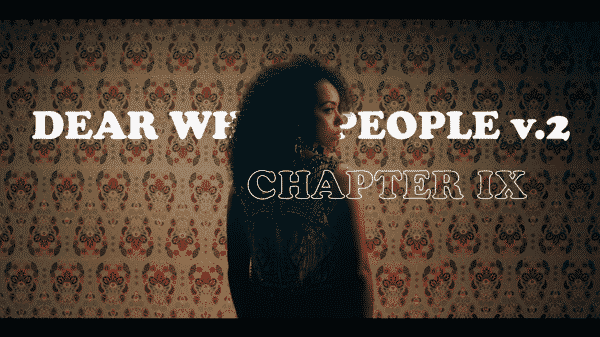 Sam heads to her dad's funeral, with Joelle and surprisingly Coco, and comes to terms with, not just her guilt, but also a renewed love for her father.
---
Network
Netflix
Director(s)
Janicza Bravo
Writer(s)
Nastaran Dibai, Yvette Lee Bowser
Air Date
5/4/2018
Actors Introduced
Tina
Wendy Raquel Robinson
William
Robert Curtis Brown
Guess Who Is Coming To The Funeral: Sam, Coco, Joelle
With her dad's passing, and her quite distraught, it seems only natural Joelle would come with Sam and drive. However, Coco barging into the rental comes off as a bit of a surprise. Mostly since we barely see Coco and Sam talk but learning Coco remained in touch with Sam's family is a little bit strange. Especially considering how close she and Sam's mom, Tina, appear to be.
But, while most only get the more ice queen side of Coco, similar to how Brooke tried to be nicer to Lionel during their time together, Coco goes from being quite shady to saying what needs to be said. Even surprising Joelle with, not just how kind she could be, but how she and Coco could get along. For, you know, with them both being Kellys in a world in love, to the point of blind fervor, with Beyoncé, there is a bit of comradery. Plus, Coco got some type of skin cream that Joelle wants and needs in her life.
Commentary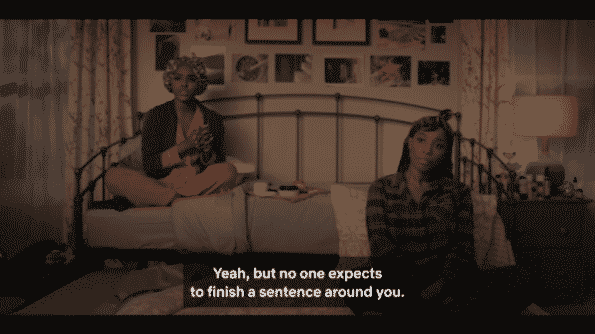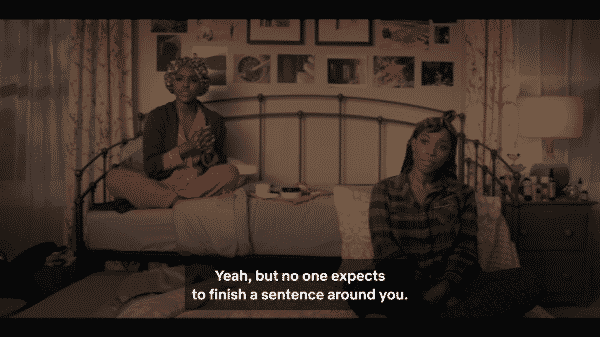 Low-key, or maybe mid, Coco really stole the initial thunder away from Sam in the beginning of the episode. Between her being a hot mess bogarting her way into the car, her "trashy" pop music, and the way she was talking to Sam, just disregarding she is going through something because Coco believes in challenging Sam, she was something else. Yet, she had many points. Like Joelle's issue being that she mostly co-signs.
However, perhaps the main way Coco showed why she is such an important character is because her layers aren't just about how much we know about her but also how her complexity goes beyond Blackness. How, in a way, you can see the Troy in her of being ready for any audience, yet her being far more evolved for she brings herself, to varying degrees, rather than who people want her to be.
Even if she is amongst people mourning over the recently deceased.
He Never Wanted You To See Him At His Worse: Sam
Thanks to a trash white cousin, Sam learns that her dad, William, was much sicker than he appeared. Also, she seems like she's high-key is jealous and envious of Sam, but we're going to let that slide since she doesn't have more than one scene. But, with it becoming clear to Sam people were keeping things about her dad from her, it leads to some confrontation.
Well, specifically a back and forth with Tina over William's health. Of which, plainly speaking, it seems she didn't want to put any negative ideas out there so she stuck with topics like her new dishwasher. Which upsets Sam because now, on top of feeling guilty about her last conversation with her dad being what it was, now she feels her mom took her final goodbye from her.
And being that Sam is getting just a little too into herself, her mom gets her together and reminds her that William wasn't just her dad but also her husband. Perhaps one of the few people who ever understood her or at least put in serious effort. Not to forget, be it because he was white or other reasons, it seems a lot of her family disowned her for quite some time after they got together. So as much as Sam is going through stuff and Tina looks like she is just a happy hostess, there is an added weight on the cross she is carrying too.
Commentary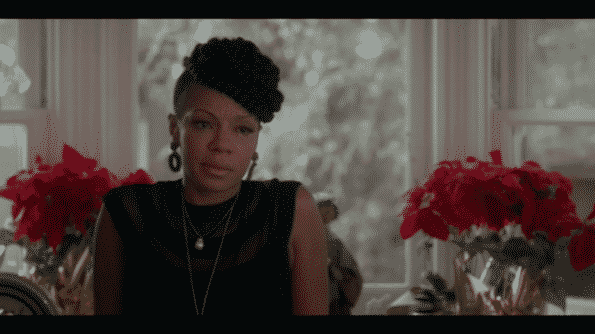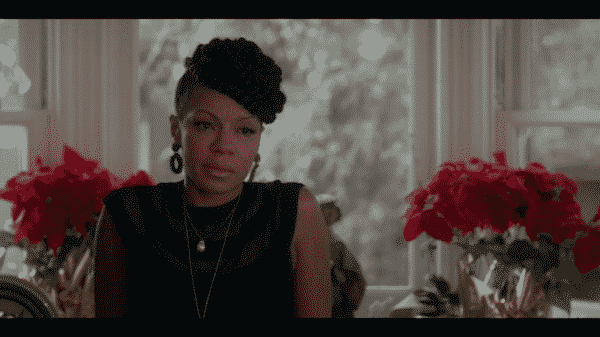 It's kind of weird, and a bit uncomfortable to be honest, how far they are pushing the idea Sam is a narcissist. Especially in regards to her mourning. But, in a way, it's hard to be someone who is about everyone's feelings when yours are becoming stifling and, as William notes about Sam, she is passionate to sometimes her own detriment. So her being consumed by her feelings isn't necessarily selfishness, all the time, but her perhaps struggling under the weight of her own drive.
Which in the case of her father's death, isn't just processing he is gone but also what she didn't get to do before that happened. As well as what kind of daughter she was or wasn't, the guilt over not correcting people when confused why is this man with this child, and things of that nature.
Back To Life, Back To Reality: Sam, Lionel, Coco, Troy
As the funeral concludes, and Sam finds some interesting reading material, including on secret societies, like what Lionel is looking into she gets hit with more bad news. Because Troy was off discovering himself in the vaginal canals of many a white girl, he didn't make sure CORE got their annual funding. Which, of course, he wants to push off on Coco but she shuts that down quick. And all of this means Carson may not be coming to Winchester while his counterpart Rikki still is.
Commentary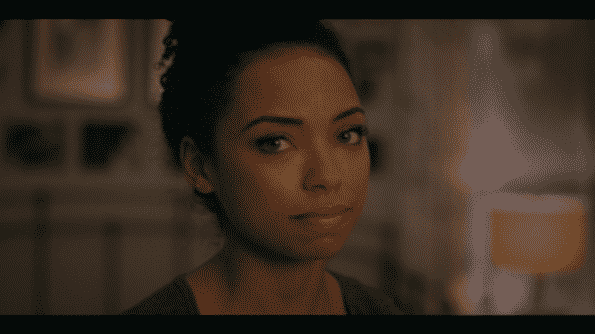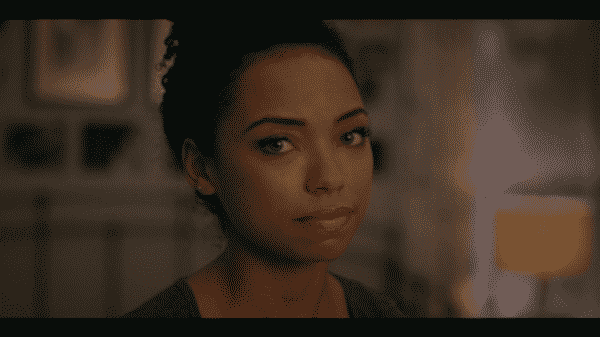 After a rather emotional episode, including Sam's reading of her father's last letter, I truly believe Netflix needs to push Logan Browning the way Katherine Langford was last year. For even if this isn't one of their biggest shows, awards season has a history of shows with hardly any viewers, some cancelled before the broadcast, being nominated. And really, as much as Sam can be annoying as hell, you cannot deny Browning and the writers have made it that just as much as this girl may make you roll your eyes she can tug at your heartstrings. A reaction very few characters can do since they play stoic roles on their programs.
Other Noteworthy Facts & Moments
It's late November, early December.
Collected Quote(s) & .Gifs
If it all seems very confusing to you, you're probably just seeing it clearly.
Highlights
Logan Browning's performance.
Antoinette Robertson's comedic performance.
Follow Wherever I Look on Twitter or Like us on Facebook.
---
Previous Episode's Recap
[visual-link-preview encoded="eyJ0eXBlIjoiaW50ZXJuYWwiLCJwb3N0IjoyMDU5OCwicG9zdF9sYWJlbCI6IlBvc3QgMjA1OTggLSBEZWFyIFdoaXRlIFBlb3BsZTogU2Vhc29uIDIvIEVwaXNvZGUgOCBcIkNoYXB0ZXIgVklJSVwiIC0gUmVjYXAvIFJldmlldyAod2l0aCBTcG9pbGVycykiLCJ1cmwiOiIiLCJpbWFnZV9pZCI6MjA2MDIsImltYWdlX3VybCI6Imh0dHBzOi8vd2hlcmV2ZXItaS1sb29rLmNvbS93cC1jb250ZW50L3VwbG9hZHMvMjAxOC8wNS9EZWFyLVdoaXRlLVBlb3BsZS1TZWFzb24tMi1FcGlzb2RlLTgtQ2hhcHRlci1WSUlJLVRpdGxlLUNhcmQucG5nIiwidGl0bGUiOiJEZWFyIFdoaXRlIFBlb3BsZTogU2Vhc29uIDIvIEVwaXNvZGUgOCBcIkNoYXB0ZXIgVklJSVwiIC0gUmVjYXAvIFJldmlldyAod2l0aCBTcG9pbGVycykiLCJzdW1tYXJ5IjoiR2FiZSBhbmQgU2FtIGhhdmUgYSByZWFsIGNvbnZlcnNhdGlvbi4gT25lIHRoYXQgZnVsbHkgYWRkcmVzc2VzIFNhbSwgbmFyY2lzc2lzbSBhbmQgYWxsLCBhcyB3ZWxsIGFzIEdhYmUgYW5kIGhvdyB3aGl0ZSBhbGxpZXMsIG9yIHRob3NlIHdobyBhdHRlbXB0IHRvIGJlLCB3aWxsIGZvcmV2ZXIgYmUgZGVhbGluZyB3aXRoIHRoZSBsZWFybmluZyBwcm9jZXNzLiIsInRlbXBsYXRlIjoiZGVmYXVsdCJ9″]
---
Follow, Like, and Subscribe
Community Rating: 0.00% (0) - No Community Ratings Submitted (Add Yours Below)