Lionel comes into focus as does his life after exposing the Hancocks. But, what really matters is a potential love interest you could get behind.
---
Network
Netflix
Director(s)
Charlie McDowell
Writer(s)
Justin Simien
Air Date
5/4/2018
Actors Introduced
Wesley
Rudy Martinez
Leo
Kid Fury
?
Todrick Hall
Finding Your Community: Silvio, Lionel, Troy, Sam
With Lionel realizing he is gay and Black, so comes the question of where to find the community, perhaps sub-community, which he can be comfortable in? He is cool with Troy but can't really tap into his scene. He is also cool with Silvio, but their relationship is confusing and Silvio's various circles aren't the most inviting. Especially since they are mostly white faux-liberals who, when made uncomfortable by their privilege, they change or avoid a subject.
Then, in terms of Sam's friends, which include guest stars Kid Fury and Todrick Hall in the same scene, which I would love behind the scenes videos of, they're cool. However, being that Lionel isn't really up on Black culture much, never mind Black gay culture, he still feels a bit out of place. Especially as Hall and Fury's characters go at it – with Taylor Swift being one of the subjects.
Commentary
I hope with all my heart, Kid Fury and Todrick Hall didn't film just that one scene, to support the show, and be on it, and that's it. I need probably the two most prominent Black gay men in America to clash more, be catty against other people, and just be friends. Setting aside all else, except Wesley and Lionel meeting, that was the best part of this episode.
Dating As A Gay Man: Silvio, Lionel
Whites only, chubby chaser, a rice queen, no Blacks, for those in the community, or aware of the various things you'll find on a dating profile on Grindr, navigating dating while gay can be difficult. Especially for Lionel since it seems, unlike Silvio, he isn't in a ho phase. Lionel is the type who seems to more so desire relationships and that is something a bit difficult to find. Which is perhaps why Lionel hangs on Silvio despite him, as Troy says, being aloof and doing a bit of a power play.
However, then Lionel meets Wesley, who seems like the Latinx version of him, and it seems to be a match made in heaven. One which Silvio could get in the way of, but it seems Wesley has a bit of determination in him. So maybe Lionel may just get his first real boyfriend. Maybe even get some cheeks, as Troy says.
Commentary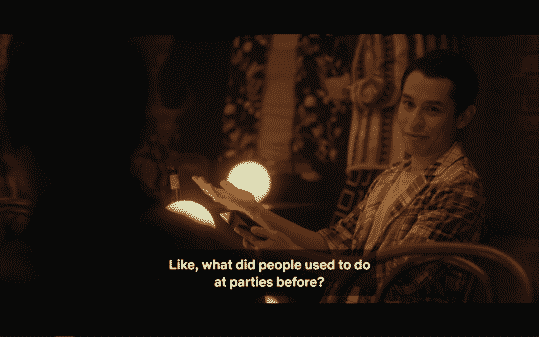 One of the plus and minuses of shows like this is that, on one hand, you have to love the large amount of diversity when it comes to the Black experience and Black people. However, the flip side is, you so badly wish they would hone in on just one aspect rather than provide you with buffet style entertainment. For who knows how much they may allow us to see Lionel and Wesley develop a friendship, perhaps a relationship, and maybe even feature Lionel's first time? Assumingly as a top.
It might just become something he does in the background, we see the two together, and that's it. Which is a bit frustrating but, sadly, we're in an era where diversity is valued at the cost of deep diving into a sub-culture's experience a lot of the time. For off the back of one, many climb to gain recognition and prominence.
Collected Quote(s) & .Gifs
I'm always weird. It's not really situation-dependent.
It's like the gay First Commandment. "Do unto others as has been done unto you."
Highlights
Todrick Hall and Kid Fury bickering.
Lionel finding the perfect guy for him.
Delving into the complications of dating while gay, especially if you are relationship oriented.
Showing how problematic the gay community is, as well as the Black community, despite knowing what it feels like to be oppressed, stereotyped, and etc.
Follow Wherever I Look on Twitter or Like us on Facebook.
Previous Episode's Recap
[visual-link-preview encoded="eyJ0eXBlIjoiaW50ZXJuYWwiLCJwb3N0IjoyMDUzOSwicG9zdF9sYWJlbCI6IlBvc3QgMjA1MzkgLSBEZWFyIFdoaXRlIFBlb3BsZTogU2Vhc29uIDIvIEVwaXNvZGUgMiBcIkNoYXB0ZXIgMlwiIC0gUmVjYXAvIFJldmlldyAod2l0aCBTcG9pbGVycykiLCJ1cmwiOiIiLCJpbWFnZV9pZCI6MjA1NDQsImltYWdlX3VybCI6Imh0dHBzOi8vd2hlcmV2ZXItaS1sb29rLmNvbS93cC1jb250ZW50L3VwbG9hZHMvMjAxOC8wNS9EZWFyLVdoaXRlLVBlb3BsZS1TZWFzb24tMi1FcGlzb2RlLTItQ2hhcHRlci0yLVJlZ2dpZS5wbmciLCJ0aXRsZSI6IkRlYXIgV2hpdGUgUGVvcGxlOiBTZWFzb24gMi8gRXBpc29kZSAyIFwiQ2hhcHRlciAyXCIgLSBSZWNhcC8gUmV2aWV3ICh3aXRoIFNwb2lsZXJzKSIsInN1bW1hcnkiOiJUaHJlZSB3ZWVrcyBhZnRlciBoYXZpbmcgYSBndW4gcG9pbnRlZCBhdCBoaW0sIFJlZ2dpZSBpcyBvbmx5IGdldHRpbmcgd29yc2UgYW5kIGl0IHNlZW1zIHBhcnR5aW5nLCBzZXgsIHRoZXJhcHksIGFuZCBhbGNvaG9sIGFyZW7igJl0IGRvaW5nIGEgZGFtbiB0aGluZy4iLCJ0ZW1wbGF0ZSI6ImRlZmF1bHQifQ=="]