Diablo comes around to hasten the investigation, Gao learns Lin's secret and the end of the boy's home and the rise of F*** Face is revealed to us.
---
Episode Information for Episode 7 'Rise Above'
Network
SyFy
Director(s)
Anthony Leonardi
Writer(s)
Dave Anthony

Hilliard Guess

Air Date
2/27/2019
Introduced This Episode
Nahia
Viva Lee
Scorpio Slasher
French Stewart
Diablo
David Zayas
Recap
You Can't Have It All: Master Gao, Master Lin, Nahia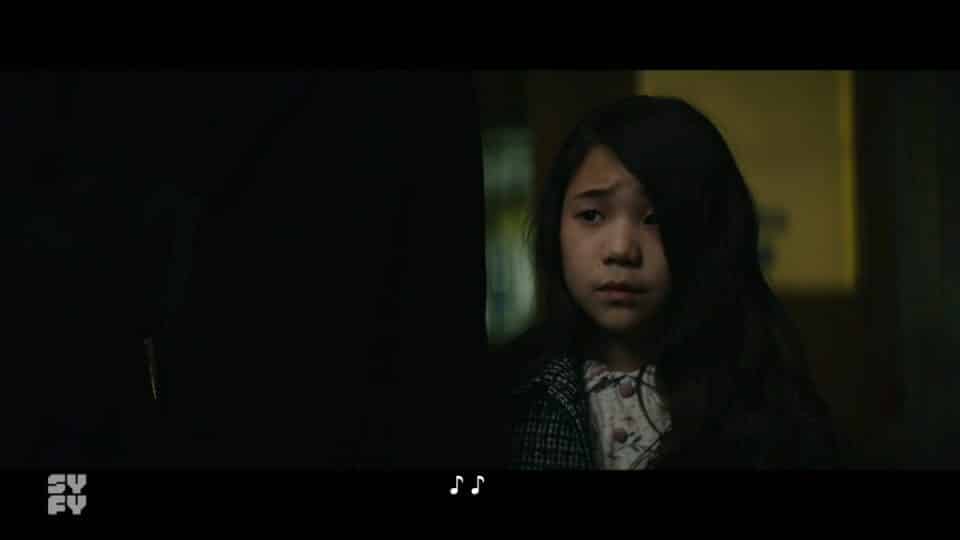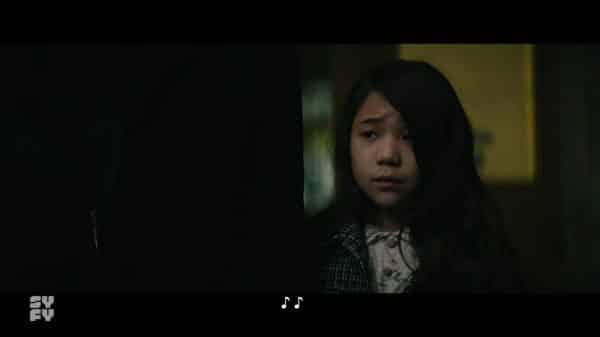 With Chico's death and the other things Master Gao has witnessed, she finds herself peering closer on her brother. This leads to her discovering Nahia is alive and her being forced to remind Master Lin of their family's obligation to The Guild. An entity which, considering how callous Master Gao has become, even when speaking of the death of her own son, helps you understand why Master Lin faked his family's death.
You Could Be Free: Gabrielle, Willie
Willie is only really able to be himself around a select few. Up until now, it seems his mom and Marcus may have been the only people, but now Gabrielle gets added to the list. However, at first, Gabrielle things Willie just wants some p***y. But with seeing he is being genuine, he receives some p***y and solidifies his relationship with Gabrielle. At least until he comes up with excuses for not leaving the First Order. His reasoning, especially after talking about his dad wanting to become a reggae singer but instead getting into gang life, disappoints her a bit. But not enough to break up with him.
You Owe Me: Marcus, Chester, Chico, Diablo, Maria
As you can imagine, Chester had a messed up childhood. We see that in his grandmother burning Shandy in the face with a cigarette. We also can see that due to Chester forming quite the bond with Chico's head. However, it's learning about his abusive father which really takes the cake. Making the boys home, even if it was a sweatshop, and some of the guards were molesting them, seem far better than he ever knew.
So imagine Marcus setting off a bomb which started the fire, killing guards, setting up the headmaster to die, and leaving Chester to die too but not finishing the job? Then, in a fit of rage, Chester kills everyone yet Marcus gets the credit? Wouldn't that make you mad? Especially if you felt like no one cared about you in your life and the idea of fame makes you feel tingly inside?
That's why Chester is coming after Marcus so hard and building up his profile as a psycho killer. He wants the fame that Marcus stole and then intends to eclipse him.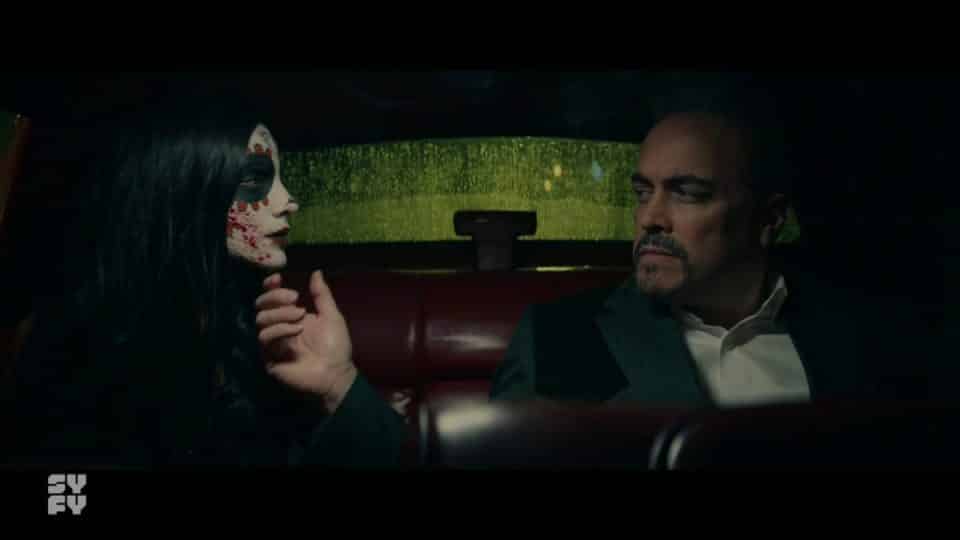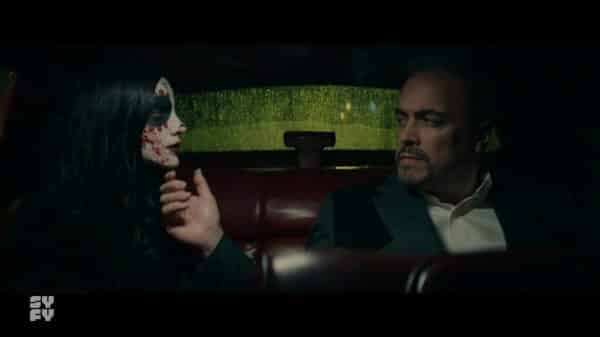 While the plan to find Chester and his shared past with Marcus is explained, Maria is trying to cover her behind. However, it is a bit difficult since Diablo is tired of waiting for answers. So, since Yukio is a suspect, he gets killed to save face.
Question(s) Left Unanswered
How many criminals are in the basement of King's Dominion?
Other Noteworthy Facts & Moments
Saya and Marcus spend a lot of time together this episode and push the idea that if she said something sooner, they could have been together.
The Scorpio Slasher joins Marcus' search for Chester, after being broken out to help, and likely escapes.
Review
Highlights
Willie & Gabrielle As a Couple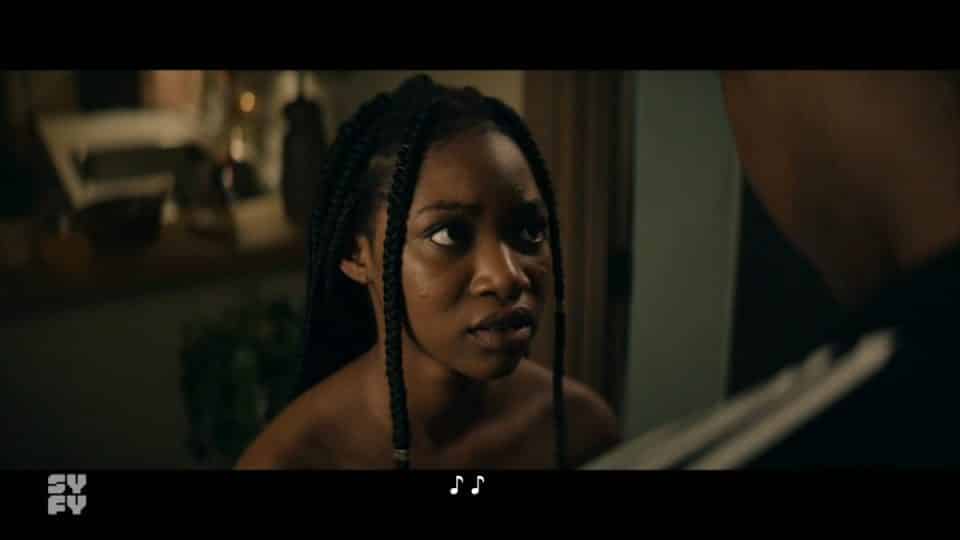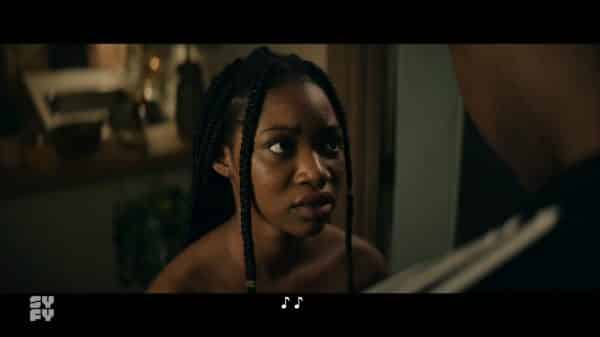 While Marcus has two strong relationships going on, neither compare to Willie and Gabrielle's. With them, there isn't a tragic romance or a love affair to make up for the love a family member can't or won't give. It is just two teenagers, young adults perhaps, in love. Willie, the pacifist, stuck in his lifestyle and Gabrielle who somehow broke free and wants to guide Willie to the freedom she found. It's a cute story which reminds me of some of the urban romances from the 90s.
On The Fence
Gao Discovers Nahia's Existence
Alongside fleshing out Marcus and Chester's history, the same happens for Gao and Lin. However, while traumatic to many, there was a sense of duty involved in their past. One Gao is so loyal too that she can speak about the death of her son callously. So what may come of Nahia with Gao's loyalty to The Guild is anyone's guess. Especially considering, though their relationship is strained, she still cares for her brother deeply.
Is That A Love Triangle On The Horizon?
Though friends, there is the possibility of a rivalry between Maria and Saya and who is to say Maria's instincts didn't pick up on this already? Plus, with the death of Chico, so comes a major obstacle in Marcus and Maria being together. One which hasn't stopped them yet but does create the issue of always looking over his shoulder. Much less, unlike Saya, Maria is fully ingrained into the cartel. She is almost like a daughter to Diablo, or a prized possession.
Meanwhile, though many want Saya dead, she is loosely affiliated and has some form of freedom. So if normalcy is a real goal, Marcus is more likely to find it with her.
The Scorpio Slasher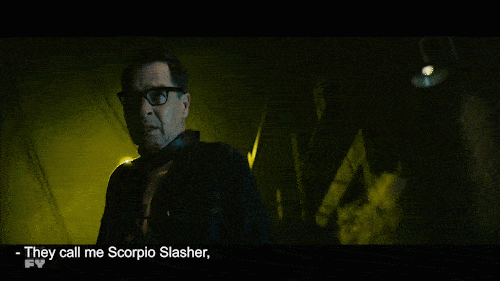 I'm all for returning characters and enjoyed him picking with Marcus, but I have to admit I was left wanting more. His Joker x Batman, "We're the same" spiel seemed as forced as his questions about Marcus' past or everyone picking on his. Making for the kind of awkwardness that I'm not entirely sure was intentional.
---
Follow Wherever I Look on Twitter, Like us on Facebook and Subscribe to the YouTube Channel.
---
---
Season/ Episode
Synopsis
Director, Writer, and Introduced Actors
Topics & Focused Characters
Season 1, Episode 9 "Kids of the Black Hole"

In the penultimate episode of 

Deadly Class season 1

, choices are made. The kind which kills one person, and there surely will be others.

Director(s)
Wayne Yip
Writer(s)
Rick Remender, Miles Orion Deldsott
Air Date
3/13/2019
Introduced This Episode
Shu
Theresa Wong

Preparations to Take Out F*** Face:

 

Petra, Billy, Lex, Saya, Chester
Your Lying, Cheating Heart:

 

Saya, Marcus, Maria
Loyalty Is Paid For In Blood:

 

Master Lin, Brandy, Viktor, Diablo, Shu, Nahia, Master Gao, Saya, Marcus, Chester

Season 1, Episode 10 "Sink With California"
Deadly Class

 comes to a bloody end with a few unexpected deaths and the family in disarray.

| | |
| --- | --- |
| Director(s) | Adam Kane |
| Writer(s) | Rick Remender |
| Air Date | 3/20/2019 |

A Crazy Little Thing Called Love:

 

Master Lin, Nahia, Billy, Petra, Lex, Saya, Maria, Chester, Marcus, Diablo
So Much For Family:

 

Saya, Maria, Master Lin, Nahia, Master Gao
And So It Ends:

 

Maria, Marcus, Diablo, Shandy, Chester, Lex

Season 1, Episode 8 "The Clampdown"

Chester seemingly won't be the only thing Marcus has to worry about. So, with trouble ahead, he tries to heal old wounds amongst his new family.

Director(s)
Ami Canaan Mann
Writer(s)
Rayna McClendon
Air Date
3/6/2019
Introduced This Episode
Juan
Juan Grey
Riku
Doralynn Mui

Trouble Brewing:

 

Shabnam, Master Gao, Master Lin, Brandy, Viktor, Maria, Saya, Juan, Marcus
Someone Is Going To Say Something:

 

Master Lin, Master Gao, Maria, Saya, Marcus, Riku
The Truth Will Set You Free & Bring Us Closer:

 

Master Lin, Marcus, Diablo, Maria, Saya

Season 1, Episode 7 "Rise Above"

Diablo comes around to hasten the investigation, Gao learns Lin's secret and the end of the boy's home and the rise of F*** Face is revealed to us.

Director(s)
Anthony Leonardi
Writer(s)
Dave Anthony

Hilliard Guess

Air Date
2/27/2019
Introduced This Episode
Nahia
Viva Lee
Scorpio Slasher
French Stewart
Diablo
David Zayas

You Can't Have It All:

 

Master Gao, Master Lin, Nahia

You Could Be Free:

 

Gabrielle, Willie
You Owe Me:

 

Marcus, Chester, Chico, Diablo, Maria


Season 1, Episode 5 "Saudade"

They say when drunk you speak the truth, but when high on acid, does that mean you instead see and hear the truth?

| | |
| --- | --- |
| Director(s) | Adam Kane |
| Writer(s) | Rick Remender |
| Air Date | 2/13/2019 |

Do Drugs Responsibly:

 

Marcus, Saya, Maria, Willie, Billy
Bye Bye Daddy:

 

Marcus, Billy, Master Lin, Chester
… What Just Happened?:

 

Chico, Maria, Saya, Marcus, Willie, Billy

Season 1, Episode 6 "Stigmata Martyr"

With Chico's death comes immense pressure on everyone, especially Maria. But, with being in the troughs of love, why worry about the dead?

Director(s)
Paco Cabezas
Writer(s)
Maggie Bandur, Alex Ebel
Air Date
2/20/2019
Introduced This Episode
Gabrielle
Kelcey Mawema
Gao
Olivia Cheng

Love Is In The Air:

 

Gabrielle, Willie, Marcus, Maria, Petra, Billy
Who Should Really Be Running King's Dominion?:

 

Master Lin, Gao, Brandy
The Life & Death of Maria & Chico:

 

Chico, Maria, Saya, Marcus, Chester

Season 1, Episode 4 "Mirror People"

Marcus steps up to be there for Saya and Billy, and these alliances will come of great use as Chester gets closer and closer to King's Dominion.

Director(s)
Alexis Ostrander
Writer(s)
Miles Orion Feldsott
Air Date
2/6/2019
Introduced This Episode
Yukio
Sam Jin Coates
Chester
Tom Stevens
Shandy
Brian Posehn

An Opportunity To Reconcile:

 

Marcus, Chico, Petra, Viktor, Saya, Master Lin

There In Your Time Of Need:

 

Master Lin, Saya, Marcus, Maria, Willie, Chico
We All Need Friends:

 

Chester, Sandy, Billy, Marcus


Season 1, Episode 3 "Snake Pit"

With a legacy dance on the horizon, hazing hits King's Dominion hard. However, it isn't as difficult as the decision Master Lin is forced to make.

Director(s)
Adam Kane
Writer(s)
Krystal Houghton Ziv, Kevin Rodriguez
Air Date
1/30/2019
Introduced This Episode
Viktor
Sean Depner
Brandy
Siobhan Williams

A Complicated Sisterhood:

 

Saya, Chico, Maria

The Princess & The Russian:

 

Petra, Brandy, Viktor, Marcus, Billy, Willie, Mr. Denke, Chico
It's Hard To Say Goodbye:

 

Mr. Denke, Master Lin

Season 1, Episode 1 "Pilot"
Deadly Class

 

contains it all. Diversity, violence, teen angst, and not a single character who feels like a waste of screen time.

Creator
Russo Brothers
Director(s)
Lee Toland Krieger
Writer(s)
Rick Remender, Miles Orion Feldsott
Air Date

OnDemand

1/16/2019

12/20/2018

Genre(s)
Action, Drama
Good If You Like
Teenagers Behaving Badly

Possible Love Triangles

Teen Drama That Includes Violence & Manipulation

Introduced This Episode
Marcus
Benjamin Wadsworth
Master Lin
Benedict Wong
Saya
Lana Condor
Maria
María Gabriela de Faría
Chico
Michel Duval
Billy
Liam James
Willie
Luke Tennie

Season 1, Episode 2 "Noise, Noise, Noise"

How Willie got his rep is revealed, why Saya is so focused on Marcus, and the show shifts its tone to remind us that there are friendships had in secret.

Director(s)
Adam Kane
Writer(s)
Rick Remender
Air Date
1/24/2019
Introduced This Episode
Lex
Jack Gillett
Petra
Taylor Hickson
Shabnam
Isaiah Lehtinen
Rory
Ryan Robbins
Mr. Denke
Henry Rollins

A Friendly Competition Between Girls:

 

Marcus, Chico, Saya, Maria

Even A Rat Needs Friends:

 

Marcus, Lex, Petra, Billy, Willie, Shabnam

The Insider:

 

Master Lin, Saya, Marcus, Rory
Willie & Gabrielle As a Couple - 85%
Gao Discovers Nahia's Existence - 75%
Is That A Love Triangle On The Horizon? - 74%
The Scorpio Slasher - 73%