Crashing: Season 1/ Episode 3 – Recap/ Review (with Spoilers)
During a dinner party, Lulu initiates a lot of conflicts, with some help from Sam. Making it so almost everyone shows their ass before the night is over. Painting His Pain: Colin, Melody, Lulu It isn't really clear to anyone, besides Melody and Colin, what those two have going on. He has essentially moved in…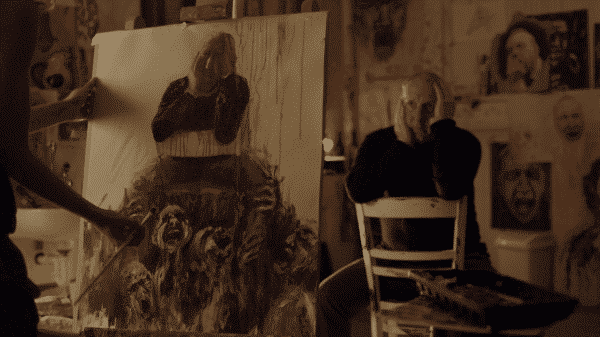 During a dinner party, Lulu initiates a lot of conflicts, with some help from Sam. Making it so almost everyone shows their ass before the night is over.
Painting His Pain: Colin, Melody, Lulu
It isn't really clear to anyone, besides Melody and Colin, what those two have going on. He has essentially moved in because of her, can be seen going in and out of her room, but they aren't lovers? Is he simply her muse? Lulu calls BS. Granted, she barely knows Melody, and seemingly Anthony doesn't talk about her, but Lulu knows.
Well, at least she thought she did. For as spacey and weird as Melody can be, she has been observing Lulu too. Thus leading to her reading Lulu's pathetic life which depends on sex for happiness and validation. Something which is a devastating blow to the usually chipper Lulu.
Commentary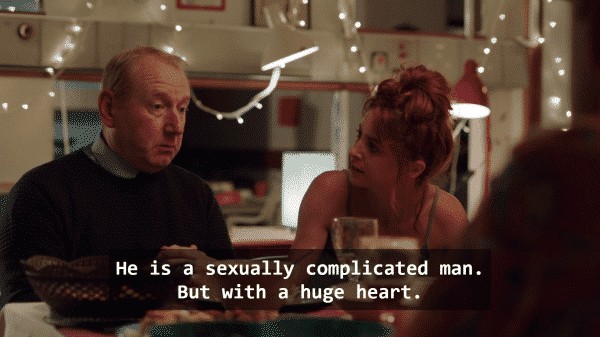 Though the whole dinner party was fun to watch, Melody and Colin were the highlights in a way. For while there may have been the initial impression that she wanted him for extracurricular activities, it seems like there may be more to their relationship. As for what exactly? Well, that is hard to say. However, it does seem she is trying to help him get over his ex. Be it just by listening past the whole "It'll be okay" thing or her channeling his pain into art. Which perhaps is giving him a method to express the pain of losing his wife vs. just wailing about it at work.
Kate's Orgasm: Kate, Lulu, Anthony
When it comes to the contention of the night, it all begins with Kate and Lulu. For whatever reason, Lulu decides to not keep anything neither Anthony nor Kate tells her in confidence. She doesn't keep it to herself that Kate has never orgasmed, at least with Anthony. Also, she outright picks with Kate to imply that she may be a racist after Lulu does an Indian accent which Kate doesn't like[note]I should note that Sam definitely helped in crafting that awkward moment[/note].
But perhaps one of the bigger issues here is that there remains some sort of tension between Anthony and Lulu. Never mind he renamed a chili, that was dedicated to Lulu, into something dedicated to Kate. That blew over. The bigger issue is that Anthony is acting a bit possessive, still doing that weird flirt thing the two of them do, and it seems Lulu can't handle it.
Which isn't to give Lulu a pass for what she does, but you can definitely see Anthony is messing with her head a bit. Though, in return, she does note that Kate is perhaps too good for him. Making the whole, "I can't make her orgasm [note]unless I'm crying[/note]," thing a bigger deal.
Commentary
As jokey as their relationship seemed before, I think it is becoming clear that Lulu and Anthony are toxic for one another. Whatever it is, this game they play where they mess with one another is starting to get malicious. For whether it is Anthony implying Lulu is riddled with diseases to Lulu taking a piss at Kate, it is like their cruelty is exposing the worse of each other.
However, you got to feel a bit bad for Lulu since there seems to be something wrong with her. I can't pin down what, but just her backstory raises an eyebrow. She is a bit of a wanderer who made a semi-desperate move to crash at her friend's home. A friend she seemingly was once close to, but sort of drifted from since her feelings weren't reciprocated. Add in that seemingly she needs sex for validation and that's easily clocked and you can see someone with a few unresolved issues. Of which Anthony has no issues picking the scabs off.
Not to make it seem like Kate isn't part of this as well. For I would say that her being condescending toward Lulu, mixed with how Anthony is acting, is why Lulu ruined dinner. Being that Lulu has nothing, naturally, she is going to plant seeds of doubt and distrust.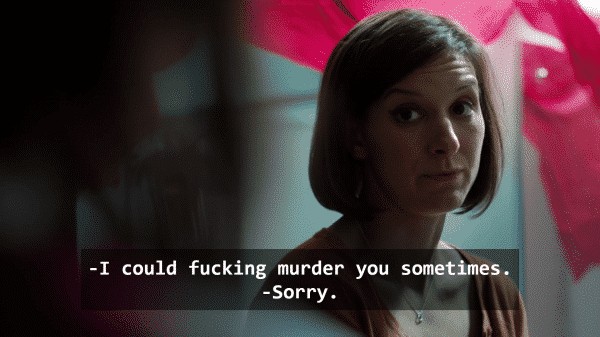 Hopefully, it doesn't sound like I'm excusing her for doing so, but I get the reasoning. She is in a vulnerable place and the guy she is relying on is an ass. Then the woman she is trying to make comfortable is also taking swipes at her. Thus leading her to want to be close to Sam, since he might be kind to her. Granted, perhaps just because of the opportunity of sex, but that is what she is used to. Guys only really being nice up to, and perhaps during, them having sex.
So with Anthony cock-blocking her, teasing her, and trying to make her feel awful, it's confusing. It's like the kid in him teasing her because he likes her. Yet, because he is immature, and Kate, he can't admit it. So, he'd rather make her miserable and isolate her so that she is forced to either put up with him or leave.
But He Is My Fred: Fred, Will (Lachie Chapman), Sam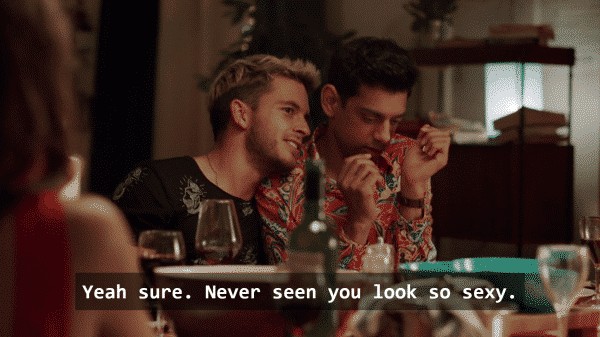 While Lulu, Kate, and Anthony have a hetero love triangle, Sam is having a homo one with Fred. Someone who brings a new boyfriend over for dinner, the seemingly lovely Will. Of which, Sam is jealous almost immediately. If only because he has this idea in his head that he made Fred. As in, he made this Fred that Will likes I think.
But, from what it seems, that isn't true. Will seems to genuinely like this odd and quiet man. Then with Fred, he likes Will because he isn't teasing him. He is open about his feelings and, unlike Sam, isn't treated as some sort of secret. Which, who knows, maybe is something new for Fred – not being a secret that is.
Commentary
Sometimes I do feel that the negative narrative of LGBT media usually makes me think the worse. Like with this Fred thing. I found it so cute how he and Will were, and I couldn't shake the idea that maybe this was Fred's first healthy relationship. Because, really, how many happy and normal LGBT relationships do you see? Most of the time, they are like what Fred and Sam have. Flirtatious at best, one-sided at worse.
Leading to the question of why is Sam so pressed over Fred? Is he possibly queer or is Fred one of the few who put up with him? Someone he doesn't have to perform for so that makes him an asset to Sam's life? Because I think, when Sam was kind to Colin, that was a genuine moment. So when he was asked if he was trying to get laid, I think he might have been offended. As if he can't ever just be a nice guy. No. Instead, there always has to be some sort of malign agenda.