OWN continues to be one of the premier networks for dramas featuring elite Black talent, and Ava DuVernay's "Cherish The Day" furthers the network's legacy.
Created By
Ava DuVernay
Directed By
Tanya Hamilton
Written By
Ava DuVernay
Aired (OWN)
2/11/2020
Genre(s)
Drama, Romance, Anthology
Introduced This Episode
Gently
Xosha Roquemore
Evan
Alano Miller
Miss Luma
Cicely Tyson
Ben
Michael Beach
Sanah
Felisha Anoa'I
This content contains pertinent spoilers.
Plot Overview
In the anthology series, each episode represents a single day, and in "Genesis," the day we watch is the one Gently, a young woman who assists the legendary Miss Luma, meets Evan, an analysis for a tech company. These two meet at a library, while Gently is running an errand for Miss Luma, and Evan's chivalry, and sliding into Gently's DMs, sparks something.
However, just as much as opposites attract, so comes the issue of moving past infatuations and seeking understanding. And while Evan is the one pushed to be out of his element, it is ultimately Gently who is left uncomfortable as Evan shows himself as someone who might be skin folk, but doesn't understand her and what she went through at all.
Leaving us to wonder, after a recoil due to different upbringings and present-day situations, can the two find each other once more?
Collected Quote(s) or .Gifs
The joy of books is that you get to act it out for yourself.
— Miss Luma
I am a company man, just not for this company.
— Evan
Question(s) Left Unanswered
What happened to Gently's mother?
Review
---
Community Rating:
---
Highlights
Gently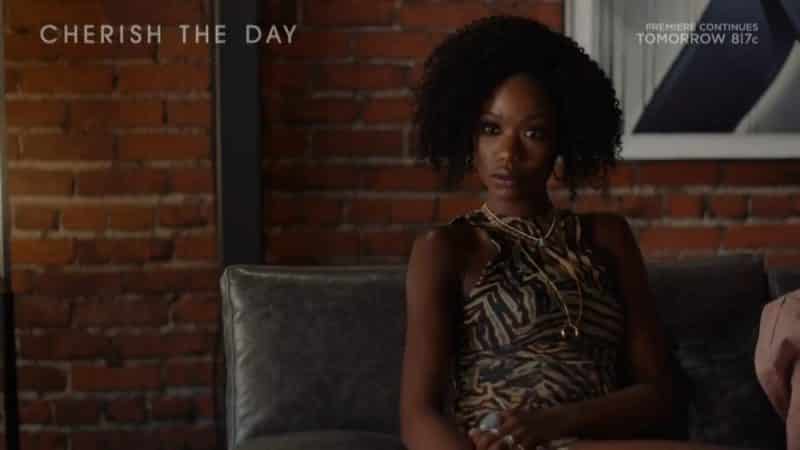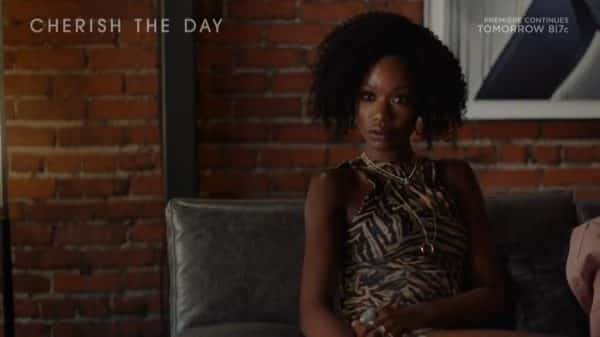 At the moment, I feel like Black entertainment is at a crux. There is this need to put out the narrative of what Black people can be, yet an equal pull to not forget that, just because someone is from an urban area, or lives in one, they aren't to be dismissed or forgotten. This issue is definitely not new, but I do feel, as with most things, men have been allowed vast opportunities to diversify how they are presented, and women have not.
Black women, specifically, haven't had a wealth of opportunities to be explored. Which makes Gently's entry into the zeitgeist all the more important. She is someone without a college degree, and yet she has seen the world. A person whose network includes a man, Ben, who used to be "about that life," that decided to take on being a father figure to her. Someone who taught her that you can make it anywhere, from LA to Europe, if you are willing to hustle and make things work.
And this isn't to put down the splendid display of Claire Huxtable-esque women, who have given us brilliant depictions of women at the top of their profession, yet still flawed. No. This is a celebration of getting to see a Black woman who is clearly an around the way girl, who has been around the world.
Evan Being Upwardly Mobile But Not Put On A Pedestal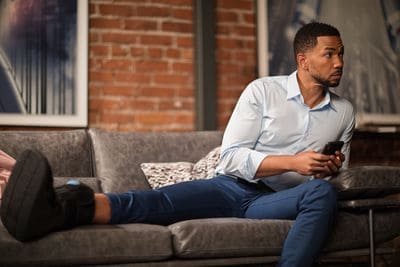 Which brings us to Evan. In many a show and movie, he'd be the baseline – visibly well-off, may speak of urban areas but doesn't frequent them, and who only bucks up to show he isn't a punk. If not in an attempt to prove his Blackness.
Yet, "Cherish The Day" doesn't do that. Evan is made to walk that tight rope and Alano Miller does that brilliantly. Similar to Cuba Gooding Jr., in "Boyz n the Hood," you see a character who is aware of the customs in an urban area, especially if dealing with people who aren't privileged as he is, without fear. Now, is he aware how things can go left? Absolutely. But, there is a certain level of comfort that keeps him from looking over his shoulder and presenting himself as if, despite being amongst people who look like him, he should be scared.
Miss Luma
Can I just say, any opportunity to see a legendary actress who shows they still have their wits about them is a blessing? Similar to seeing Margaret Avery in the early parts of "Being Mary Jane," it feels respectful to show them as vibrant as the production which introduced them to us. For too often, it can feel that for Black actresses, less so actors, once they no longer are consistently in the hottest shows or movies, and reach a certain age, while they still may work, it isn't consistent or within the mainstream.
So to see Cicely Tyson not play someone shaking or frail, but who has a mouth on her and seems a bit frisky, or at least willing to refer to when she was, it tickles you. It revives you even. Heck, similar to Avery in "Being Mary Jane," who had sex with her husband on the show, it gives the kind of representation we're so lacking today. That is, getting more than the wise elder but getting a whole person. One whose life isn't just about lessons of what to do and what not to do, but they can also have conversations with you and not just talk at you.
A True Sense of Real People
When creators say that they are going to show a different side to this place or that place, often it means strictly in location, but the people are going to be the extras and actors we're used to. Meaning, we may see a part of Los Angeles, New York, New Orleans, whatever the place might be, we're not used to seeing in stock footage during transitions, but the people are still of the body type of Roquemore or Miller.
So in seeing Sanah, her having a scene, you are given a gift. You are given a woman who doesn't fit that Jill Scott or Ashley Graham look. Who expands what body proportions are seen on screen, especially outside of reality television or comedy. And with seeing her glow, her pride, and this show we assume she owns, it truly gives you the feeling you are seeing a side to a neighbor rarely seen. For it is women like Sanah who you see in the community in various functions, and for too long, it seems they were erased. So even if this is a one-time appearance, you have to appreciate the representation.
On The Fence
Dealing With The Format
I don't think there are many, or have been at this level, anthologies which featured Black majority casts. This leads to the question, between each episode representing a day and the show, as a whole, switching focus from season to season, how will "Cherish The Day" handle that? Which isn't to imply we don't have faith in DuVernay and her team, but there is something about Black culture and creating intense bonds with characters and stories that makes you wonder, as this story ends, can the next one compete or compare?
After all, it would be one thing if this was a mini-series and then a new show replaced it, but with precedents set and knowing we'll have around 8 episodes before their story ends, will that create a disconnect or open the doors for more anthologies? Be it of this ilk or in different genres?
Overall
For Those Who Like
Productions set, or which feature, urban areas, and urban life.
Black love stories.
Opposites attracting one another.
Continue To Watch? – Watch Upon Release
First Impression: Optimistic
Setting aside how, at the peak of our attachment to these characters, we'll likely have to say goodbye to them, and how prepping for that could affect things, this is a brilliant show. It goes beyond bridging what many are familiar with in the 90s and 00s, and asks what is next? We have all this land to build something new, so let's take these blue prints, modernize them, maybe even tear them up, and create something unexpected. Yet, while maintaining the expected quality that only OWN, Ava DuVernay, and those they entrust with telling their and our stories can.
Cherish The Day Directory
Affiliate Link(s)
Links contain affiliate links which, If you make a purchase, we'll earn a commission from the company.
Season 1 - Amazon

Season 2 - Amazon
Gently - 89%
Evan Being Upwardly Mobile But Not Put On A Pedestal - 85%
Miss Luma - 88%
A True Sense of Real People - 90%
Dealing With The Format - 79%