Black Love: Season 2/ Episode 1 "How Love Begins" [Season Premiere] – Recap/ Review (with Spoilers)
---
Community Rating: 0.00% (0) - No Community Ratings Submitted (Add Yours Below)
---
This post may contain affiliate links and spoilers. Please read our disclosure policy.
---
Black Love returns with a whole new group and the first episode features how the relationships began. Sometimes with a bit of struggle to keep them going.
---
Network
OWN
Director(s)
Codie Elaine Oliver
Air Date
5/12/2018
Actors Introduced
Himself
D.L. Hughley
Herself
Ladonna Hughley
Himself
Devale Ellis
Herself
Khadeen Ellis
Himself
Eddie George
Herself
Taj George
Himself
Grant Hill
Herself
Tamia
Himself
Joseph Simmons
Herself
Justine Simmons
Herself
Ryan Michelle Bathe
Himself
Sterling K. Brown
Himself
Tony Ingram
Herself
Brittany Ingram
Herself
Jai Crouch-Pelham
Herself
Rebecca Crouch-Pelham
Herself
DeWanda Wise
Himself
Alano Miller
Himself
Kirk Franklin
Herself
Tammy Franklin
Friends To Lovers: Ryan, Sterling, Jai, Rebecca, DL Hughley, Donna
Though, in general, everyone went from friends to lovers, this has to be split between those who weren't famous or in active duty when they met, and those who weren't. This is focusing on those who weren't like the ones listed. Such as Ryan and Sterling who met in college. Their story, arguably one of the cutest in the premiere, because of how much Sterling lights up and is one of the few men seeming not embarrassed at all, is like a romance movie.
Sterling and Ryan had a class together, an acting one, and going over a scene led to Sterling making a move and things slowly, but surely, progressing. Yet, also hitting a point where Ryan realized, if she didn't define the relationship and convey her feelings, they could just be college sweethearts, or college friends, who then became ghosts to one another.
But some things weren't as simple as speaking up. DL Hughley and his wife had the issue of her being more established, in a relationship, and all he had to offer was his word. Since, at the time, he was broke, living with his momma, and being with him meant a leap of faith. Yet, here they are now.
Leaving Jai and Rebecca, a lesbian couple – who I want to say are not famous (?). With them, we enter the issue some of the others have. Which is, kind of being hesitant to take that next step no matter how natural things seemed to be. Yet, once things were communicated, and Rebecca seemed willing to let things be serious, so they became a happy couple.
Commentary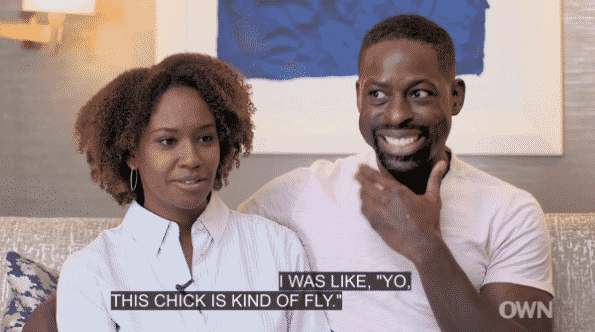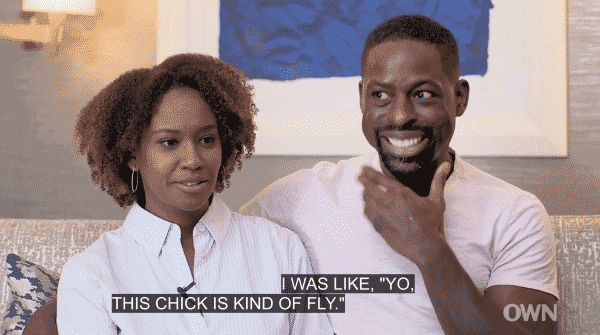 Can I just say, I loved Sterling and Ryan? Sterling especially for a lot of the men on the show, they seem kind of embarrassed, laid back, or were trying to seem cool about it. Sterling, on the other hand, was highly animated like, "You're asking about me and my wife? LET *clap* ME *clap* TELL *clap* YOU!" I mean, you want to talk ideal Black love, that's their story. In fact, I'm surprised, similar to Mara Brock Akil and Salim, their story isn't being made into something.
Them aside, I also love the different starting points and the expanded beginnings. We didn't have a queer, in this case lesbian, couple the first season. On top of that, DL speaking on being dead broke, with Donna having something going for her, spoke on a multitude of levels. For it really pushed how love and friendships don't always begin in ideal terms. Something the dude doesn't have much to offer than a good time and that's it. He might even seem like someone with potential you have to hope is realized too.
Then, refocusing on Rebecca and Jai, with them you got that whole, we cool but this is a bit too serious for me issue. Which, as we go through the other couples, you realize it isn't a hetero or queer thing, but a people thing. And that a lot of issues for couples, queer, Black, or not, are universal.
Distance and Timing Was An Issue: Tony, Brittany, Taj, Eddie, Tamia, Grant
When it came to Taj, Eddie, Tamia, and Grant, they met after they had something going. Taj was in SWV, Tamia also a popular artist, and their men were working in sports. Eddie seemingly football and Grant in basketball. Because of that, distance and time were major issues. For, unlike some of the other couples, there had to be a serious effort to be in the same vicinity, never mind state, perhaps even country.
But, another issue, like Taj and Eddie note, and also was an issue with Brittany, is the relationship not getting to really take off because another man was present. Leading for Taj, her and Eddie not speaking for years at a time. Though for Brittany, things for her were complicated because Tony was in the military, Navy to be specific. Meaning, they went from an ideal date to him being deployed for half a year. Then him coming back early, I guess expecting some epic reunion and him being told she got a man. Followed by getting hit with, "Can we be friends though?"
Which, the way Brittany lays it out there, that is what they did. She was upfront, no type of hating, when he asked for advice on girls and they remained close. Not to mention, he found a way to claim her that wasn't off-putting but genuine. Making them, second to Sterling's childlike glee, perhaps the cutest couple – non- celebrity that is.
Commentary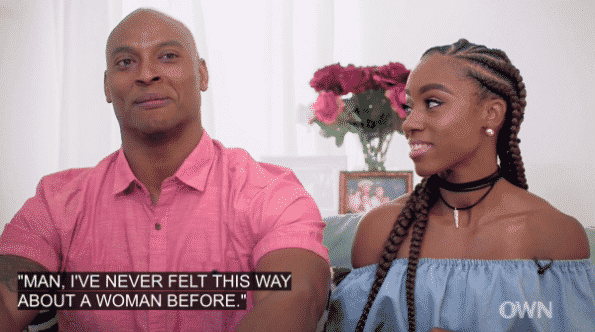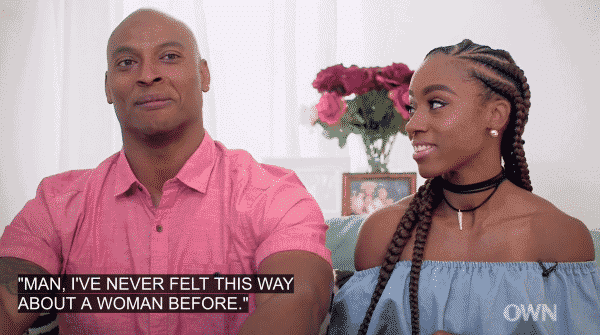 One of the best things which came out of this topic is showing that, sometimes, things don't click easily. Sometimes you have to put in effort and note that it might just not be the right time. Between having to get closure with exes, or just figure out who could be what, you sometimes got to be on the back burner. Maybe, at best, end up like Tony and get a friend but others times be like Eddie and end up someone not spoken to for a few years.
Love is complicated and that transition from strangers to lovers, sometimes being friends in between, ain't always a Carley Rae Jepsen song.
It's All About Choice: Devale, Khadeen, Dewanda, Alano, Joseph, Justine, Kirk, Tammy
You know, people got options when they famous. Heck, even when they not famous but young, fit, and know how to talk slick. I mean, from what it appears, that was Devale and Khadeen's situation. He was hot to trot and Khadeen just wanted him to just trot solely with her. However, as previews allude to, he was still "sowing his oats." So, a serious decision, at 18 mind you, had to be made.
But, as shown throughout the episode, it isn't just everyday folks but big names too that have to make serious decisions. Take Kirk and Tammy. They too meet while -teen was still in their ages and Kirk was a "Gospel Giggolo" with multiple women on his roster, and I don't mean the choir. Yet, there came a point where he had to exit his ho phase.
Things were a bit different with Dewanda, Alano, Joseph, and Justine however. With Joseph and Justine, it was a bit of a timing thing, but also, as shown by Joseph's embarrassment, he was also a different man at the time. They met before Run DMC, lost touch, and he took the initiative to get back to her when he was popping. That kind of love definitely shows effort but let's not discount the trust too now. Justine saw how rap was turning and considering how big Joseph got, who was to say he wasn't ho'ing to the point of AIDS and all that? Multiple baby mommas? Her picking up the phone was a leap of faith.
And speaking of leap of faith, we got DeWanda and Alano who, just hearing their story from DeWanda on "Small Doses" made hearing Alano's half interesting. Because, just the fact they got married within months of meeting is something. But, unfortunately, to hear her side of things, which I wish was told in this episode, really helps you understand how difficult of a choice this was for her, and how Alano is some kind of man.
Commentary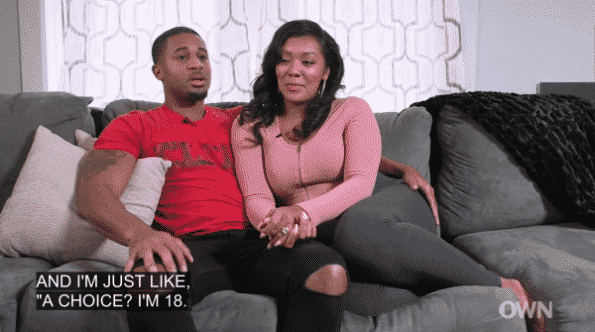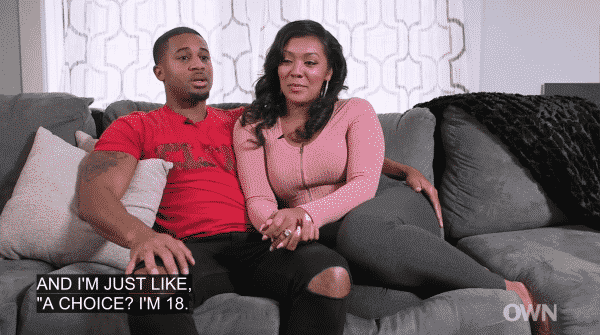 At this point, I feel like I've found the couples I'm latching onto and also wondering, why are they on here? Like, when it came to Kirk and Joseph, they seemed so uncomfortable like they were being exposed and dealing with this part of the program so they could start preaching later on. Joseph especially which was so annoying to watch. For you are watching Justine get animated, in a Sterling kind of way, and Joseph is sitting there like a kid waiting for church to be over, and his mom to finish speaking to the pastor.
But, you gotta love Devale and Khadeen, as well as DeWanda and Alano though. Devale comes off as someone who wasn't perfect by no means, and is actually willing to admit that. There isn't this weird embarrassment or nothing like that. He probably was a player and his point is, he was 18 and feeling himself, and trying to feel on others. What you want from him? Then, on the flip side, Alano is worried about some girl seeming like his lady and he not wanting DeWanda to think that was cute. Especially since it seemed she did not even see that woman as a factor.
But, with them having the shortest courtship, their point of view on marriage is going to be so interesting. Especially since, outside of maybe Rebecca, she seemingly was the only woman who pushed the idea she wasn't trying to date. Never mind find someone to marry.
Other Noteworthy Facts & Moments
[visual-link-preview encoded="eyJ0eXBlIjoiZXh0ZXJuYWwiLCJwb3N0IjowLCJwb3N0X2xhYmVsIjoiIiwidXJsIjoiaHR0cHM6Ly9wbGF5Lmdvb2dsZS5jb20vbXVzaWMvbS9Eanhqb2VxM2s0Z2hmZXhpNmVucDIyanhpeHE/dD1TaWRlX0VmZmVjdHNfb2ZfdGhlX0hvX1BoYXNlX3dpdGhfRGVXYW5kYV9XaXNlLVNtYWxsX0Rvc2VzIiwiaW1hZ2VfaWQiOjIwODE1LCJpbWFnZV91cmwiOiJodHRwczovL3doZXJldmVyLWktbG9vay5jb20vd3AtY29udGVudC91cGxvYWRzLzIwMTgvMDUvU21hbGwtRG9zZXMtTG9nby5wbmciLCJ0aXRsZSI6IlNpZGUgRWZmZWN0cyBvZiB0aGUgSG8gUGhhc2UiLCJzdW1tYXJ5IjoiVGhpcyB3ZWVrIHdlIHRhbGsgc2V4dWFsIGZyZWVkb20gYW5kIGhvdyB0aGF0IHBoYXNlIGltcGFjdHMgd29tZW7igJlzIGJvZGllcywgcmVsYXRpb25zaGlwcywgYW5kIHBlcnNwZWN0aXZlcyEgRGVXYW5kYSBXaXNlLCBzdGFyIG9mIE5ldGZsaXggJiBTcGlrZSBMZWXigJlzLCDigJxTaGXigJlzIEdvdHRhIEhhdmUgSXQs4oCdIHNwaWxscyB0aGUgdGVhIG9uIGhvdyBwbGF5aW5nIHRoZSByaXNxdcOpIHJvbGUgb2YgTm9sYSBEYXJsaW5nIGltcGFjdGVkIGhlciBtYXJyaWFnZSBhbmQgbW9yZSEiLCJ0ZW1wbGF0ZSI6ImRlZmF1bHQifQ=="]
DeWanda's episode of Small Doses above.
For future episodes, unless they say something interesting, I probably won't note them.
Collected Quote(s) & .Gifs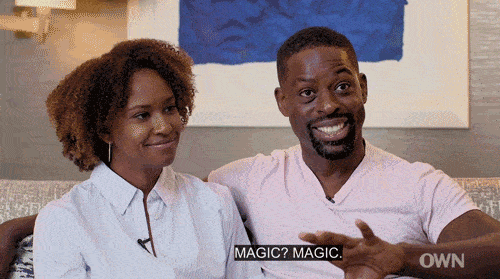 Highlights
A queer perspective on Black love.
Seeing couples like Sterling and Ryan, Tony and Brittany, Jai and Rebecca, Taj and Eddie, DL and Donna, as well as DeWanda and Alano who seemed willing and ready to discuss their relationships. Maybe even with glee.
Each relationship having a different challenge early on from timing, indecision, competition, and maybe just not being in the right place for a real relationship.
Low Points
Kirk Franklin and Joseph seeming so annoyed they have to deal with their past before they can start preaching about how their relationships work and seem high and mighty.
On The Fence
While you have to appreciate how mixed up the couples are from origins, some being famous, and their complications, honestly some seem like they just don't pop. Like when it comes to the Joseph and Justine situation, it is hard to watch someone so animated be with this person who seems like he is trying to shut her down or rush her. And then there are others who, perhaps because of my personal taste, seem like only one spouse is into it and the other is just there solely to support and make sure the correct story goes out. Maybe to provide a little bit of perspective but certainly not be active in the discussion.
---
Follow Wherever I Look on Twitter or Like us on Facebook.
---
Related Topics:
Alano Miller
,
Black Love
,
Black Love: Season 2
,
Brittany Ingram
,
Codie Elaine Oliver
,
D.L. Hughley
,
Devale Ellis
,
DeWanda Wise
,
Eddie George
,
Grant Hill
,
Jai Crouch-Pelham
,
Joseph Simmons
,
Justine Simmons
,
Khadeen Ellis
,
Kirk Franklin
,
Ladonna Hughley
,
OWN
,
Rebecca Crouch-Pelham
,
Ryan Michelle Bathe
,
Season Premiere
,
Sterling K. Brown
,
Taj George
,
Tamia
,
Tammy Franklin
,
Tony Ingram