Between dealing with ass****s on set, and then at Duke's school, Sam tries to pick her battles and one leads to someone getting smacked.
---
Episode Information: Episode 2 "Holding"
Network
FX
Director(s)
Pamela Adlon
Writer(s)
Pamela Adlon, Ira Parker
Air Date
3/7/2019
Introduced This Episode
Sylvester
Charlie Robinson
Recap
All This Money & Nothing But Hot Air: Sam
Be it menopause or the fact it is 92 degrees, Sam begins to slowly lose it on set. Not to the point of flipping out, because she is a professional, but something has to give right? There is only so much a person could take.
A Push To Move On: Duke, Xander, Sam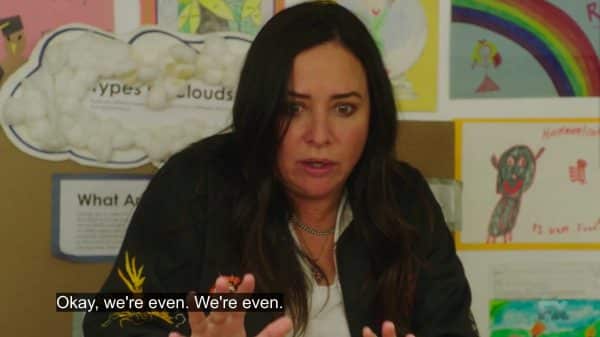 Luckily for her though, what doesn't end up setting her off is Xander trying to have secret conversations with Duke and buying her a cellphone. Instead, it is the mother of Duke's friend. Though, let's keep it honest, generally speaking, Sam isn't much for other parents. Either they are boring, off-putting, jackasses, or cliquey. So with Duke always trying to get away from Sam, Sam forced to talk to parents, then seeing the mom of the kid who bullied Duke, who is on her phone all the time – even when driving – she snaps. I'm talking about her saying they should go into the parking lot and fight. Sam even yanks her arm a bit and when the woman snatches it back, she smacks the hell out of her kid and Sam seems fine with that. It might have been all she wanted.
Review
Highlights
Sam & Sylvester
One of the best things about Better Things is how it handles guest actors. Rather than make it stunt casting, or just a zany weirdo for Sam or the kids to play off of, they are made to be full fleshed people. Take Sylvester. His chat with Sam was so natural, as he talked about his wife and a picture she liked, you'd think he was part of the main cast. Especially considering how Adlon was so attentive as if he was like a father figure to her and she loved hearing his old stories.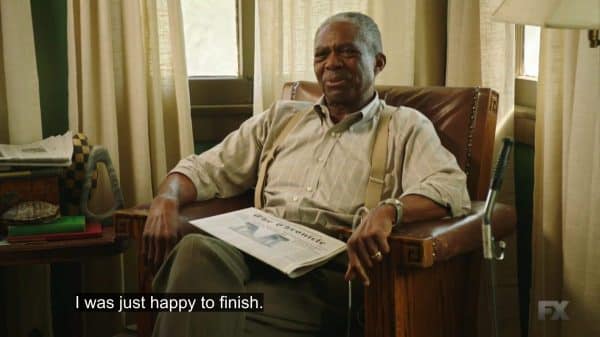 To me, most shows don't present that type of value. There is almost a disposable, if not replaceable, vibe to those who aren't part of the day in and day out cast. Yet, with Better Things, even the weird ones seem like they could be reoccurring. Hence why, as strange as some of them are, and as weird as some of the moments they cause, Better Things seems to know where to draw the line between eccentric person and caricature.
Follow Wherever I Look on Twitter, Like us on Facebook and Subscribe to the YouTube Channel.
---
---
[ninja_tables id="33075″]