As Will decide to bring some of that West Philly flavor to school, Carlton is trying to operate more boldly with his meds tapered down.
Aired (Peacock)
March 2, 2023
Director(s)
Anton Cropper
Writer(s)
Anthony Sparks
Newly Noted Characters
Kirk
Maxwell Ross
Ms. Bassin
Shelley Robertson
Previously Noted Characters
Hillary
               Coco Jones
Ivy
Karrueche Tran
Jazz
Jordan L. Jones
Ms. Hughes
Tatyana Ali
Ashley
Akira Akbar
Geoffrey
Jimmy Akingbola
Phil
Adrian Holmes
Jackie
Jazlyn Martin
Doc
Brooklyn McLinn
Carlton
Olly Sholotan
Yazmin
Riele Downs
Will
Jabari Banks
Aunt Viv
Cassandra Freeman
Recap
This content contains pertinent spoilers. Also, images and text in this post may contain affiliate links which, if a purchase is made from those sites, we may earn money or products from the company.
The Truth Doesn't Set Everyone Free – Hillary, Ivy, Jazz, Ms. Hughes, Viv, Ashley
Ashley has a problem. Her favorite teacher, Ms. Hughes, who apparently taught her siblings as well, has gotten fired. Why? For teaching books outside the curriculum. But, from what it seems, it might be favoring Black kids. Either way, as Aunt Viv goes to war with Reid or rather seeks to shut him out of her life and career, this seems to be the next fight on her docket.
But, as she fights for herself and her child, Hillary is still fighting Ivy in terms of standing up for herself. She needs the car of Jazz, who she doesn't want to be publicly with, and he is hesitant. The reason mainly deals with his car being a classic 1964 Impala and not knowing whether Hillary is trustworthy enough to drive. But trust is part of the foundation of any relationship, so he relents and lets her drive, only to come by and see Ivy in the driver's seat.
So, to make it up to him, she introduces Jazz to her parents as her boyfriend.
Facing The Past Isn't A Easy Task – Geoffrey, Phil
Geoffrey and Phil have a heart-to-heart. The kind which includes Phil apologizing and Geoffrey returning back to the Banks mansion.
You Can't Just Talk A Big Game – Jackie, Doc, Will, Carlton, Yazmin, Kirk, Coach Johnson, Phil, Ms. Bassin
Between Will and Carlton, a lot of put-up or shut-up moments happen. After getting riled up about Ms. Hughes, Carlton finds himself advocating for a protest, even a walkout, to the shock and appall of the staff advisor, Ms. Bassin, who warns Carlton of his reputation could be affected by this decision. Thus making Carlton question everything, and his anxiety flare up, just as he convinced his parents that he should lower his dosage.
But Will to the rescue! To woo Jackie, to get to her uncle Doc, he gets Jazz to drive him to a late-night party, and Carlton is invited because he knows how to sneak out of Bel Air manor. There, despite Yazmin, and the now-single Lisa, Carlton lets loose and gets two girls to dance with him. Meanwhile, Will is doing the bare minimum to show interest in Jackie, to get to Doc, and is lucky Doc scoops him up before he further comes off like a user.
This leads to Doc making it clear, after seeing Will play a few times, he is interested in what he has offered, but not at Bel Air. He needs to see West Philly Will if they are going to have a business relationship, but what makes that a challenge for Will is he isn't treated as a star player. Although Will is the better player, Coach Johnson seems to lean towards making Kirk that person. So, Will has to be a ball hog, and he even tries to take on a leadership role, but it is made clear by the team and Kirk, this isn't appreciated.
However, he is making the shots and impressing Doc, so Will doesn't care. But, with seeing Will's shift as a player and this unknown relationship with Doc, Phil decides to introduce himself and make clear that any relationship Doc is pursuing, as Will's guardian, Phil needs to be involved. Which Doc respects, and as he leaves, he gives us no sign as to why he seemed interested in Will's family in a previous episode.
Things To Note
Question(s) Left Unanswered
The only reason coach is pushing Kirk is because he is White, right?
What Could Happen Next
There are going to be a lot of conversations about race and class.
Review
---
Community Rating:
---
Highlights
Carlton Stepping Up And Stepping Out
While we know Carlton isn't against going to parties and talking to girls, him going to Inglewood and attracting two? Of which we're not told it is because of his money or anything like that? So we can just assume they find him nice, attractive, and like his moves? It's a beautiful thing.
Mainly because it really shows Carlton that he was never rejected because of where he grew up or his socio-economic status. It was because he was ignorant, arrogant, and wasn't enjoyable to be around. But, while he is enjoying the good parts of being welcomed to the BBQ, let's see how he handles the backlash regarding the Mrs. Hughes protests and when being Black isn't fun.
Not Knowing Where This Doc Thing Could Go
It isn't clear what is Doc's long game. With us seeing him interested in Phil and Will's family, we know this isn't about recruiting for his team. Likely, Phil was involved in a case Doc too had partaken in, and whether it was him specifically or one of his players, this could lead to some messed up situations with Will put in the middle.
Also, we can't discount Jackie's place in this as Doc's niece and Will's trust issues potentially getting put into play as he wonders where Jackie's loyalties are.
Venturing To The Topic Of Race
While "The Fresh Prince of Bel-Air" didn't stray away from race, it was the 90s, billed as a comedy, so as much as it was made clear Will, Carlton, and the entire Banks family were Black, especially Aunt Viv, it didn't pursue what that meant as a core theme. However, this season of "Bel-Air" seems to want that, especially for those under 18. Carlton's exploration of the Black experience outside of his bubble, including the one he made at Bel-Air Prep, will be a season-long journey. Ashley coming to learn why her school didn't support Mrs. Hughes and doesn't advocate for Black literature will be an awakening.
Even Will, with what's going on with the basketball team, will find himself dealing with the politics of race. Specifically, he is likely to learn it isn't just people who look like him, such as Mrs. Hughes, who find themselves pressured by Whiteness and those with money regarding how they do their job, even in cases where it should be about merit than skin color or parentage.
On The Fence
Reid v. Aunt Viv
I don't know about you, but I was eh on Reid in the first season, and his lack of appearances thus far have been fine with me. So, either they can dead this story and have Aunt Viv focus on her fellowship or bring the man back, have Aunt Viv expose the elitism of the art world and keep it pushing. Either way, if Reid can be out by the end of the season, I'll be chipper.
Just Leaving Us Hanging Regarding Jazz Meeting Phil And Viv
Jazz and Hillary are not a shocking couple. But considering the change from "The Fresh Prince of Bel-Air" regarding the two, Hillary having her parents meet Jazz, and we're given a minimal reaction? That was unfair. No, it isn't the most exciting storyline for the show, Jazz, or even Hillary. But, considering Hillary seems to just as much be on a journey as Carlton in terms of getting out of this self-made bubble for herself and her seeming anxious about it? It sucks that just when she pops a hole into it, a major one, it is made clear we'll have to wait a week to see the full reaction.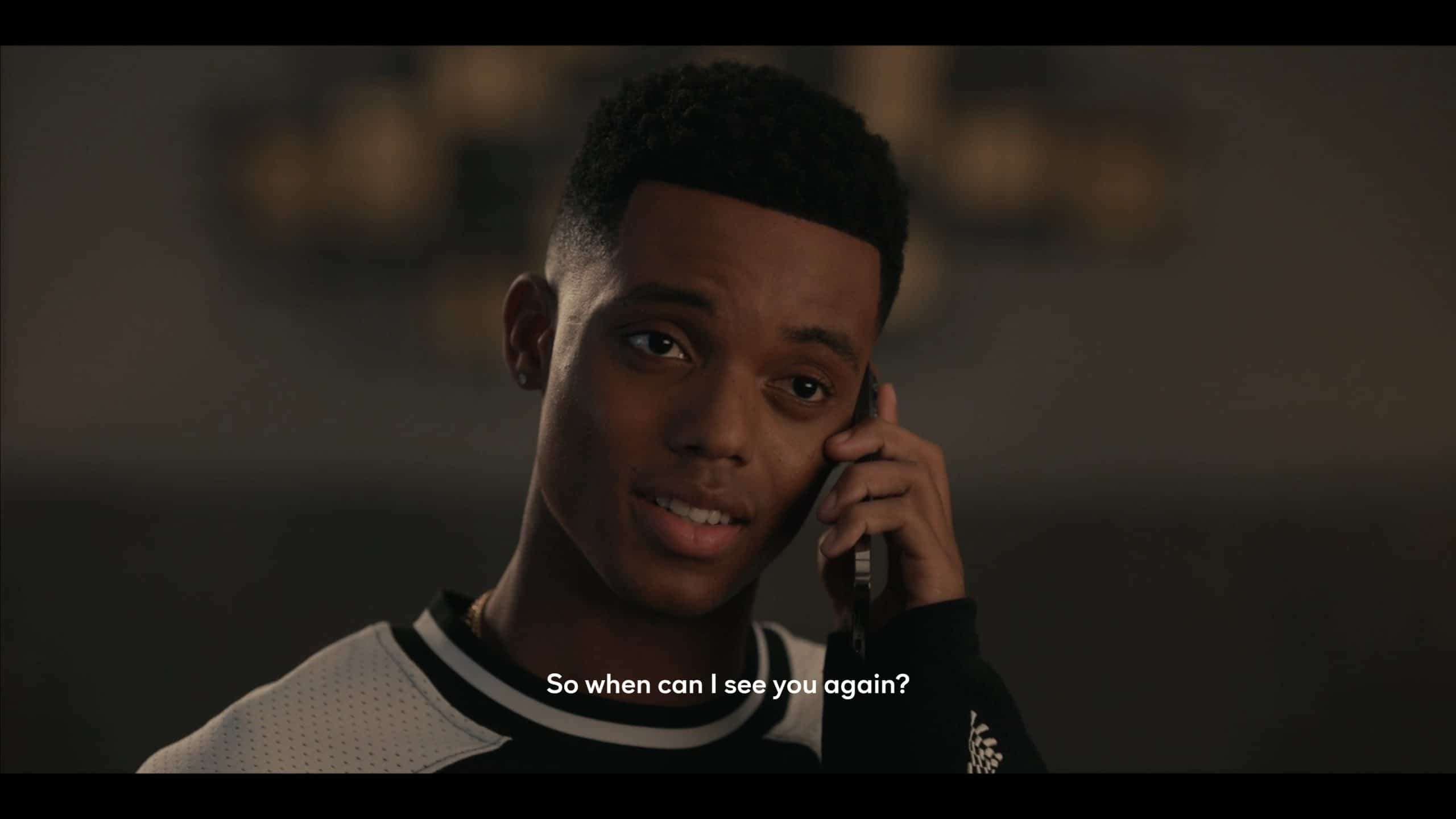 Bel-Air: Season 2/ Episode 2 "Speaking Truth" – Recap/ Review
Overall
As people break the bubble that has allowed them to feel safe and protected and venture back into the real world, it's clear many will face unexpected reckonings.
Highlights
Carlton Stepping Up And Stepping Out
Not Knowing Where This Doc Thing Could Go
Venturing To The Topic Of Race
Disputable
Reid v. Aunt Viv
Just Leaving Us Hanging Regarding Jazz Meeting Phil And Viv