It's orientation day, and Sam is trying to determine whether or not he may need to reinvent himself to avoid the troubles of high school.
---
Network
Netflix
Director(s)
Rebecca Asher
Writer(s)
Theresa Mulligan Rosenthal
Air Date
11/1/2019
Introduced This Episode
Lacrosse Sam
Niles Fitch
Images and text in this post may contain affiliate links. If you make a purchase, we may earn a commission or products from the company.
Recap
Once An Ass, Always Farting: Nate, Izzie, Casey
With Nate's locked between Casey and Izzie's, it appeared he wanted to make peace. However, with him just wanting peace with Izzie, not Casey, who he dares call a b****, she decides to use his peace offering, a milkshake, and hit it, so he is covered. Which gets her in some trouble, but not suspended or anything.
Couples Therapy Only Works If Both Want To Get Back Together: Doug, Elsa, Megan
After about $300, Doug doesn't feel like he is getting anything out of couples therapy. Granted, he isn't opening up, but with him being stuck on being cheated on, it really doesn't seem there is any path forward. Hence why, when Elsa reveals the process began with a small lie and it snowballing, he seems to follow her steps when it comes to Megan.
Mind you, this isn't saying Megan wants to have an affair, but with Doug so desperate to understand how one person could cheat on another, it seems he is going to do as Elsa did.
New School, New Sam, But Old Sam Too: Sam, Lacrosse Sam, Casey, Zahid
Orientation Day for Sam was supposed to be easy. He already checked out the school's layout, was registered for classes and felt comfortable. However, what he didn't prep for was the people. Leading to Zahid's comment of reinventing himself seem like a good idea for the yearbook trauma hasn't subsided at all. In fact, it is still very triggering for Sam.
So, when two people seem to make friends with him, he tries to adapt and even exclude disability services from his life to come off atypical. However, as he tries to live at the dorms, and has Casey be his support human, he realizes he might not be ready for so much stimuli. For on top of the two people he met not being his friends, while his roommate, Lacrosse Sam, is friendly, the closet door squeaks, and there is an air hockey table outside the room. The combination makes it so staying at home seems like a better idea.
Collected Quote(s) & .Gifs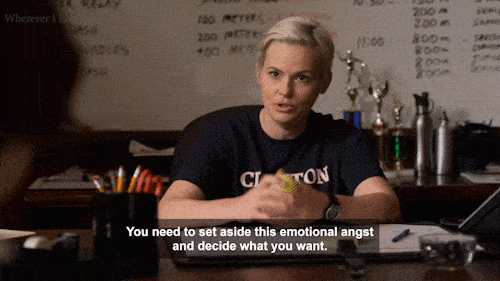 Review
Highlights
Casey
Casey likes to seem like the toughest one in the room, but her outbursts show she is really a softie. It's just, with having to be tough for Sam so long, I don't know if she is aware how to be chill and not react quickly when slighted. But, as shown with opening up to Evan and accompanying Sam, with more opportunities to just be, it seems she isn't always reacting to situations, like she does with Nate, by thinking she needs to be aggressive and then back down.
The Desire To Appear Normal
While we all know normal is a subjective word, for Sam, normal means peace. It means not being treated as a spazz or loser and having a sense of belonging. Because, as much as Sam loves Zahid, I'm sure a part of him wonders why Zahid is one of the few people, outside of Paige and his family, who seem to get him. If not try to get him.
So with him trying to operate without disability services, as much as it can be seen as him trying to claim his independence, it could also be him not wanting the stigma associated with needing help.
Low Point
Doug Is Venturing Towards An Affair
Do I feel bad for Doug, considering his wife cheated on him? Yes. However, him trying to understand how she was capable of having an affair by following the steps and bringing another person into their mess? I just can't support it. All it does is make their situation more messy and drama for the sake of drama than it feeling like an exploration of what makes him human.
Casey - 85%
The Desire To Appear Normal - 86%
Doug Is Venturing Towards An Affair - 65%