Atlanta: Season 2/ Episode 4 "Helen" – Recap/ Review (with Spoilers)
While Van and Earn have been on dates and seem to be trying to work things out, is it all one-sided?
---
Network
FX
Director(s)
Amy Seimetz
Writer(s)
Taofik Kolade
Air Date
3/22/2018
Characters Introduced
Christina
Jessica Tillman
Could You At Least Pretend To Be Interested?: Earn, Van
It's a German festival and with Van knowing German and being of the culture, she wants to share this with Earn. Problem is, the way we see Alfred act when he isn't interested in what's going on, that is how Earn acts. Really dampening Van's fun and leading to her questioning what he wants out of her. A question he also wonders when it comes to Van.
Commentary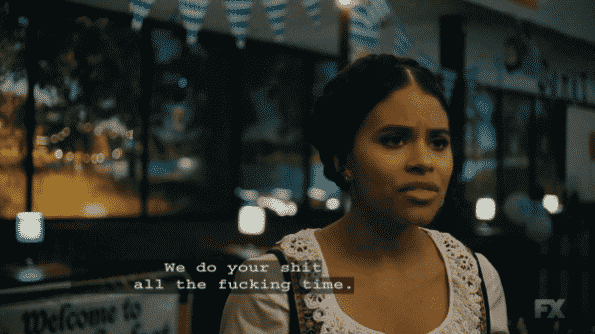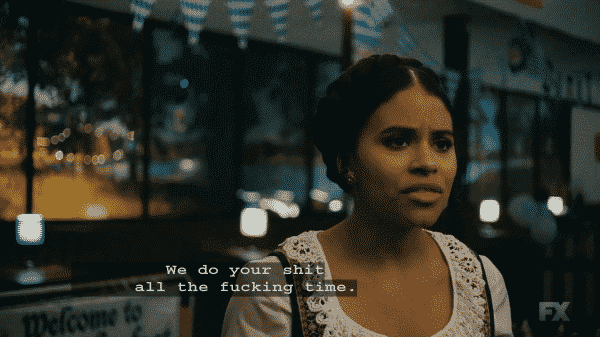 Van and Earn's relationship has always been off and on, to the point it has never been clear whether they were dating, casual, or just avoiding a confirmation conversation. All we have seen is Earn take her out on dates sometimes, they seem cool, and then he messes it all up. But, in this case, with it being noted she wanted him as involved in her world as she often is in his, it pushes this bigger idea. First and foremost, Van's point of not just wanting to be some mobile sex toy, but also how in a lot of shows, the woman is asked to adapt to the guy, understand his lifestyle, and there often is a lack of reciprocity. Especially in terms of just doing something which could be considered basic.
For Van, she just wanted to dance and Earn made it sound like he was doing her a favor. No one wants to feel like you are obligating someone to spend time with you, learn about things you're interested in, and ultimately like you are doing them a favor. That is when a friend or significant other starts to feel like an escort.
Though, perhaps in a way, with the power dynamic now favoring Earn, since Van is still unemployed and he is paying bills now – which he makes clear, what she wanted was some proof things haven't changed between them. That her being financially dependent on them doesn't mean he no longer has to try. Because, back when he was broke and she was a teacher, he put in an effort to impress her and make her happy. Now though, he wants to show off and in the process, maybe she felt like she was being shown off as what comes with success than being someone worthy of love despite, or in spite, of where you are in life.
I'm No One's Baby Mamma: Van
And what perhaps really sets a fire under Van needing to know she is Earn's equal and they both are trying is Christina, Van's soon to be former friend, making it seem her love for Black people and culture was almost like a decision. As if, between choosing white culture of Black, she put all her money on Black and then stuck with it through thick or thin as Christina chose white and did pretty well. Extending into because unwed with a child, unemployed and with a kid, and the way Van sees it, Christina implying she has chosen not just Black people but a stereotype.
Commentary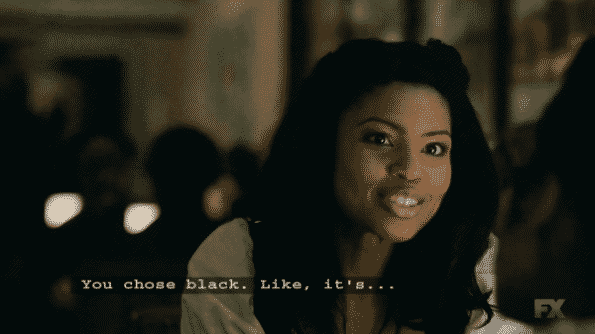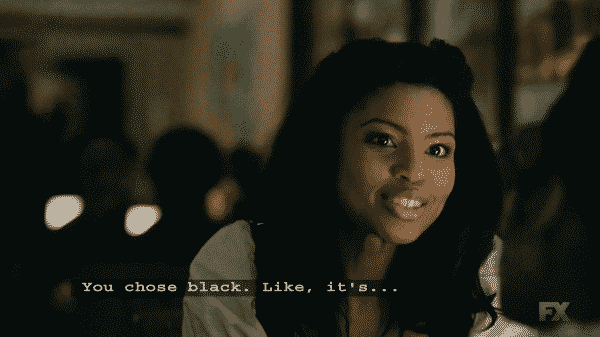 You know what would be really interesting to see, that conversation between Van and Christina expanded. While there are many bi-racial actresses, probably the majority of Black female characters in prominent shows are played by them (I'd bet), we don't see a lot of conversations about what it means to be bi-racial. Making this whole choosing thing interesting for, more often than not, their characters either exhibit a sort of blankness, i.e. being without a prefix and exhibiting little to no culture, or they're Black.
Like, for example, on Grown-ish, the prominent Black women on that show are all bi-racial Black women, yet each one has a character whose identity is deeply rooted in Blackness. Zendaya's characters in K.C. Undercover was with two Black parents and also in her role within The Greatest Showman. There isn't any notable character with mixed heritage who addresses that complication of physically appearing one thing but parentage wise, technically belonging to an entire group you are foreign to.
Much less, addressing the idea of certain decisions being choosing one side over the other and just the issue of having to choose sides period. Since, at the end of the day, even if their genes have made it where they are not passing, is it so wrong to lean more towards the side you physically don't resemble the culture of? Does that make you a traitor?
Back to Basics: Van, Earn
The conversation had to be had of what each person wants. For Earn, he is cool with how things are because they are now in his favor. When it comes to Van though, while Earn may eat her out and they have decent sex, go on dates sometimes, she wants something serious. So, they play ping pong, which Van is good at, and if she wins it was to be over.
Though, all things considered, it may not have even been about Earn losing or not, but at the very least fighting to stay together.
Commentary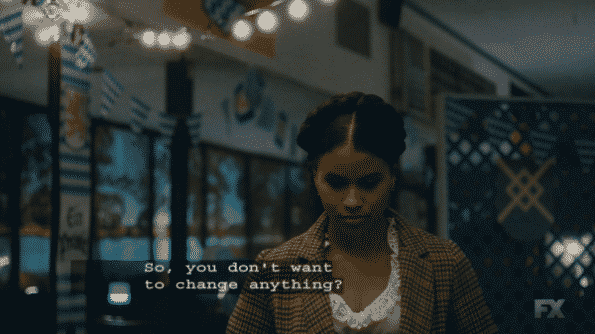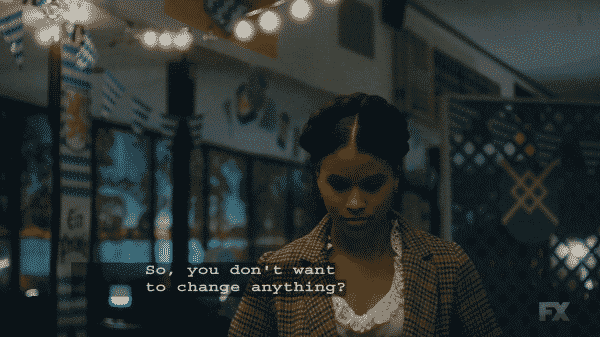 There was something about Van standing at the door, waiting for a second as Earn walked away, the way she was in bed with him, and that whole ride home. I think, in those moments, she was hoping and waiting to convince her of something. To make it seem he wouldn't give up on them so easily. Yet, he did. He didn't take an opportunity to really put in some sort of effort to show she meant more to him than someone to be on his arm or under his hips.
Heck, even the ping pong match, him not going for the kill but just keeping up just enough for her to be engaged was something. But I guess they have run their course. At least for now.
Highlights
The bi-racial conversation.
Van speaking for many a female character who just wanted the male one to have their life adapt to theirs for once, and them be as giggly about it as they are for them.
---
Follow Wherever I Look on Twitter or Like us on Facebook.
---
Previous Episode's Recap
[visual-link-preview encoded="eyJ0eXBlIjoiaW50ZXJuYWwiLCJwb3N0IjoxOTI4NSwicG9zdF9sYWJlbCI6IlBvc3QgMTkyODUgLSBBdGxhbnRhOiBTZWFzb24gMi8gRXBpc29kZSAzIFwiTW9uZXkgQmFnIFNoYXd0eVwiIC0gUmVjYXAvIFJldmlldyAod2l0aCBTcG9pbGVycykiLCJ1cmwiOiIiLCJpbWFnZV9pZCI6MTkyODYsImltYWdlX3VybCI6Imh0dHBzOi8vd2hlcmV2ZXItaS1sb29rLmNvbS93cC1jb250ZW50L3VwbG9hZHMvMjAxOC8wMy9WYW4tYW5kLUVhcm4tMi5wbmciLCJ0aXRsZSI6IkF0bGFudGE6IFNlYXNvbiAyLyBFcGlzb2RlIDMgXCJNb25leSBCYWcgU2hhd3R5XCIgLSBSZWNhcC8gUmV2aWV3ICh3aXRoIFNwb2lsZXJzKSIsInN1bW1hcnkiOiJXaGF0IGRvIHlvdSBkbyB3aGVuIHlvdSBnZXQgeW91ciBmaXJzdCBiaWcgY2hlY2sgYWZ0ZXIgYmVpbmcgaG9tZWxlc3MgYW5kIGJyb2tlPyBXZWxsLCBpZiB5b3XigJlyZSBFYXJuLCB5b3Ugc3BlbmQgaXQgb24gZHVtYiB0aGluZ3MgdG8gc3R1bnQgb2YgY291cnNlLiIsInRlbXBsYXRlIjoiZGVmYXVsdCJ9″]