As Violet Evergarden continues to win you over with visuals, it also makes another effort of having heart through introducing Iris' backstory.
---
Network
Netflix
Director(s)
Taichi Ishidate
Writer(s)
Reiko Yoshida
Air Date
2/1/2018
Episode Focus: Trying to Turn Lies Into the Truth | Iris, Violet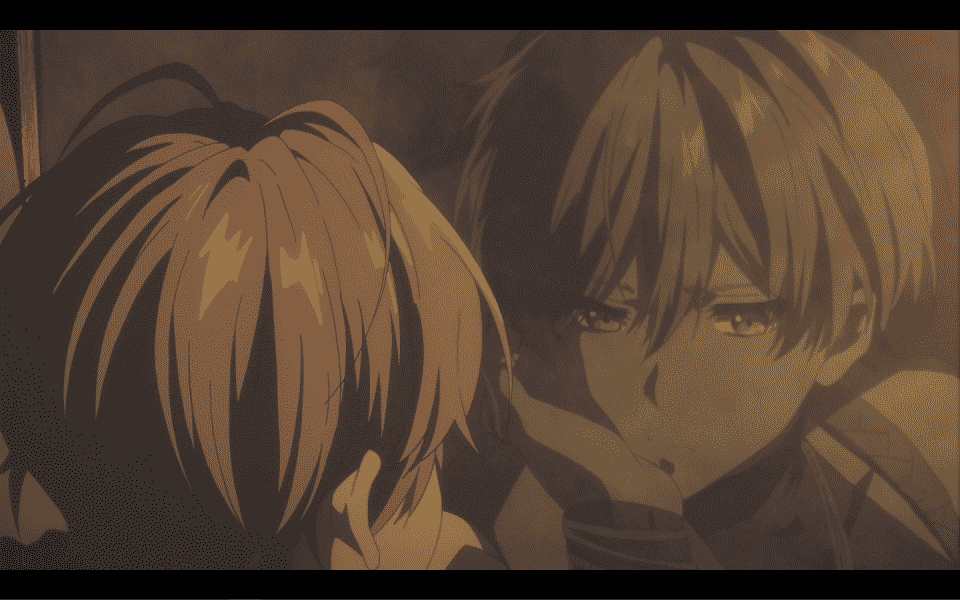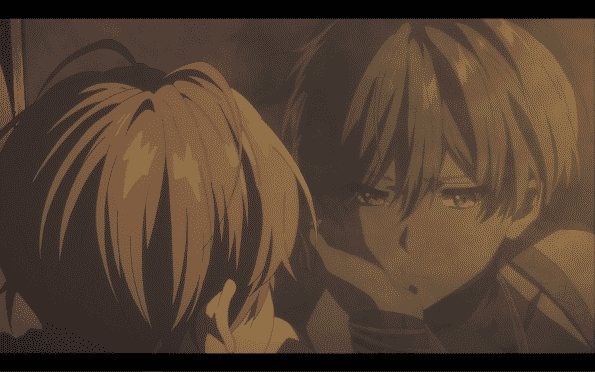 With Cattleya often getting the special request, when Iris gets one she is so excited. Especially since it is one from her hometown of Kazalli. A place not really hit by the war with the Gardarik Empire, so it is still as pristine as ever. But this high of her grand return turns sour as she learns it was her mom who requested her, the job is to write invitations for her, Iris', birthday, and on that list includes Eamonn Snow.
Now, as technologically advanced as the world may seem, thanks to Violet's hand, as usual, as progressive as the city may be, rural areas remain traditional. So, on top of this being about Iris' birthday, it is also about her finding a man, quitting her job, returning home, getting married, and etc. Which, of course, infuriates Iris to no end. But what makes things worse is that Violet, in her child-like, if not autistic way, doesn't understand many of the things Iris is going through.
Hence why, despite Iris vehemently not wanting Eamonn invited, upon Iris' mother saying to write one anyway, that is what Violet does and it causes a very embarrassing moment. Mostly because, Iris did have feelings for Eamonn, loved him since they were kids, but he kindly rejected her. And aren't those the worse kind of rejections? Not the mean-spirited and nasty ones that immediately obliterate the feelings you have, but when they don't want to hurt you and let you down easy. Thus maintaining why you like them but also confirming, you are wasting your emotions.
Violet revealing that to her parents, may have begun the process of them understanding what she is going through, and why she wants to leave, but still wasn't her business to tell. Yet, recognizing she owes her family something for their kindness and looking out for her the way they know how, she has Violet write a letter. Her second letter which sort of makes up for her speaking to Iris' family and misinterpreting a lot of things. While also showing that, while the girl may lack common sense, she is making progress.
Other Noteworthy Facts & Moments
Major Gilbert gave Violet her name after seeing the flower above.
Question(s) Left Unanswered
Is it wrong to assume or say Violet seems autistic? Not that I'm a doctor or anything, but with The Good Doctor, Atypical and Claws provided an example of different kinds of autistic people, she seems very similar.
Highlights
The Rural Life
A part of me strangely appreciated the show getting away from the city and showing how, traditionally, things were before the war. As well as addressing how places which didn't have valuable materials, like minerals, just weren't touched. For if there is one thing Violet Evergarden needs to be consistently praised on is its way of world building. Especially when talking about a post-war country.
On The Fence
It's A Learning Process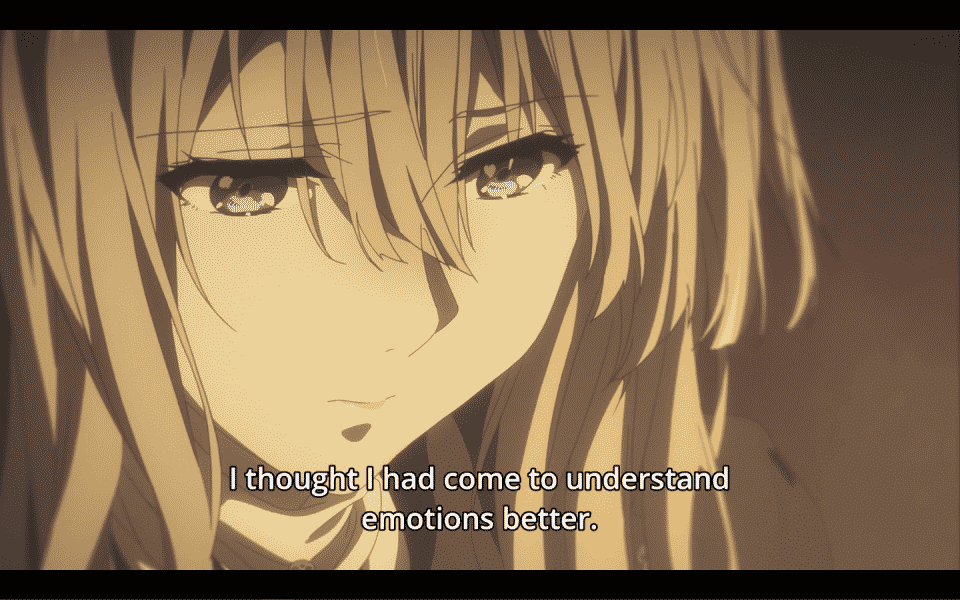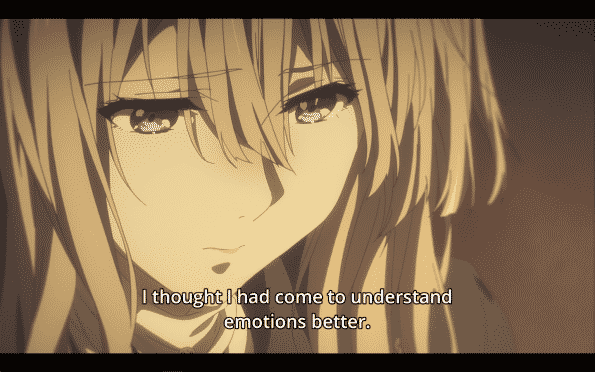 Violet is someone who didn't even have a name before Major Gilbert gave her one. Taking that into consideration, as well as her being brought up in the military, so begins the process of understanding that her social skills, and her understanding of emotions, stems from that. You can't expect Violet to understand the complexity of love, loss, and maybe even poverty to a point, when she was probably under the major for most of her life – if not the life she cares to remember.
After all, she was under the major's care and between his affluence and wealth, she was probably shielded from a lot. And yes, she may have learned to read and write, but it wasn't in a traditional school. So, kind of like Elias in The Ancient Magus' Bride, everyone around her is some kind of Chise. Each one with their own trauma who she is slowly but surely learning from. With, of course, her misconceptions being a bit more glaring because the power dynamic isn't there, but still there is this need to be patient.
Which, I got to admit, is kind of hard. For one of the things which make this show a bit difficult to watch is that, while very beautiful, there isn't the type of substance there to really hook you. Don't get me wrong, learning about Iris this episode and Luculia in the last, did inspire some emotions. However, Violet Evergarden doing the old Trojan Horse trick, that isn't going to work well here. This is a slice of life show which doesn't tap into its lead as it probably should. For between whatever life she had before Major Gilbert's brother brought her to the life she had with him, I feel like that needs to be dived into pronto.
For while I can explain and justify things, as others who enjoy this show, there comes a point where you have to wonder when does an explanation for this or that become an excuse? When does the bough break and these lovely visuals don't make up for a lifeless lead whose co-stars, whether one-off or reoccurring, don't truly pick up the slack?
---
Follow Wherever I Look on Twitter or Like us on Facebook.
---
Previous Episode's Recap
[visual-link-preview encoded="eyJ0eXBlIjoiaW50ZXJuYWwiLCJwb3N0IjoxNjg2MywicG9zdF9sYWJlbCI6IlBvc3QgMTY4NjMgLSBWaW9sZXQgRXZlcmdhcmRlbjogU2Vhc29uIDEvIEVwaXNvZGUgMyBcIk1heSBZb3UgQmUgYW4gRXhlbXBsYXJ5IEF1dG8gTWVtb2lyIERvbGxcIiAtIFJlY2FwLyBSZXZpZXcgKHdpdGggU3BvaWxlcnMpIiwidXJsIjoiIiwiaW1hZ2VfaWQiOjE2ODY1LCJpbWFnZV91cmwiOiJodHRwczovL3doZXJldmVyLWktbG9vay5jb20vd3AtY29udGVudC91cGxvYWRzLzIwMTgvMDEvQXp1c2EtVGFkb2tvcm8tTHVjdWxpYS5wbmciLCJ0aXRsZSI6IlZpb2xldCBFdmVyZ2FyZGVuOiBTZWFzb24gMS8gRXBpc29kZSAzIFwiTWF5IFlvdSBCZSBhbiBFeGVtcGxhcnkgQXV0byBNZW1vaXIgRG9sbFwiIC0gUmVjYXAvIFJldmlldyAod2l0aCBTcG9pbGVycykiLCJzdW1tYXJ5IjoiQWZ0ZXIgc3RydWdnbGluZyB0byBleHByZXNzIGhlcnNlbGYsIGEgeW91bmcgd29tYW4gbmFtZWQgTHVjdWxpYSBzZWVtaW5nbHkgYnJlYWtzIHRocm91Z2ggYW5kIGhlbHBzIFZpb2xldCBiZWNvbWUgaW4gdG91Y2ggd2l0aCBoZXIgZmVlbGluZ3MuIiwidGVtcGxhdGUiOiJkZWZhdWx0In0="]