Violet Evergarden ends with closure for fans and the character, and once again you need to plan to shed tears.
---
Network
Netflix
Director(s)
Taichi Ishidate
Writer(s)
Reiko Yoshida
Air Date
4/5/2018
Risking It All Again: Benedict, Violet, Diethard, Brigadier General Merkulov
Bullet by bullet Violet takes hits for Diethard and eventually, he shoots Merkulov. But, no matter if the rebels fall, there are still two bombs on the bridge. One which Benedict, with his heels, takes out one and Violet, after losing one arm to bullets, loses the other to ripping the other bomb off the bridge. Thus making it seem she has sacrificed herself, once more.
Luckily though, Benedict somehow catches her.
Closure: Violet, Diethard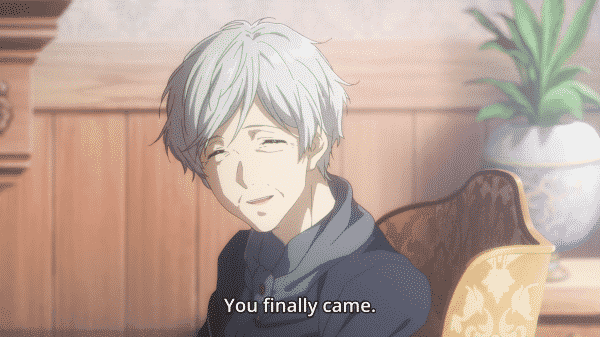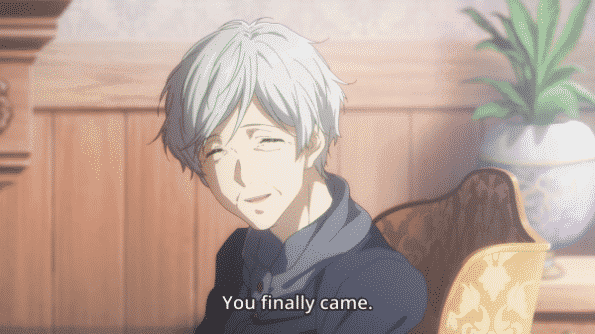 You know what Violet perhaps was missing all this time? Someone to mourn with. In a way, Claudia moved on, Diethard was closed off, but with her saving his life, he brings her home. To the home of his mother who has heard a lot about Violet and she speaks with her. Tells her how Diethard and Gilbert were close and how, despite a bit of her memory failing, she knows her son lost his body at the Battle of Intense. Yet, he lives on. He does in her heart and in Violet's, and getting to share a moment of mourning seems to be something Violet long needed.
And Life Goes On: Violet
With the war officially over, around the 5-year mark, one of Violet's last things planned is writing a letter to Major Gilbert. A heartfelt one which is summed up noting she has come to understand his final words. And with that said, she isn't necessarily ready to move on, but bring him, as she does with the pendant, onto the life he crafted for her.
Other Noteworthy Facts & Moments
It seems Erica has a crush on Benedict.
Cattleya was a dancer before the war.
Question(s) Left Unanswered
Who is Erica? We never got an episode about her background. Benedict and Cattleya too.
Who is the person who crafts Violet's arms and how expensive is that?
Was Violet acting as a tool for Diethard before she became a handy down to Gilbert and, if so, for how long?
So, do Cattleya and Claudia have something going on or not?
Highlights
Closure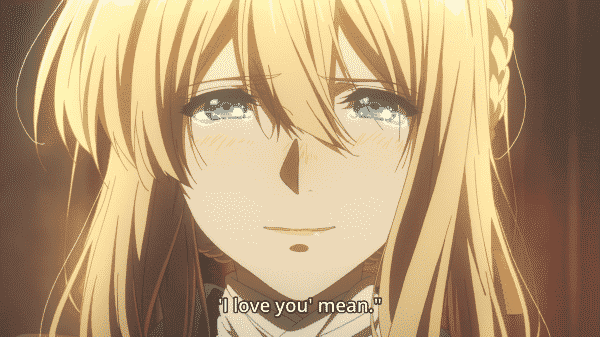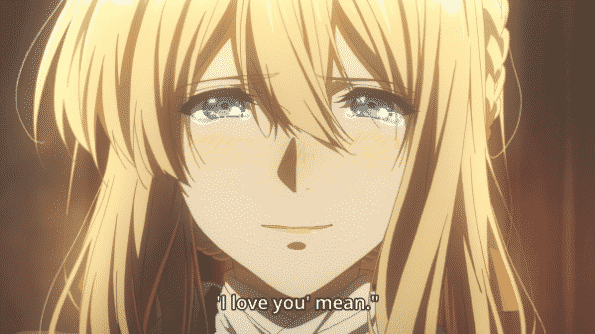 While understanding Gilbert's final words to her was a major focus, so was closure. Luckily, Gilbert set Violet up with something to keep her busy after he passed, but what became a distraction became a purpose. In that purpose, Violet found words and emotions beyond what Gilbert had the time to teach her, and eventually, she learned how to not just interpret other people's emotions but also her own.
Yet, there is something about mourning that, for some, needs to be a shared activity. Claudia was saddened by his friend's death but largely moved on. He had a business to run, friends, something going on with Cattleya, so Gilbert wasn't in the forefront of his mind. And despite being knocked out and repaired over 4 months, there was still that need to talk to someone, have hope, and there be someone to help deal with this weight.
Of which, until Diethard, in a way, recognized Violet and treated her like some semblance of family, the closest thing to closure was visiting the site Gilbert's last words were. Something which perhaps was more traumatic than soothing. Yet, with meeting Gilbert's mom, sharing in grief, yet being told Gilbert lives in their hearts, she finally got what perhaps she has been looking for. Maybe something beyond closure but belonging. Not to a company or task force, but a family who she shared something with. Even if it was a bit of sadness.
---
Follow Wherever I Look on Twitter or Like us on Facebook.
---
Previous Episode's Recap
[visual-link-preview encoded="eyJ0eXBlIjoiaW50ZXJuYWwiLCJwb3N0IjoxOTYyMiwicG9zdF9sYWJlbCI6IlBvc3QgMTk2MjIgLSBWaW9sZXQgRXZlcmdhcmRlbjogU2Vhc29uIDEvIEVwaXNvZGUgMTIgLSBSZWNhcC8gUmV2aWV3ICh3aXRoIFNwb2lsZXJzKSIsInVybCI6IiIsImltYWdlX2lkIjoxOTYyNywiaW1hZ2VfdXJsIjoiaHR0cHM6Ly93aGVyZXZlci1pLWxvb2suY29tL3dwLWNvbnRlbnQvdXBsb2Fkcy8yMDE4LzAzL1Zpb2xldC1FdmVyZ2FyZGVuLVZpb2xldC5wbmciLCJ0aXRsZSI6IlZpb2xldCBFdmVyZ2FyZGVuOiBTZWFzb24gMS8gRXBpc29kZSAxMiAtIFJlY2FwLyBSZXZpZXcgKHdpdGggU3BvaWxlcnMpIiwic3VtbWFyeSI6IlRoZSBsb25nLXNpbW1lcmluZyByZWJlbCBncm91cHMgb2YgR2FyZGFyaWsgbWFrZSB0aGVpciBtb3ZlIGFuZCBwdXNoIFZpb2xldCB0byBkaXNvYmV5IE1ham9yIEdpbGJlcnTigJlzIGZpbmFsIG9yZGVyLiIsInRlbXBsYXRlIjoiZGVmYXVsdCJ9″]