As Chise makes her first demand of Elias, it seemingly might be her last.
---
Network
Crunchyroll
Director(s)
Norihiro Naganuma
Writer(s)
Kore Yamazaki, Aya Takaha
Air Date
1/13/2018
Catch Up or Follow Along [External]
---
A Place To Call Home: Elias, Chise, Ruth
As usual, anyone who knows of Elias seems to question why Chise would want to attach herself to him. So, using a cursed cloak which turns its wearer into a werebeast, it seems the idea was to give Chise freedom. However, while she does run free for a bit, we learn she kind of forgot what she was running from. But, with Elias running after her, in some weird four-legged beast form, he catches up to her and convinces her to come home.
Commentary
Can I just ask, why must everyone treat Elias this way? From Lindel to people Elias probably hasn't seen in decades or centuries, every last one seemingly wants to isolate him for some reason. Is it just because the last time he became strongly associated with humans there were massacres across the plains? Could it be this is what they deem the appropriate punishment for what they all have touted as some kind of abomination?
For really, at this point, I am starting to wonder if anyone even cares about Chise's well-being and more so just want to punish Elias.
Goodbye My Love: Joel, Chise, Elias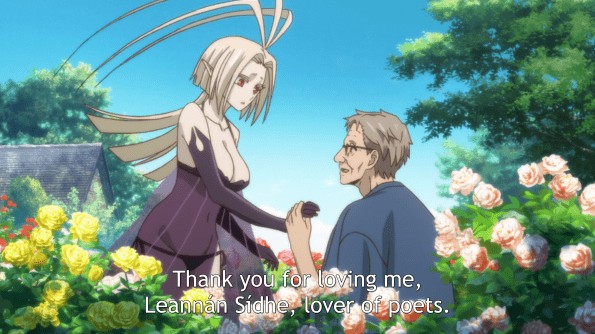 The Leannan Sidhe, or vampire, from before bursts into Chise's room and with the mention of old and kind Joe not waking up, Chise rushes into action. There she learns, through the callousness of Elias, Joel is dying. In fact, he may at most have a week. All of which Elias blames the Leannan Sidhe for and says Joel's fate was sealed once you started haunting him. Making it clear bedside manner needs to be put on the list of things Elias has to learn.
But, while Joel's death is sad for all, considering he has long been without his wife, who died young and left the garden to him, it does mean he'll get to see her again.
Commentary
You know, sometimes I wonder why everyone hates Elias or simply tolerates him. But then moments like the one he had with the Leannan Sidhe happen and it makes sense. For the most part, familiars don't seem to mess with humans to the point of becoming emotionally invested in them. So for that to happen, to recognize your own immortality and face the concept of loss, is hard. After all, with how Leannan Sidhe's are introduced, it seems they make their exchange for blood or life and then they clean their hands of their victims. So, considering the place Elias is in with Chise, it is weird that he didn't notice the parallels. But, lest we forget, Elias suffers from arrested development so perhaps expectations should maintain a low status.
A Final Sight: Oberon, Chise, Elias
With Joel being so kind and the Leannan Sidhe in such pain, alongside him having a week to live, Chise decides to make a fairy ointment so he can see her just once. The problem is, this ointment, which Oberon calls "Eyelid Joy" is a bit unlawful. After all, it seems all otherworldly beings don't take well to the capability of being seen. They prefer the mirror to only be peered through one way. So, with Chise sacrificing 4 days and somehow making the ointment, it seems her fate is sealed.
However, Joel does get to talk to the Leanna Sidhe and thank her for her time. Which perhaps maybe the only good thing to come out of this. For, like anytime Elias has warned Chise to get him if something goes wrong, things go wrong. Oberon shows up, takes what remains of the "Eyelid Joy" and immediately Chise begins to cough up blood.
Commentary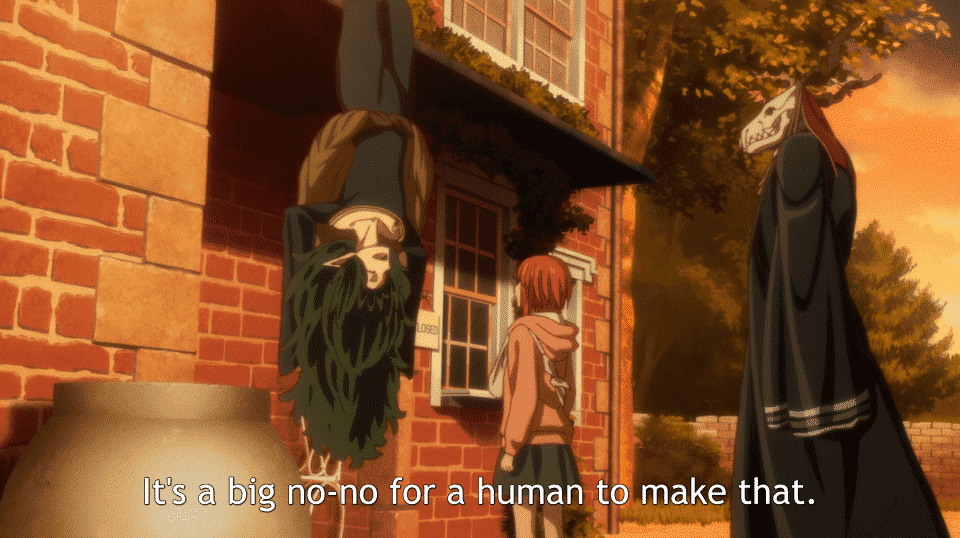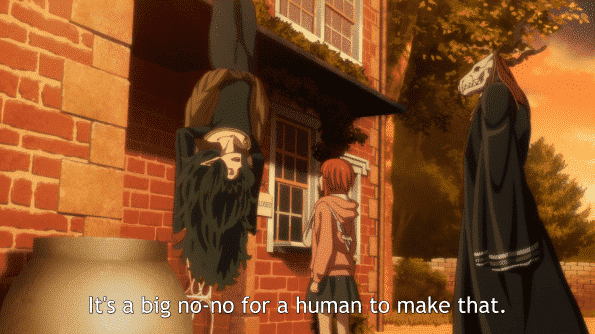 The fascination this episode really is why does everyone hate Elias. Of which, I think him letting Chise make this damn near forbidden ointment is another reason. He doesn't seem to care about the rules, even when he knows for a fact they can cause trouble. And while I get Chise doesn't make a lot of demands, hence him letting her do this, rather than saying no, it isn't like this will just ruffle some feathers. There will be consequences that, hilariously, Elias separates himself from by not helping Chise make the ointment. Ultimately having it where he has the scapegoat of, "I told her she shouldn't do it, but I didn't have it in me to stop her."
But, alongside that comes a few questions. Primarily, how can an ointment over the eyes allow for Joel to hear and touch the Leannan Sidhe? Especially when the ointment just barely was complete and was made by an amateur? I get Chise had to succeed for the emotional impact of the episode, but a side eye feels necessary here.
Follow Wherever I Look on Twitter or Like us on Facebook.