How Not to Summon a Demon Lord: Season 1/ Episode 1 "The Demon Lord Act" [Series Premiere] – Recap/ Review (with Spoilers)
Despite its exuberant amount of ecchi, there might be something of value in How Not to Summon a Demon Lord.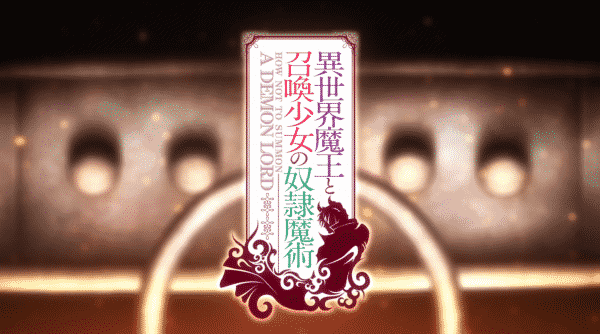 Despite its exuberant amount of ecchi, there might be something of value in How Not to Summon a Demon Lord.
---
Network
Crunchyroll
Creator
Yukiya Murasaki
Director(s)
Yūta Murano
Writer(s)
Kazuyuki Fudeyasu
Air Date
7/5/2018
Genre(s)
Ecchi, Action, Fantasy
Good If You Like
Skimpy outfits and bouncing breasts.

Anime Which Takes Place In Game Worlds

People being trapped within a game for no particularly logical reason

Quests

Noted Actors
Sakamoto/Diablo
Masaaki Mizunaka
Shera
Yū Serizawa
Rem
Azumi Waki
Galluk
?
The Introduction
Sakamoto, a young man whose life is playing this MMO game named Cross Reverie, finds himself transported into that world thanks to what is known as an enslavement ritual. One which backfires on the two girls who cast it, Shera and Rem, and ends up turning them into Sakomoto's slave, under his character Diablo. Leaving us with him tasked with finding a way to undo the ritual as well as help Rem with her curse. That is, the Demon Lord Krebskulm, the most powerful boss in the game, being sealed inside her.
Other Noteworthy Facts & Moments
Diablo is level 150, which is rare and quite unheard of.
Question(s) Left Unanswered
When did Sakamoto start playing this game?
Are the characters we have met thus far mostly AI or are some of them human?
Highlights
Rem's Quest
What might be the heart of the show, if not main means of redeeming itself, might be Sakomoto's genuine desire to help Rem rid herself of Krebskulm. Much less Rem pushing the idea further that she has serious abandonment issues because, once most people know her secret, they leave her.
The Socially Awkward Sakomoto
In Sakomoto's awkwardness we may find hilarity and maybe even a sense of him truly being human. For while his desire, or coercion, into isolation may seem a bit much, him putting himself out there could be interesting to see. Especially since he is kind of doing so vicariously, yet is still very much himself.
It Hard A Decent Action Scene
Though Diablo's fight against Galluk and his salamander was far from epic, it could be appreciated. It was, in fact, the driving point of me watching this and I can't say I was disappointed. Not blown away either but it is one of the main reasons I'd stick around.
Criticism
Massive Amounts of Ecchi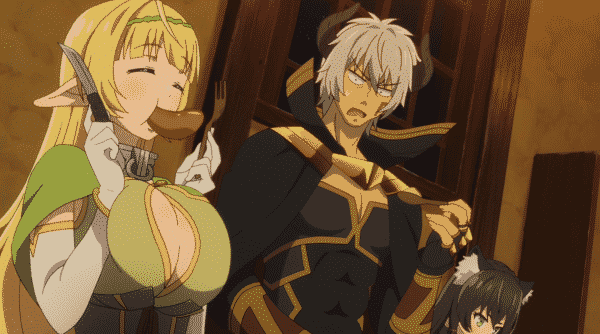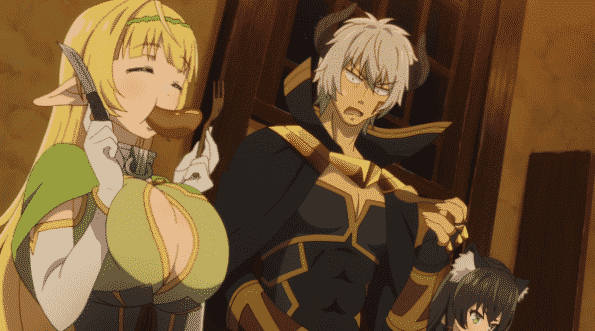 Jiggling breasts are everywhere. Skimpy outfits are what a lot of the women wear and it is neither funny nor tantalizing. It just seems like a cheap gimmick. One it isn't even clear yet if it is needed to compensate for the story. For while, the highlights I won't say will sell everyone, they can grow into something which rewards those who stick around. However, they'll have to get through the gratuitous bouncing, softcore nude and yuri moments, as well as other scenes of ecchi.
First Impression: Mixed (Stick Around)
I'm going to give this 3 episodes just to see which way it leans. It could very well become a good show which just a bunch of unnecessary ecchi. Yet, on the other hand, it could very well be the daydreams of Sakamoto and the jiggling for those who don't know how to Google hentai might be all this really can sell. Being that I'd like to watch more anime than last season, I'm giving this a chance. Hopefully not wasting my time in doing so, or yours.
Follow Wherever I Look on Twitter, Like us on Facebook and Subscribe to the YouTube Channel.
---