As Mei continues to be very hot and cold, she is presented with a challenger in the form of Matsuri.
---
Network
Crunchyroll
Director(s)
Takeo Takahashi
Writer(s)
Naoki Hayashi
Air Date
2/17/18
Hot and Cold: Mei, Yuzu
As usual, Yuzu is distracted and going through it because of Mei. I'm talking to the point she is thinking of maybe being in love. However, kissing is nothing new to Mei and her relationship, so that shouldn't be taken seriously. However, holding hands while doing so is a bit more intimate. It isn't the usual aggressive pushing one another down thing they do. There is clear reciprocation there. So, with that in mind, Yuzu seeks answers and gets rejected.
Why? Well, because, despite the culture of the academy, which Mei seems willing to participate in, to a point, at the end of the day they are women and also sisters. So, with that said, Yuzu puts her feelings on ice again.
Be Careful of That One: Harumin, Matsuri, Yuzu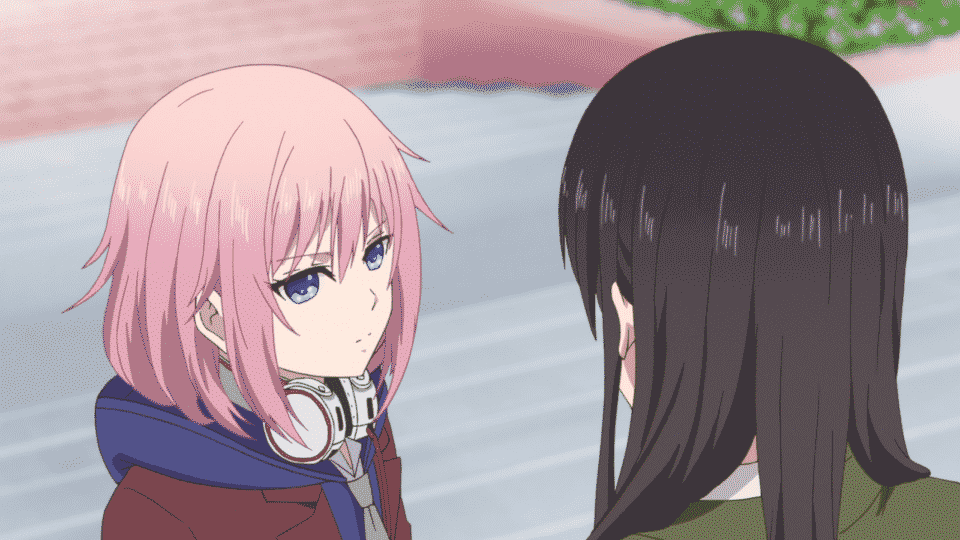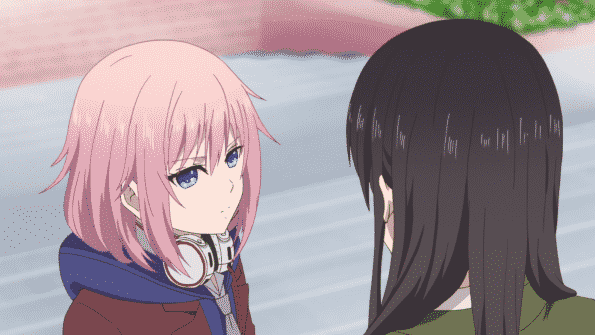 You see the pattern forming yet? Mei breaks Yuzu's heart or does something really confusing and off Yuzu goes to spend time with Harumin. Who, more often than not, isn't exactly sure what Yuzu is dealing with now, but does her best to help based on the little information given. Yet, not someone new has been injected into things: Matsuri.
This young girl, a middle schooler at this point, has found her beloved onee-chan. How? Well, be playing a game in which she basically stalks her. This is something Matsuri enjoys and with Yuzu noting she is clingy, this sets off a red flag for Harumin. One which is quite justified for when Harumin has to run home, Matsuri starts making moves on Yuzu. In fact, when she sees Mei, after going through Yuzu's phone, she makes it imperative to kiss her in front of Mei to make a claim. Thus sending us back to re-living the Himeko experience, but with it now being Yuzu's turn to deal with an aggressive and jealous childhood friend.
Don't Know What You Have Till It's Gone: Mei, Yuzu, Matsuri
With Mei seeing Matsuri kiss Yuzu, it causes her to react in her usual strange ways. That is, being sexually aggressive. Which, you can tell, increasingly is getting more agitating for Yuzu than giving her hope. For even with Mei calling her for the first time, engaging in conversation for the first time, clearly whatever maturity Mei may have in the outside world doesn't translate to her personal life. An area where Yuzu has a great deal more of intelligence and is growing tired trying to analyze Mei's constantly shifting moods.
But, this jealousy may end up leading to interesting results. Especially since Matsuri is a bit of a creep and shows up at the academy to publicly ask Yuzu out. We're talking, none of the discretion most of the girls have with their relationships. Which of course leads to Mei kicking her out and reprimanding Yuzu a bit, and it being clear that Matsuri is ready to go to war.
Question(s) Left Unanswered
So, has Himeko just completely ended whatever feelings she has for Mei?
On The Fence
Enter Player Two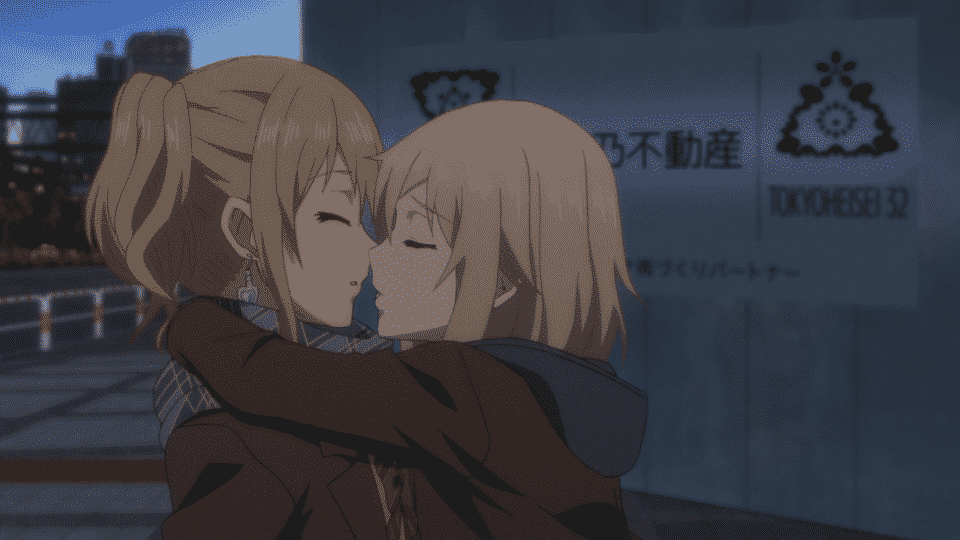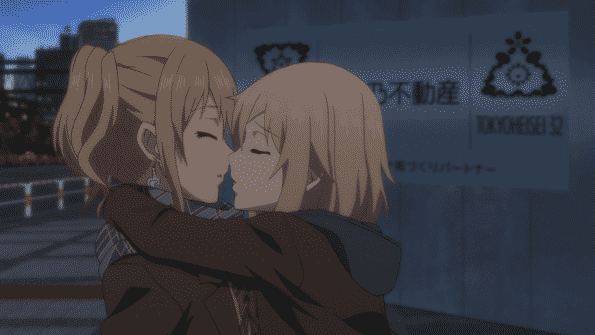 So we're basically flipping the script now. Matsuri is the new Himeko and Yuzu is in Mei's position right? Okay, fine. But here is where this may get interesting, Matsuri clearly is a little bit twisted and does not give a damn what Yuzu's peers think. In fact, she comes off a tad bit crazy, from my perspective, and it makes you wonder if she could possibly be a physical threat.
Which isn't to say she is going to physically assault Yuzu or Mei, but considering how this show handles the idea of consent and sexual assault, it does make you wonder if it may go there? We have already seen what many would consider rape, but it has never been verbalized as that. However, with the way Matsuri is acting, kicking things and being aggressive, it makes you wonder if she may cross the line.
---
Follow Wherever I Look on Twitter or Like us on Facebook.
---
Previous Episode's Recap
[visual-link-preview encoded="eyJ0eXBlIjoiaW50ZXJuYWwiLCJwb3N0IjoxNzQ2NCwicG9zdF9sYWJlbCI6IlBvc3QgMTc0NjQgLSBDaXRydXM6IFNlYXNvbiAxLyBFcGlzb2RlIDYgXCJPdXQgb2YgTG92ZVwiIC0gUmVjYXAvIFJldmlldyAod2l0aCBTcG9pbGVycykiLCJ1cmwiOiIiLCJpbWFnZV9pZCI6MTc0NjYsImltYWdlX3VybCI6Imh0dHBzOi8vd2hlcmV2ZXItaS1sb29rLmNvbS93cC1jb250ZW50L3VwbG9hZHMvMjAxOC8wMi9DaXRydXMtU2Vhc29uLTEtRXBpc29kZS02LU91dC1vZi1Mb3ZlLU1laS1hbmQtWXV6dS5wbmciLCJ0aXRsZSI6IkNpdHJ1czogU2Vhc29uIDEvIEVwaXNvZGUgNiBcIk91dCBvZiBMb3ZlXCIgLSBSZWNhcC8gUmV2aWV3ICh3aXRoIFNwb2lsZXJzKSIsInN1bW1hcnkiOiJEZXNwaXRlIGVjY2hpIGVsZW1lbnRzIHN1cmVseSB0dXJuaW5nIHNvbWUgcGVvcGxlIG9mZiwgQ2l0cnVzIHJlbWluZHMgdXMgdGhhdCBsb3ZlIGlzIGEgY29tcGxpY2F0ZWQgdGhpbmcgYW5kIHNvIGlzIGZpZ3VyaW5nIG91dCBob3cgdG8gaGFuZGxlIHlvdXIgYXR0cmFjdGlvbnMvYWZmZWN0aW9uIGZvciBzb21lb25lLiIsInRlbXBsYXRlIjoiZGVmYXVsdCJ9″]
Whole Season's Recaps
[visual-link-preview encoded="eyJ0eXBlIjoiZXh0ZXJuYWwiLCJwb3N0IjowLCJwb3N0X2xhYmVsIjoiIiwidXJsIjoiaHR0cHM6Ly93aGVyZXZlci1pLWxvb2suY29tL3RhZy9jaXRydXMtc2Vhc29uLTEiLCJpbWFnZV9pZCI6MTY2MDUsImltYWdlX3VybCI6Imh0dHBzOi8vd2hlcmV2ZXItaS1sb29rLmNvbS93cC1jb250ZW50L3VwbG9hZHMvMjAxOC8wMS9DaXRydXMtU2Vhc29uLTEtRXBpc29kZS0zLVNpc3Rlcmx5LUxvdmUtTWVpLnBuZyIsInRpdGxlIjoiQ2l0cnVzOiBTZWFzb24gMSIsInN1bW1hcnkiOiIiLCJ0ZW1wbGF0ZSI6ImRlZmF1bHQifQ=="]