Big Mouth: Season 1/ Episode 5 "Girls Are Horny Too" – Recap/ Review (with Spoilers)
---
Community Rating: 0.00% (0) - No Community Ratings Submitted (Add Yours Below)
---
This post may contain affiliate links and spoilers. Please read our disclosure policy.
---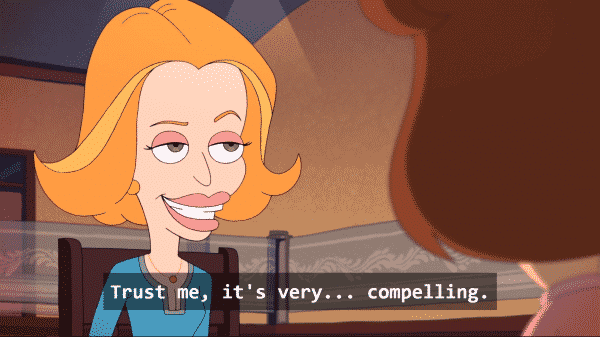 After so much time spent on hearing the boys talk about porn and masturbation, it's ladies night.
The Rock Of Gibraltar: Missy, Nick, Andrew, Leah (Kat Dennings)
A book has become a sensation, "The Rock of Gibraltar." A slightly erotic tale that for both parent and child has caused many a woman and girl to get horny. But, most of all, it has confused many a boy and man who doesn't get it.
For the young guys, thanks to Nick having conversations with his sister Leah, it helps them learn girls get horny too. Leading to their heads exploding. But for the older group, especially Andrew's parents, it shows how the romance has left their marriage.
Focusing back on the kids though, Missy is one of the first to set the school on fire and it seems Nick is the only one bold enough to ask and read the book. Making it so, by the end of the episode, after doing a public speaking book report on the subject, it seems Nick may have moved up a rank. Perhaps to the point everyone forgetting how Jessi thoroughly decimated him. Though, alongside that, Andrew gets into the book too. As well as into the person who loaned it to him, Missy.
Getting To Know You: Jessi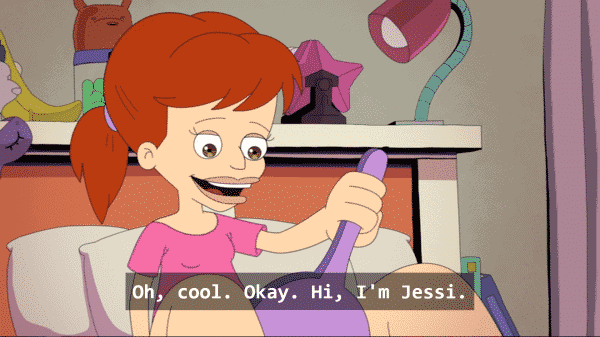 Each and every episode of Big Mouth has featured Andrew getting horny and usually getting off. It's Jessi's turn. Well, kind of. She doesn't really get to know all that encompasses her nether regions like the boys, but she gets a good start. For, unlike the boys, she talks to her genitals and gets to know her. That is vs. choking and beating it like the boys do. [note]I don't know why that felt so awkward to write.[/note]
Highlights
Nick's Family
While a certain level of dysfunctional, you have to love the relationships each member of Nick's family has. I mean, yeah, his brother is an ass but Leah explaining how girls got turned on by that book was quite sweet. It was weird how that kind of turned their parents on, but this show has talking vaginas and had talking penises. It operates on a new normal.
Some Girl Time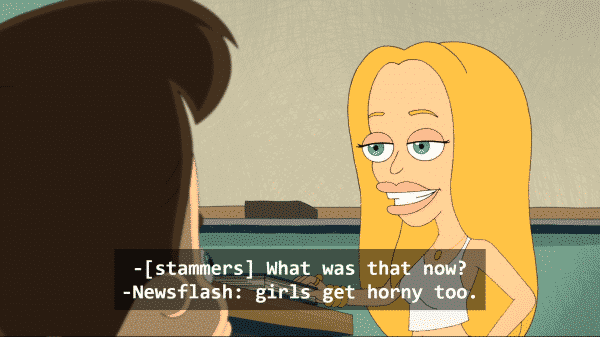 As brought up in "Everybody Bleeds," girls going through puberty isn't as normalized as guys going through puberty. Though, Big Mouth takes it to the next level and has a girl masturbating. On top of that, them talking about them getting turned on and it really pushes you to realize how odd talking about that is. Not odd in the sense of it being weird girls get off too but odd because I can't think of too many coming of age stories which even go into that.
For, again, it seems anything, before a girl turns 18 and can really be sexualized, is treated as a niche and certain topics, like a "sexual awakening" shouldn't be touched. Meanwhile, hearing and focusing on boys like Nick and Andrew is so normal you don't even get weirded out watching and hearing a 7th grader masturbate one episode after the next. Much less, don't take into account how weird it is we saw a 7th grader's animated penis.
Oh wait, I remember the exception! The only exception of when we get to see or hear about young women, meaning not 18 yet, exploring their sexuality is when a man old enough to be their dad are having sex with them. Like The Diary of a Teenage Girl.
On The Fence
Andrew's Parents
While it is important to show a balance between a pseudo-healthy relationship with a bad one, that is Nick's parents v. Andrew's, I just couldn't get into their storyline. Probably because there is just something terribly annoying about them. Be it Andrew's dad nasally voice, how his mom just has no sort of presence, if not the fact this show seems more interesting when the adults are treated as if they are in a Charlie Brown cartoon.
With, of course, the exception of ghosts and magical beings.