A small glimpse into Zach's childhood saves yet another asinine episode of Angels of Death.
---
Network
Crunchyroll
Director(s)
Kentarou Suzuki
Writer(s)
Yoshinobu Fujioka
Air Date
8/3/2018
I'm Nobody's Tool: Zack, Cathy, Rachel
Long story short, because of Zach breaking the sole way to solve the room puzzle, Rachel has to create a makeshift bomb to get them out. Which Cathy allows and that allows them to get to the next challenge. However, after inhaling enough toxic gas, and just being tired for who knows how much time has passed, she and Zach rest and Zach has a nightmare. One which deals with his childhood that, with Cathy knowing his backstory, she uses as part of her punishment.
How? Well, by bringing up the idea that Zach is a tool and making him do a puzzle which requires him to relive discarding the dead bodies of his foster siblings. Which, apparently, really traumatized him as a kid and even has a hold on him now. But Cathy doesn't care for she is dealing with criminals. So, after that torture, another room is gone into with two syringes. One with vitamins and the other a lethal drug and Zach takes both to prove he isn't a tool.
Thus making it where he is woozy, a bit less in control of his emotions, and is ready to kill Rachel. Yet, with him not free and he repeatedly bringing up that promise made, he holds off. At least for now.
Commentary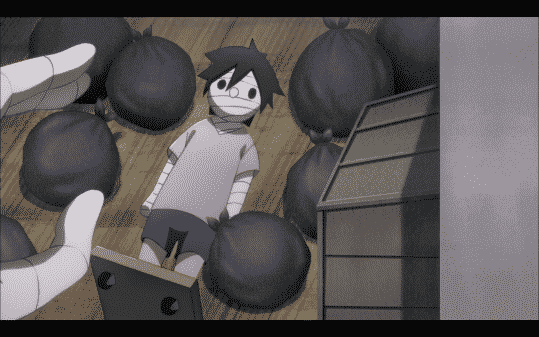 The struggle continues and that flicker of light, seeing Zach's past, wasn't enough. Which I blame simply on the tone of this show. Comparing it to Happy Sugar Life, that program also deals with some form of dark themes but is able to switch things up and be light and weird. With Angels of Death, however, it doesn't present the kind of tone which plays up its comedic aspect nor present any sort of sinister vibe. We can watch Cathy try to kill these two and get nothing but her ridiculous ass laugh. One that sounds canned for so many villains laugh just like that.
Then, when it comes to Zach's childhood, there should be a more morose vibe but it feels on level with everything else we saw. Really making you wonder, what happened? At this point, we're halfway so there isn't much of an argument left to say, "This could turn it around" or "Remember episode 1? That wasn't the peak."
As of now, while it doesn't feel like we've hit rock bottom, this Cathy saga definitely isn't doing the show any favors. Even if she is triggering us finally getting some backstory.
Highlights
We get to understand Zach's trauma a little bit better thanks to learning he buried his foster siblings in shallow graves.
Low Points
The tone of this show gives no oomph to anything which goes on. Be it the comedic stuff or what needs to be taken seriously.
Follow Wherever I Look on Twitter and Like us on Facebook.
---
Previous Episode's Recap
[visual-link-preview encoded="eyJ0eXBlIjoiaW50ZXJuYWwiLCJwb3N0IjoyNDY5MCwicG9zdF9sYWJlbCI6IlBvc3QgMjQ2OTAgLSBBbmdlbHMgb2YgRGVhdGg6IFNlYXNvbiAxLyBFcGlzb2RlIDQgXCJBIFNpbm5lciBIYXMgTm8gUmlnaHQgb2YgQ2hvaWNlXCIgLSBSZWNhcC8gUmV2aWV3ICh3aXRoIFNwb2lsZXJzKSIsInVybCI6IiIsImltYWdlX2lkIjoyNDY5MSwiaW1hZ2VfdXJsIjoiaHR0cHM6Ly93aGVyZXZlci1pLWxvb2suY29tL3dwLWNvbnRlbnQvdXBsb2Fkcy8yMDE4LzA3L0FuZ2Vscy1vZi1EZWF0aC1TZWFzb24tMS1FcGlzb2RlLTQtQ2F0aHkucG5nIiwidGl0bGUiOiJBbmdlbHMgb2YgRGVhdGg6IFNlYXNvbiAxLyBFcGlzb2RlIDQgXCJBIFNpbm5lciBIYXMgTm8gUmlnaHQgb2YgQ2hvaWNlXCIgLSBSZWNhcC8gUmV2aWV3ICh3aXRoIFNwb2lsZXJzKSIsInN1bW1hcnkiOiJBdCB0aGlzIHBvaW50LCBBbmdlbHMgb2YgRGVhdGggaXMgd29ya2luZyBvZmYgYSBob3Jyb3IgYW5pbWUgY2hlY2tsaXN0LiBTbyBhZGp1c3QgeW91ciBleHBlY3RhdGlvbnMgYXMgbG93IGFzIHBvc3NpYmxlIG9yIHlvdSB3aWxsIG5vdCBlbmpveSB0aGUgcmlkZS4iLCJ0ZW1wbGF0ZSI6ImRlZmF1bHQifQ=="]
---