Andi Mack: Season 3/ Episode 4 "Hole In The Wall" – Recap/ Review (with Spoilers)
Just when Andi and Jonah think they have things figured out, Jonah makes it clear that she might be okay but he certainly is not. Network Disney Channel Director(s) Michelle Manning Writer(s) Sam Wolfson Air Date 11/2/2018 Images and text in this post may contain affiliate links which, if a purchase is made from those…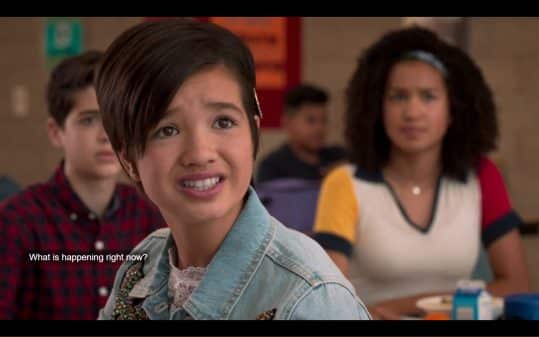 Just when Andi and Jonah think they have things figured out, Jonah makes it clear that she might be okay but he certainly is not.
---
Network
Disney Channel
Director(s)
Michelle Manning
Writer(s)
Sam Wolfson
Air Date
11/2/2018
Images and text in this post may contain affiliate links which, if a purchase is made from those sites, I may earn money or products from the company. Most affiliate links contain an upward facing, superscript, arrow.
A New Team: Buffy, TJ
Buffy finally has a girls' basketball team! Problem is, they aren't as good as her and, for some reason, she is expected to be team captain and coach. So, since their relationship has healed a bit, she seeks and lets TJ give her advice. Leading to her taking note of how bad of a captain he was while trying to figure ways to make the girls into a cohesive unit. Starting with uniforms.
Commentary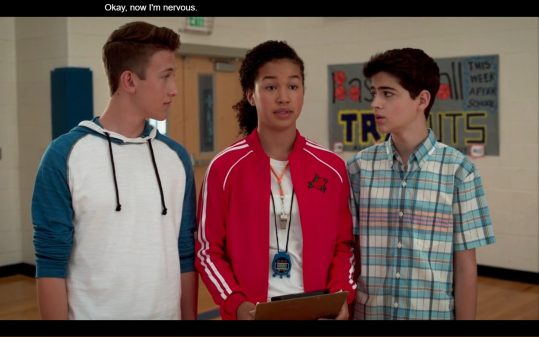 This should be interesting. Primarily because of the issues the WNBA are having and also the fact you don't really see a lot of depictions of girls, or women, into sports that much. Well, playing sports anyway. So here is hoping, like having money to get buses to do away games, we'll see different issues young female athletes deal with.
Though, taking note of that last sentence, considering how nice those uniforms were, maybe the school is fully backing this. Just, for some reason, not enlisting a coach – which still blows my mind.
FAMILY MEETING: Andi, Bex, Bowie
From what it seems, Bowie is now moving in with Andi and Bex and to handle the extra needed space, they're just knocking down the wall of the apartment next door. Which is awesome for Andi, since she needs stability, but then comes the issue of Bowie not being used to living with women. Now, on one hand, it's great that he cooks because that isn't Bex's strong suit and Andi hasn't learned anything. Problem is, Bowie has a whole lot of hair, is acclimated to living on the road, so the nice things Andi and Bex use to clean and such, he uses – sometimes to the point of excess. Which will be the first of many adjustments he, and the ladies, will have to make.
Commentary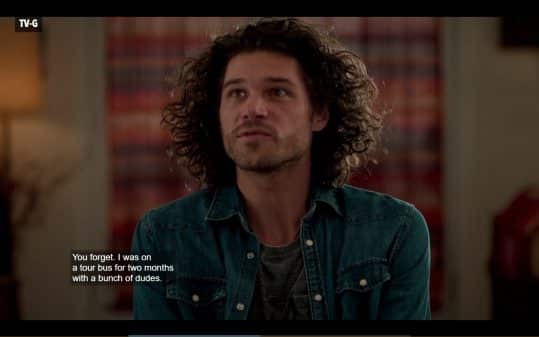 *Raises Hand* How are they paying for this? Bowie works at a record store and Bex is seemingly doing well at the boutique but I feel like Cece is probably holding onto any profits she can. After all, so many businesses fail in their first year and it isn't like Bex put a lot out to get things started. So them being able to afford a second apartment and being allowed to knock down a wall? It seems weird to me but not to the point of suspending disbelief. If only because I don't know how Colorado's economy is so maybe it is cheap enough where you can have jobs like them and live well?
That is assuming Bex is living totally independent of her parent's money.
I Cried: Jonah, Andi
As seen when Jonah was "cool" with the breakup, he is really trying hard to deal with Andi not wanting to be with him. Problem is, his relationship with her isn't like his relationship with Amber. When it came to Amber, she needed him to compensate for what she didn't get at home. He was put in the position where he had to be strong for her and, lest we forget, their relationship was abusive. At the very least emotionally.
With Andi, it isn't like that. Jonah can be vulnerable, make mistakes, and not be ridiculed for it. So going from Amber to Andi, losing that emotional connection because she no longer has it? That's hard. I mean, it could be considered one of the primary factors of his anxiety attacks (which have kind of went away).
Commentary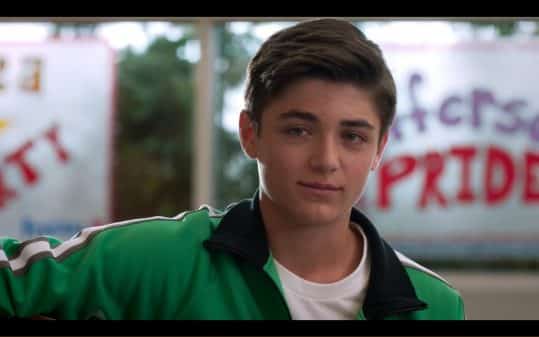 What I'm digging about Jonah and the whole "I Cried" thing is because it is really allowing viewers to see boys do have feelings too. Granted, the guys on this show are in touch with their feminine side in ways very few guys are. Between Cyrus having maternal qualities, Bowie too in a way, and Jonah feeling so deeply, these dudes make TJ seem like an anomaly. Though, even TJ makes it seem that, while you may struggle to talk about how you feel, the relationships you build by expressing yourself are the best you can have. For it allows you to fully grow as a person and know you don't have to live some kind of dual life.
Making you wonder, why aren't more people trying to interact and get in good with the good hair crew? But, then again, Andi's friends often seem like they live in a bubble don't they? The extras they barely interact with so after Jonah's song led to many people looking at Andi funny, I was like, "You actually know who Andi is?" Not that kids don't gossip, and keep in the know about who is dating who. It's just, take Walker. Walker is a kid not even from that school yet he so easily found himself integrating into Andi's life then transferring into Buffy's. So why don't they have more casual friends?
I mean, look at Cyrus. Buffy is intense at times, so I can see why she may not look approachable. Then with Andi, considering how moody she sometimes gets, again, I get it. With Cyrus, however, you'd think people would want a cheerleader like him in their life. That, if they partnered up with him in class, they likely wouldn't just let the moment pass. Look at TJ. He barely came into contact with Cyrus, through Buffy, yet Cyrus is probably one of his closest friends now. So what gives?
Highlights
The girls' basketball team is now in session.
Bowie adjusting to the women in his life.
Jonah, and many of the guys on the show, being rather open about their feelings and not being plagued by toxic masculinity.
---
Follow Wherever I Look on Twitter, Like us on Facebook and Subscribe to the YouTube Channel.
---
---
[ninja_tables id="25444″]
---
Follow, Like, and Subscribe
Community Rating: 0.00% (0) - No Community Ratings Submitted (Add Yours Below)