Andi Mack: Season 3, Episode 20 "We Were Here" [Series Finale] – Recap, Review (with Spoilers)
---
Community Rating: 0.00% (0) - No Community Ratings Submitted (Add Yours Below)
---
This post may contain affiliate links and spoilers. Please read our disclosure policy.
---
Andi Mack ends either with moments you've wanted for a long time or hints that, in the future, perhaps some dreams set aside could finally happen.
---
Network
Disney Channel
Director(s)
Paul Hoen
Writer(s)
Terri Minsky
Air Date
7/26/2019
Images and text in this post may contain affiliate links which, if a purchase is made, we'll earn money or products from the company. Affiliate links and external links have an upward facing, superscript, arrow.
Recap
Setting Things Up: TJ, Kira, Bex, Celia, Bowie
With Celia saying she is going out of town, Bex decides to throw a party. Not necessarily a reception, but just a general, sort of big, celebration! One which begins with Bex and Bowie having their first dance and sets up a few major moments. The first being TJ and Kira breaking up.
Knocking Them Down: TJ, Cyrus, Buffy, Marty, Andi, Jonah
From there, everything begins to fall in place. Buffy is finally ready to admit she has feelings for Marty and makes sure he knows this isn't her joking or anything like that. Leading to not only Marty returning her feelings but a KISS!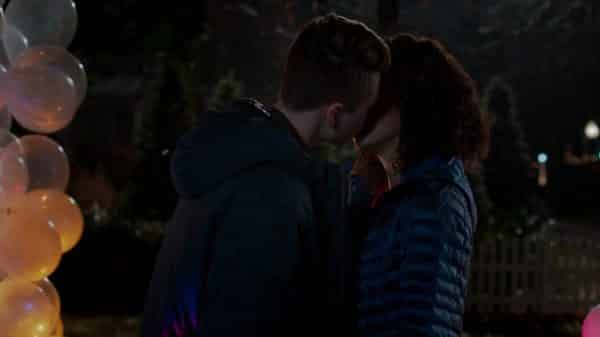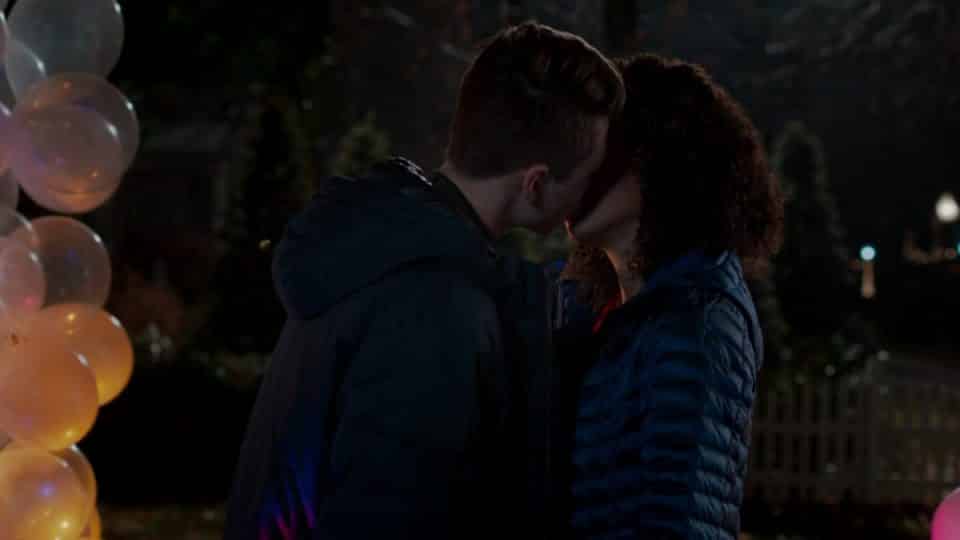 It doesn't end there, so don't think that's the high! We also get TJ revealing what his name means, Thelonious Jagger, after Thelonious Monk and Mick Jagger, and that he has feelings for Cyrus too! Mind you, they don't kiss, but they do intertwine fingers. Something is better than nothing right?
Leaving Andi and Jonah. Unlike the others, they are left on an ellipsis. One which pushes the idea maybe, when older, they both might be ready for a relationship. Possibly with each other, if not in general. As for now, Jonah has the bracelet which is a symbol of him being Andi's first love, and together they share a whole bunch of learning moments which will craft their future with others, or each other.
It's Never Goodbye, But More So See You Later: Cyrus, Buffy, Andi, Jonah, Bex, Bowie
But what is a slew of happy moments without something heartbreaking? Well, for the show, the cast, it is Andi getting accepted to SAVA and that meaning for the first time, since 2nd grade, the good hair crew won't go to the same school. Which is a little bit devastating, especially for Cyrus, but they all reassure one another this isn't the end. They'll be together when Cyrus opens a film at Sundance, Buffy is coaching a professional basketball league, Andi has an art gallery opening, and Jonah is rocking out on stage.
Strangely, where Bex and Bowie will be isn't mentioned, but you can't have it all. However, when it comes to the members of the Good Hair Crew, they will always have each other.
Other Noteworthy Facts & Moments
Andi Shack has been stripped bare to represent the next stage of Andi's development.
Question(s) Left Unanswered
Was it too much to hope, expect maybe, if they are going to sing Lady GaGa's "Born This Way" they would have kept the "No matter gay, straight or bi, lesbian, transgender life?" Rather than sing this odd Kidz Bop version?
Did Buffy imply Kira was TJ's beard?
I can't be the only one who, for a hot second, thought Walter might be in the dino suit, right?
Review
Highlights
How Buffy and Cyrus Got Their Love Interest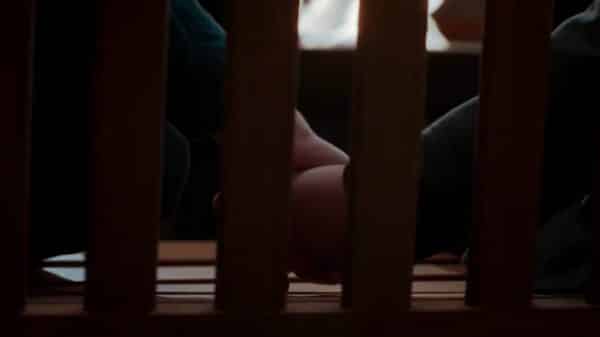 For Buffy, Marty from the party has been a long-simmering romance. One which was made to be the opposite of Andi's crush on Jonah in that it was taken slow, serious, and rather than being about physical attraction, or something shallow, it was due to chemistry. Marty and Buffy had good banter, were both into sports and competition, and yet Buffy knew she wasn't ready for a relationship, so they got put on ice.
Yet, a season and a half later, she is ready, as was he, and the stars aligned. The same goes for Cyrus. Originally, TJ was perhaps aggressive and an ass since he saw things in Cyrus that he rejected in himself. But, in seeing that Cyrus wasn't pretending to be happy, had friends who loved him, and accepted his flaws, TJ came to love his shortcomings and even see what he thought he should hide he could live out loud. Leading to him holding the hand of the person who helped him see there was a different way to live and was by his side throughout it all.
Not Erasing The Journey Andi and Jonah Had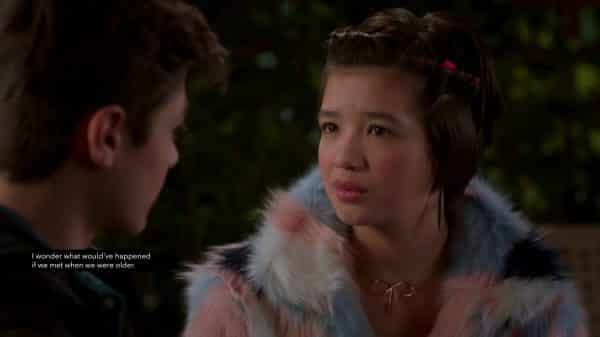 Let me say this, if Andi and Jonah got together, I would have rolled my eyes and been mad. Jonah clearly has no desire, or concept, of how to be in a relationship. Andi, I'd submit, is not emotionally ready to be in a relationship. Between how involved she was with Bex and Bowie's relationship, how her own anxiety flared up when it comes to Jonah, and probably the expectations Bex and Bowie have made as a precedent, Jonah has to do more than sing a song, still have a bracelet or little gestures like that. Making the idea maybe down the line, sometime in high school, them getting together more acceptable. Better yet, believable.
Giving Some Idea Of The Characters Future
Who knows, with revivals and continuations years later, maybe we may see the cast of Andi Mack play out junior and senior year, maybe freshmen year of college? It's hard to say for we don't know where any of the actors may end up and while Terri Minsky has written for older characters, as seen in The Carrie Diaries, Finding Carter, and Sex and The City, who knows if she may wish to revisit this group? But, the possibilities which aren't canon aside, at least for the core four we got some idea where life may go. Granted, it would have been nice if Bex, Amber, Bowie, and a few others were included, but you can't have it all.
The Walk Down Memory Lane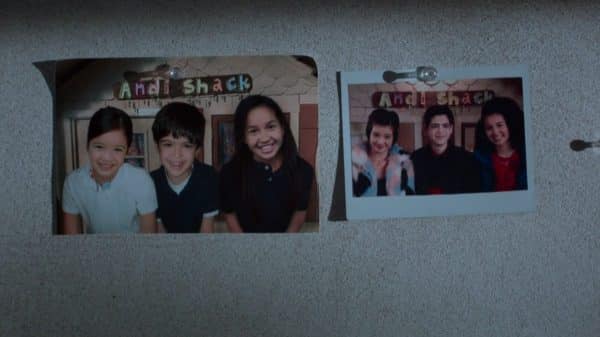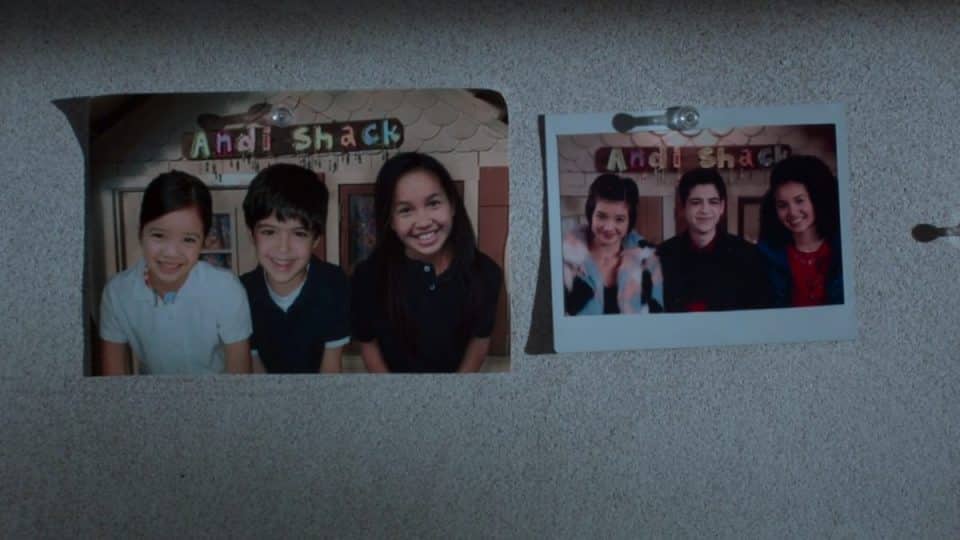 While not a big thing, it is nice, especially if you've been watching since the beginning, to see these major moments repeated once more. That is alongside being reminded how young and adorable these kids were before they became teenagers, young adults, even. Making it so, if you're a bit out of the demographic Andi Mack is for, it is like watching your younger siblings grow up and you seeing it stage by stage. Causing an emotional response you might have been expecting, yet still weren't fully prepped for.
Follow Wherever I Look on Twitter, Like us on Facebook and Subscribe to the YouTube Channel.
[ninja_tables id="25444″]
How Buffy and Cyrus Got Their Love Interest - 95%
Not Erasing The Journey Andi and Jonah Had - 96%
Giving Some Idea Of The Characters Future - 94%
The Walk Down Memory Lane - 85%