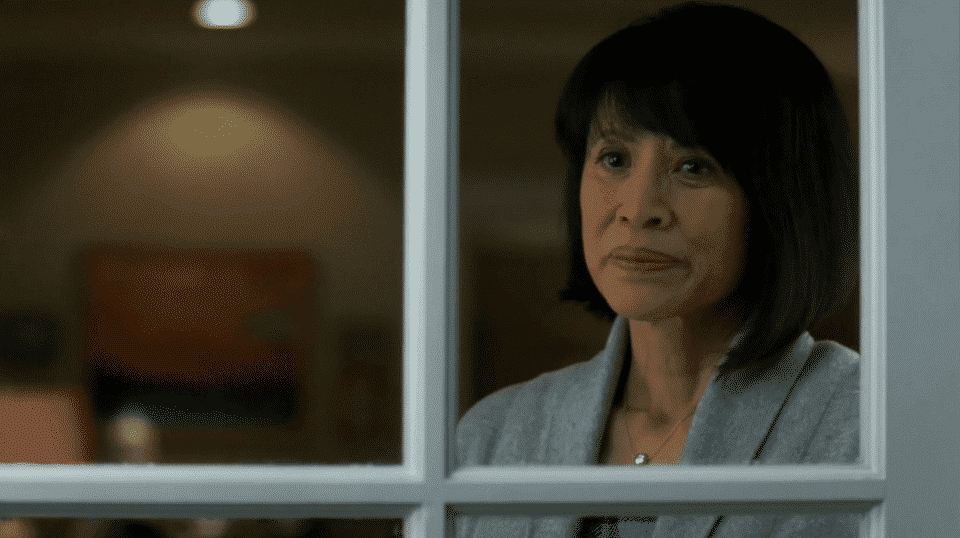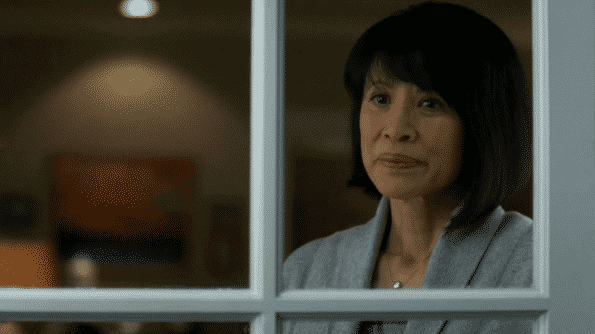 While Andi finds herself worrying about a few less things in her life, then another bomb gets dropped on her little world.
---
Network
Disney Channel
Director(s)
Paul Hoen
Writer(s)
Elena Song
Air Date
1/19/18
Catch Up or Follow Along [External]
Characters Introduced
Mr. C
Andrew Diaz
Natalie
Shelby Simmons
---
Episode Focus: Can You Please Not Sell The House?! | CeCe, Ham, Bex, Andi
Andi is really pulling out all the stops to convince her grandparents to not sell the house. This includes making dozens, if not hundreds of cranes, working her way to 1000, to make this wish come true. So, CeCe decides to make a deal with Andi, without Ham. She comes over more and then the house may not be sold. However, rather than this seem like CeCe manipulating Andi, it seems to really be empty nest syndrome hitting CeCe hard.
You know how you can tell, CeCe is eating sugary cereal, taking Andi out of school for nonsense, and is trying to be fun more than pragmatic. Thus forcing Bex to take on this role which, as you can imagine, is very weird for her. Especially as Andi pushes the idea CeCe has perhaps changed. That she isn't the curmudgeon Bex has grown up with and has a very complicated relationship with.
Though, in the long run, what may have been a shady deal ends up being a wish come true. If only because neither CeCe nor Ham seemingly talked about where they would live next.
Commentary
So you're telling me, these two put the house on the market with no real solid plan of where to live next? Ham is here talking about Paris or living on a boat and CeCe? Well, we didn't necessarily get any direction out of her. All we know is Ham's plans are a definite no and she is going to take up as much time as she can with Andi. For, I think after the chaos of the last 2 – 3 decades, she has gotten used to loud noises and activity in the house. Plus, you've met Ham right? He is a nice guy, good for companionship, but isn't a dance partner, someone to do crafts with, or anything like that.
But, switching things up, it was nice to see that despite how much CeCe and Bex heal certain aspects of their relationship, there will remain issues. CeCe can do a complete 180 turn and be accepting and friendly and Bex will never forget the woman she grew up with. It continues to push this idea these are real people whose issues won't get resolved in 30 minutes, or perhaps ever.
Subplot 1: A Deal With The Devil | Buffy, Cyrus, TJ
With TJ failing algebra, Mr. C tasks Buffy with tutoring him. Something she naturally thinks isn't her problem, in TJ's infamous words, especially when it means him possibly getting kicked off the team. I mean, why not let nature take it's course? Well, lest we forget, part of the lessons Buffy has been coerced into learning is about teamwork, when it comes to the sports we've seen her in as of late. So, she decides to make a deal. TJ helps Cyrus get a chocolate muffin, his holy grail, and she'll tutor him.
A deal which is clearly one-sided, even with how pensive Cyrus can be, but TJ keeps up his end so he expects a C+.
Commentary
I'm cool with Buffy and TJ having a sort of complicated relationship, but I so badly hope he doesn't catch feelings for her. Especially in a, "You know, for a girl you're kind of cool" type of way. Though Marty I know is hurt, let me believe there might be hope. Their devastated faces in the last episode I'm still trying to get over.
Subplot 2: Serial Monogomist | Jonah, Bex, CeCe, Andi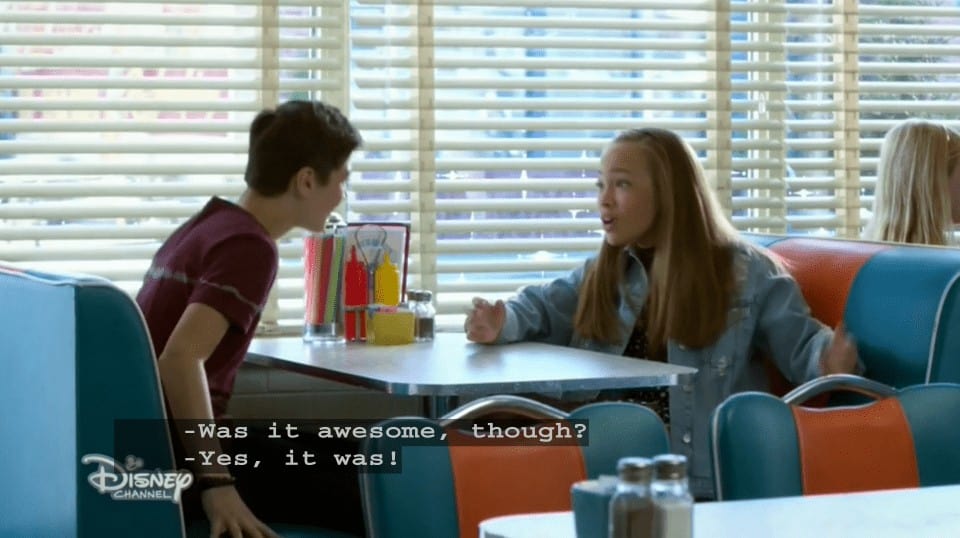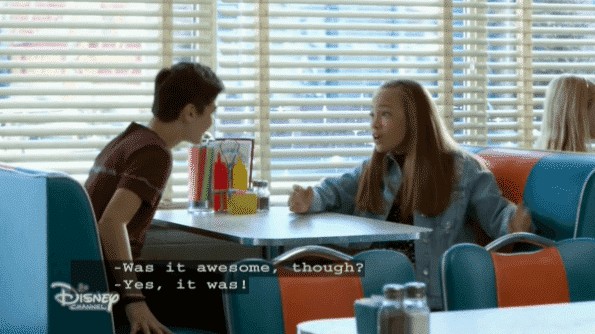 How you get them is how you lose them right? Andi, going by Amber's take on things, came out of nowhere, chatted Jonah up, and next then she knows there are problems in their relationship and he switched her out for someone else. So, here comes Andi's issue: After all the fun of dancing with her mom and CeCe, they go to The Spoon and Jonah walks in with this girl Natalie. Someone cute, has Jonah giggling like an idiot, and seems like a threat. Though, who knows how real of a threat.
Commentary
We can only hope that Natalie and Jonah's relationship is like Buffy and Cyrus', minus wherever on the spectrum Cyrus is. Or, who knows, maybe Natalie maybe all the way queer? Who knows? What definitely will be seen though is another example of why Andi perhaps isn't ready for a relationship. For if just seeing Jonah giggle with another girl makes her feel that insecure, then clearly there are deep-rooted trust issues.
Now, if it is because of how she won Jonah or just because she thinks her friendship with Cyrus in an exception? Who knows? What is definitely clear though is that Jonah has definitely shown himself as someone who can be loyal, despite how bad the relationship is, so Andi may not have anything to worry about. That is, assuming Amber didn't just have a spell on that boy vs. him showing how deeply rooted he'll plant his loyalties.
Follow Wherever I Look on Twitter or Like us on Facebook.
Previous Episode's Recap
[visual-link-preview encoded="eyJ0eXBlIjoiaW50ZXJuYWwiLCJwb3N0IjoxNjQ0MiwicG9zdF9sYWJlbCI6IlBvc3QgMTY0NDIgLSBBbmRpIE1hY2s6IFNlYXNvbiAyLyBFcGlzb2RlIDcgXCJIZWFkIE92ZXIgSGVlbHNcIiAtIFJlY2FwLyBSZXZpZXcgKHdpdGggU3BvaWxlcnMpIiwidXJsIjoiIiwiaW1hZ2VfaWQiOjE2NDQ2LCJpbWFnZV91cmwiOiJodHRwczovL3doZXJldmVyLWktbG9vay5jb20vd3AtY29udGVudC91cGxvYWRzLzIwMTgvMDEvQW5kaS1NYWNrLVNlYXNvbi0yLUVwaXNvZGUtNy1IZWFkLU92ZXItSGVlbHMtTWFydHkucG5nIiwidGl0bGUiOiJBbmRpIE1hY2s6IFNlYXNvbiAyLyBFcGlzb2RlIDcgXCJIZWFkIE92ZXIgSGVlbHNcIiAtIFJlY2FwLyBSZXZpZXcgKHdpdGggU3BvaWxlcnMpIiwic3VtbWFyeSI6IiIsInRlbXBsYXRlIjoiZGVmYXVsdCJ9″]