For both Bowie and Buffy, we learn why talking about their parents is a bit of a sore subject.
---
Network
Disney Channel
Director(s)
Paul Hoen, Adam Weissman
Writer(s)
Suzanne Weber
Air Date
2/2/2018
My Former Birthday Traditions: Bex, Andi, Bowie
While hanging with his daughter, you know one of Bowie's favorite things, Andi asks to check out Bowie's license and figures out that day was his birthday. Something Bowie really doesn't want to be made into a big deal but with it being one of the first Andi gets to spend time with him on, that is totally disregarded. So, alongside Bex, they plan a small and intimate party. One which doesn't include Miranda but just Bex's family and Andi's friends. Because, you know, Bowie's family and friends aren't an option.
Which isn't so much a sarcastic statement but also a little bit of a fact. You see, Bowie's dad, who he shared a birthday with, he died 3 years ago. In fact, the reason Bowie doesn't like celebrating his birthday and being the center of attention, is because he is so used to sharing and celebrating it with his dad, that it makes him feel bad.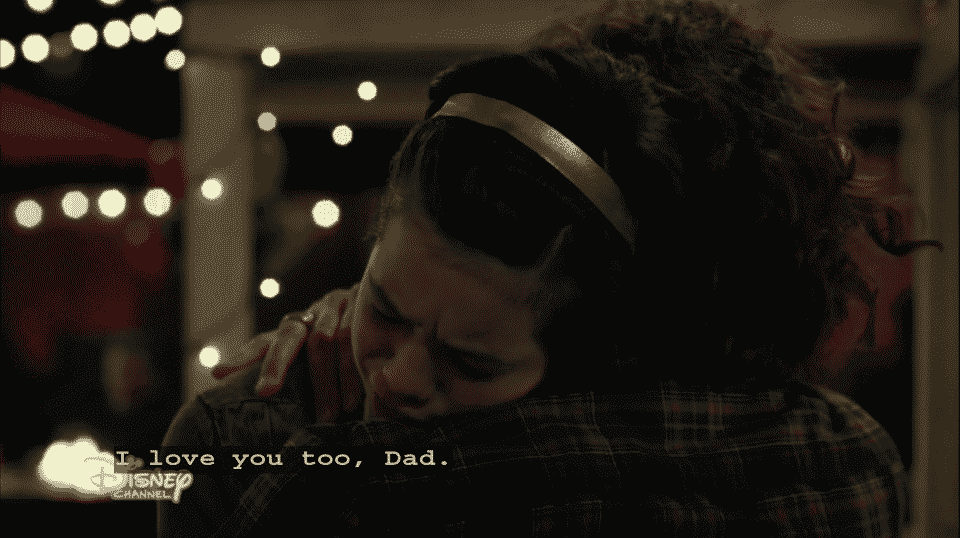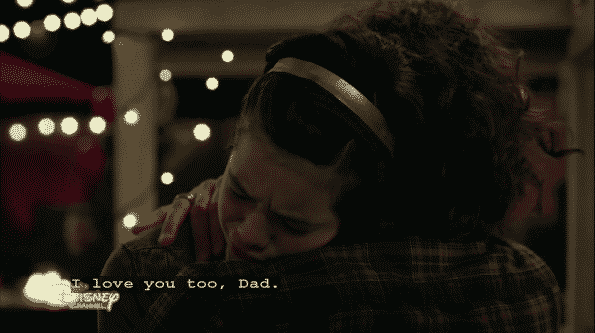 Making it so Bex has to remind Bowie that he has a daughter now who wants to craft the kind of memories like the ones Bowie made with his dad. Of which, for his first birthday with Andi, she gives him the ultimate gift. Not a surprise party but calling him dad. Something which comes after he says "I Love You" to her by the way, and oh it is such a touching moment.
Why I Have To Be Strong, The Best: Jonah, Buffy
Despite whatever issues seemingly were in the last episode between Jonah and Andi, those get completely pushed aside. Jonah's job this episode is to be Buffy's competitor, a worthy challenge. Which pushes the question of why does Buffy need to win and prove she is strong so much? Well, it is because of her mom. Every time she leaves, Buffy promises her she'll be strong and she keeps that promise in every way possible. Be it athletically strong or emotionally strong.
However, it becomes clear when Andi asks when Buffy's mom is coming back that as tough as Buffy is, that is the type of question which could break her. So, naturally, the subject gets quickly changed.
Can We Still Be Friends?: Iris, Cyrus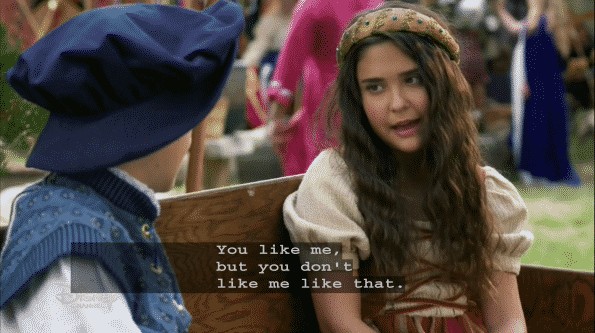 Remember Iris? Yeah, Cyrus finally breaks up with her and it is decided they'll be friends. Especially since they are so similar and they do genuinely like each other. It is just, as shown by the need to touch Jonah once they get to the renaissance fair, he doesn't like Iris as she likes him.
Question(s) Left Unanswered
Recognizing Bowie was part of Bex's past, and they haven't seen each other for years, are you really going to tell me she forgot the man's birthday? She knew him back when his dad was alive and I'm sure he probably, a few times, talked about their failed fishing trips. Or am I completely forgetting how long they dated? I could swear it wasn't a few months but much longer…
Highlights
Missing a Parent
Addressing what makes the usually jovial Bowie feel down and the often rock of her group, Buffy, less of a Valkyrie and more of a softie, was something else. With Buffy, it sort of helps you get her. With Andi, arts and crafts are her thing because CeCe and Bex are into that. When it comes to Cyrus, he is pensive and kind of weird because he has 4 people in psychology for parents and an overbearing mother. With Buffy though? The only thing we ever knew was her dad was around and mother was often absent.
To the point that it isn't really clear how often they talk, much less see each other. So with her noting she has to be strong, so redirected the opinion that Buffy being in sports was to give her mom reason to maybe, subconsciously, feel bad for missing so much of her daughter's life. That may be, her having to be the best wasn't about trying to prove to her mom she was worthy of her time.
Instead, it was just about keeping a promise. One which explains a lot of Buffy's frustrations for surely there was a promise on the other end. Buffy promised to be strong and I'm sure the other side of that was her mom promising to come back. So, maybe in a paranoid way, Buffy fights as hard as she does for if she doesn't keep her promise, she may feel that may mean something happening to her mom.
Switching to Bowie, it is always interesting to see comedic characters, or people, get real with you. When they decide to take off the face paint, pull off the big red shoes, and just be the person behind the jokes and oddities. Which isn't something we have gotten a lot out of Bowie. His character has always existed in whatever he is or could be to Andi or Bex. Be it the eccentric dad or the off and on boyfriend. In this episode, he got to be Bowie. The guy who lost his father and is still adjusting to the idea that he is someone's father. Much less, planting down roots for that kid and being forced to not have a million and one distractions in his life. Of which, be it traveling, meeting random people, or partying, could help him deal with the loss of his dad, among other things.
On The Fence
Running Issue: Can We Meet Families Who Aren't Andi's
Okay, Buffy's mom eventually appearing feels like it is being teased, and I'm happy about that. But now with Bowie revealing his dad died, and they shared a birthday, I feel like that would have been the perfect time to bring up his mom. After all, he didn't just lose a dad but she lost a husband, assuming they were still married. So her not calling to wish her son a happy birthday, or at least check on him, sounds weird to me.
Just as weird as Andi not asking about the other side of her family. Something that I hope she pushes for with officially calling Bowie dad. For with her making such a big deal of who her dad is, where she came from, and etc in the first season, it makes that not being a thing a bit eyebrow raising. Even if you take into consideration her Jonah drama taking up so much of her time.
Off & On The Backburner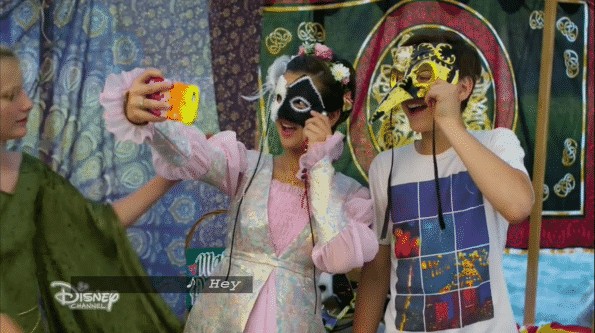 One of the unfortunate things about how Andi Mack is written is that it often puts things on the backburner. Be it Cyrus' relationship with Iris, Marty, the issues we saw between Jonah and Andi, as well as Miranda, they get put to the side and sometimes hold off on to the point you think they have been forgotten. If not they are being held onto until either the season finale or before one of Disney's weird break periods.
Which is becoming increasingly frustrating for it isn't like this show has a huge cast. For some things, like Cyrus being gay, you can kind of understand Disney dipping its toe in and wading slowly into the water. It is a new thing for them and the backlash from certain groups may have scared them off a bit. Hence why this Iris breakup has taken so long, we don't really see Jonah and Cyrus hang out, and you could easily miss any reminder of Cyrus knowing he is different – in terms of his orientation.
But, remembering this show is but 20 some odd moments, especially with Mack Chat now existing, you can't have it all right?
---
Follow Wherever I Look on Twitter or Like us on Facebook.
---
Previous Episode's Recap
[visual-link-preview encoded="eyJ0eXBlIjoiaW50ZXJuYWwiLCJwb3N0IjoxNjkyMCwicG9zdF9sYWJlbCI6IlBvc3QgMTY5MjAgLSBBbmRpIE1hY2s6IFNlYXNvbiAyLyBFcGlzb2RlIDkgXCJZb3UncmUgVGhlIE9uZSBUaGF0IEkgV2FudFwiIC0gUmVjYXAvIFJldmlldyAod2l0aCBTcG9pbGVycykiLCJ1cmwiOiIiLCJpbWFnZV9pZCI6MTY5MjEsImltYWdlX3VybCI6Imh0dHBzOi8vd2hlcmV2ZXItaS1sb29rLmNvbS93cC1jb250ZW50L3VwbG9hZHMvMjAxOC8wMS9BbmRpLU1hY2stQW5kaS1hbmQtSm9uYWgucG5nIiwidGl0bGUiOiJBbmRpIE1hY2s6IFNlYXNvbiAyLyBFcGlzb2RlIDkgXCJZb3UncmUgVGhlIE9uZSBUaGF0IEkgV2FudFwiIC0gUmVjYXAvIFJldmlldyAod2l0aCBTcG9pbGVycykiLCJzdW1tYXJ5IjoiQmV4IGFuZCBBbmRpIGZpbmQgdGhlbXNlbHZlcyBpbiBwb3NpdGlvbnMgd2hlcmUgdGhlbSBub3Qgc2F5aW5nIGFueXRoaW5nLCBtYXkgbWVhbiBsb3Npbmcgc29tZW9uZSB3aG8gbWF0dGVycyB0aGUgbW9zdC4iLCJ0ZW1wbGF0ZSI6ImRlZmF1bHQifQ=="]