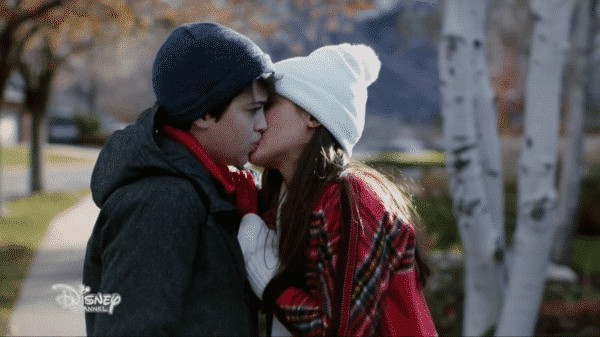 Andi Mack returns and, needless to say, things are complicated with everyone's current and past relationships. At least, if romance is a factor.
---
| | |
| --- | --- |
| Director(s) | Eyal Gordin |
| Writer(s) | Terri Minsky |
---
Jonah Likes Me: Jonah, Amber, Andi, Buffy, Bex, Iris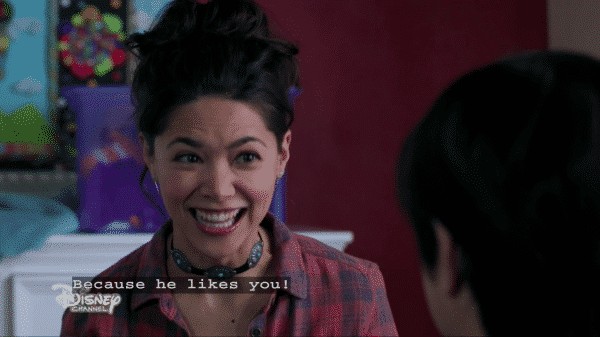 Jonah makes it clear that he doesn't want Andi out of his life and seems to take the words she told him last season to heart. He invests more in what is going on with her and is doing his best to not make it the Jonah show featuring Andi Mack. As for Andi? Well, things are complicated. She still likes Jonah but wanted some distance. Yet, with him giving back the bracelet, and Bex getting it into her head that Jonah likes her, she is willing to give their friendship, maybe a possible relationship, a go.
Something Buffy isn't sure about. Not because of the topic which follows but considering she was the first in the group to really meet someone who matched her, it seems she gained some wisdom. The kind which pushes her to believe that maybe Andi isn't ready to date yet. For one, she is back to being speechless and having brain farts around Jonah and even gets a little insecure when Jonah and Amber, who now works at The Spoon, talk.
Mind you, it is about her dad hiding that he lost his job and being that Amber highly relies on whoever she is dating, as Iris notes, it makes Jonah someone she badly needs to talk to. Or rather, perhaps one of the few exes she has who was with her for something beyond dating but an actual friendship. But, the issues of Amber's family or even assuming they are giving each other closure doesn't cross Andi or Buffy's mind. It is just something which puts Buffy on attack mode and brings Andi down a little.
However, rather than show some form of immaturity, go on about how Amber and he are destined to get back together, she just talks to Jonah. Not about Amber, for she doesn't care and likely figures it isn't her business. She rather have them communicate more and disprove what Buffy said by getting her and Jonah back to a place where they can talk.
Is He Gay or Is He Bi?: Buffy, Cyrus, Iris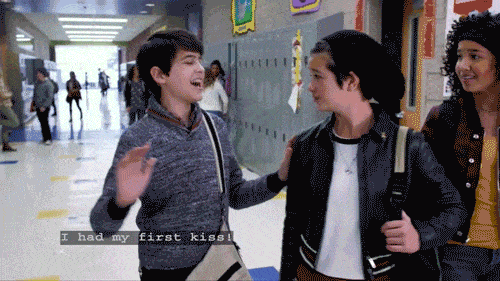 Cyrus and Iris remain together and even share their first kiss! Something Cyrus is very gleeful about. However, with Andi and Jonah growing close, it leads him to realize he is jealous. Something he talks to Buffy about for while Andi is his friend, who is the one he calls on whenever something happens? Buffy.
Someone who handles it well and is very supportive. Though she does want Cyrus to tell Andi about how he feels. Something he is against. Leaving us watching him act as if nothing has changed for the most part, including with Iris.
About That Proposal: Bowie, Bex, Andi, Brittany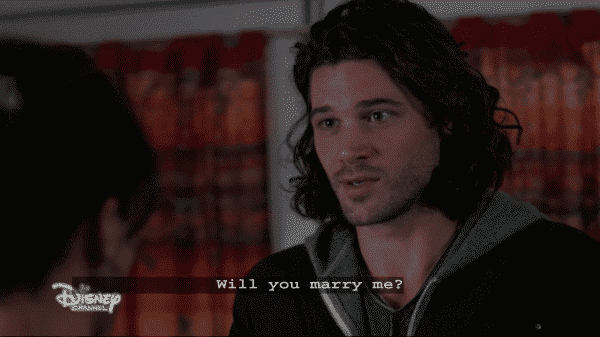 After being pushed and given a ton of ideas by Andi, Bowie proposes to Bex and her response is, "Um." Not because she doesn't think Bowie is sweet and what not, but let's not forget that it isn't like they started dating again and he proposed. He came back, after learning he had a kid with her, and that was what triggered things. And while I'm sure Bex appreciates Bowie being in Andi's life, as for being in hers? Much less as a husband, with their history? Um…
But perhaps what is the deciding factor is, after showing how a coin flip, despite the results, reveal what you truly want, through Brittany of all people, Bex realizes she doesn't want Bowie. She has just gained some form of independence, has Andi living with her and while the help would be nice, it seems she is still in the process of becoming Bex. Such as looking into cosmetology school. Another idea Brittany pushes after Bex does a wonderful job with Brittany's makeup for a sorority party. So, between Andi, school, and work, what time is there for Bowie's eccentric self?
Other Noteworthy Facts & Moments
Celia gets Bowie a job working at a plant nursery.
Jonah and Amber chat, he initiates it, and she talks about how her father lost his job and has been hiding it from the family for months.
Question(s) Left Unanswered
Where is Marty?
Highlights
Bex Finding Herself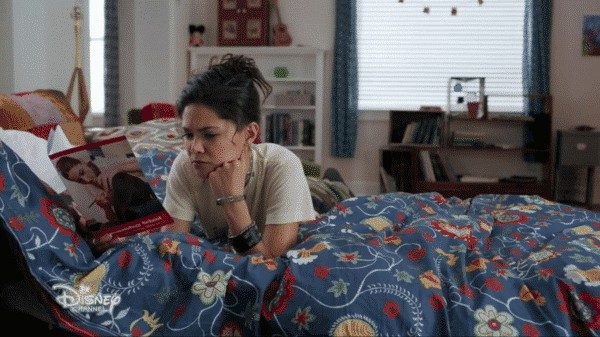 Lest we forget, Bex had Andi sometime in her late teens and after high school, she just traveled. So with stability now in place, she has to find out who she is now instead of running from that. Which, as you can imagine, and as Andi showed us in the last season, finding yourself while trying to make some boy happy is hard. For there is a certain amount of compromise involved. Of which, with Bowie, means having to be on all the time and Bex doesn't have time for that right now. She is working a low wage job, probably struggling a bit to pay rent and utilities, and needs to think of how to give herself a better future. As well as Andi of course.
And while, again, Bowie can be a huge help, she only really wants help with Andi. When it comes to her person? She wants to be able to stand on her own independently. So, perhaps like how Buffy said to Andi she isn't ready and should just be friends with Jonah, for now, maybe the same is true for Bex. Right now, she just needs a good father and friend out of Bowie. And, yeah, maybe down the line, after dealing with the kinks which remain in their relationship, and seeing what it means for them to date after all the experiences they had, they could become something.
But for now? Well, it just seems like a bad move.
Buffy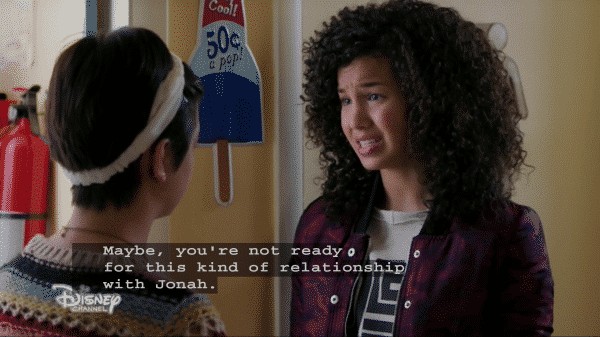 Though Buffy kind of fits the "Black Best Friend" Trope [External], it is hard to not look past that and still love the support she gives her friends. Be it saying to Jonah what Andi might have been feeling, before she decided to take the mature route, or even giving Cyrus some acceptance, you got to love her for that. Now if only Marty would come back so she can have a storyline which doesn't revolve around her friends and their problems. Heck, maybe if we could finally address her home life which remains precarious.
Amber Isn't So Two Dimensional Anymore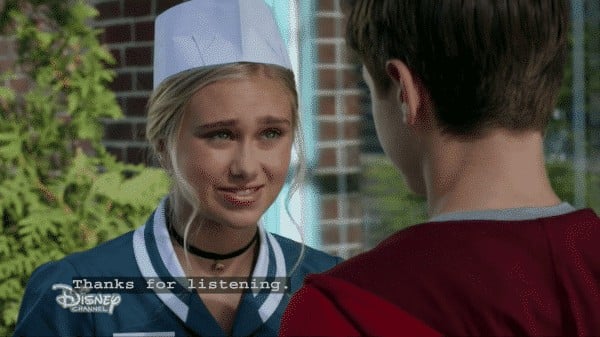 In the previous season, Amber being insecure was consistently noted and established. However, the way she was played and how petty she was, it made her seem like the stereotypical blonde villain. The only thing that was missing was Andi and her being friends in the past.
But in season 2, it seems a major step forward is being crafted. For one, her background is being revealed to us. Her revealing her dad was lying about having a job and now her getting one to help the family? Major step forward. It being established that Jonah was more than a status symbol of a cute boyfriend, but someone she could really trust and talk to, step forward. Then, with Iris revealing Amber's dependency on dating someone for validation or who knows what, it helps push the idea that whatever going on with her father may be the reason why she is like that. Much less why she might not be able to keep a boyfriend.
On The Fence
Is Disney Going To Allow Cyrus Being Bi As An Option?
While Cyrus outright says he likes Jonah, at the same time he seemed pretty excited about his kiss with Iris. Not in a, "Let me perform straight so no one suspects" but really excited. So I hope Disney allows him some fluidity than most characters get when they decide they aren't purely heterosexual. For, either way, Disney is definitely going to get complaints either way.