Robbie finally appears and his relationship with Katie explains Katie's relationship with Alexa.
---
Network
Netflix
Director(s)
Trevor Kirschner
Writer(s)
Gary Murphy
Air Date
3/23/2018
Actors Introduced
Loretta
Lee Garlington
Sam
Joe Regalbuto
Robbie
Alan Ritchson
Zoe
Jessica Lorez
Grandpa Wingman: Lucas
It seems just like Katie, who is back to being dumbfounded around Lucas, he gets the same way around girls. In his case a new barista named Zoe who, despite Grandpa Sam being his wingman, he strikes out with.
Commentary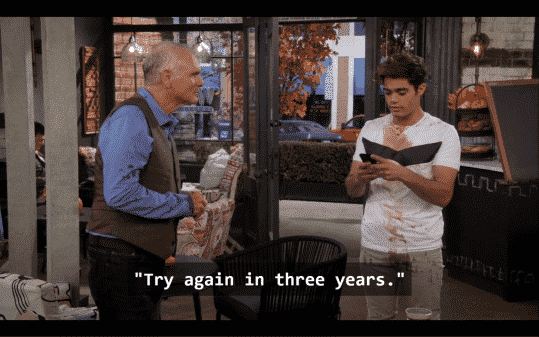 It was nice to show Lucas strikes out too. Albeit with some random girl who we'll never see or hear from again, but it's about showing that, despite how he sees himself, it isn't a universal appeal. For whether it was his age, not being vegan, or just plain corny, he got denied.
Can You Please Get Out Of My Kitchen: Alexa, Lori, Dave
Alexa comes from a line of strong-willed women who also like a certain amount of control over their situation. Making neither Grandma Loretta nor Lori welcome in the kitchen an issue. Especially as it seems Alexa is making an unconventional Thanksgiving dinner. For with her following a recipe which seemingly isn't her mom or grandma's, her pushing back the time on dinner, and of course everyone worried about stress, it freaks some people out. Mostly Dave.
But, in the end, it seems a giant turkey pot pie is made from the salvaged bits which blew up because Alexa was trying to multitask.
Commentary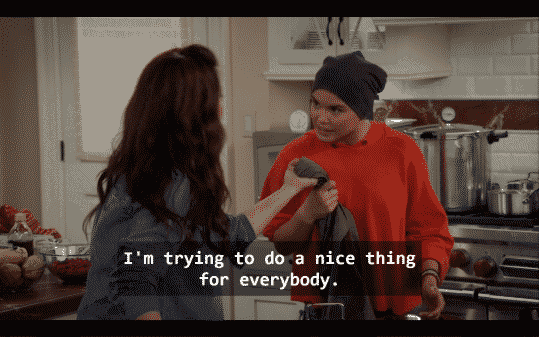 Considering how Alexa was just under observation from being stressed out from being ignored by Katie, this seemed like a really bad idea. I mean, she is cooking for 9 people, two of which are her grandparents and one being Katie's dad who she rarely ever sees. The fact she didn't end up sick again was a serious surprise. But, what do you expect? The cancer thing is a gimmick. One pulled to give the show some heart. Well, the kind which is cold and metallic, and only meant to push a little bit of drama.
Daddy Wasn't There: Katie, Jack, Jennifer
It seems, at the very least, thanks to Robbie being a world traveler, with a job dealing with animals, he hasn't seen his kids in nearly two years. On top of that, the lack of communication with Katie? Yeah, that was because Katie, in his mind, is still a little girl. Hence him giving Jack a drone and her a Barbie dream house.
But matters get worse when it is clear Jack is a bit more important to Robbie and when it comes to catching up with his "Booger," he'd rather joke around than watch her play performance or talk. Making Katie ultimately feel like she outgrew Robbie. Though, with some help from Jennifer, Robbie is given another chance and he verbally says he'll step up. He begins by watching the play but whether he follows up on that is anyone's guess.
Commentary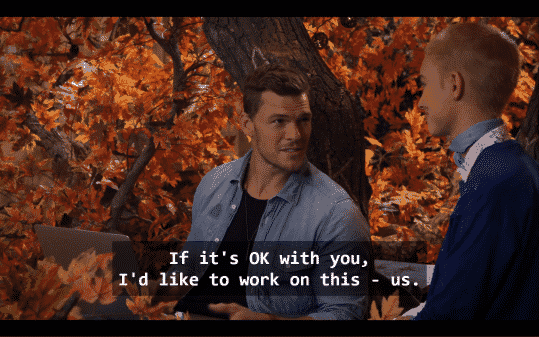 So pretty much what Katie loves about Alexa is that she is her dad in teenaged girl form. Playful, a little obnoxious, but the main difference being that she is accessible – got it. What isn't answered though is why Jennifer and Robbie broke up? The breakup seems cordial, similar to what we saw with Raven on Raven's Home, but there has to be more to it right? Is it she outgrew his big kid persona? Got tired of the risk and being alone while he was traveling the world?
It's nice we got the answer to one question, but now there is another left unsolved.
Other Noteworthy Facts & Moments
Approximately 2 months have passed, within the show, since Alexa & Katie.
Alexa pretty much sidesteps the whole Dylan thing. Mostly since she thinks he asked her out due to pity.
Question(s) Left Unanswered
What happened to Ryan? Is he coming back? We saw Vanessa one or two episodes ago, but where is Ryan? Does he still go to the school?
Also, where is Ryan's dad? With seeing there is 0 chance for Robbie and Jennifer, it makes you wonder if he may come back into the picture.
So, by the way Katie talked, can we say it has been two years since the divorce?
Collected Quote(s) & .Gifs
My whole life, I've been looking for adventure, but maybe I've also been running away.
Highlights
Katie is growing hair again!
Robbie was introduced and though his appearance wasn't earth-shaking, it helped explain Katie a bit. Especially in regards to her relationship with Alexa.
---
Follow Wherever I Look on Twitter or Like us on Facebook.
---
Previous Episode's Recap
[visual-link-preview encoded="eyJ0eXBlIjoiaW50ZXJuYWwiLCJwb3N0IjoxOTk1OCwicG9zdF9sYWJlbCI6IlBvc3QgMTk5NTggLSBBbGV4YSAmIEthdGllOiBTZWFzb24gMS8gRXBpc29kZSA5IFwiV2ludGVyIEx1YXVcIiAtIFJlY2FwLyBSZXZpZXcgKHdpdGggU3BvaWxlcnMpIiwidXJsIjoiIiwiaW1hZ2VfaWQiOjE5OTU5LCJpbWFnZV91cmwiOiJodHRwczovL3doZXJldmVyLWktbG9vay5jb20vd3AtY29udGVudC91cGxvYWRzLzIwMTgvMDQvQWxleGEtS2F0aWUtU2Vhc29uLTEtRXBpc29kZS05LVdpbnRlci1MdWF1LUR5bGFuLWFuZC1BbGV4YS5wbmciLCJ0aXRsZSI6IkFsZXhhICYgS2F0aWU6IFNlYXNvbiAxLyBFcGlzb2RlIDkgXCJXaW50ZXIgTHVhdVwiIC0gUmVjYXAvIFJldmlldyAod2l0aCBTcG9pbGVycykiLCJzdW1tYXJ5IjoiQWxleGEgZmluZHMgYSB2aWNhcmlvdXMgd2F5IHRvIGF0dGVuZCBzY2hvb2wgYnV0IGluIHRoZSBwcm9jZXNzLCBsb3NlcyBvbmUgb3Bwb3J0dW5pdHkgYnV0IGdhaW5zIGFub3RoZXIuIiwidGVtcGxhdGUiOiJkZWZhdWx0In0="]
---