9-1-1: Season 6/ Episode 17 "Love Is In The Air" – Recap and Review
As Chim seeks a sign about whether he should propose to Maddie, Buck and Eddie struggle to secure a relationship.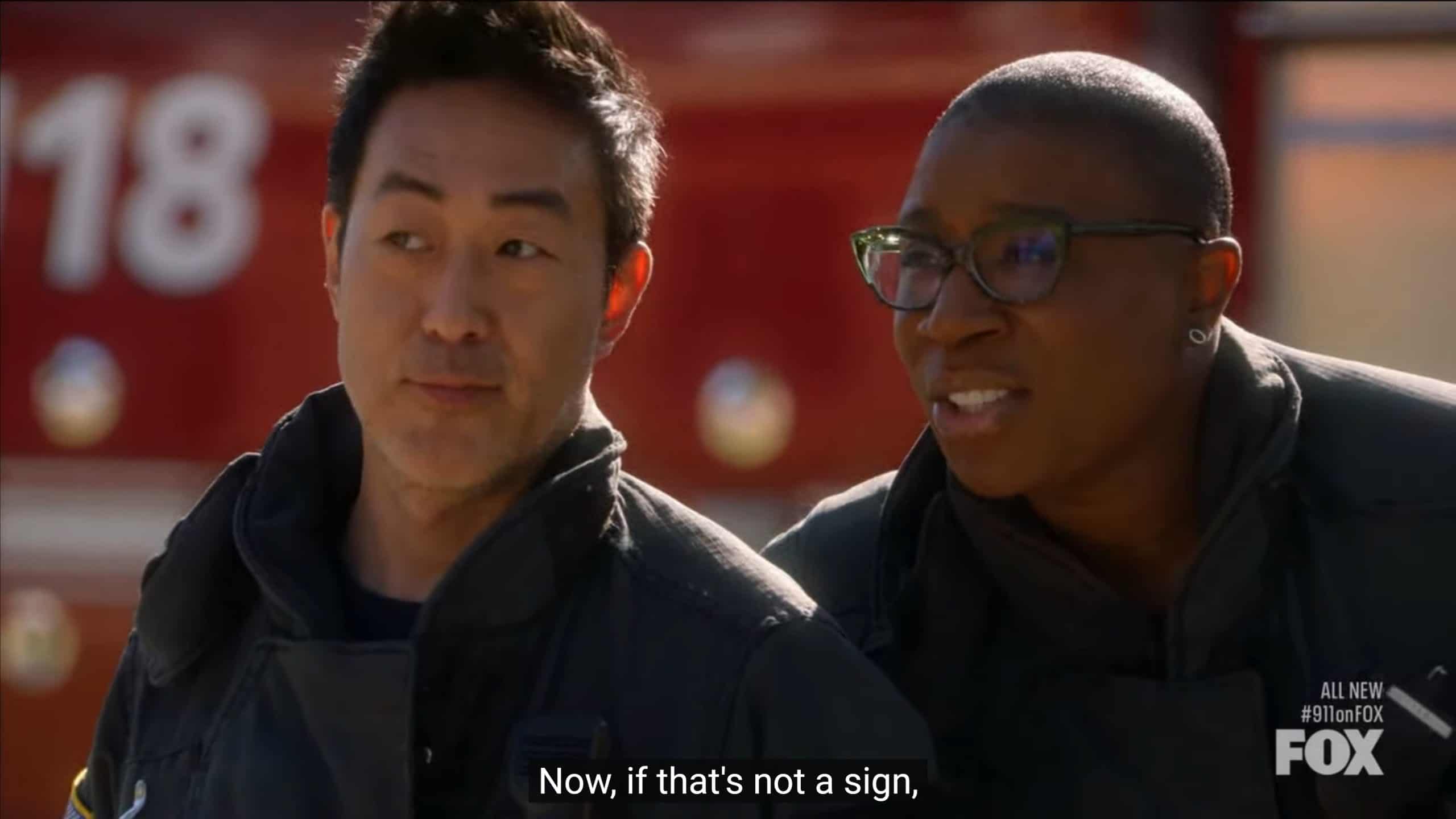 As Chim seeks a sign about whether he should propose to Maddie, Buck and Eddie struggle to secure a relationship.
Release Date (FOX)
May 8, 2023
Director(s)
Juan Carlos Coto
Writer(s)
Juan Carlos Coto
Previously Noted Characters and Cast
Buck
Oliver Stark
Natalia
Annelise Cepero
Taylor
Megan West
Lucy
Arielle Kebbel
Kameron
Chelsea Kane
Marisol
Edy Ganem
Eddie
Ryan Guzman
Hen
Aisha Hinds
Maddie
Jennifer Love Hewitt
Chim
Kenneth Choi
This content contains pertinent spoilers. Also, images and text in this post may contain affiliate links which, if a purchase is made from those sites, we may earn money or products from the company.
Plot Recap
Meeting Of the Exes – Buck, Natalia, Taylor, Lucy, Kameron
While Buck is trying to date and secure a relationship with Natalia, exes and could-have-been girlfriends pop up. Lucy shows up at the bar Buck takes Natalia to and hints at what their relationship could have been, which raises an eyebrow. Taylor, while promoting a book on television, hints at a relationship she had, which Buck owns up to, and while Natalia recognizes Buck has a past, Kameron pushes her over the edge.
A woman showing up pregnant, even if he donated sperm to help a friend, seems too much for her, so she decides to exit stage right.
When Your Dating Life Peaks In High School – Marisol, Eddie
Like Buck, Eddie and dating is a struggle. But while Buck at least knows how to flirt, follow up, and get a date, Eddie isn't at that level. With meeting his ex in high school, he is a bit stunted. So while women smile at him and seem interested, he doesn't often say anything or make a move. For example, Marisol, who was a 9-1-1 call, Eddie meets at a hardware store when he is buying stuff for a project Christopher is working on. She isn't flirty but seems available to chat and maybe hang out, but Eddie lets the opportunity go right by.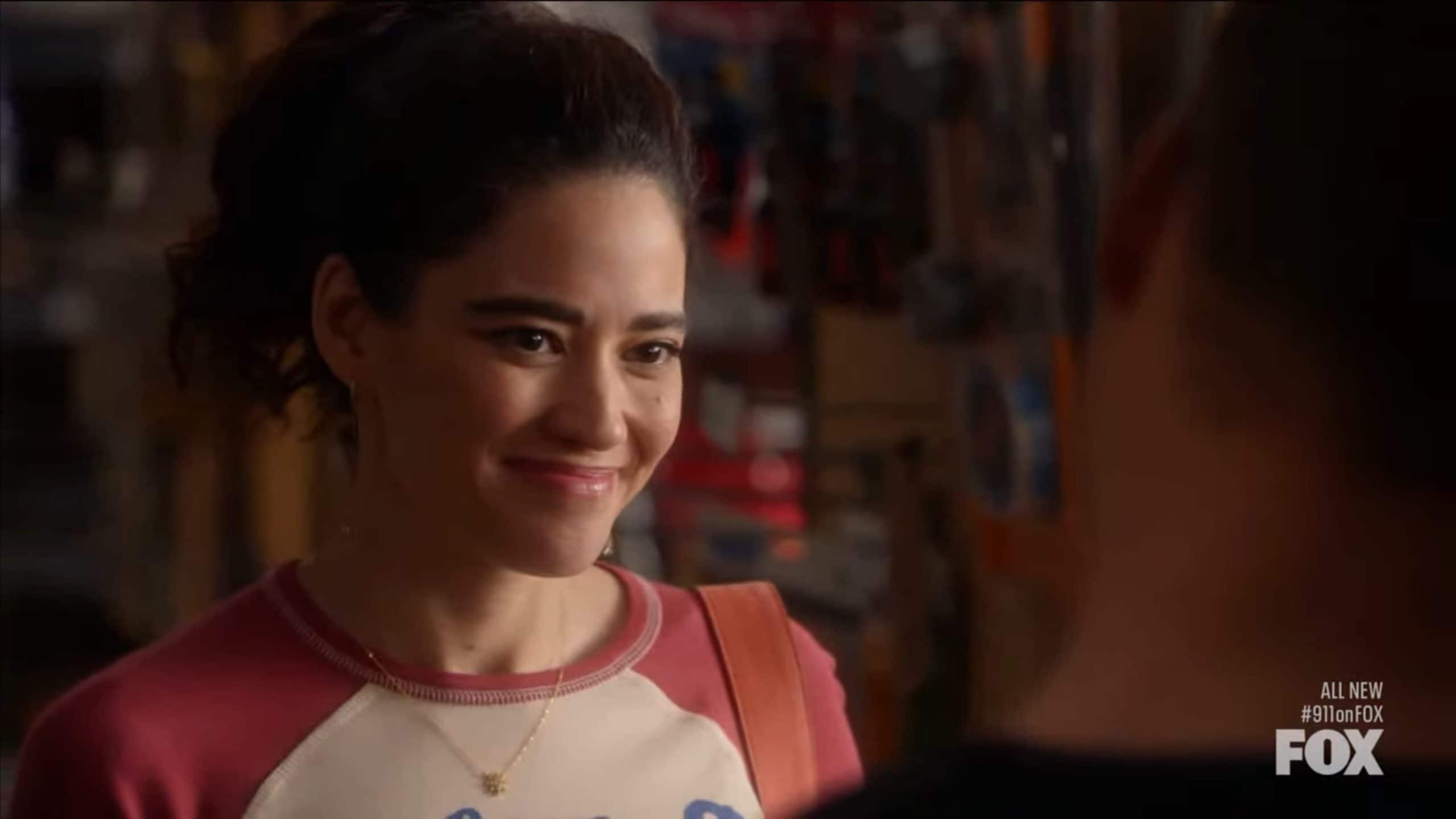 So he should expect his tía to stay on him for the foreseeable future.
Signs, Signals, and Warnings – Maddie, Chim, Hen, Buck
With believing he lost the ring and beginning the process of getting his money back through insurance, he is looking for direction. As that happens, Maddie finds the ring and talks to Buck about it, and with Buck mentioning Hen's hesitation, Maddie beelines it to see her and confront her about her feelings. Hen, caught off guard, definitely reels back a bit but is very honest about how she feels since both Chim and she went through a lot.
Yet, despite Hen's hesitation, and even Chim's, there is a recognition both have come so far and gone through so much, yet they have only grown stronger as a couple. So with that in mind, Maddie proposes to Chim, with her daughter in her arms, and he says yes.
Things To Note
What Could Happen Next
Chim and Maddie getting married opening the door for Buck and Eddie's relationships to get increased focus.
Collected Quote(s)
I regret the result […]. I don't regret the attempt.
Review
---
Community Rating:
---
Highlights
Follow Up On Buck's Exes
From Taylor, who is now marketing a book, and Lucy, who left the 118 for promotional opportunities in air support, it was nice to check in on those Buck has had something with. Especially Lucy considering her absence was glaring after that almost kiss and all the potential of that relationship.
Eddie's Search For Love
While love was never the strong suit of "9-1-1," that is mostly in getting you invested in any couple crafted. As for the pursuit of love? The show has done better in that regard. As seen in this episode, Buck's has been notable, as was Eddie's. His love affair with the person who works at Christopher's school seemed like it was going places, and while it isn't clear if Marisol is a two-episode character or if there are long-term plans, I'm not against it. Heck, considering there aren't any other Hispanic women on the show, and all we've seen Eddie date is Hispanic women, one is going take sooner or later.
And all things considered, having one who is handy, taking note of Chim and Maddie's place needing repairs, and likely Athena's house, wouldn't be that bad.
On The Fence
Maddie and Chim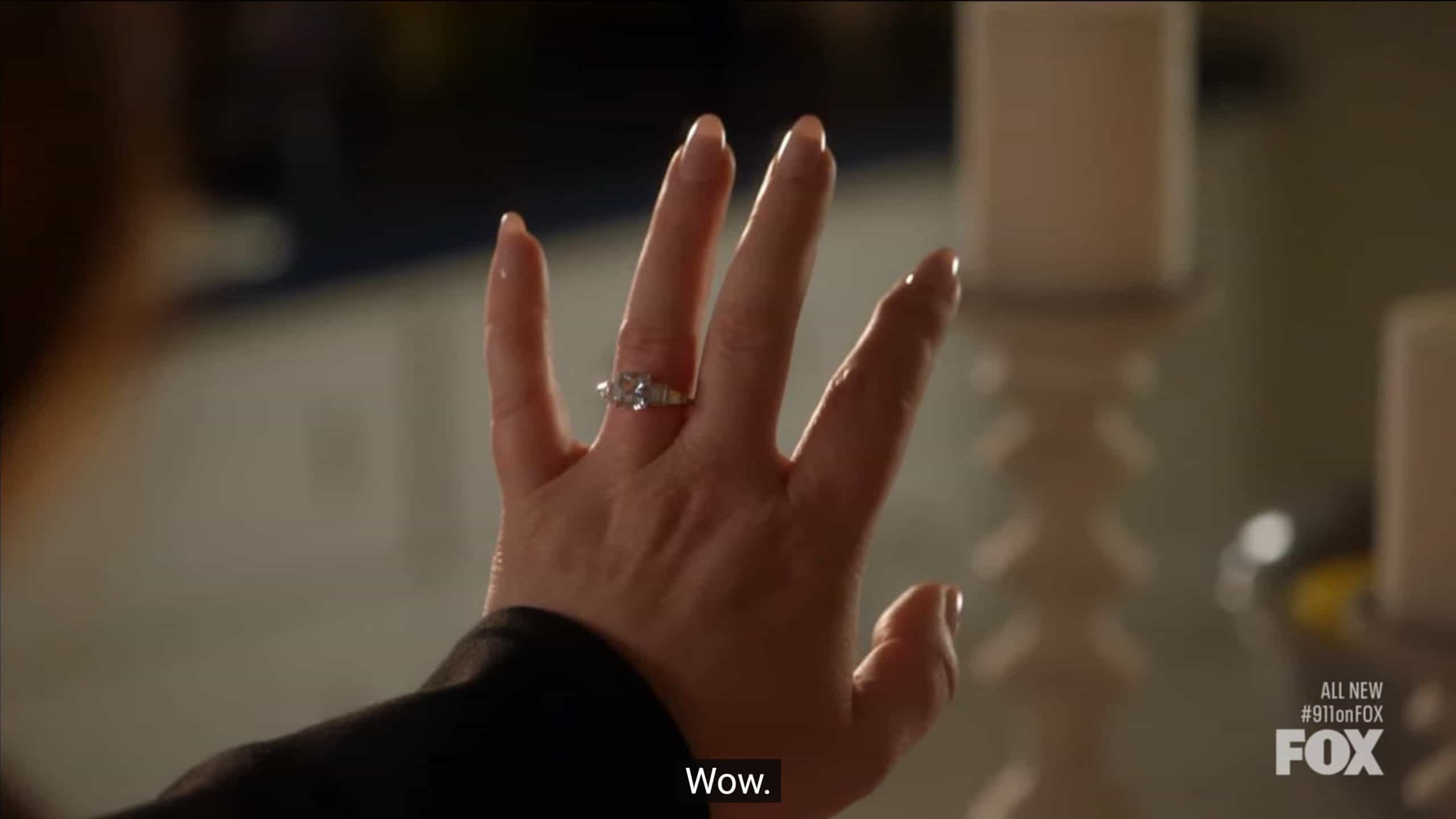 Like Athena and Bobby, this relationship doesn't have much in the way of chemistry. However, unlike Athena and Bobby, they don't have to retcon the journey that led to them going together. We've seen Chim get harmed because of Maddie's ex, him be there as she dealt with post-partum depression, and so the love is earned. In some ways, it can be inspiring, yet at the same time, there is a certain maturity there that may not be everyone's cup of tea.
I would add in their relationship works well for the style of "9-1-1." Something dramatic happens. They process it, move on, and reference it from time to time. But, as much as you can praise how this relationship fits the show's tone, it doesn't come without caveats. Because Chim and Maddie's relationship is so integral to both characters and encompasses Maddie's storyline, it doesn't have much of a luster to it. It doesn't trigger butterflies or makes them the couple to put on a pedestal. Hen and Karen, likely because of how rarely we see Karen, still hold that title.
But, to end the season with them getting married, especially if it is a simple wedding at Athena's house, allows for a wonderful close to one of the longest arcs on the show.
[ninja_tables id="46830″]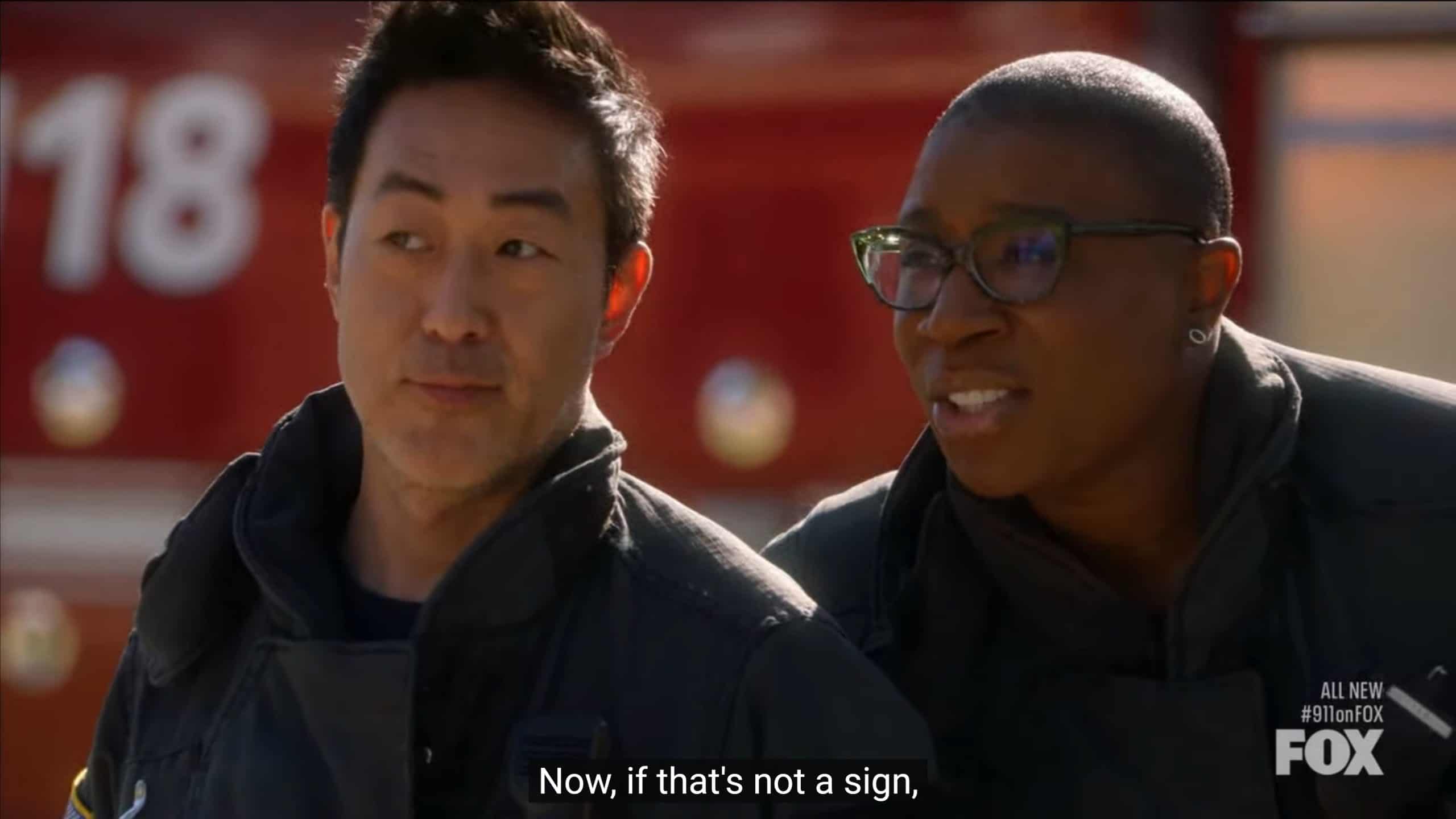 9-1-1: Season 6/ Episode 17 "Love Is In The Air" – Recap and Review
Overall
As one love story reaches its peak, the two single people left seem to be earnestly beginning their journeys towards love and marriage, which you know is going to be a rocky and comical journey.
Highlights
Follow Up On Buck's Exes
Eddie's Search For Love
Disputable
Maddie and Chim
---
Follow, Like, and Subscribe
Community Rating: 0.00% (0) - No Community Ratings Submitted (Add Yours Below)