9-1-1: Season 5/ Episode 18 [Finale] – Recap/ Review
In its season finale, 9-1-1 wraps up a lot of storylines and decides to set things up so, in season 6, things can start fresh and with potentially less drama.
---
| | |
| --- | --- |
| Aired (FOX) | 5/16/2022 |
| Directed By | Kristen Reidel |
| Written By | Kristen Reidel |
This content contains pertinent spoilers.
Recap
Will They Or Won't They? – Maddie, Chim
With Maddie returning to work, this is a major step in her recovery. But with that comes the question if she is also going to make the step to date again? She says no, and Chim is relieved, but neither one is ready for the conversation to determine whether they are still in limbo or their relationship is over, and it is time to move on.
A Second Chance At Something Special – Athena, Bobby, Hen, Toni, Karen, Clive
It has been a year. Considering that, Athena says she and Bobby should take a vacation, maybe make up for that honeymoon they didn't get to have, and he agrees and books them a cruise. Not to be outdone, Toni and Clive decide to get married, but after hearing how hurt Hen was that her mom didn't show up to her wedding, Toni decides to have her daughters get a do-over, and everyone comes, and their wedding is done right.
As for Clive and Toni's wedding? It's simply postponed.
You Got To Let It Go – Taylor, Buck, Bobby, Eddie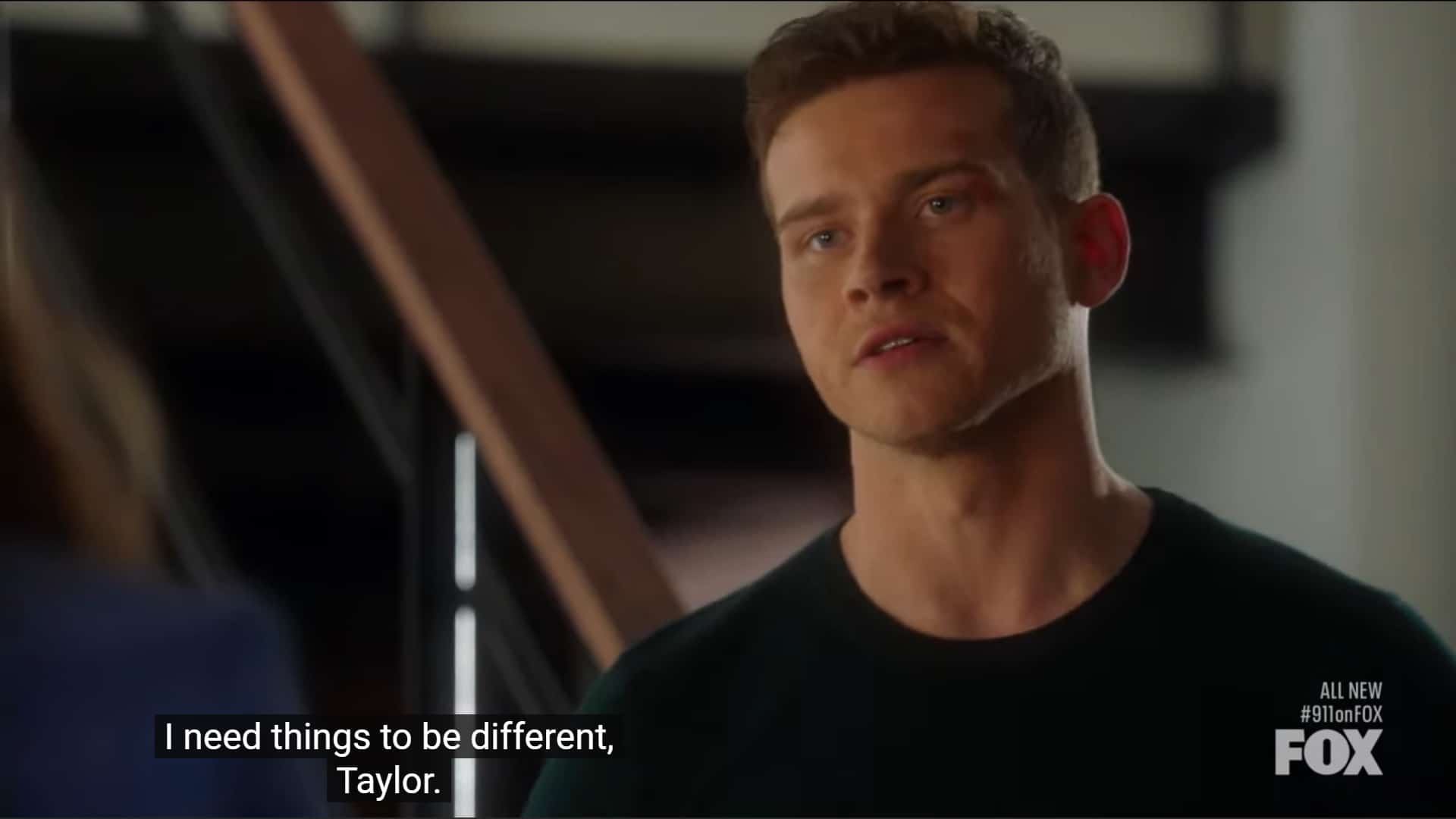 Buck is struggling to forgive Taylor or move on from what she did. She broke a sacred trust, and honestly, she isn't even sorry about what she did. And while Buck would love to find a way to live with what she did, who she is, and who he potentially loves, both recognize the relationship is doomed. So rather than waiting for it to get worst and hit rock bottom, they end things amicably.
Which leaves Bobby and Eddie. Bobby has really been beating himself up about Jonah, to the point drinking was becoming a temptation. Luckily, Eddie shows up just as Bobby is tempted to touch a bottle, and with him sharing his journey and the insights he gained from that, Bobby finds the strength to pour the liquor down the drain and let go of him not knowing about Jonah, about Buck and Lucy, and that all he can do is his best and as for the rest? He has to leave it to God.
Things To Note
Question(s) Left Unanswered
Is Eddie back in the 118? Based on him being part of the walkout, it seemed that way.
What Could Happen Next
Buck and Lucy giving it another go but keeping it a secret
Maddie and Chim getting back together
Is it wrong to want a time jump? Not that 9-1-1 really allows you to keep a clear sense of the month or year.
Review
Highlights
Tame But Enjoyable
Setting aside the storyline featuring a pregnant woman in a car accident and her husband getting short-term memory loss, this was a rather tame finale. There was no cliffhanger, any strong push about what to look forward to next, and besides seeing Eddie back with the 118, there was no last-minute reveal either. A part of me appreciates that since we wouldn't know what would come next till September, at the earliest, and that's always frustrating. So wrapping up most of the storylines and leaving us to believe Maddie and Chim may reunite and Lucy and Buck could get together is a mature way to end things.
I would even say it shows that 9-1-1 has reached the point where it doesn't feel the need to do the most to keep its audience and has reached a certain comfort level. One that hopefully doesn't bite it in the behind for those who seek out this show for Michael Bay type action rather than character-driven episodes.
[ninja_tables id="46830″]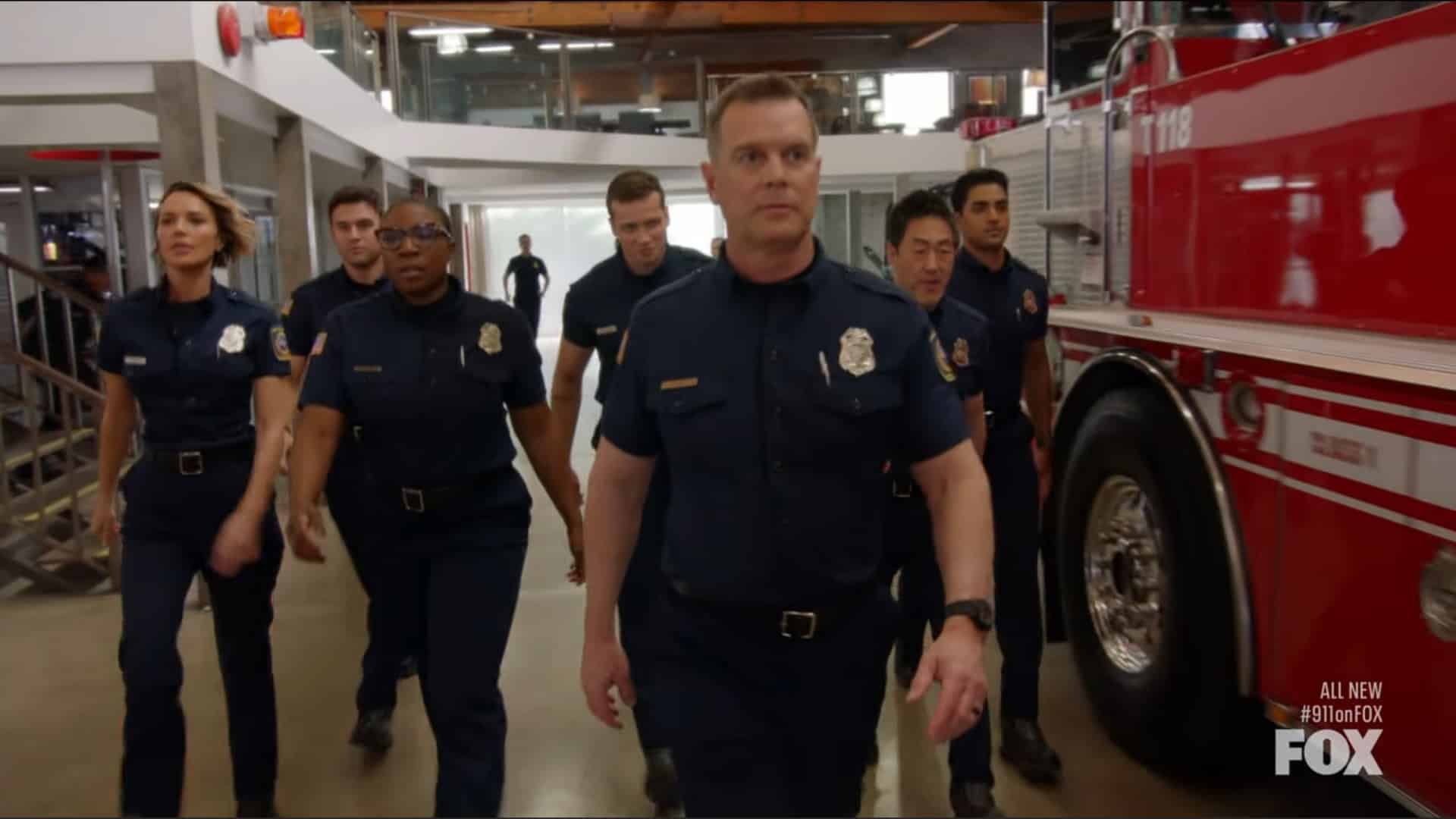 9-1-1: Season 5/ Episode 18 [Finale] – Recap/ Review
Overall
9-1-1 ends its 5th season without much of a bang, but considering this show lives for having a calm before the storm moment, expect a new disaster to start off Season 6.
Highlights
Tame But Enjoyable