9-1-1, as tradition, returns with a dramatic natural event, which this time is a dam breaking, thanks to earthquakes and a landslide!
---
Community Rating: 34.41% (1)
---
---
| | |
| --- | --- |
| Director(s) | David Grossman |
| Writer(s) | Juan Carlos Coto |
| Aired (Fox) | 1/18/2021 |
This content contains pertinent spoilers. Also, images and text may contain affiliate links, which, if a purchase is made, we'll earn money or products from the company.
Recap
It's Worrisome, But We Have Jobs To Do – May, Athena, Bobby, Maddie, Chim, Albert
With it being September 2020 on the show, the height of the COVID-19 pandemic is over, but that doesn't mean people aren't still overtly cautious. For example, Chim, due to his line of work, has Albert helping Maddie to keep her from getting infected. Also, rather than be at college, doing online classes, May has joined Maddie at the call center to Athena's ire.
Yet, for Bobby, May working with Maddie is fine. What he is worried about is Athena back out there, even if her focus is going to be a desk job and doing paperwork. For even if it has been 6 months she has been away, and her body is healed, the question is, is she healed in ways the eye can't see?
A Direct Line To Your Office – Bobby, Chim, Buck, Eddie
Thanks to a series of minor but still powerful earthquakes, a dam's infrastructure gets compromised, which causes massive flooding and later landslide. One of the rescues include saving people from a bus that went from an over the street highway into a nearby office building. In said rescue, Bobby ends up challenged by someone of the office being under the bus while handling someone with Asperger's inside who refuses to leave the bus.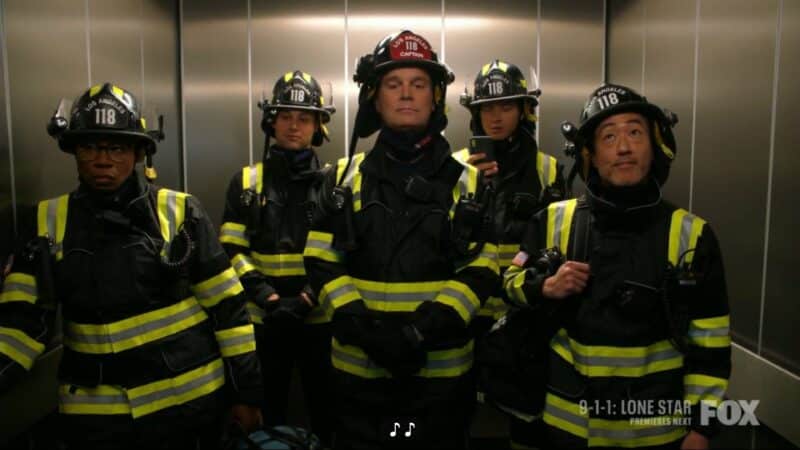 Luckily, between Chim, Buck, and Eddie, they rock the bus and get the young man from the underside. However, in rocking the bus, a crack is made, and we see an explosion! One that pushes you to wonder if they just killed off Bobby due to how notable the flames are. But, ultimately, he is fine, the kid with Asperger's is okay, and it's another successful rescue.
I Should Have Stayed At Home – Athena
There are rather diverse sets of rescues as a woman is saved from a pipe, alongside what we see above. But for Athena, when forced back on patrol due to needing her no-nonsense way of handling things, her rescue deals with just getting someone out of a house. Mind you, not an old woman, someone disabled, or someone trapped by a physical object. Instead, she is tasked with dealing with someone who has had a fear of going outside for 7 years.
And just as Athena breaks through, that woman's house descends down a hill thanks to all the area's techtonic plate activity.
Review
On The Fence
How They Play With Us, Yet Everything Always Ends Up Alright
What you can never say about 9-1-1 is that it doesn't either try to up the ante or explore different ways to keep you excited about what they may do next. But, I'm going to need them to stop teasing characters dying. Mainly because it has gone from presenting shocking moments to just seeming cruel. Be it, Chim, with the rebar, when Bobby was suicidal, Chim getting stabbed by Maddie's ex, and so many other situations that I know exist but can't immediately recall.
For with us four seasons in, it feels like we're at the point that someone dying on the job would be appropriate to remind us that people don't always get lucky. And being that we've seen so many miraculous recoveries, I don't think any of us would see it coming, and it wouldn't click until we're looking at their casket, and the scene is a funeral.
[amazon bestseller="9-1-1″ items="2″]
9-1-1 Directory
| Title | Excerpt |
| --- | --- |
| 9-1-1: Season 5/ Episode 4 "Home and Away" – Recap/ Review (with Spoilers) | As Chim deals with Maddie's exit, Athena is trying to get Harry to open up, a new dispatch is introduced, and Hen makes an honest mistake. |
| 9-1-1: Season 5/ Episode 3 "Desperate Measures" – Recap/ Review (with Spoilers) | While you likely could predict how Harry and Jeffrey's story ends, you may not guess how "Desperate Measures" ends as an episode. |
| 9-1-1: Season 5/ Episode 2 "Desperate Times" – Recap/ Review (with Spoilers) | We're onto day 5 of the LA blackout, and things aren't getting any easier, especially as backup systems fail and Athena learns Jeffrey Hudson is still on the loose. |
| 9-1-1: Season 5/ Episode 1 "Panic" [Premiere] – Recap/ Review (with Spoilers) | As it has done every season, 9-1-1 escalates the stakes by having the city hit with a major cyberattack and the man who attacked Athena on the loose. |
| 9-1-1: Season 4/ Episode 14 [Season Finale] – Recap/ Review (with Spoilers) | As to be expected from 9-1-1, no matter how dangerous things seem, everyone ends up okay. Well, all but one. |
| 9-1-1: Season 4/ Episode 13 – Recap/ Review (with Spoilers) | While storylines about doctor negligence, and Maddie's mental health, and Athena's relationship, dominate the episode, the ending is what truly leaves a grand impression. |
| 9-1-1: Season 4/ Episode 12 – Recap/ Review (with Spoilers) | A writer decides to put Los Angeles into a tizzy over some buried treasure, which causes quite a few 911 calls. |
| 9-1-1: Season 4/ Episode 11 – Recap/ Review (with Spoilers) | In a way, "First Responders" could be seen as a minor "Josh Begins," as we learn why he joined the 9-1-1 responders. |
| 9-1-1: Season 4/ Episode 10 – Recap/ Review (with Spoilers) | Get your favorite tissue brand ready; it's time to shed some tears as we watch some kids say goodbye to their parents and bonding moments that will have you bawling. |
| 9-1-1: Season 4/ Episode 9 – Recap/ Review (with Spoilers) | 9-1-1 is back, and in its return, we meet Maddie and Chim's baby! However, with a life gained, will there be a life lost? |
| 9-1-1: Season 4/ Episode 8 "Breaking Point" [Winter Finale] – Recap/ Review (with Spoilers) | In the winter finale, we're reminded how much the first half of season 4 is about reunification with people that have been absent a long time. |
| 9-1-1: Season 4/ Episode 7 "There Goes the Neighborhood" – Recap/ Review (with Spoilers) | With Buck dating again, and Hen's Mother coming for a visit, we see the beginning of old wounds healing. |
| 9-1-1: Season 4/ Episode 6 "Jinx" – Recap/ Review (with Spoilers) | As Buck evolves into Buck 3.0, Eddie might be evolving too as Christopher's former teacher, Ana Flores, returns to 9-1-1. |
| 9-1-1: Season 4/ Episode 5 "Buck Begins" – Recap/ Review (with Spoilers) | While the Daniel thing remains a bust, exploring Buck and Maddie's relationship, from 1996 to the present, will have you in tears. |
| 9-1-1: Season 4/ Episode 4 "9-1-1, What's Your Grievance?" – Recap/ Review (with Spoilers) | So the secret Maddie is hiding comes out, and, well, it might disappoint you. |
| 9-1-1: Season 4/ Episode 3 "Future Tense" – Recap/ Review (with Spoilers) | Maddie has a family secret, which includes Buck, and Hen finds herself with a lab partner who pushes her buttons and nearly causes her to go off. |
| 9-1-1: Season 4/ Episode 2 "Alone Together" – Recap/ Review (with Spoilers) | In the 2nd part of 9-1-1's season 4 premiere, multiple near-death experiences act as a wake-up call unlike any other rescues before. |
| 9-1-1: Season 4/ Episode 1 "The New Abnormal" – Recap/ Review (with Spoilers) | 9-1-1, as tradition, returns with a dramatic natural event, which this time is a dam breaking, thanks to earthquakes and a landslide! |
| 9-1-1: Season 3 - Review/ Summary with Spoilers | In its 3rd season, "9-1-1" presents minor improvements, but due to being a procedural, which leads to some inconsistency, it often feels like more of the same. |
| 9-1-1: Season 3 Episode 18 "What's Next" [Season Finale] – Recap/ Review with Spoilers | As with the finale of nearly every season of 9-1-1, the ending is a bit shocking – but this time in a good way. |
| 9-1-1: Season 3 Episode 17 "Powerless" – Recap/ Review with Spoilers | While we may not see Abby until the end of the episode, a whole lot happens that makes it clear why they needed the season finale to be two parts. |
| 9-1-1: Season 3 Episode 16 "The One That Got Away" – Recap/ Review (with Spoilers) | While not a Christmas episode, Buck meets the ghost of Christmas future and it shakes him to his core. |
| 9-1-1: Season 3 Episode 15 "Eddie Begins" – Recap/ Review (with Spoilers) | While Eddie has been around for nearly 2 whole seasons, and heavily featured, "Eddie Begins" dives into his backstory father than ever before. |
| 9-1-1: Season 3 Episode 14 "The Taking of Dispatch 9-1-1" – Recap/ Review (with Spoilers) | Similar to the bank robbery episode last season, it's all about the con in the latest episode of 9-1-1. |
| 9-1-1: Season 3 Episode 13 "Pinned" – Recap/ Review (with Spoilers) | As Michael and his family deal with him possibly dying, Chim tries to bring new life to his relationship with Maddie. |
| 9-1-1: Season 3 Episode 12 "Fools" – Recap/ Review (with Spoilers) | As many struggle with the possibility of being alone, Christopher also deals with not being able to do anything like his dad always says he can. |
| 9-1-1: Season 3 Episode 11 "Seize The Day" – Recap/ Review (with Spoilers) | "9-1-1" returns with Chim's younger brother coming to Los Angeles and triggering Chim's childhood trauma. |
| 9-1-1: Season 3, Episode 10 "Christmas Spirit" [Mid-Season Finale] – Recap, Review (with Spoilers) | Like a holiday movie, 9-1-1 mixes in a lot of sweet moments with a bit of darkness that some might see as devastating. |
| 9-1-1: Season 3, Episode 9 "Fallout" – Recap, Review (with Spoilers) | Trauma, and methods of dealing with it, are explored as Eddie, Maddie, and Hen go into therapy to handle their new normal. |
| 9-1-1: Season 3, Episode 8 "Malfunction" – Recap, Review (with Spoilers) | As Karen struggles with getting pregnant, Hen finds her focus off, and this leads to deadly consequences. Also, Eddie's fight career takes a turn. |
| 9-1-1: Season 3, Episode 7 "Athena Begins" – Recap, Review (with Spoilers) | We go deep into Athena's past, to 1989 – 1991 to be exact, and learn of the second major loss that made her become and remain a cop. |
| 9-1-1: Season 3, Episode 6 "Monsters" – Recap, Review (with Spoilers) | It's Halloween on 9-1-1, and you know that means something freaky going down. Though, unlike past seasons, there are less shocks this time around. |
| 9-1-1: Season 3, Episode 5 "Rage" – Recap, Review (with Spoilers) | As Michael experiences DWB, and his kids get the race talk, Buck learns the consequences of his lawsuit. |
| 9-1-1: Season 3, Episode 4 "Triggers" – Recap, Review (with Spoilers) | From Maddie triggered by a domestic call to Chim and Hen taking note of kids they save, and Buck hearing the worst thing imaginable, this episode isn't called "Triggers" for nothing. |
| 9-1-1: Season 3, Episode 3 "Searchers" – Recap, Review (with Spoilers) | The tsunami arc comes to an end, with an explosion, someone losing an arm, and the fate of Christopher. |
| 9-1-1: Season 3, Episode 2 "Sink or Swim" – Recap, Review (with Spoilers) | A tidal wave hits and between the initial wave and the surges which come after, we see more people die this episode than the entire series. |
| 9-1-1: Season 3, Episode 1 "Kids Today" [Seaon Premiere] – Recap, Review (with Spoilers) | Surprisingly, despite being crushed by a fire truck, Buck seems like he may return to work. However, isn't there always a catch? |
| 9-1-1: Season 2 - Summary, Review (with Spoilers) | Season 2 of 9-1-1 avoids any sense of a sophomore slump by balancing the 911 drama you love and developing both new and old characters. |
| 9-1-1: Season 2, Episode 18 "This Life We Choose" [Season Finale] - Recap, Review (with Spoilers) | In the finale, after a bombing spree, many characters find their lives changed forever. One for the worse, many for the better. |
| 9-1-1: Season 2, Episode 17 "Careful What You Wish For" - Recap, Review (with Spoilers) | In the penultimate episode of the season, Eddie returns to prominence as he reevaluates his relationship with Shannon. |
| 9-1-1: Season 2, Episode 16 "Bobby Begins Again" - Recap, Review (with Spoilers) | In order to move forward, you have to the past, and in this episode, we learn what happened between the fire Bobby started and Buck being hired. |
| 9-1-1: Season 2, Episode 15 "Ocean's 9-1-1" - Recap/ Review (with Spoilers) | The team gets framed for a robbery and it leads to not only some of the best writing in a while, but one person's job on the line. |
| 9-1-1: Season 2, Episode 14 "Broken" - Recap, Review (with Spoilers) | Of course, with 9-1-1 taking some time off it means they have to come back with you on the verge of crying to the point being unable to watch. |
| 9-1-1: Season 2, Episode 13 "Fight or Flight" - Recap, Review (with Spoilers) | We journey a bit into Doug and Maddie's history and are left with an ending which ends a chapter in both of their lives. |
| 9-1-1: Season 2, Episode 12 "Chimney Begins" - Recap, Review (with Spoilers) | As Hen did earlier this season, Howard Han aka Chimney, gets his due by having an episode dedicated to his backstory. |
| 9-1-1: Season 2, Episode 11 "New Beginnings" [Mid-Season Premiere] - Recap, Review (with Spoilers) | 9-1-1 returns, and it is like we never left as the drama picks up and kicks things into the next gear. |
| 9-1-1: Season 2/ Episode 10 "Merry Ex-Mas" [Mid-Season Finale] - Recap/ Review (with Spoilers) | While this is a Christmas episode, love is in the air like it is Valentine's day. Though one person with unreciprocated love comes around to ruin things. |
| 9-1-1: Season 2/ Episode 9 "Hen Begins" - Recap/ Review (with Spoilers) | The show decides to hand the reigns to Aisha Hinds and gives us something which almost makes you wonder, "Why wasn't this the show's pilot?" |
| 9-1-1: Season 2/ Episode 8 "Buck, Actually" - Recap/ Review (with Spoilers) | |
| 9-1-1: Season 2/ Episode 7 "Haunted" - Recap/ Recap (with Spoilers) | |
| 9-1-1: Season 2/ Episode 6 "Dosed" - Recap/ Review (with Spoilers) | |
| 9-1-1: Season 2/ Episode 5 "Awful People" - Recap/ Review (with Spoilers) | |
| 9-1-1: Season 2/ Episode 4 "Stuck" - Recap/ Review (with Spoilers) | |
| 9-1-1: Season 2/ Episode 3 "Help Is Not Coming" - Recap/ Review (with Spoilers) | |
| 9-1-1: Season 2/ Episode 2 "7.1" - Recap/ Review (with Spoilers) | |
| 9-1-1: Season 2/ Episode 1 "Under Pressure" [Season Premiere] - Recap/ Review (with Spoilers) | |
| 9-1-1: Season 1 - Recap/ Review (with Spoilers) | |
| 9-1-1: Season 1/ Episode 10 "A Whole New You" [Season Finale] - Recap/ Review (with Spoilers) | |
| 9-1-1: Season 1/ Episode 9 "Trapped" - Recap/ Review (with Spoilers) | |
| 9-1-1: Season 1/ Episode 8 "Karma's a Bitch" - Recap/ Review (with Spoilers) | |
| 9-1-1: Season 1/ Episode 7 "Full Moon (Creepy AF)" - Recap/ Review (with Spoilers) | |
| 9-1-1: Season 1/ Episode 6 "Heartbreaker" - Recap/ Review (with Spoilers) | |
| 9-1-1: Season 1/ Episode 5 "Point of Origin" - Recap/ Review (with Spoilers) | |
| 9-1-1: Season 1/ Episode 4 "Worst Day Ever" - Recap/ Review (with Spoilers) | |
| 9-1-1: Season 1/ Episode 3 "Next of Kin" - Recap/ Review (with Spoilers) | |
| 9-1-1: Season 1/ Episode 2 "Let Go" - Recap/ Review (with Spoilers) | |
| 9-1-1: Season 1/ Episode 1 "Pilot" [Series Premiere] - Recap/ Review (with Spoilers) | |
---