13 Reasons Why (Thirteen Reasons Why): Season 2/ Episode 10 "Smile, Bitches" – Recap/ Review (with Spoilers)
As Tony reveals how he owed Hannah, and what pushed him to circulate the tapes, Clay enters the clubhouse and makes some discoveries.
---
Network
Netflix
Director(s)
Kat Candler
Writer(s)
Kirk Moore
Air Date
5/18/2018
Karma's A Bitch: Tony, Ryan, Hannah, Sarah, Dennis, Sonya, Olivia
Why out of all people would Hannah trust Tony with the tapes? How did he owe her when, so it seemed, they barely knew each other? Well, as we have seen countless times, there could have been more to Hannah's relationship than the book and season 1 revealed. Such as Hannah being Tony's Jeff when it came to dating Ryan. Something which didn't go all too well for with them getting called f****ts, Tony beat the guy to a pulp, had cops called on him, and had to ask Hannah to hide him. Thus leading to how he owed her. She kept him out of jail.
But, there does come the question, with how the trial is framed, if the tapes were to ever really be circulated. Yes, Hannah said "You'd know what to do" but that didn't necessarily mean pass them about did it? But, who knows, maybe Hannah was betting on Tony's anger to get a reaction? As we are told repeatedly whenever a what if comes about with Hannah – she's dead. So what answers can we really get?
Well, we can learn she was a bully at her old school. Granted, a bully to not be a victim but a bully nonetheless. One which made Sarah drop out of school.
Commentary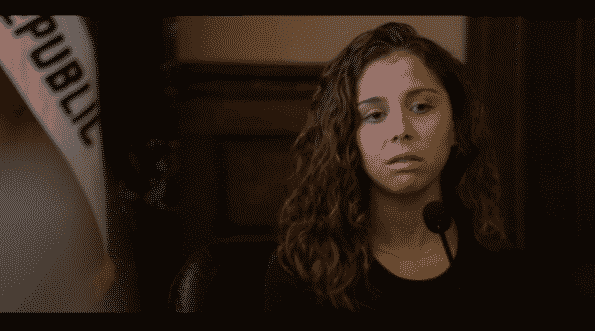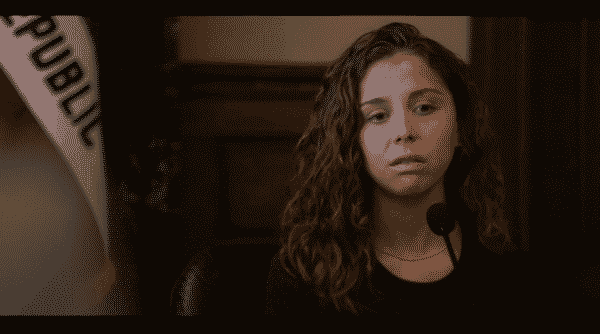 You know, sometimes it can seem strange how Hannah somehow was able to connect to all these people, but it becomes clearer and clearer with each episode. Her connection to Zach came from being associated with a douche and enabling them, despite really not wanting to be part of it. With Tony, I fully believe one of the girls she used to deal with was probably like him. It's just, she never challenged them so she challenged Tony. Addressed that soft and vulnerable side and tried to calm and soothe that caged beast wanting to rattle the bars.
With Courtney, I fully believe after making friends with Jessica and that kiss, Hannah discovered she kind of enjoyed kissing girls and whether she was bi or not, she downplayed the kiss for she was a bit ashamed too. In terms of Justin, being that Hannah was a bit from a broken home, even if not on his level, she saw herself in him and combine that with his attempts to be nice, that is why she had a crush. With Ryan, it was about loneliness and with Marcus, it was having flirting with a power position in the school.
Switching to Tyler, it was about seeing herself as beautiful and empowered in a way. No longer a victim of circumstance and someone in control of her narrative. A narrative she was trying to live out with Clay. Similar to how Nina tried to live out her narrative with Garret. To hide a whole piece of her past so that he'd see what she wanted him to. Someone without the need to judge, perhaps pure, and without any real blemishes. Oh, and in terms of Alex, let's just use Clay's reasoning there.
The Dangers of Being a Coward: Jessica, Tyler, Cyrus, Mackenzie, Nina, Bryce, Zach
Tyler completely screws up his friendship with Cyrus by disrespecting Mackenzie. For with him really embarrassed about ejaculating in his pants, which she seems to have seen, he goes off and calls her boring and etc. All of which Cyrus hears and thus ends things between them. Making Tyler a target once more. Especially if Clay doesn't defend him or Alex doesn't either.
But Tyler isn't the only coward. For while you can understand Nina wanting to control her narrative and not let her assault define her, there remains the issue of not talking about it with Garret. Especially since it is beginning to affect their relationship to the point of her, in Jessica's perception, maybe beginning to transition to another guy. One which might not ask what's wrong when she experiences a trigger or something like that. Yet, to flip that, Nina calls Jessica out for not dealing with her stuff when it comes to Justin.
Leaving Bryce and Zach. At this point, Zach can't really deal with Bryce's attitude anymore or this bubble which protects him. Of which includes the coach. So, after Bryce decides to throw pitches Zach didn't ask for, he blows up on the field, in the middle of the game, and quits. Walking straight to the clubhouse.
Commentary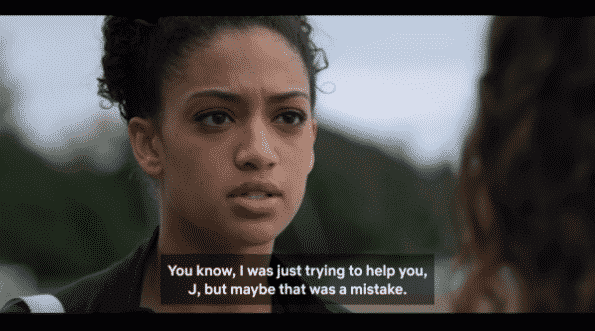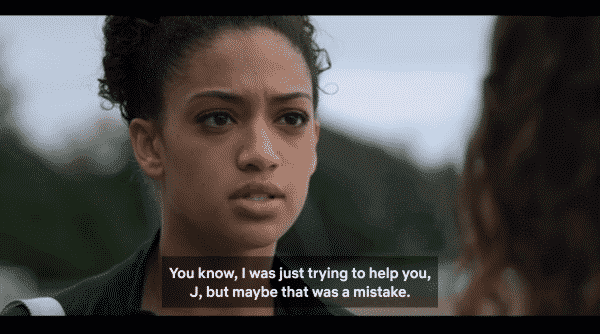 There is a connection between the Tyler and Nina story which is important. Not just communication but communicating about something which you are embarrassed about. Now, this isn't to imply Tyler ejaculating is the same as Nina being raped. More so them avoiding a tough conversation. Then, just because they are being challenged, them picking a route to rather cut and destroy relationships than speak their truth to someone who seems willing to understand. After all, Garret has been with Nina for 5 months and the way Jessica talks, he is a rare kind of guy. Same goes with Mackenzie. While most girls see Tyler as a serious perv, she, for whatever reason, tried to understand him and yet got nothing but a wall.
Clubhouse Rules: Sheri, Bryce, Justin, Chloe, Zach, Clay
With a combination lock keeping people out of the clubhouse, Sheri decides to be a sacrificial lamb to get the code and she tries to dip but fails. Luckily, she isn't assaulted, just takes a picture with the guys, but it freaks her out. Especially since on had a hand on her outer thigh the whole time and she was outnumbered 3 to 1. All muscular baseball players too, let's not forget.
So, with the code in hand, Justin and Clay go searching for the toolbox with all the polaroids. Which, after Zach stormed out of the game, it seems he wanted to pick another picture for Clay as a hint. Since, DUN DUN DUN! He was the one slipping those pictures. However, being that he is a self-proclaimed coward, and Clay isn't, as Cyrus said, he gave the task to him and gives the whole toolbox of photos, likely going back years, to Clay.
In which Clay discovers not just Hannah was in the clubhouse, but also Chloe. However, this wasn't Chloe having a good time but knocked out and being assaulted. Oh, and Nina's photo is in there too. Mind you though, she is smiling. Thus setting up Clay putting his foot in his mouth asking how and why girls
Commentary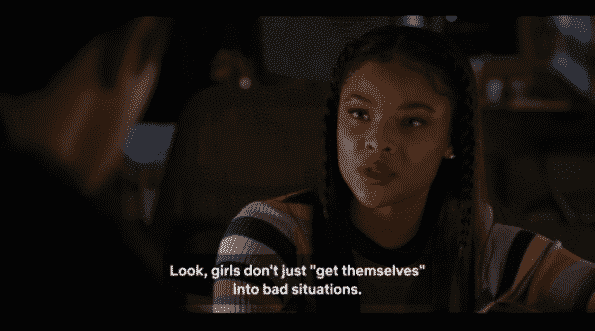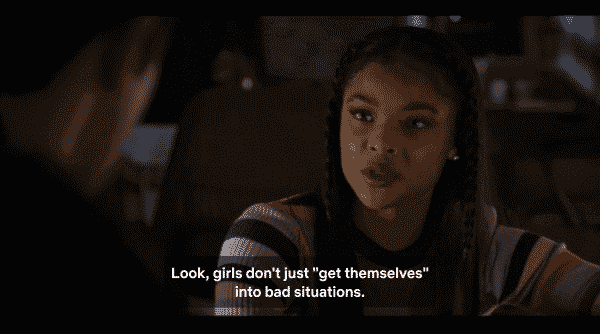 What kind of comeuppance do you give viewers for a teen rapist? Him going to trial and jail, is that really enough? Much less, what about all those around him who enabled him, which has to include Zach. What to do with them? But you know what really needs to be focused on? What Sheri said: "[…] girls don't just "get themselves" into bad situations. Guys make the situations bad." Because people like Clay love to, especially in this #MeToo movement, bring up why did you put yourself in a situation? As if, you knew what you were walking into.
Which coming from Clay, who is just plain ole ignorant, was very true to character. Making you wonder, before Hannah blessed his life with conversation, who the hell did he talk to? Because surely Jeff didn't make him this dumb. I know Tony, sure as shitake mushrooms didn't plant these ignorant ass seeds in his head. So, who was it?
Question(s) Left Unanswered
Taking note Dennis warned Tony how brutal his pursuit to discredit him would be, did Sonya do that for anyone? She talked to Mr. Porter before proceedings, but what about everyone else?
Are we ever going to talk about why Hannah just haunts Clay and not others?
Where Sheri get that weed from?
Though maybe it would be taking it a bit far, is Tony ever going to get sexy time with someone or are they going to keep it just to hand-holding and kissing?
So, is Jackie gone for good or will she flip the script knowing now Hannah was once part of a bully clique?
Collected Quote(s) & .Gifs
[…] you need to let go of your past wrongs and figure out what can you do right?
[…] girls don't just "get themselves" into bad situations. Guys make the situations bad.
Highlights
Jessica's relationship with her dad since Black fathers exist, but are still very much like unicorns in a way. Especially when it comes to raising Black daughters.
Jessica and Nina calling each other out.
Zach stepping up and giving Justin and Clay the entire polaroid collection.
Porter trying to make sure Justin's life is straight before he exits Liberty.
How much Hannah seemingly tried to make Liberty High her redemption story.
Through Sarah, it being shown why some kids/teens don't feel comfortable speaking out.
Showing Justin as appreciative for Clay's help in the form of him willing to give all that money over for rent.
Low Points
Tyler being an infuriating human being and ruining perhaps the few good things he had in his life. Probably after wishing for someone like Cyrus and Mackenzie to be in his life for years.
It really does feel like these reminders of Hannah being dead should have more impact.
On The Fence
Clay talking about coercing Chloe to report Bryce and maybe thinking of pushing Nina to tell her story too.
Follow Wherever I Look on Twitter, Like us on Facebook and Subscribe to the YouTube Channel.
---
Previous Episode's Recap
[visual-link-preview encoded="eyJ0eXBlIjoiaW50ZXJuYWwiLCJwb3N0IjoyMTA3NCwicG9zdF9sYWJlbCI6IlBvc3QgMjEwNzQgLSAxMyBSZWFzb25zIFdoeSAoVGhpcnRlZW4gUmVhc29ucyBXaHkpOiBTZWFzb24gMi8gRXBpc29kZSA5IFwiVGhlIE1pc3NpbmcgUGFnZVwiIC0gUmVjYXAvIFJldmlldyAod2l0aCBTcG9pbGVycykiLCJ1cmwiOiIiLCJpbWFnZV9pZCI6MjEwNzcsImltYWdlX3VybCI6Imh0dHBzOi8vd2hlcmV2ZXItaS1sb29rLmNvbS93cC1jb250ZW50L3VwbG9hZHMvMjAxOC8wNS8xMy1SZWFzb25zLVdoeS1UaGlydGVlbi1SZWFzb25zLVdoeS1TZWFzb24tMi1FcGlzb2RlLTktVGhlLU1pc3NpbmctUGFnZS1Nci4tUG9ydGVyLTIucG5nIiwidGl0bGUiOiIxMyBSZWFzb25zIFdoeSAoVGhpcnRlZW4gUmVhc29ucyBXaHkpOiBTZWFzb24gMi8gRXBpc29kZSA5IFwiVGhlIE1pc3NpbmcgUGFnZVwiIC0gUmVjYXAvIFJldmlldyAod2l0aCBTcG9pbGVycykiLCJzdW1tYXJ5IjoiSXTigJlzIE1yLiBQb3J0ZXLigJlzIHR1cm4gdG8gdGFrZSB0aGUgc3RhbmQgYW5kIHdpdGggaGltIGJlaW5nIGd1aWx0LXJhY2tlZCwgaGUgcnVucyB0aHJvdWdoIHdoYXQgaGUgd2lzaGVkIGhlIGRpZC4iLCJ0ZW1wbGF0ZSI6ImRlZmF1bHQifQ=="]
Related Topics:
Kat Candler
,
Kirk Moore
,
Netflix
,
Thirteen Reasons Why
,
Thirteen Reasons Why: Chloe
,
Thirteen Reasons Why: Cyrus
,
Thirteen Reasons Why: Dennis
,
Thirteen Reasons Why: Mackenzie
,
Thirteen Reasons Why: Nina
,
Thirteen Reasons Why: Ryan
,
Thirteen Reasons Why: Sarah
,
Thirteen Reasons Why: Season 2
,
Thirteen Reasons Why: Sheri
,
Thirteen Reasons Why: Sonya
,
Thirteen Reasons Why: Tony
,
Thirteen Reasons Why: Zach