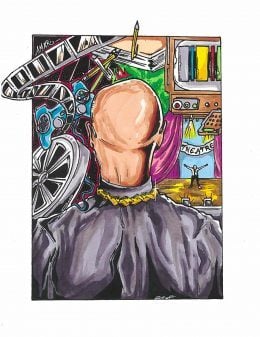 |
After her uncle breaks her trust, a young girl does her best to escape Alaska and, during this journey, she encounters an older man who might be the only one who can make sure she can get away.
---
Trigger Warning(s): Molestation
---
Characters & Story (with Commentary)
While her mother seeks treatment for an undisclosed issue, Mackenzie (Ella Purnell) is to live with her uncle (Brian Geraghty) for the summer. Issue is, her uncle has ways about him which Mackenzie can't accept. So, to get away from him, she steals some money and sets off on a quest to Seattle. Along the way she comes across a man named Rene (Bruce Greenwood) who she originally uses just to get around, but with time the two form a bond. Though with her uncle calling the police, and Rene perhaps not wanting to get too involved in Mackenzie's drama, the question becomes: Will he help this girl he just met days ago, or hope the cops can handle the situation?
Highlights
Low Points
Mckenzie isn't the type who draws you to the screen and makes you want to pay attention. Like many a young actress in an indie film, while capable of saying her lines, and doing a breakdown, she isn't the best at non-verbal communication. Most of the time it is like she is staring into the distance. Which one could argue is due to past trauma, but I'd argue said person was just being optimistic.
On The Fence
For me, Mackenzie's whole journey is strange. Not due to her trying to escape her uncle, but what she does along the way. Such as hiding in Rene's room, taking a shower in some random guy's room, and essentially putting her life in the hands of a total stranger. Plus, one thing I didn't fully understand was why did she get naked and try to possibly have sex with Rene?
Granted, we know her mom is messed up, as is her uncle, and dad is dead, for reasons not disclosed, but unless we are supposed to just understand she has a history of sexual abuse in her life, that move made no sense. If only because, for most of the film, we learn nothing about this girl. Hell, even when it comes to the little we do know, there isn't much detail given. For, as noted, we have no idea why her dad is dead, or why her mom is getting treatment, much less, we aren't really told much about her uncle to know whether maybe he molested her as a child, or if this was his first time.
Overall: Skip It
For a nearly 2 hour movie, honestly, there isn't much story here. All you really get is a lot of beautiful shots featuring how Alaska looks, Purnell staring off into the distance and, while you watch, you'll get this feeling that this movie may never end. Hence the "Skip It" label for while there is much to explore when it comes to Mackenzie's past, it is ignored for the sake of things being implied.