Maze Runner: The Death Cure tries its hardest for an epic ending but ends up falling on its face with every attempt at an emotional moment.
---
---
Summary
It has been months since the events of Maze Runner: The Scorch Trials, and now Thomas and his allies have everything they think they need to rescue Minho. Problem is, they miss their target. They do get to save more than 40 kids, but not the one they wanted. Which, naturally, pushes Thomas to want to head plan another mission and do it fast. However, with the local leader already having 100+ kids, them losing the element of surprise, and him having a boat which will soon be able to take them far away from the craziness of the infected world, he isn't for this craziness.
Especially since the only option seems to be WCKD's home base. The base for all of those who remain uninfected, yet according to Ava, will be within a month or so. So, needless to say, the clock is ticking and old enemies, like Gally and Teresa, end up becoming uneasy allies. For despite what has happened in the past, desperation shows in everyone's actions. Not just our hero taking a small group of 5 to rescue someone in the most technologically advanced place in the world, but the villains and those in between, willing to do anything to survive.
Leaving us with a trilogy finale which tries to pull all the stops, make it seem any character can die, and bringing about the kind of action scenes which would make Michael Bay get a bit of a tingling feeling inside.
Question(s) Left Unanswered
Can anyone else imagine Dylan O'Brien taking over Wolverine within a few years, or is it just me?
Anyone else sometimes wonder if Newt was queer?
On The Fence
It Tries Hard For An Epic Ending, But Kind Of Fails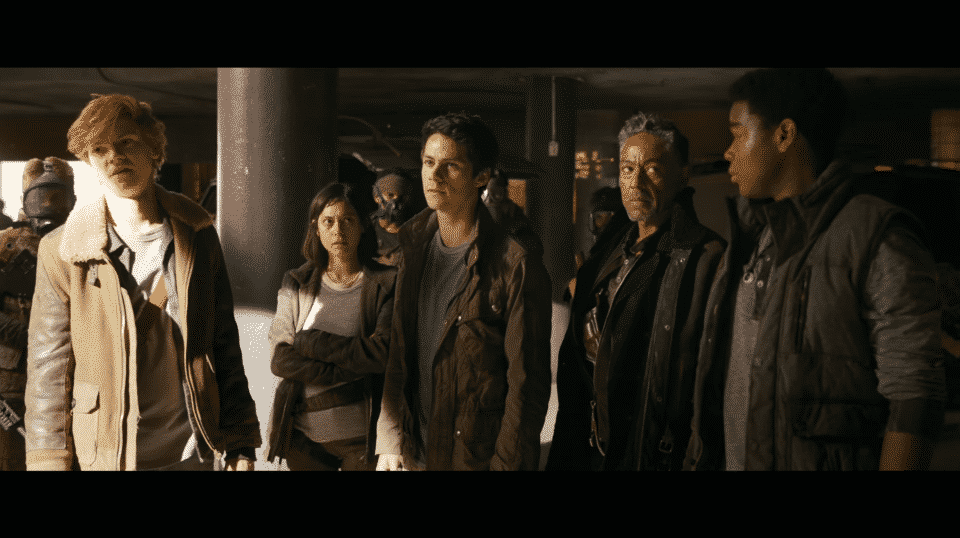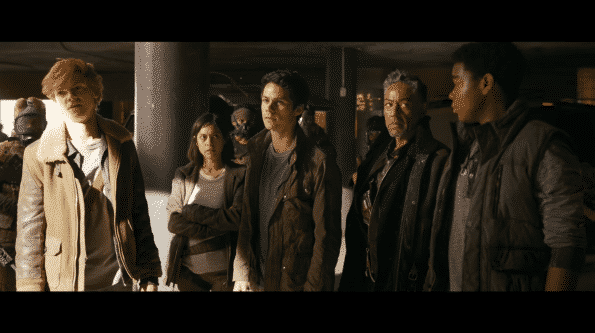 The Maze Runner was one of the many franchises born after Harry Potter and Twilight made YA novels seem like the best business decision for studios. Yes, most got critically panned, especially as they went from one sequel to the next, but they made huge amounts of money. Especially the Maze Runner films since none of them have blockbuster movie budgets. At $62 million, this is the most expensive film in the franchise. In comparison, the first Hunger Games movie cost more than that.
But, this film seeming like it tried too hard has nothing to do with the budget. All things considered, the action scenes are well done, especially as mankind's last city becoming a war zone. However, like the first two films, there is a serious problem in relying on Dylan O'Brien to craft sort of emotional depth into the film.
Which is ultimately the film's downfall. For despite the double crossings, surprise moments, and time running out on humanity, they don't allow anyone but O'Brien/Thomas to push how life or death things are. Now, don't get me wrong, O'Brien does have a presence about him. However, he still has this generic white boy vibe and doesn't have that lead actor capability to not only star in a film but challenge his co-stars to not just lift him up but get on his level.
Hence why, as one character dies after another, you more so hunch about it than get truly shocked or be brought to tears. For at this point, this clearly is just a starring vehicle for Dylan O'Brien with not the least bit of investment in his co-stars. Even those like Will Poulter, Patricia Clarkson, Rosa Salazar, or Giancarlo Esposito who have shown in previous films, alongside their careers, they could have done what O'Brien doesn't have the skills, yet, to do.
Overall: Mixed (Divisive)
The Maze Runner: The Death Cure seems like an obligation. For FOX, the argument is, unlike the Divergent series, The Maze Runner never bombed. Then for viewers, if you watched the first two, and didn't care to read the books, you want to know how it ends. Yet, despite trying to pull every trick in the book to craft an epic ending, arguably the movie fails. If solely because the writing is not only weak, but it pushes Dylan O'Brien past his current capabilities as an actor.
Hence the mixed label. Though the action movie aspect of the film is entertaining, when it comes to the characters interpersonal relationships and growth, this film is as shallow as ever. Add on some highly frustrating decisions to make more and more dramatic moments, including one characters death which could have been prevented if it wasn't for a longing gaze, needless to say, I'm glad this trend of YA dystopian franchises has finally come to an end – for now.
Follow Wherever I Look on Twitter or Like us on Facebook.
Stream By Clicking The Link or Image Below