Prodigy (2018) – Recap/ Review (with Spoilers)
Prodigy, through simplicity in setup, allows young actress Savannah Liles to shine as she plays off veteran Richard Neil and give us a layered performance of a 9-year-old sociopath. Director(s) Alex Haughey, Brian Vidal Screenplay By Alex Haughey, Brian Vidal Date Released 3/13/2018 Genre(s) Thriller, Sci-Fi, Drama Noted Actors Olivia Jolene Andersen Jimmy Richard Neil…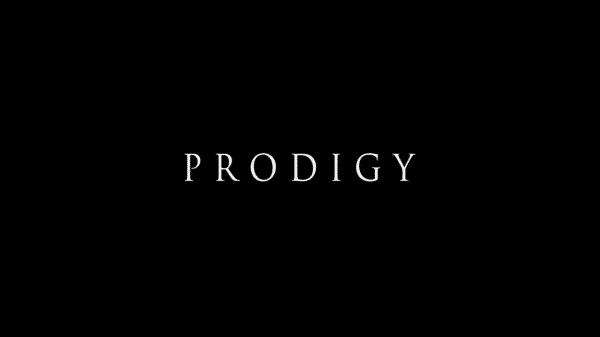 Prodigy, through simplicity in setup, allows young actress Savannah Liles to shine as she plays off veteran Richard Neil and give us a layered performance of a 9-year-old sociopath.
---
Director(s)
Alex Haughey, Brian Vidal
Screenplay By
Alex Haughey, Brian Vidal
Date Released
3/13/2018
Genre(s)
Thriller, Sci-Fi, Drama
Noted Actors
Olivia
Jolene Andersen
Jimmy
Richard Neil
Eleanor (Ellie)
Savannah Liles
Colonel Birch
Emilio Palame
Dr. Keaton
David Linski
Ryan
Aral Gribble
Dr. Werner
Harvey Q. Johnson
Summary
Thanks to a college friend, Olivia, Jimmy finds himself coming face to face with 9-year-old Ellie. It isn't clear to him, since he skipped reading her file, while she is in a straight jacket and her hands are bound, but it becomes clear to him quickly she is no normal 9 year old. Like a young Sherlock Holmes, her deductive skills are surprising and matched with her superiority complex, she can be as cruel as she is comical in a way. Yet, a child being a smart ass is no reason for the type of security she is under.
So, with Olivia running out of time to convince her peers Ellie, at her heart, is but a child, Jimmy digs deeper. He brings up her mother, avoids provoking her to get a reaction, yet remaining inquisitive enough to show he cares. Something that only flares her up even more. To the point that when he unbounds her, there comes a point where not just him, in that room alone with her, but those on the other side of the one-way mirror, begin to fear for their lives.
Collected Quote(s) or .Gifs
"[…] our struggles are simply questions life asks. At the end, all that matters is how we answer."
Highlights
The Dynamic Between Liles and Neil
Let's be honest, playing a psychopath or sociopath isn't that difficult. For films like this which don't try to be over the top, you release nearly all your emotions and relax your face, talk in a monotone voice, and usually have lines and actions meant to be provocative. However, the chemistry you have with the person who you play off of means everything. This is what pushes Liles and Neil to go from some B-Grade movie to putting on the type of performance which seems noteworthy.
Especially in terms of young Liles, for Neil does what you need him to do as the veteran between the two: He challenges Liles. A pessimist could easily say Liles plays the generic way to be a sociopath/ psychopath described. However, this belief can be dismissed as Jimmy begins picking apart Ellie and we see Liles allow breaks in this character's wall. Some of which is made to be obvious, like in a chess game they have where she seemingly skips a move which could end things to prolong their conversation. Yet, there are other moments when she looks away or can't maintain his sight and it makes you realize he has caught her off guard. That this persona she made to mentally defend herself against these people who don't have her best intentions, he has figured her out.
You can see this fear yet desire to trust him. Making it when he leaves the room and returns, you can sense this relief in Liles. Something she doesn't let linger enough for Neil to catch on, but as we see it over and over, what once was antagonistic becomes sarcastic banter. Especially as he allows himself to become vulnerable and show that this isn't about his ego or anything like that. He is as willing to open up to her because he sees that is what she needs. With the intellect she has, it isn't necessarily a psychologist or psychiatrist she needs. Just someone to talk to who takes her seriously and treats her as a person. Not this child with deadly capabilities.
On The Fence
Outside of Ellie and Jimmy, You May Find The Rest of the Cast Unremarkable
For a moment I really was thinking there was nothing to critique or that left me on the fence, but then I realized this film has more characters than the three mentioned. Thus leading to what some may consider an issue. Colonel Birch, Dr. Keaton, Ryan, and Dr. Werner are forgettable in a snap. Ryan is your usual heavyset tech guy who seems like being in a cubicle next to him will be why you hate going to work.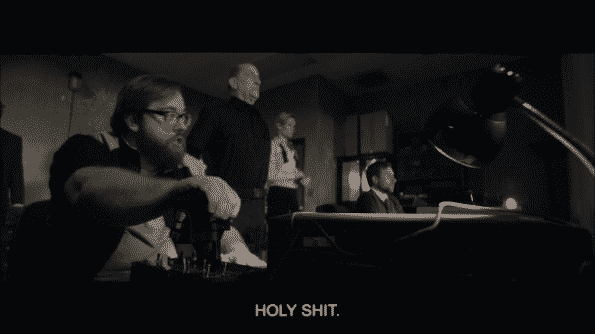 Dr. Werner is a borderline token Black guy who doesn't really add much and while he notes Jimmy makes progress here and there, he sees Ellie as just a research subject. One who, for some reason, still has a pulse. Also, to add insult to injury, his name doesn't even appear in the end credits to show you how important he is. As for Dr. Keaton, well, he doesn't inspire much of any thoughts or a reaction, and then there is Colonel Birch and Olivia.
Colonel Birch, the closest thing to a villain in the movie, you just hate because he is a smug man you can tell has a hurt ego. This little girl didn't bow to him and become his tool so now he wants her dead. Then with Olivia, besides being something to Jimmy back in college, when they met and she perhaps became smitten, and a woman putting her job on the line, there isn't much to bring up about her.
To sum it all up, the supporting actors are sacrificed for the sake of our leads giving the performance they do.
Overall: Positive (Worth Seeing)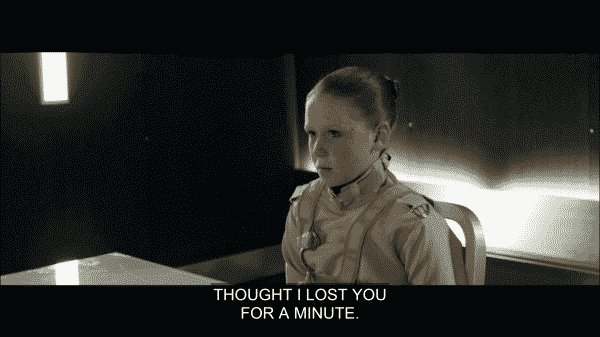 Like other juvenile actresses like Oona Laurence, Riley Lai Nelet, and the young ladies on Better Things, among others who don't quickly come to mind, Ms. Liles is one to look out for. For while she is still at that stage of her career where she is learning and growing, seeing how she takes on another actor challenging her brings about a spark. So one can only hope that the greatness of this role doesn't typecast her and she is allowed to spread her wings further.
For truly, Liles, in combination with Neil, are what make Prodigy
worth seeing. Their scenes together are like watching a two-person play with only a table between them and minor special effects to show Ellie is not someone to be taken lightly. And in that intimacy with a man trying to help and a child, too smart for her own good, lacking trust and faith, you get a wonderfully volatile mix. One which shouldn't be missed if you enjoy simplicity over flashiness.
---
Follow Wherever I Look on Twitter or Like us on Facebook.
---
Stream By Clicking The Link or Image Below
---
Follow, Like, and Subscribe
Community Rating: 0.00% (0) - No Community Ratings Submitted (Add Yours Below)