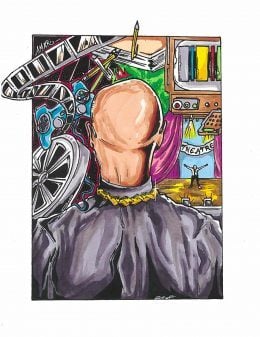 |
Overview
A rather slow film which explores the relationship between a man and daughter. The man being an accomplished jazz musician with a drug addiction, and the daughter seemingly aimless.
Review (with Spoilers) – Below
Characters & Story
Amy (Elle Fanning) is a high school age girl enamored by her jazz musician father Joe Albany (John Hawkes). His talent, and his moments of affection, are what makes her mother Sheila's (Lena Headley) abandonment bearable. However, with her dad having a long standing dope problem, he also, like her mother due to her drinking problem, decides to abandon her. Luckily, though, her grandmother (Glenn Close) provides her with some stability and allows her to grow up and do normal things. Her father's return though puts into question if normalcy may stay, as well as what Amy may ultimately do with her life?
Praise
Though the film's pace is a crawl, I do feel that there was potential in the characters. For with the jazz music being played just creating a very cool, and chill, type of vibe, the film does begin on a good note. Almost leading you to wish we could have seen more of Joe the performer vs. Joe the drug addict.
Criticism
The issue with this film is that it seemingly is without direction. There isn't any real sort of beginning, middle, and end, or even specific thing it seems to want to explore. All it states is Amy is the daughter of a talented Jazz musician; Amy doesn't have the type of parents that a person should; she falls in love with a boy who has seizures; and then we get to know what happened to the people this is all based on.
Making this one of those type of art house films of which you have to be so into the film industry in order to perhaps appreciate it.
Overall: Skip It
While I thoroughly enjoyed the jazz music played in this film, I do wish I could have got the nearly two hours lost back. For there isn't anyone in the film who grabs hold of you or gets any sort of reaction out of you. Everyone just does their lines with a tone which displays how jaded the character is, and it creates what slowly becomes background noise for a good nap. Hence the skip it label since there isn't anything really here to sell you on when it comes to actually watching, and paying attention, to this film.