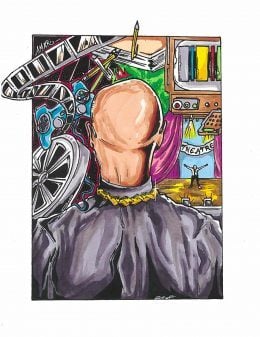 |
Overview
A Post-Apocalyptic drama set in a rural part of California and focused on a small group of close friends with troubled relationships.
Review (with Spoilers)
It feels very rare to find a post-apocalyptic movie not set in the city, much less not focused on the years since the apocalypse started. Making Goodbye World, at least for my viewing knowledge, sort of rare. But perhaps that main draw, when I read the synopsis on Wikipedia, was the fact it wasn't focused on some hero trying to restart the world or anything like that, but simply a family looking to survive the madness, while dealing with old friends, without the distraction of technology to really interrupt things.
Characters & Story
On the eve of an electronic blackout, James (Adrian Grenier) and wife Lily (Kerry Bishe) seemed to have planned for a reconciliation with old friend, and former business partner, Nick (Ben McKenzie). Things between them are highly complicated, though, especially when Nick's wife Becky (Caroline Dhavernas) shows up and not only is she not remembered by anyone on face value but causes a lot of drama amongst the more open-minded group she finds herself in.
Things don't end with just those four, though. Laura (Gaby Hoffman), a government employee currently dealing with an affair scandal, and Lev (Scott Mescudi), a hacker and tech enthusiast, also find their way to Lily's ranch in northern California, as does Benji (Mark Webber), a former revolutionary turned traveling lecturer, and his student/ girlfriend Ariel (Remy Nozik).
Together this group tries to live together as electrical grids fail and even making a phone call becomes impossible. But, being that human nature is what it is, between fighting over what happened in the past, and outsiders fighting due to what is happening in the present, the cast find themselves constantly being faced with ultimatums. Some of which involve guns pointed towards their heads.
Praise
A weird compliment I must give this movie is that none of it seems too over the top. I mean, granted, I was unsure how Laura and Lev found their way into rural north California, seemingly by just walking, but forgiving that bit you can see that there was more of an interest in portraying people than characters. Whether it was the goofy Lily; the overly serious James; the boy who tried to do everything right, Nick; and so on and so forth.
But perhaps it was the interconnecting relationships, and scrutiny of each other, which made this a fascinating watch. If just because no one relationship, be it platonic or romantic, was perfect. It showed the complexity of human emotions and though not always dealt with, it mirrored how, I believe, even in those circumstances, things might have been handled. And, as I say every now and again, I really think this could make for a TV series worth watching, if just because all the characters are so diverse and interesting.
Criticism
I will admit, though, as interesting as the characters are, if you're not into watching people deal with their personal drama this may bore you. For example, the primary tension of the film deals with James screwing over Nick. This issue spills past him getting screwed out of a business deal and also deals with various things in their personal lives, including their mutual relationship with Lily. Which, for me, was only a negative since I watch so many TV programs, and movies, dealing with relationship drama, that I felt their love triangle was just a tad shallow.
Also, I felt the ending was sort of weak and way too optimistic. Be it because I'm a pessimist, or because of how much anarchy they make it seem the world is being ruled under, I just found the ending to be eye-roll inducing. Especially the odd relationship which develops between Laura and Lev.
Overall: TV Viewing
I will not say this is one of the best movies I have ever seen, nor is this worth multiple accolades, but even with that said I find this to be a good movie to kill an hour and a half with. For while some of the stories between characters are a bit melodramatic, and the ending seemed to end a little too peacefully, it is hard to deny that I didn't get invested in what could happen to these characters. Especially since there is enough diversity in their personalities to grow attached to the majority of them. Hence why this is being labeled "TV Viewing."