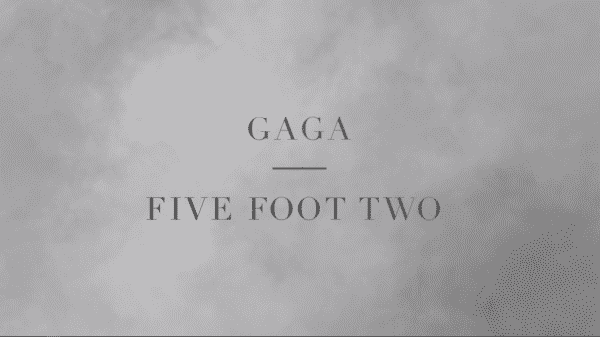 Gaga: Five Foot Two reminds you that behind the pop icon Lady Gaga is Stefani Germanotta. A person, a woman, a world-renowned singer, but still a human being. One whose pain, both physical and mental, she lives with every day and has to fight off to live her dream.
Summary
Stefani Joanne Angelina Germanotta, commonly known as Lady Gaga is now approaching 10 years since "Just Dance" was released and she became famous. Within those ten years, she has had an album go platinum during its first week, become a pop icon, alongside a gay icon, and yet with each professional accomplishment, it seems a personal one slipped away.
That is the sort of balance you see within Gaga: Five Foot Two. For every great feat, be it being cast in A Star is Born, American Horror Story, or The Superbowl Halftime show, we are reminded of the sacrifices made. We are reminded that Germanotta doesn't have everything she could want. She wants a boyfriend. Someone to come home to, and touch lovingly, after having dozens, if not hundreds of people, be it staff or strangers, touching her all day.
She wants this pain, which partly stemmed from her "Born This Way Ball" tour, to go away. One partly caused by a broken hip and seeming paired with spasms that go from her toes to her face. But most of all, she wants to relish in this comfort which comes with being 30 (at the time of this being filmed). Which means, not necessarily relying on high-concept fashion and outrageous looks as part of her act. No longer letting the men in her life commandeer, or try to anyway, her music, look, or performances and just be secure that she no longer is simply lucky but has truly put in the work – professional and personal – to say she deserves her place in life.
Collected Quote(s)
I can always bring my past with me but I can never go back. You gotta leave yourself behind.
Highlights
It Helps You Understand The Woman Behind The – Eccentricities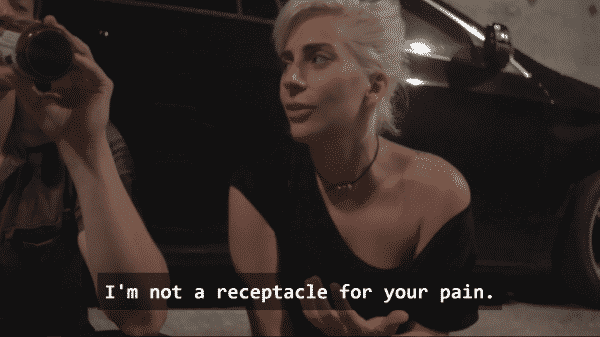 Cause and effect are the basic principles behind most people's decisions. Because this happened to me, I acted in this way. For Germanotta, because she is a woman, barely above five feet, and is an Italian New Yorker, it has led to some issues. The kind where she felt controlled and boxed in, making it so all these outrageous outfits might not have all been because she is into avant-garde fashion. That was her rebelling against the system.
Take for example her "Paparazzi" VMA performance. She explains that the whole blood and grotesque bits were her giving a finger to the sound she was pushed into. It was her showing how Fame kills in a multitude of ways. Thus leading to situations like Marilyn Monroe's death and Anna Nicole Smith [note]What I thought was an odd choice for comparison sakes, but I just went with it[/note].
But what really may get to you isn't when Germanotta is talking about what it means and takes to be Lady Gaga but what she, the person behind the famous moniker goes through. Such as, with every career milestone thus far, she lost a boyfriend. Also, after the biggest album and tour of her career, she suffered a broken hip.
Of which, to the average person, may not seem like a big deal. "Yeah you broke your hip but you are rich!" "So you got dumped? WHO HASN'T!" and even with the muscle spasms, I bet there is someone saying, "Well, you got money to help when you are in pain. I DON'T!"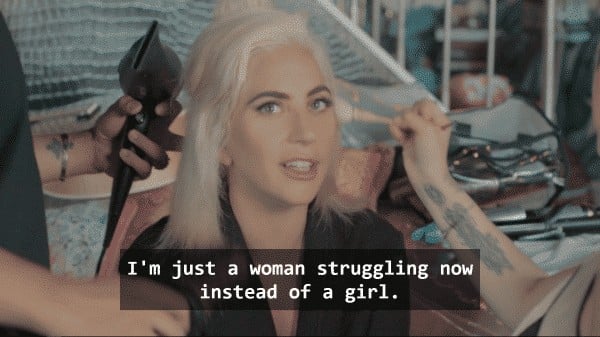 But here is the thing: Germanotta doesn't present herself in a Mariah Carey fashion. More often than not, we see Germanotta at her most comfortable. Usually without a bra, maybe with some shorts on, and that's it. There isn't any desire to be seen as a diva and in the times she could come off as such, it is because she is working and something isn't right. Which is a problem for it isn't her choreographer or stylist that will get blamed for a bad performance – it'll be her.
Refocusing on life off the stage though, what Gaga: Five Foot Two reminds you of is Germanotta's values. She comes from an Italian family, one quite close-knit. So with that in mind, yeah she may be a modern woman who has all intention to own herself and have a career. However, that doesn't mean she doesn't want someone firmly in her corner who didn't raise her or is her sibling. There is but so much you can expect from people who work for you. There is something completely different about a person, a man, who volunteers to be with you despite your insecurities, the demands others have of your time, and yet they love you enough to make it work.
Then when it comes to the body pain, I think the best way to look at it is the same way you would with a construction worker who broke their back. Yes, Germanotta may have more money than said person, but there isn't a cure or fix money can buy yet. She even notes, she was told to take the same meds as your average person would: Aleve. But it isn't like Germanotta has made her money and fame by standing in front of a mic or singing in front of a piano. Her career isn't like Sia or Adele who don't have to perform but simply sing. She has to move, dance, change outfits and between spasms and worrying about breaking another bone, that's terrifying. That is potentially career-ending – perhaps as the type of entertainer she is, alongside what it could mean for her burgeoning acting career.
You Truly Feel Something For Her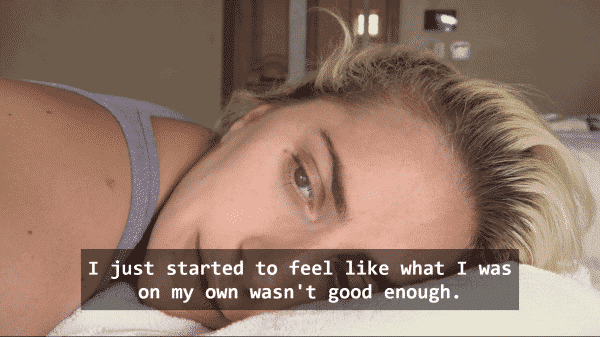 30 years of age isn't that old. It may seem like it if you are that age or younger but really think about it. About 12 years ago you finished high school, a time period where you have to request permission to use the bathroom. Then there was either college or finding some kind of job to begin the process of independence. Of which, for some people, having a stable life and being able to say they know themselves only really hits at 30. So imagine being someone, a woman at that, whose body, style, and personal life is picked over since you were 21. On top of that, you're dealing with depression, had issues in the past with eating disorders, and so much more.
But perhaps what really hit home and had me teary eyed was when she visited her Grandmother and we learned the story of Joanne, who Germanotta was named after and is the title of her latest album. In that, you see a genuine person. It isn't her doing as the skeptics would think, trying to cash in on a family tragedy, but her trying to do what all artists do. Whether they are actors, musicians, or comedians, they all draw from personal pain and find life. The kind which makes people, even complete strangers, feel something. Be it someone to relate to or someone who inspires you.
On The Fence
You Can Get Tired of Hearing About Her Ex
Though her talking about her ex-fiancé and her loneliness is part of what drives the fact she is human, at the same time, if you aren't a "Little Monster" and are solely basing your watching this on trying to understand the hype, it can get annoying. Especially, again, if you come into this movie ready to pick it and her apart.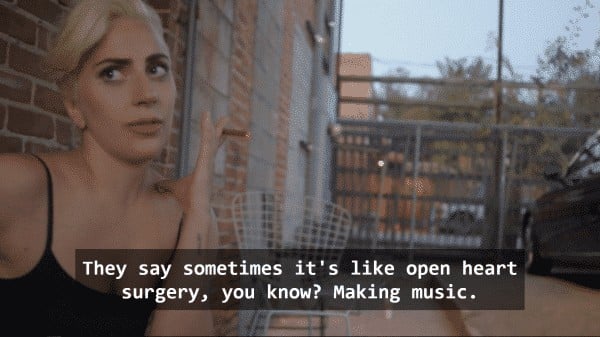 Unlike the Misty Copeland documentary and the many ones Beyoncé has had, there is a true messiness here. Not in terms of the drama you may get on a Shonda Rhimes show but more so messiness in terms of truth. For Gaga isn't pursuing with this documentary trying to be inspirational or beg for pity or understanding. What we get in Gaga: Five Foot Two is a true look behind the scenes. An opportunity to intimately get to know the artist past the faux interaction social media alludes people to think they have. In this, we get to see Stefani Germanotta and understand how difficult it sometimes is to wear the mask of Lady Gaga.
Hence the Positive label. For Gaga: Five Foot Two doesn't feel like it was made for the sake of promotion. No. Instead, it seems made to actually allow fans, those who are curious, or people like me, who used to be into Gaga, a reminder of how much work she puts into her career. How much she endures to put on a good performance, to make personal music, or something to dance to. Maybe even something to help bring you out of a mood. And while it isn't so great that it inspires me to buy an album or ticket to a concert, it went beyond creating feelings of nostalgia. In a way, I feel like my old desires to be a fan have been renewed.