Deon Cole: Charleen's Boy (2022) – Review/ Summary (with Spoilers)
---
Community Rating: 0.00% (0) - No Community Ratings Submitted (Add Yours Below)
---
This post may contain affiliate links and spoilers. Please read our disclosure policy.
---
"Deon Cole: Charleen's Boy" strings along a bunch of jokes regarding aging and loneliness and then hits on something personal.
Director(s)
Ryan Polito
Written By
Deon Cole
Based On
N/A
Date Released (Netflix)
11/15/2022
Genre(s)
Stand Up Comedy
Duration
1 Hour 7 Minutes
Content Rating
Rated TV-MA
Noted Cast
Himself
Deon Cole
This content contains pertinent spoilers. Also, images and text in this post may contain affiliate links which, if a purchase is made from those sites, we may earn money or products from the company.
Comedy Special Summary
With Deon Cole hitting 50 at the top of the year, there is much to reflect on in life. From the kind of homophobia he grew up dealing with, comparing dating older to young women, to how sex and being single changes the older you get. But, amongst his observational comedy is his classic routine of trying out a few jokes from his phone or a notepad and a very touching ending where he delivers a tribute to his mom Charleen.
Things To Note
Why Is "Deon Cole: Charleen's Boy" Rated TV-MA
Dialog: Cursing Throughout and use of the N-Word
Violence: Nope
Sexual Content: Suggestive content
Miscellaneous: N/A
Character Descriptions
Please Note: This character guide is not an exhaustive list of every cast member, and character descriptions may contain what can be considered spoilers.
Deon Cole
An observational comic with a focus on jokes about aging and relationships, Deon Cole's act may not be tame or for children, but if you've grown and went outside in your life, he will definitely hit your funny bone a few times.
You May Also Know The Actor From Being: Alfonso in "The Color Purple (2023)," Charlie Telphy in "Black-ish" and "Grown-ish," and DJ Tanner in "Angie Tribeca"
Review
Our Rating: Positive (Worth Seeing)
Highlights
The Joke Trying Segment
The trying out a joke segment is a classic part of Deon Cole's repertoire and leads to a slew of the most memorable jokes of the whole special. Be it if ejaculation fluid is considered vegan, amongst a slew of other jokes that really make this the high point of the special.
Laughing To Keep From Crying
But, what others may find to be a bit of a high note is when Deon sets aside the jokes towards the end of the set and talks about his mom, the mental health of comedians, and allows people to see behind the curtain. In that moment where we see absolute vulnerability, even maybe the potential of Deon Cole crying, you're reminded as funny as comics are and sometimes messed up with their jokes, they're people.
Most of them are trying to process the absurd and sometimes terrible things in their life, or in general, and find a way to make it a swallowable pill. However, some things can't be handled through laughing or making the pill easy to swallow. For some, getting on stage and focusing on anything but the one thing helps. Heck, for some, it is therapy, validation, and community. Which a lot of comedians say after they get off the stage, so Deon speaking to the audience and saying it during his special was notable.
On The Fence
A Handful Of Comical Jokes, But Not Too Many With Staying Power
Let it be noted, we saw Deon Cole live in the spring, so we were familiar with some of the jokes in the special. However, while familiar with them, it was only vaguely. Like so many comics in the modern era, while the finished product is quality, it strangely isn't catchy. There are no "SLAP – Sounds Like A Plan" moments where you can carry a joke beyond the special. Which is a bit strange, considering the social media era calls for viral moments that can be shared.
Yet, the only thing that truly stands out is when Deon sets the jokes aside. That's when "Charleen's Boy" stands out and seems different from the various stand-up releases we get throughout the year, now that specials have simply become content.
[ninja_tables id="46802″]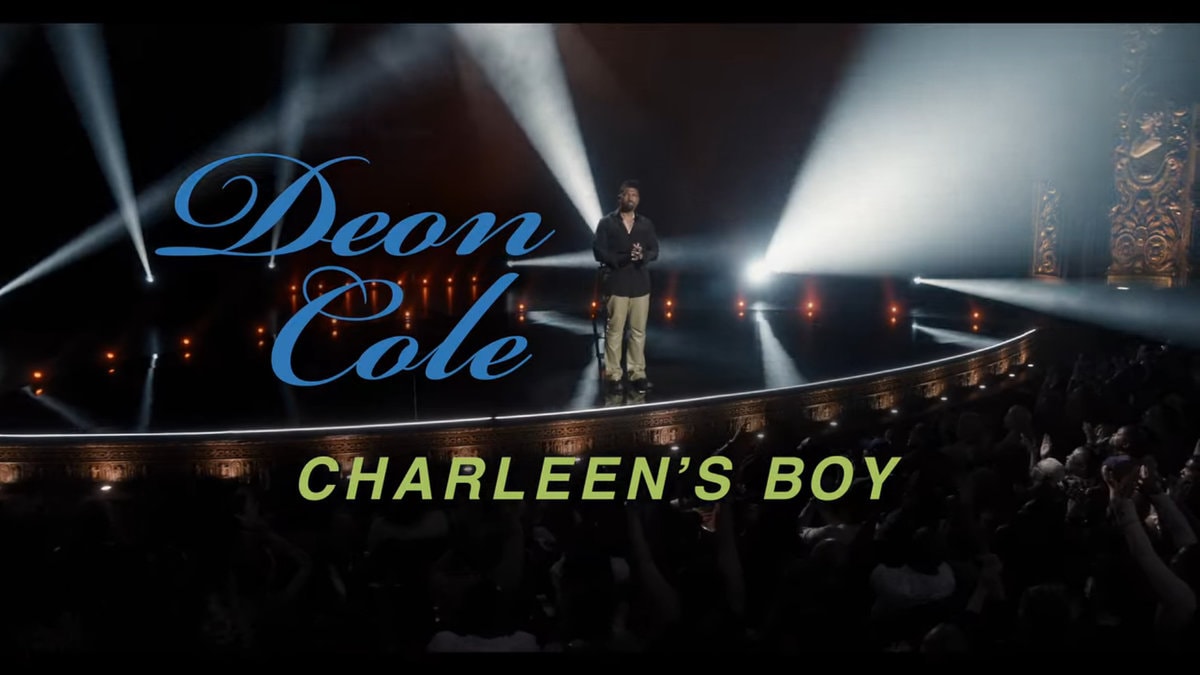 Deon Cole: Charleen's Boy (2022) – Review/ Summary (with Spoilers)
Overall
"Deon Cole: Charleen's Boy" has fun moments, like when he tries out jokes, but the jokes aren't what makes this stand out from the various stand-up recordings available. More so, it is when Cole gets vulnerable with the audience and reminds you that laughing to keep from crying is a comedian's mantra, and sometimes, people need to see behind the curtain.
Highlights
Laughing To Keep From Crying
The Joke Trying Segment
Disputable
A Handful Of Comical Jokes, But Not Too Many With Staying Power