Bad Boys For Live (2020) Review/ Summary
Despite the time gap and this being the third entry into the franchise, "Bad Boys For Life" brings you what you'd want, what you'd expect, but not much more.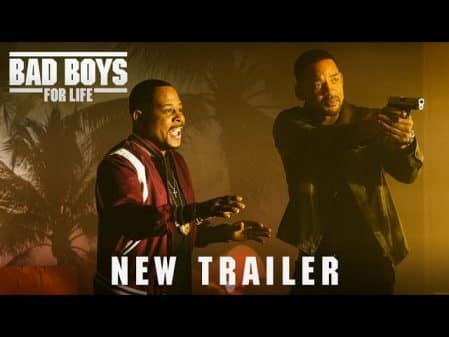 Despite the time gap and this being the third entry into the franchise, "Bad Boys For Life" brings you what you'd want, what you'd expect, but not much more.
---
Director(s)
Adil El Arbi, Bilall Fallah
Screenplay By
Chris Bremner, Peter Craig, Joe Carnahan
Date Released (Theatrical)
1/17/2020
Genre(s)
Comedy, Crime, Thriller
Duration
2 Hours 3 Minutes
Noted Cast
Mike
Will Smith
Marcus
Martin Lawrence
Captain Howard
Joe Pantoliano
Rita
Paola Nuñez
Rafe
Charles Melton
Kelly
Vanessa Hudgens
Dorn
Alexander Ludwig
Isabel
Kate del Castillo
Armando
Jacob Scipio
This content contains pertinent spoilers.
"Bad Boys For Life" Plot Summary/ Review (Spoilers on 2nd Page)
---
Community Rating:
---
After 25 years of working for Miami police, with nearly 24 of those years partnered with Mike, Marcus is tired. He is tired, he has a grandbaby who can take up his time, and he is tired of the car chases and being shot at. Mike, on the other hand, is not. He still enjoys the thrill, the women, and avoiding anything resembling settling down.
However, after being violently shot after Marcus' retirement party, he is forced to take stock of his life and then decides to focus on revenge. The type which requires his partner to come out of retirement for one last case, since the people Captain Howard has on the case just aren't cutting it.
Question(s) Left Unanswered
So outside of Marcus' sister, does Mike usually go for Latin women?
Highlights
It's Everything You Expect – 85
By no means is "Bad Boys For Life" bigger and better than its predecessors. Instead, it appears to be written in a "Don't fix what isn't broken" way. Meaning, we still got Marcus acting a fool and him freaking out in ways that get on Mike's last nerve. Also, despite being shot up and ending up in a coma, Mike still is reckless and would rather shoot to kill, and push the limits of his authority, than do things by the book.
From there, you do your usual Latinx villain, Marcus' wife being mad, and things of that nature, and it makes it feel like barely any time has passed since the second film.
It References Past Entries – 84
Which has a bit more relevance than the first – Mostly in the form of familiar faces coming back, which audiences will get a kick of, and the mention of Marcus' sister, who is nowhere to be seen, among other things. Thus making the film really feel like Marcus and Mike have been in each other a long time and that we aren't just dropped into chapters with no looking back.
One Major Shock Leads You To Believe Anything Could Happen – 89
While most of "Bad Boys For Life" is the same heightened action but with older men, there are a few shake-ups in there which attempt to make things lively. One we will talk about in the criticism, but the other is a shock. I'm talking about the kind that creates a real sense of danger to the heroes and leads you to believe that this isn't another film where bullets can fly, cars can flip, and huge explosions will happen, and the worst we'll see is some bandages and a miraculous recovery. People die in this film you'd not expect and as you watch, it makes you wonder if the film would do something radical and make it so a sequel could not feasibly be produced.
The New Crew – 83
When it comes to the crew ran by Mike's ex Rita, the AMMO division, they are far more an asset than you'd think. Now, granted, they could NEVER carry a spin-off. However, watching Rafe and Mike's banter was gold. Vanessa Hudgens as Kelly was okay, neither bad nor exceptional and then for the character Dorn, there was potential. The way Alexander Ludwig plays him will lead you to think his character was inspired by the way Marvel writes. Making it so Ludwig becomes a surprising comedic asset to the film.
Criticism
The Twist & Sequel Setup – 65
With that said, the film sets up a sequel, and it how it does it makes you roll your eyes. For in some ways, it feels like it could be passing the torch but, mind you, it isn't to the people we see in the trailer. Instead, it is to someone else and the person chosen, and the reason why, officially makes it seem like this franchise will fall prey to being milked like so many others. Rather than continue to be the rare one that takes its time and perhaps makes you wait, but still maintains its quality.
Overall
Would Watch Again? – Worth Revisiting (80)
While more of the same and the new blood not necessarily adding much to "Bad Boys For Life," it's a fun experience. One that sets up a sequel that shouldn't gain traction, but that's our opinion. Overall, however, "Bad Boys For Life" is definitely worth seeing and seems like the perfect end to the long-running franchise.
[td_block_12 custom_title="Other Movies & Shorts" td_ajax_filter_type="" ajax_pagination="next_prev" limit="1″ category_id="34″ sort="random_posts" custom_url="https://wherever-i-look.com/media/movie-master-list"]
"Bad Boys For Life" Ending Spoilers
Armando, who is Isabel's son, is the primary villain of "Bad Boys For Life." He is the one who damn near kills Mike, does kill Captain Howard, and is the trigger for Isabel's revenge. You see, when Mike was young, before meeting Marcus, he went deep undercover and helped to take down Isabel's then-husband. However, before the case was wrapped, he had an affair with Isabel and was supposed to run away with her. But, instead, all he did was leave her and their son, Armando. Someone who didn't know, for his less than 24 years of life, that Mike was his dad.
Yet, as the end of Isabel's reign happens, rather than save his mother and kill Mike or let Marcus die, he nearly sacrifices himself and allows his mother to burn into a pit of fire. Thus setting up a sequel in which, with Marcus retired, but Mike seemingly still active, with his ex Rita as the new captain, it seems Armando may be given a second chance. A means to shave off some time of his sentence and maybe spend quality time with his father.
Doing what? Well, only a spin-off or "Bad Boys 4" could reveal that.
Is A Sequel Possible?
Yes, but here is hoping it doesn't happen.
[td_block_12 custom_title="Other Movies & Shorts" td_ajax_filter_type="" ajax_pagination="next_prev" limit="1″ category_id="34″ sort="random_posts" custom_url="https://wherever-i-look.com/category/movies"]
---
Follow, Like, and Subscribe
Community Rating: 0.00% (0) - No Community Ratings Submitted (Add Yours Below)