Jenny Slate: Stage Fright – Summary, Review (with Spoilers)
Part manic stand up special, as well as reflective documentary, Jenny Slate: Stage Fright gives you both the performer and the person who had to live life to write the jokes.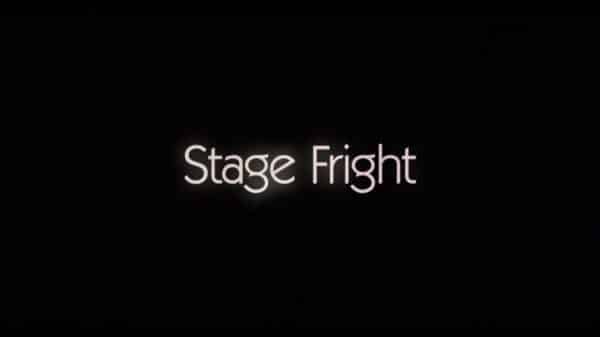 Part manic stand up special, as well as reflective documentary, Jenny Slate: Stage Fright gives you both the performer and the person who had to live life to write the jokes.
---
Director(s)
Gillian Robespierre
Written By
Jenny Slate
Date Released (Netflix)
10/22/2019
Genre(s)
Stand Up Comedy, Documentary
Who Is This For?

Those Who Enjoy Eccentric People
If You Like People Who Come Off A Bit Manic, Yet When They Come Down Can Get A Bit Deep

Noted Cast
Herself
Jenny Slate
Plot Summary/ Review
---
Community Rating:
---
Slate's stand up may remind you of a little kid who likes to be in front of an audience and who feels enabled to say naughty things because people are laughing. Making it so things sometimes get awkward, in a funny way, even if she is talking about how horny she gets. But, on the flip side, as she speaks to her family and opens up to us, we get that person behind the clown paint vibe. Slate opens up about her loneliness, anxiety, and it makes you connect with her in a way that makes the jokes strangely funnier. For rather than be another person Netflix has given a special to for content, Slate has become your weird friend who other people now can appreciate as much as you do.
Collected Quote(s) or .Gifs
[…] right before I go on stage, I am, presented with this essential question, which is, 'Will they like me?' And I know that they will once I start to talk. But I don't earn the love unless I give something beautiful that goes out. So, my stage fright comes from a deeper thing of exchange.
— Jenny Slate
The worst thing [to say] is "Just be yourself!" 'Cause I'm like, "Oh, okay. You should see how many selves there are in my psyche, 'cause some of them are fucking murderers, and they're trying to kill me." Like, I'm surviving them and living with them, you know?
— Jenny Slate
[…] the thing that I'm the most scared of about tonight, is that, […] I will deny myself the moment to have fun. And I'm so angry at myself that that might happen, that I'm probably gonna make it happen.
— Jenny Slate
The most annoying thing you have to do, as a woman, is to try to fucking decipher why some asshole made some shitty decision that you're involved in.
— Jenny Slate
In general, I've always been really, really afraid to be alone, and of what that means about me and my worth and I think recently I've really understood the difference between solitude and abandonment.
— Jenny Slate
Highlights
Both The Documentary & Stand Up Aspect Can Stand On Their Own
Upon learning that this was part documentary, chronicling why the persona we see on stage is how it is, I honestly thought the documentary side would be better than the other. If you look at the quotes above, that mostly stems from the documentary portion, you can understand why. However, as time went on, I came to realize both sides complemented one another.
Look at it this way, the real Jenny Slate, who has fears of not finding love, being the black sheep, and things of that nature, to fully appreciate and understand her on-stage personality, you have to know that person. It helps you get why she is so awkward and weird on stage, for she is pushing herself to try to have fun and be in the moment. All the while, also be vulnerable and open enough for people to be receptive, comfortable, and find her funny.
So while, yes, each side has its merits, and could possibly stand on their own, the combination of seeing the two most prominent sides of Slate gives you the kind of access social media wishes it could.
When Slate Gets Serious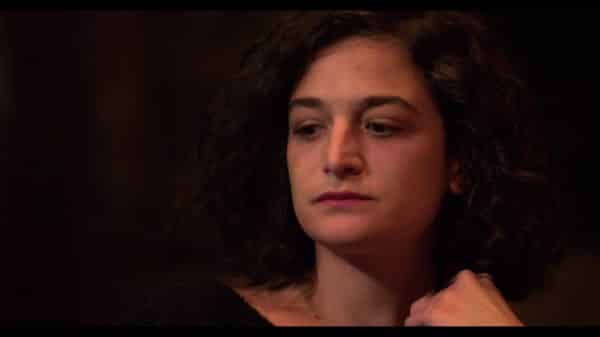 With that said, your connection to the off-stage Jenny Slate will probably be stronger than to her on-stage persona. For while the mania you see can be quite entertaining, it is really like watching a child, hyped up on sugar, and getting a massive high due to all the attention they are getting. Making it so, after a while, you just kind of bulge your eyes a bit.
However, when Slate gets real with you about why her more exaggerated persona is how it is, you get it, and it makes you so profoundly appreciate her honesty. To the point it makes you want to see what other things she has done (I recommend Landline) and to follow her career.
She Has A Unique Voice
When it comes to comics who are women, a lot of the times it seems like they are just flipping what the men are doing. Slate doesn't fall into that white, blonde, with bad vaginal maintenance, and sex, habits category. She can just as much joke about her sex life, or lack thereof, as well as living with her parents or her divorce. Also, while awkward, she isn't that kind of awkward that has that, "Hey, I'm quirky" with some weird peace sign being raised as soon as she says that. You feel like, whether on stage or off, you have a genuine person who is commercializing their thoughts and feelings and might be taking things up a notch for comedic effect, but never so much you feel like a character is being presented.
---
Community Rating:
---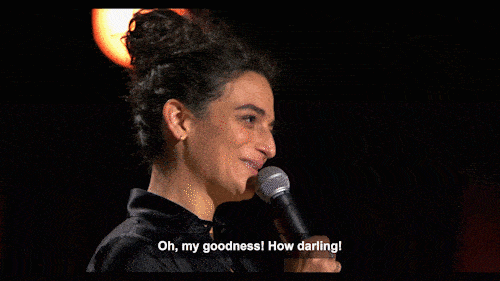 Generally speaking, if Jenny Slate is the lead or star, and I hear about the film or show, I watch it. She's a unique presence that somehow harnasses the idea that "Yes I'm 3- years old, but I do not have my s*** together" without making it so self-deprecating you can't laugh. Instead, Slate presents that weird friend who you sometimes have to give the side-eye to, but you love them just the same.
Hence the positive label, and recommendation. In Jenny Slate: Stage Fright you get both the tears and the laughter and feel you truly get to know Slate in a multi-faceted way. Be it the persona she puts on as a public figure, who she is behind closed doors, and who she desires to be. Maybe not in a huge philosophical sense, but in terms of what is her pursuit of happiness? She presents that to you and helps you understand the journey hasn't been easy, but she still feels committed to it.
[ninja_tables id="36677″]
Both The Documentary & Stand Up Aspect Can Stand On Their Own - 89%
When Slate Gets Serious - 90%
She Has A Unique Voice - 88%
---
Follow, Like, and Subscribe
Community Rating: 0.00% (0) - No Community Ratings Submitted (Add Yours Below)