Barbara: The Music… The Mem'ries… The Magic! Will surely turn any casual fan, or those who know Streisand just for her acting, into a fanatic for her music.
---
| | |
| --- | --- |
| Director(s) | Jim Gable & Barbra Streisand |
| Writer(s) | Barbra Streisand, Jay Landers, and Richard Jay-Alexander |
---
Summary
In a nearly two hour long concert, split into two acts, the legendary Barbara Streisand takes us on a brief tour of her career in music and acting. Be it introducing us to her manager since 19, Marty Erlichman, who arranged it so she had autonomy over her music and artwork. Talking about how directors like William Wyler inspired her and cinematographers like Harry Stradling encouraged her to pursue being the auteur she is known as. Alongside bringing up old friends who inspired her music like Anthony Newley.
And in this concert, overall, it is as much a thanks to old friends and fans, as it is a little bit of tooting her own horn. Act I consists of a song from her number 1 albums ranging from Yentl's "Papa Can You Hear Me?", "No More Tears (Enough is Enough)," and of course, "Don't Rain on My Parade." Then in Act II, she featured songs from her latest album, "Barbra Streisand – Encore Movie Partners Sing Broadway." This includes her rendition of "Losing My Mind," "Pure Imagination," and she even brings Jamie Fox in to help her sing "Climb Ev'ry Mountain."
Leaving you quite in awe and reminded how Barbara has no predecessors really and no one who can really be considered an outright follower.
Highlights
The Humor
While by no means a comedian, there is a certain humor with Barbara which makes it so when she says she is humble while speaking with Melissa McCarthy, it doesn't sound like BS. Though by no means self-deprecating in the style of some comedians, there is this sweet and genuine surprise she shows which makes it for when she tells jokes, it tickles you in a way. Not to the point of your stomach hurting, or even an Ellen DeGeneres level chuckle, but a warm smile. The kind of which is genuine because she is trying to be with you. As if you are more than an audience but, as some fans seem to be, long-term admirers who may not talk much, but when you two get together, it is always a good time.
And it is her humor which makes excellent transitions between her songs and walks down memory lane.
The History
Speaking for myself, my knowledge of Barbara Streisand didn't extend much past knowing of Funny Girl, the covers on Glee and her being parodied. So for those, like me, who were casual fans wanting to know more, she delivers. She clues you into why people love her personality, why all these people we see her work with revere her and as she goes through all she has done, it makes you wonder where is this book she talks about?
The Music
But of course, the big sell is the music and oh it makes me so glad we live in the day and age of Pandora, Spotify, and YouTube. Heck, the internet in general so I can look up the songs and instantly have them to put on repeat. For, as she notes, there is something about the way she arranges songs for her voice and style that are just, unexplainable in a way. You want to say they are made to be easy listening in a way but that would be dismissive. What she does, in my very limited education in music, is find the soul and passion of a song, even one like "Pure Imagination" which is solidly the late Gene Wilder's, and brings it new life through her rendition.
Really making someone like myself feel almost robbed that I didn't know till now anything beyond but a tiny bit of her greatness.
On The Fence
There Will Come a Point You Wonder How Long Is This?
With all that said though, being that I'm used to an artist, maybe, even if they have a healthy catalog, perform for an hour, her damn near doing two I was not ready for. And while this was perhaps one of the few Netflix productions I didn't find myself pausing and taking a break from, fatigue did start to set in. But, seemingly like Barbra doesn't want to get bored and sing just for the sake of keeping in practice, or making money, she finds ways to shake it up as you become slowly complacent.
Overall: Positive (Watch This)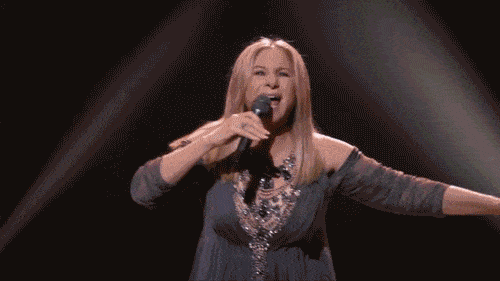 Honestly, after watching this, I'm disappointed in myself. Also with the fact that with Streisand in her 70s, who knows if she may ever tour again. However, Barbara: The Music… The Mem'ries… The Magic! Has certainly made the case that if she ever does announce a tour, a residency somewhere, or what have you, there should be no question of where or how much, but simply when.
View: Here [Netflix – External]
Follow Wherever I Look on Twitter or Like us on Facebook.