Wonder (Chapter by Chapter): Part 1/ Up to Page 43 – Overview/ Summary (with Spoilers)
Wonder's trailer, similar to A Dog's Purpose before that was released, has consistently made me bawl. So, to build up some strength before the movie, I got the book and while, as of page 43, my Puffs tissues remain untouched, I do feel like I'm being setup. Summary In a way, August, sometimes called Auggie,…
Wonder's trailer, similar to A Dog's Purpose before that was released, has consistently made me bawl. So, to build up some strength before the movie, I got the book and while, as of page 43, my Puffs tissues remain untouched, I do feel like I'm being setup.
Summary
In a way, August, sometimes called Auggie, is like most 10-year-olds. He loves playing video games, is kind of nervous about going starting a new grade (5th to be precise), especially at a new school, and seems to have a loving family. His mom, a children's book artist turned home school teacher, August loves, especially her stories about the farting nurse from when he was born. His dad he likes too. He is a jokester and helps ease August a bit more into the idea of going to school for the first time by making fun of the principal's name: Mr. Tushman. Then there is Via. She is August's older sister and is fiercely protective of him. Something he appreciates, though August does feel she goes overboard sometimes.
Though considering the way August explains how he looks, you can't blame Via for being ready to fight. For despite August wearing bangs to hide his face a bit, he makes it sound like his face is probably worse than you could imagine. Especially since, altogether, he has had 27 surgeries, with it now being about 2-3 a year at this point in his life. As for the reason? Well, August isn't sure. However, he is happy it has been about 8 months since the last one.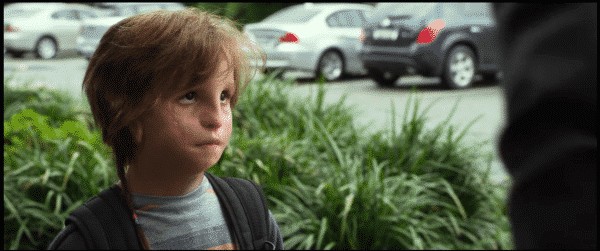 Hence why, with it seeming he is getting better, his mom and dad talk about him going to school. Something that naturally frightens August for while he does have friends, they are people he knew since he was a baby. So imagine meeting a huge slew of people, who already know each other, but probably aren't used to seeing someone like him. Someone shorter than he maybe should be for his age and with a face which begs for questions and attention.
Which his parents did take into consideration. To the point that it makes it so, at first, his dad is against it and his mom for it. However, upon August visiting the school, their positions flip. Especially since one of the kids Mr. Tushman has show Auggie around, Julian, is kind of mean. Jack Will and Charlotte are nice though, and part of August's homeroom class, so at least he isn't alone. For now.
Commentary
This is a 300-page book so we have barely scraped the surface. However, I think I can say most of the foundation has been laid. Especially in terms of who should be considered friend and foe. For just the way Julian acted as Charlotte, and Jack Will to a point, chastised him, I think that may lead to the boy becoming a bit of a bully.
Though, to be completely honest, I only have that point of view since most of the books I'm drawn to deal with people having uphill battles for normalcy. So with that track record, I'm expecting this to be the calm before the storm. Especially since the trailer pretty much points out bullying is going to be a serious issue here. But, it may not just be the kids. Adults can be quite cruel as well and while August may not have a wolf's hearing, he isn't stupid nor sheltered. He knows how people see him and how to decipher body language.
But what really worries me is the possibility of him getting sick again. Mostly because, Auggie has been setup to be this kind of kid who seems without fault. Making it so, at least for me, I feel like I'm being setup. For bullying, I can handle that and it has been made clear that is coming. Plus, it is expected. August getting sick though, that is completely out of his control and while this doesn't seem like the kind of book which could kill off its lead, there is always the possibility. And with that in mind, I already feel myself getting slight A Child Called "It" flashbacks in the form of oddly feeling helpless. Especially as this innocent kid is on this journey you have been told is going to be tough.
However, trying to end this on an optimistic kick, I'm really hoping that between Jack Will, Charlotte, and others, whatever we may read August will go through, they got his back. Especially since, while he has his old friend Christopher, it seems the others he grew up with have moved on. He notes they're cordial, but they aren't necessarily seeking his company. So here is hoping that when their sense of duty wears off, Jack Will and Charlotte stick around. Heck, maybe we may read about August's first crush. I mean, he is 10, in middle school, and probably hasn't been around this many girls before.
---
Part of the reason the title says "Up to Page 43" is because this book is setup like Recovery Road in which it is done in a sort of journal format. Meaning, chapters are short. 2-4 pages thus far. Making it a bit ridiculous to use the usual chapter by chapter format. Though, also considering I'm not the quickest of readers, due to taking notes when possible, alongside the difficulty of setting aside time to just read, I sort of find it easier to just say what page I'm up to. Especially since I'm going back to buying physical books vs. e-books so now I don't have to worry about different size formats.