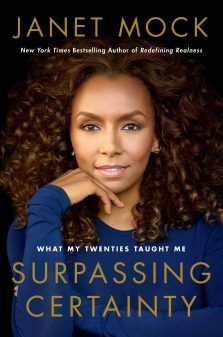 ---
Community Rating: 45.2% (1)
---
It's the end! Not just of the book but also for Troy and Janet's relationship for Aaron has become a consistent force in her life so Troy really has no place in it. Despite his attempts to win her back.
Chapter 15: The End of One Thing and Beginning of Another
Well, after Janet left Troy, for 2 years he tried to win her back. Which he wasn't able to do since she ended up dating, meeting Aaron and pretty much when Aaron met Troy, he put a stake through Troy's heart. So, to make it so Troy keeps some dignity in the situation, Janet pushed him to divorce her.
Leaving us learning they did speak again when her Marie Claire article came out and Janet notes this book, alongside being an ode to her younger self, is also an ode to Troy. Someone who, after his relationship with Janet, found a wife, had a child and seemingly found happiness.
Highlights
It Maintains The Idea Janet's Story Would Make An Interesting Television Show
Focusing strictly on this chapter, it sounds like a wonderful series finale. The only thing missing is her announcing she is adopting a child and that setting up the third book. Of which I don't know if I would read that but I'll keep that to the book review.
Criticism
Was Troy As, For A Lack of A Better Term, Pathetic As Janet Makes Him Seem
I really don't mean the word pathetic, for heart broken probably fits best. However, him trying for two years as Janet was probably… well being Janet, sounds so sad, doesn't it? Granted, he pushed her away but the fact he spent the rest of his stint in New Jersey trying to buy back her affection is kind of depressing. Then for him to meet Aaron, when Janet's brother was visiting, and being kind of dismissed – ouch.
Insert that scene from Under Wraps when the Mummy is listening to "All By Myself" by Eric Carmen - which sadly isn't on YouTube.
Collected Quote(s)
It was strangely freeing to be alone, to not be obligated to anyone but myself. I didn't have to do. I didn't have to speak. I merely had to be.
— "Part 2/ Chapter 15." Surpassing Certainty
---
[…] love is not simple. It's messy. Love forces you to face yourself and grow up.
— "Part 2/ Chapter 15." Surpassing Certainty
---
We couldn't make forever, but forever isn't love's sole ambition. The goal is to be impacted, to be changed forever.
— "Part 2/ Chapter 15." Surpassing Certainty
---
I hated parties, and I loathed crowds. My easy smile, gregarious nature, and love of the camera deceives many into believing that I am a social person, an extrovert. I'm good with people. I genuinely like people. But I'm also a great pretender who tolerated the company of others.
— "Afterword." Surpassing Certainty
---
"My twenties represented a time when I had no other obligation than to figure out who I was. I took the time I needed to just be—to learn how to advocate for myself before becoming an advocate for others. I was accountable to myself. It was a time for me to process the experiences that had shaped me and to be bold enough to seek new ones. It was a time for me to make mistakes and learn from them. It was a time for me to seek my voice, my purpose, and my place in the world. My twenties taught me to create and uphold much-needed boundaries, to take hold and possession of my body, and to stake a claim on my life. My twenties also taught me to improvise and to loosen up. Boundaries are vital, but at times I could be unmoving about these self-imposed restrictions, and that often prevented me from going where I truly wanted, from knowing others as I wanted to be known, from loving and being loved in the way I desired. My twenties prepared me to be seen fully—in my own eyes, in the eyes of the people I know and love, and in the eyes of the public I've invited into my life to know me. More than anything, it was my act of being in process during those messy, fun, and formative years—all the decisions and mishaps, all the highs and lows—that brought me to yet another dark room. This time, though, I was free, overwhelmingly secure in who I was and certain that she was—and would be—enough."
— "Afterword." Surpassing Certainty
---