February 2017: This Month on Wherever I Look
A part of me doesn't want to do this monthly, since I drop at least 25% of things I note I'm going to review, but at the same time I kind of like sharing what is planned. With that said… Coming to Wherever I Look New Shows Doubt – Review To Be Posted 2/16 Honestly, I…
A part of me doesn't want to do this monthly, since I drop at least 25% of things I note I'm going to review, but at the same time I kind of like sharing what is planned. With that said…
Coming to Wherever I Look
New Shows
Doubt – Review To Be Posted 2/16
Honestly, I don't trust anything with Katherine Heigl's name attached to it at this point. It is like seeing Eugene Levy, you know it is probably going to be trash. Yet, it has Laverne Cox and I want to hope for the best. I don't see me going past the first episode, however.
Big Little Lies – Review Likely To Be Posted 2/20
I don't mean to be cruel when I say this but, imagine 3 of the most overrated actresses in a show together – on HBO! That is pretty much what I see Big Little Lies as. Though I think I'll see it through. If only because Zoe Kravitz is in it and I feel it has been forever and a day since I've seen her in anything.
http://www.youtube.com/watch?v=HHoVYCzcDn4
Powerless – Review To Be Posted 2/3
One of the things which always was weird to me is that superheroes cause all this death and destruction yet no one says anything. Nothing is even said by the heroes. So with Powerless, I hope that they can address that weird gap between the villain and hero destroying everything and the next film everything seems to be nearly back to normal. With that said, though, as this is an NBC show, much less focused on the DC universe, I'm unsure if I may make it past the first few episodes. Oh, and it is a comedy… great.
http://www.youtube.com/watch?v=PaIHAlsc6no
Legion – Review To Be Posted 2/9
While not a fanboy, Marvel to me knows how to craft their heroes. Their villains suck, but villains come and go so for a series that isn't as big of a problem. What could be an issue though is this seems like one of those shows which could seem corny enough to be on FreeForm, if they allowed more cursing and possibly violence. Though with Aubrey Plaza in it, I think I could make it through the season.
Movies
The Space Between Us
I cannot count how many times this has gotten delayed at this point. Yet, I still want to see it. For while I feel like the trailer pretty much gave a shortened version of the movie, being that, to a certain point, I'm a Asa Butterfield fan, and I love sappy romances, I believe I'll commit.
Long Nights Short Mornings
While I find myself unable to read serious novels, I do like the occasional serious movie. Now, this isn't likely to win major awards, or even be nominated but, as noted, I'm big into romance films, especially ones with a focus on the complications of falling in love, staying in love, and moving on. Add on this movie is available online and I think while it may slightly hurt the experience, for the ability to pause a movie often leads to a diminished experience, the trailer is probably the most intriguing I've seen for a movie in quite some time.
It's Only The End of the World
I have this weird thing for french cinema. Everything always seems so beautifully twisted and tragic, and I can never get enough. Though the real draw here is Léa Seydoux and Vincent Cassel. Two actors who I usually trust when they attach themselves to something.
Jackie
Natalie Portman used to be my favorite actress. The only reason she hasn't been for awhile is, like how some people love a musician during a certain period of that person's career, once they evolved and moved on from a certain space, you kind of did the same. At this point in Natalie's career, she isn't this odd woman whose eccentricities lure you in anymore. I guess you could say, she was the manic pixie girl trope personified in a lot of her movies. Yet, those days are over and now she is playing someone's mother or more mature, adult roles. Adult not in terms of age, but because the discovery of what it means to be an adult is gone and now she is exploring characters focused on coping and surviving. So, Jackie seems like a good fit for her and while it seems no one is really talking about it, at least in the same way La La Land or Fences is being talked about, I figure it might be worth checking out.
John Wick: Chapter 1 & 2
I didn't watch the first one since I just never got into Keanu Reeves as either a serious actor or an action hero. Yet, I've been told good things so I plan to check out chapter 1 and if it is good then I'll see chapter 2 in theaters. Even if it has Ruby Rose who I see as one of those model turned actresses who are trying to fill the void Angelina Jolie left.
A Cure For Wellness
After Kill Your Darlings, I thought Dane DeHaan would become my new Anton Yelchin. This guy who can bounce back and forth between indie movies and mainstream films, and have interesting and appealing characters on both sides of the fence. However, Life After Beth kind of ruined that and he didn't really shine that well in Knight of Cups either. Yet, even with me not liking anything resembling a horror movie, it is hard to not raise an eyebrow to A Cure for Wellness. The trailer below definitely should help tell you why.
Patient Zero
It's amazing the things you only discover through curated list online. Like Bastards, this seemingly has moved from it's scheduled date to something to be determined, but the movie industry seems weird. I hope that it keeps its 2/17 date. Though with only being able to find a still, and no trailer available, I think it may be a waste to get my hopes up.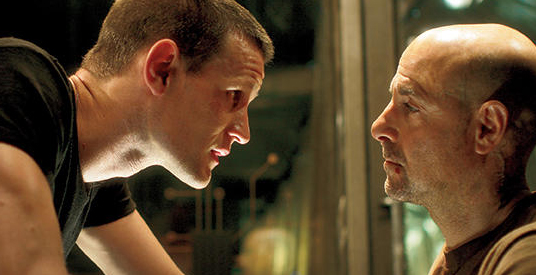 Get Out
A fairly consistent theme in many a Black child's life is to be aware, and slightly distrustful, of white people. Mostly because, and this could just be an American Black thing, you will always be a kind of outsider and never accepted as perhaps you should or deserve to be. Though the biggest thing has always been to be careful of dating out of your race. This movie sort of pushes that idea to the point that like how people don't like when there are evil orphans for it pushes a stereotype, I feel some may feel offended with this movie.
Tulip Fever
When I found out about this movie it was when Alicia Vikander was still riding the wave of Ex-Machina and The Danish Girl. A little less than two years later and while she has The Light Between Oceans, Jason Bourne, and a Tomb Raider reboot on the horizon, I honestly feel like she kind of became a little bit forgotten. This film, though, which with it being released this part of the year likely means it isn't award worthy, I think could be a nice dramatic comeback. For while commercially she is likely to do good, it is always sad to see actors who come up from a rather odd and curious role and then once they become famous they sort of abandon the type of characters which made them famous.
As You Are
Is it wrong to say I'm frustrated by how much I hear about Amandla Stenberg yet it's like you have nothing to talk about when it comes to her work? Like, when it comes to social justice and educating folks on Black girl magic, she is one of the big names when it comes to young adults. However, the role that she is often associated with is going on 5 years old now and she hasn't really done anything noteworthy since. Well, 2017 seems to be the year to change that and it begins with As You Are.
Digimon Adventure tri. (Parts 3 &4 – Loss [Soshitsu]) – Assuming this Gets Subbed
To be honest, I have to get around to watching part 3. Something I believe I skipped because between the original cast of Digimon and Sailor Moon being brought back, I felt like I got all the nostalgia I needed in 2016. Yet, with the feeling dying die, even with Power Rangers on the horizon, I want to see how this story ends. For while I've long abandoned the series, and haven't played their games since maybe Digimon World 3? There is still a special place in my heart for the Digimon universe. Even if the only thing it had over Pokemon was a certain amount of maturity.
http://www.youtube.com/watch?v=7ylDSCz9G-E
http://www.youtube.com/watch?v=-sZSM34Sdfc
Books
Unless I really start to double up on my postings, I predict All The Ugly and Wonderful Things won't be finished, at least on this blog, in February. I'll finish the book, but I don't think I'm going to finish doing the chapter by chapter reviews.
Video Games
Outside of WWE 2K17 and hopefully a TellTale Game, I'm not expecting much here.
From The Archives
In addition to adding Orphan Black and Game of Thrones reviews, alongside a handful of other things, I'm planning to start populating the "Work of Amari Sali" page. Meaning lots of poems and prose. I'm not sure where to set the "Read More" line with them, though.
---
Follow, Like, and Subscribe
Community Rating: 0.00% (0) - No Community Ratings Submitted (Add Yours Below)