Antlers Cast and Character Guide (with Ending Spoilers)
---
Community Rating: 0.00% (0) - No Community Ratings Submitted (Add Yours Below)
---
This post may contain affiliate links and spoilers. Please read our disclosure policy.
---
---
Community Rating: 0.00% (0) - No Community Ratings Submitted (Add Yours Below)
---
This post may contain affiliate links and spoilers. Please read our disclosure policy.
---
A guide for the film "Antlers." Noted are cast members, information about their character(s), and additional details about the film's story and characters.
---
Please Note: This content contains pertinent spoilers, the post is updated as new information is presented, images changed as better ones are captured, and this is not an exhaustive list of every cast member.
General Information
| | |
| --- | --- |
| Director(s) | Scott Cooper |
| Writer(s) | Henry Chaisson, Nick Antosca, Scott Cooper |
| Release Date | 10/28/2021 |
| Where To Watch? | In Theaters |
| Reviews/ Summaries | Movie Review |
Plot
After escaping her hometown, but specifically her father, Julia returns home after her dad is dead, and all that is left is her brother Paul. Someone who, like Julia, was abused by their father but didn't get the chance to escape, so he made the best out of his life. One that has become quite chaotic as bodies keep appearing that are mutilated to the point the coroner has trouble with determining the cause of death. And as all this happens, one boy, Lucas, might be holding the secret to who or what is killing the people of Cispan Falls.
Cast & Character Guide
Please Note: This is not an exhaustive list of every cast member.
Julia (Keri Russell)
From sexual abuse to physical abuse, Julia had to leave, and she ran all the way to California, where she established herself as a teacher and made a life for herself. However, the guilt of leaving her brother behind has brought her back and while she loves seeing him, trying to teach in a small town utterly decimated economically is hard.
Paul (Jesse Plemons)
Paul is the sheriff of Cispan Falls and is generally a quiet man. He lives alone with his sister and doesn't have any bad habits. However, it is implied that no one really knows what he went through when Julia left. No one but him and their dead father.
Lucas (Jeremy T. Thomas)
With his mother passed on and his father indisposed, Lucas has the weight of the world on his shoulders, from taking care of his brother to dealing with a bully. But, someone has to take care of the family, and this 12-year-old will do it for as long as he can.
Antlers (2021) Ending Explained (Spoilers)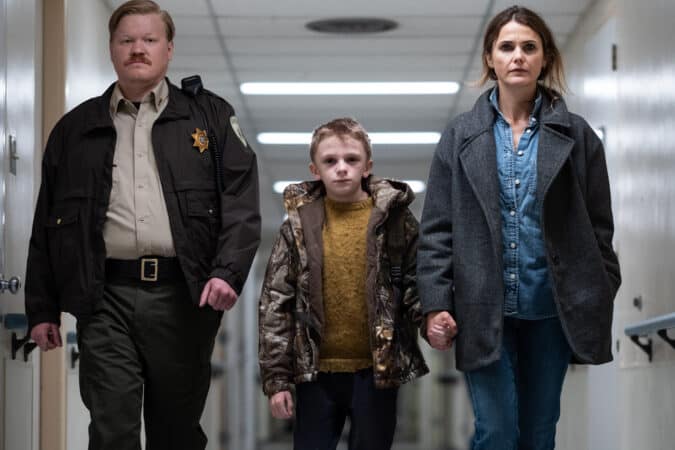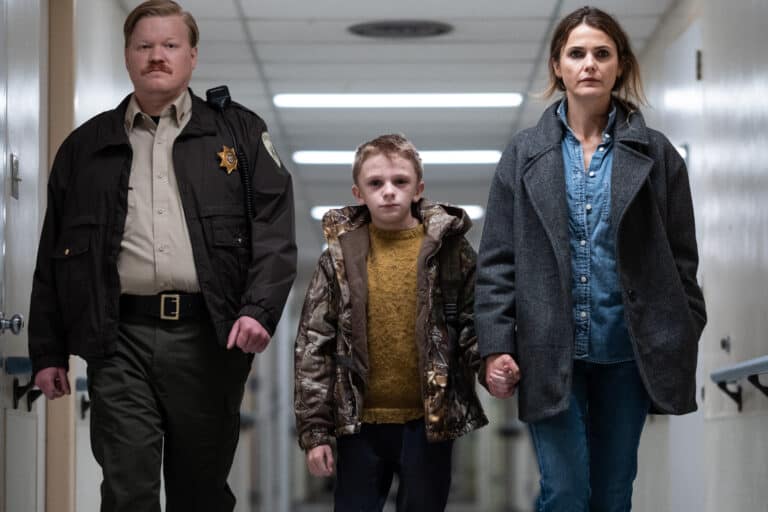 How Does Antlers End?
We learn Lucas' father was cursed by the Wendigo spirit, after exploring the mines his meth lab was in. Said spirit, a cannibalistic and insatiable spirit, slowly but surely made him rabid and infected his youngest son. But, for as long as he could, Lucas tried to keep both secure in their attic and fed. However, a wellness check by the principal of Lucas' school leads to his father and brother getting out and a series of killings beginning.
But, even when Julia kills Lucas' dad, the Wendigo spirit jumps to Lucas' younger brother, who Julia then has to kill. And the film ends with Paul being possessed by the spirit that might not be at full strength but is showing all the signs that it has begun its fight for control.
Does Antlers Have Prequel/ Sequel Potential?
Considering Paul is not infected, and there was the question if Julia could kill someone she loved, there is a sequel built-in, but I can't imagine it being pursued.
[ninja_tables id="46802″]