Yellowjackets: Season 2/ Episode 1 "Friends, Romans, and Countrymen" – Recap/ Review | Season Premiere
---
Community Rating: 0.00% (0) - No Community Ratings Submitted (Add Yours Below)
---
This post may contain affiliate links and spoilers. Please read our disclosure policy.
---
Alongside seeing when the cannibalism began, Misty finds herself torn between prepping everyone for Adam inquiries and trying to find Natalie.
Aired (Showtime)
March 26, 2023
Director(s)
Daisy von Scherler Mayer
Writer(s)
Ashley Lyle, Bart Nickerson
Newly Noted Characters
Crystal
Nuha Jes Izman
Modern Lottie
Simone Kessell
Previously Noted Characters
1996 Taissa
Jasmin Savoy Brown
Modern Taissa
Tawny Cypress
Van
Liv Hewson
Jackie
Ella Purnell
1996 Shauna
Sophie Nélisse
Modern Shauna
Melanie Lynskey
1996 Natalie
Sophie Thatcher
Modern Natalie
Juliette Lewis
Travis
Kevin Alves
1996 Lottie
Courtney Eaton
1996 Misty
Samantha Hanratty
Modern Misty
Christina Ricci
Simone
Rukiya Bernard
Sammy
Aiden Stoxx
Jeff
Warren Kole
Callie
Sarah Desjardins
Recap
This content contains pertinent spoilers. Also, images and text in this post may contain affiliate links which, if a purchase is made from those sites, we may earn money or products from the company.
Some Kind Of Hope, Some Kind Of Redemption – Taissa, Van, Jackie, Shauna, Natalie, Travis, Lottie, Misty, Crystal
Travis is really worried about Javi. It has been two months, and he has no idea where he is, and after trekking around 7 miles, in each direction of the cabin, they have found nothing. Natalie thinks Javi is likely dead, but Travis leans on what little hope he has left. Which only gets amplified when the increasingly odd Lottie helps him with a panic attack by helping him to breathe, putting her hand on his chest, and saying his brother is alive. A sweet moment made awkward since Travis gets a boner, which Natalie may not have been receiving lately.
That relationship aside, Van and Taissa are going strong, even with Taissa continuing to become this other thing or entity at times. And strangely, Jackie and Shauna are still rather close. How, considering Jackie is now a corpse? Well, because Shauna visits her corpse and has conversations with it to deal with her guilt. But something happens to remind her she is talking to a dead thing. The most recent wake-up call is Jackie's ear falling off, which Shauna keeps and bites into at a later time.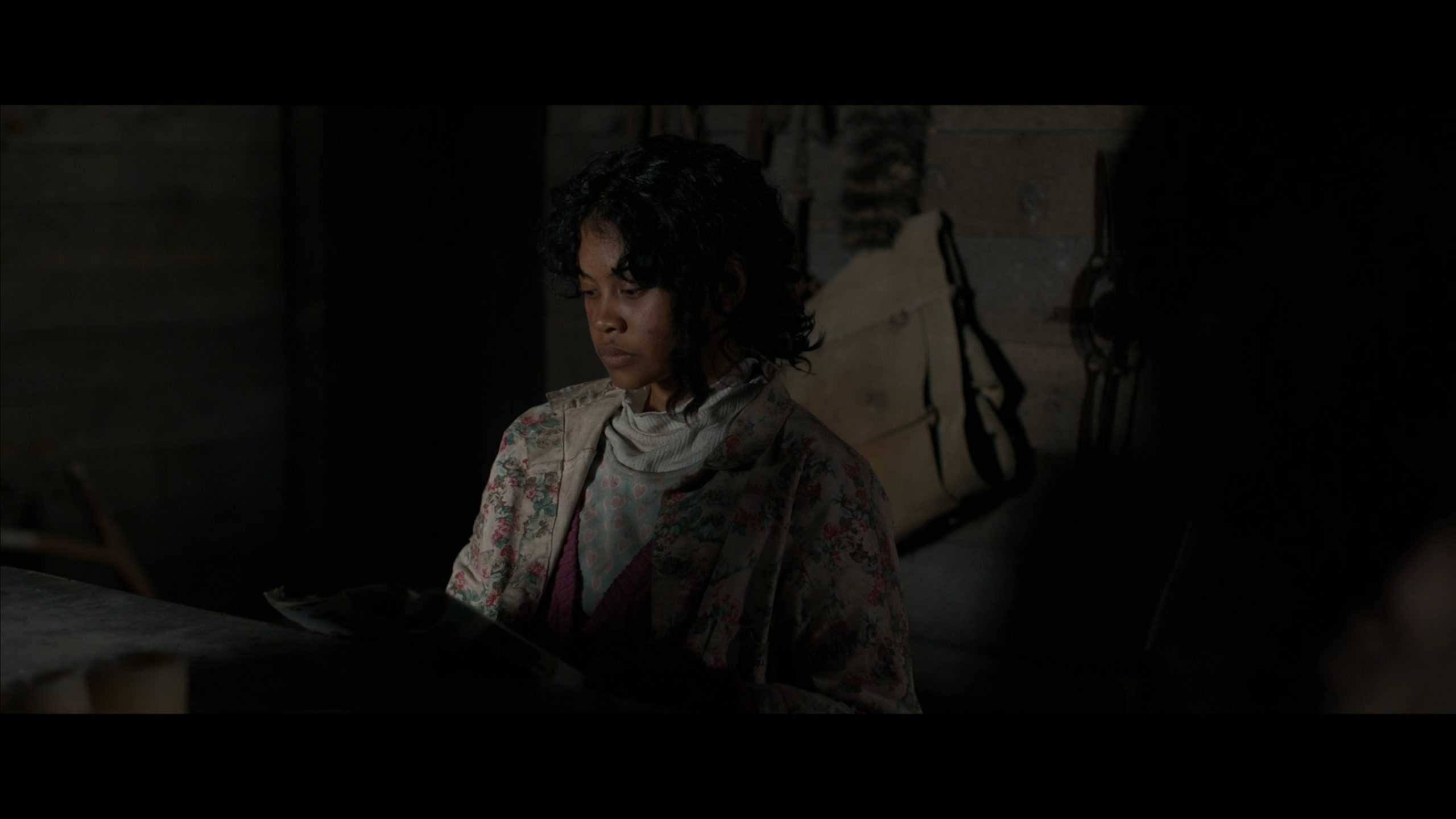 Which leaves Misty. After the mushroom incident, she is not allowed near the food and continues to be treated as an outsider. However, through one of the younger team members, Crystal, who likes to sing, she may have found a friend. One who, albeit, wants her to harmonize with her, but Misty doesn't have much in the way of options, so she may take what she can get.
The Difficulty Of Marriage – Shauna, Jeff, Taissa, Callie, Simone, Sammy
Simone and Taissa are in a rough place. After Simone discovered that shrine with their dog's dead head and Sammy's doll? She wants no part of Taissa. In fact, she not only is keeping her from Sammy but is willing to go to the press if she doesn't get the help she believes she needs.
Taissa isn't alone in unwanted drama, however. Shauna and Jeff can't deal with the Adam situation in peace, thanks to Callie. She wants to guilt trip and seems to want her mom punished. Hence, after destroying a lot of evidence, Callie digs into a pile of ashes to find something and takes Adam's melted ID for safekeeping.
Are We Not Friends? – Lottie, Misty, Shauna, Natalie
With the news of Adam's disappearance becoming public, Misty is trying to prepare everyone for questioning. Shauna is the only one who appears and fails, which is worrisome since she is the ex-girlfriend. But, Taissa and Natalie not appearing is a bit infuriating. So, with Misty thinking she has a close relationship with Natalie, she goes to her motel and begins to investigate, leading to her discovery that someone broke into Natalie's room.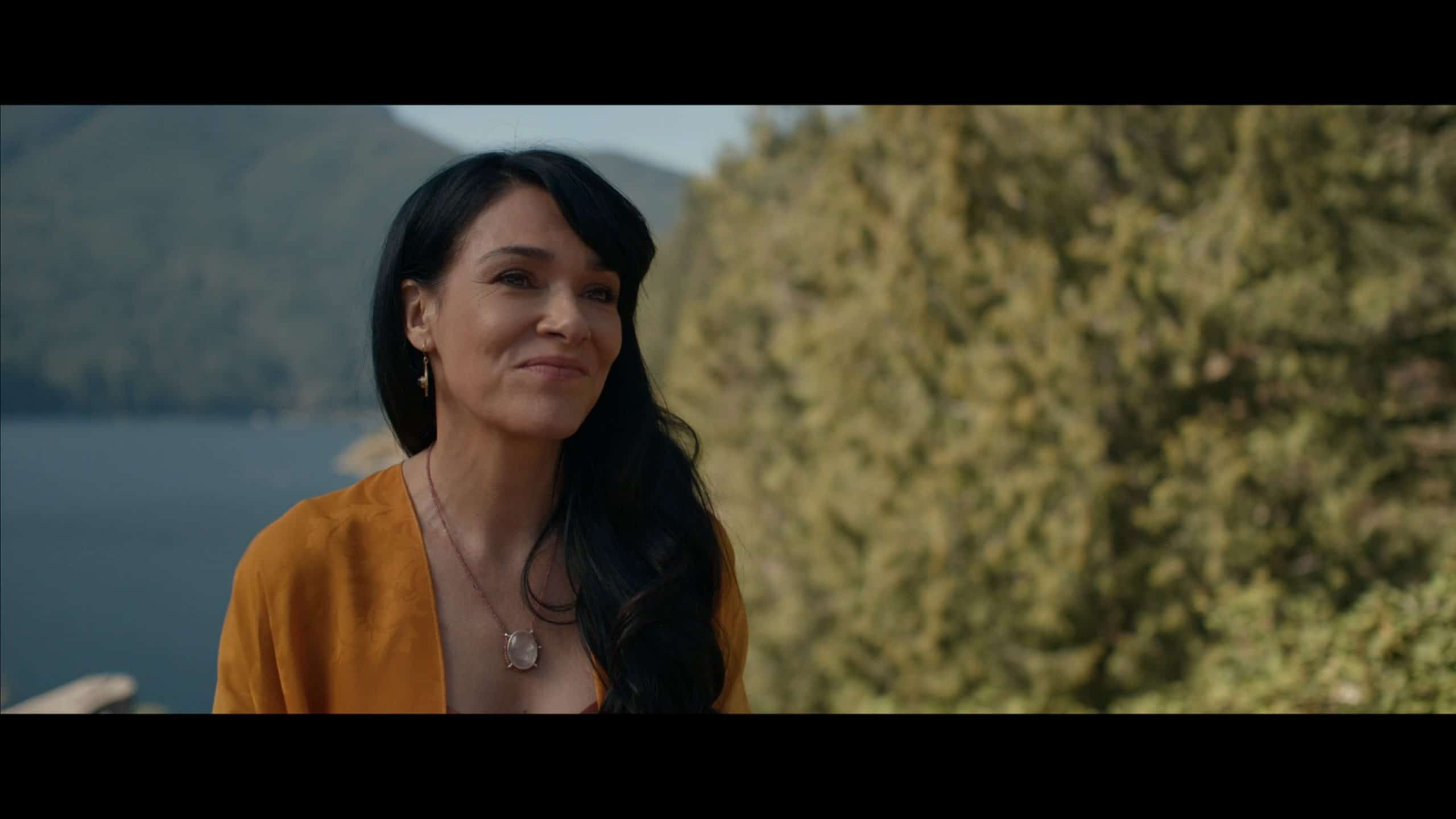 As you and I know, it was Lottie's people, and for some reason, Lottie had Natalie strapped to a bed. Note that she doesn't stay strapped for one of Lottie's minions' release, but a single strap, which is all Natalie needs to gain her freedom. But she doesn't leave without encountering her old friend, and hopefully, in the next episode, we'll learn why she kidnapped her.
Things To Note
Question(s) Left Unanswered
Was Shauna the first to pitch-eating someone, and not Lottie?
Did something ever happen between Travis and Lottie?
What happened to Crystal and the others?
What Could Happen Next
Us learning, slowly but surely, how Lottie gained such a huge cult
With Van's adult version cast, seeing her and Taissa likely have an affair
Misty, alongside the cast, Elijah Wood, seeking out Natalie
Learning what happened to Shauna's first child
Review
Highlights
The 1996 Portion
For most of season 1, all eyes were on Lottie regarding the major secrets of "Yellowjackets." She is the one who started a cult that led to these elaborate costumes and potentially is the one who pits the older team against the younger one. But what if that isn't the case? Lottie isn't above being influenced, and who is to say, Shauna, having tasted Jackie and lived, didn't present that as an alternative to soup and eventual starvation?
Then, to add to why the 1996 portion is such a highlight, we may finally get a bit more out of the other girls we haven't seen yet. That is, the ones who may have been eaten or could add some much-needed intrigue to the lives of the adults. Crystal, who seemingly is Misty's newest friend, could offer the kind of grand betrayal which helps viewers understand Misty's look in season one when she took off her mask. Was it because she got Crystal killed to get back at her or win over Lottie, Shauna and the rest? Only time will tell.
Misty's Investigation
Misty continues to hold it down for the adults as her investigation is likely to be a season highlight. From using her detective skills, trying to keep people from being on Shauna's tail, and encountering Lottie eventually, Christina Ricci is carrying the weight of the modern times on her shoulders.
On The Fence
Shauna and Taissa's Marriage
One reason we're more invested in the past and not so much in the present, is that neither Shauna nor Taissa's storylines or marriages bring much to the show. At least, as of where they are now, they don't. After the whole debacle with Jackie, Shauna being with Jeff has lost its shock and luster. Also, Callie being the kind of kid who is more a liability than an asset, and her being involved in this Adam situation just pushes you to want to fast forward. Yet, because there is the possibility of Shauna revealing something, you know you can't, mainly due to Shauna being the most likely to spill something.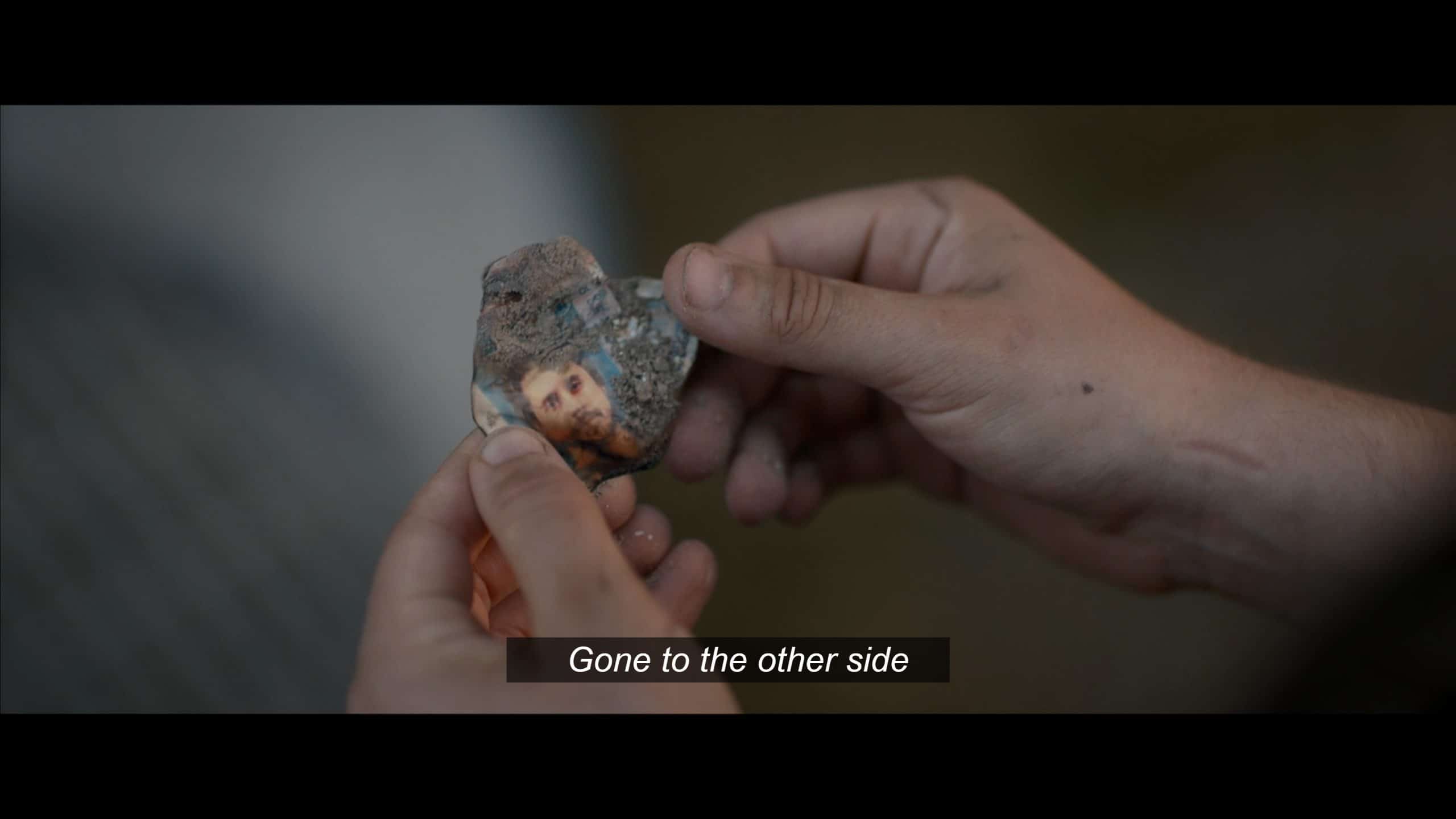 Then with Taissa, there is hope with Van eventually coming around, she can liven things up, but at the same time, I hope Taissa doesn't begin an affair. If anything, I hope they dive more into what appears to be a family curse of some kind and all the occult stuff going on way before that plane crash. Her relationship with Simone and the Sammy thing, is the least interesting thing about her, and I can only hope Simone divorces her and exits stage left, with Sammy close behind.
What Adult Lottie May Bring
Lottie is a bit of a wildcard character. The boon there is, we've seen her in 1996 create a cult amongst the girls and maybe encourage blood magic. But how that evolved into modern times will make or break the character. Especially considering her involvement with Natalie, who hasn't been the most consistent and often has had to latch onto other characters, especially if we're speaking about the modern version of Natalie.
But, like with Taissa's future, there are hopes something good could come out of this, for there is potential there. It just has to come to fruition.
[ninja_tables id="61523″]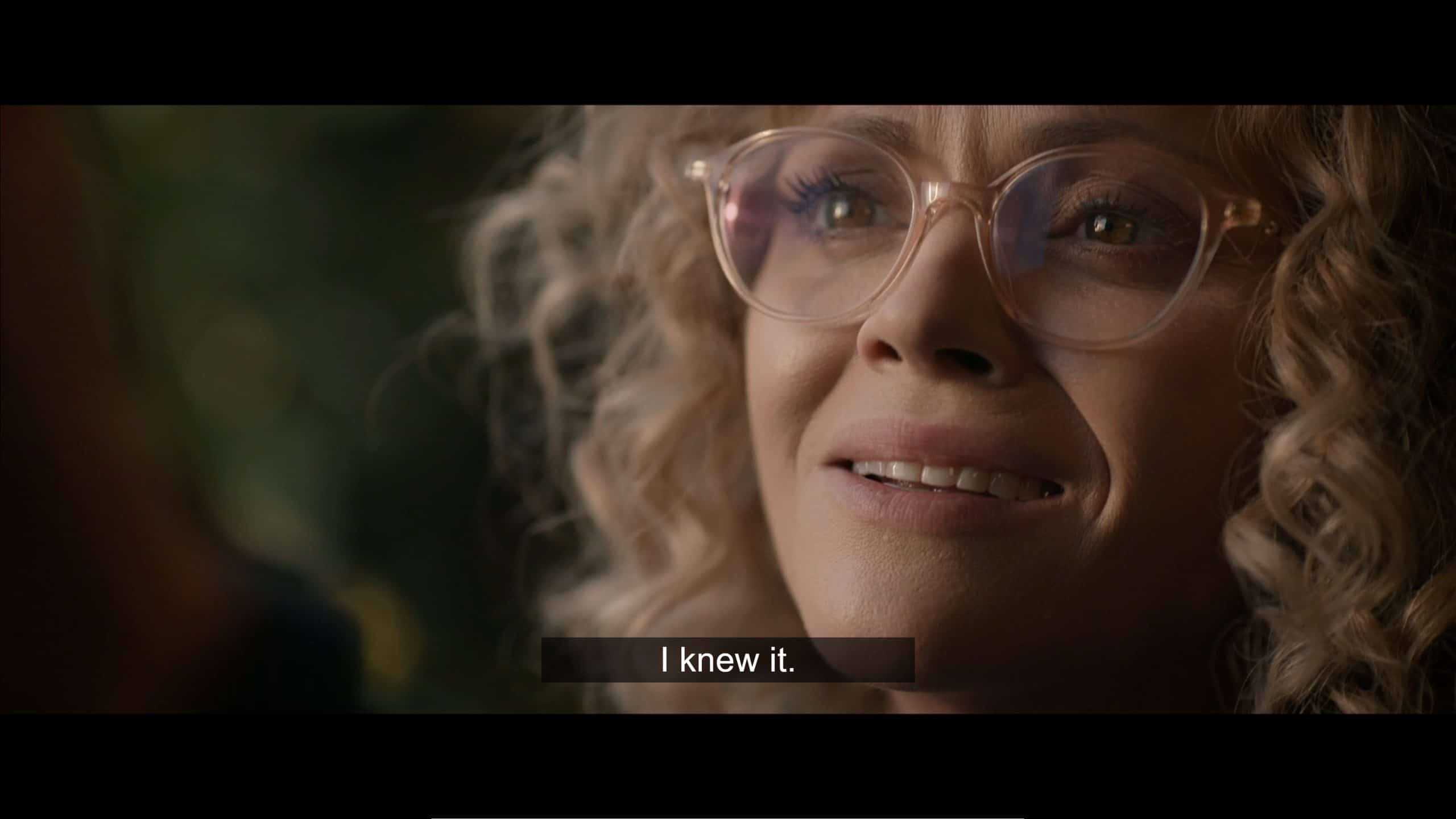 Yellowjackets: Season 2/ Episode 1 "Friends, Romans, and Countrymen" – Recap/ Review | Season Premiere
Overall
While "Yellowjackets" return is welcomed, some of its lingering weaknesses, particularly regarding the characters in modern times remains. However, while there are some blight spots, there is still so much potential and a clear ability for the show to rid itself of its weak points.
Related Topics:
Aiden Stoxx
,
Ashley Lyle
,
Bart Nickerson
,
Christina Ricci
,
Courtney Eaton
,
Daisy Von Scherler Mayer
,
Ella Purnell
,
Jasmin Savoy Brown
,
Juliette Lewis
,
Kevin Alves
,
Liv Hewson
,
Melanie Lynskey
,
Nuha Jes Izman
,
Rukiya Bernard
,
Samantha Hanratty
,
Sarah Desjardins
,
Simone Kessell
,
Sophie Nélisse
,
Sophie Thatcher
,
Tawny Cypress
,
Warren Kole
,
Yellowjackets
,
Yellowjackets: Season 1