Reggie and Wayne finally fight, and we learn whether Wayne and Del get to have a happy ending or not.
---
Network
YouTube Premium
Director(s)
Steve Pink
Writer(s)
Shawn Simmons, Greg Coolidge, Kirk Ward
Air Date
1/16/2019
Images and text in this post may contain affiliate links which, If you make a purchase, I may earn money or products from the company. Most affiliate links contain an upward facing, superscript, arrow.
She's Having Puppies!: Principal Cole, Orlando, Maureen, Del
Cole and Orlando, as they have for most of the journey, show up late to the party but do find Maureen. This leads to Del learning Wayne was arrested, as was Calvin, and her heading to the station.
Meanwhile, Cole's dog Lucky has puppies, and between that and a bunch of Percocet's, Maureen opens up about Wayne's childhood. Nothing major, just that she has a feeling he knew she would leave. Just by the way he'd look out the window whenever she went someone, faces pressed to the glass, sometimes banging his head against it.
Commentary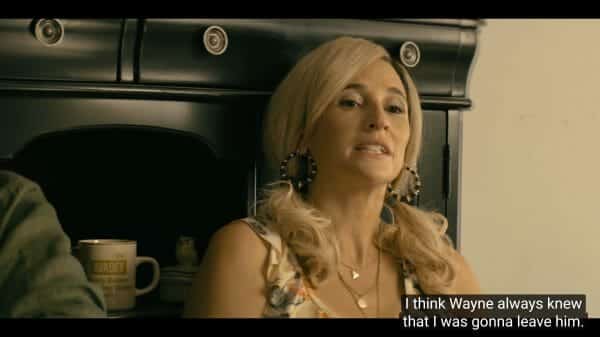 There is something kind of poetic about this. Wayne has seemed like a puppy all this time, and we learn, as a kid, he had puppy-like qualities. So Maureen's memories being triggered by the birth of dogs seems only fitting. Including Cole finding a way to save the puppies and naming them after the dogs his neighbor killed. For, like the dogs, Wayne gets a new life this episode. But more on that later.
You Got To Find Your Skates & Your Strength: Sgt. Geller, Wayne, Del, Reggie
With Wayne chained to a desk, he is forced to listen to Sgt. Geller try to break through to him. He attempts to do so by talking about his father who set aside his life, a competitive skating career for a family. This led to him being a miserable man and his kids knowing he was unhappy. Yet, on the eve Sgt. Geller learned his parents were divorcing, he saw his dad free while skating for the first time.
The point of that story was Sgt. Geller trying to relay to Wayne that, despite Wayne trying to deny his place in civilization, it could just be Wayne hasn't found his skates yet. Plus, considering how he has positively affected people's lives, he is not so much the loner or outsider he thinks he is. For whether we speak of Gail or Del, he has had a wonderful effect on many people's lives and they miss having him.
Wayne is left with that as Sgt. Geller walks away and then gets dragged into a situation Reggie caused. A situation that leaves but one cop to watch Wayne and Reggie knocks out that dude to get his car back. However, with seeing Wayne chained to a desk, he decides to take advantage of the situation. Well, at least he tries to by fighting Wayne so that Wayne won't try to take his car or attempt to take Maureen either.
This leads to Wayne proving he can do more than take a punch but can really fight. However, Reggie gets the upper hand, and an assault rifle, making it seem it is over for Wayne. But, right before Wayne gets a bullet, Del comes for the save! Well, she at least helps Wayne not get shot. But, eventually, Reggie overpowers her and begins choking her to death. Luckily, despite Wayne being pinned by a file cabinet, he uses his pain tolerance to nearly rip his forearm off to save Del and knock out Reggie.
Commentary
https://www.instagram.com/p/Bs4OcVrFUtJ/
Watching Wayne's past fights, one could argue the element of surprise and taking on weaker people is how he won. Even with Reggie's wrestler looking homeboy, Wayne got in one good shot and arguably got lucky. With this Reggie fight though? Well, Wayne proved that he can go a few rounds! Granted, Wayne is the type to use a weapon to enhance his fighting abilities, so there was a slight handicap in his favor, but that doesn't take away from him dodging all of Reggie's swings.
Also, I think we can all agree Wayne further amplified the need to compare him to an animal. The way his arm was to save Del, while romantic in a way, was also disgusting and desperate. But it does make you wonder what the hell is going on with Wayne's pain tolerance? Was he born this way or did Maureen drop him? Taking a punch is one thing, even the Acetone mention from Maureen, but he damn near pulled his forearm off. He should have been screaming!
First Love: Del, Wayne, Bobby
With Wayne's arm dangling lifelessly, Del is trying to get him to the hospital, despite his fears of being arrested. But before they get there Bobby's truck slams into the Trans Am, on the driver's side, and he has Del taken to the truck. From there, Bobby cuts a slit into Wayne's nose, spits on him, and leaves him to die.
Which, thankfully, he doesn't, but he does end up in jail. We aren't told what specific charge he is in for, to gauge how long he'll be in, but it is clear he is in juvie. Meaning, when the next season starts, you can fully expect him to get in more fights, have to find a job, and he might be 18.
Commentary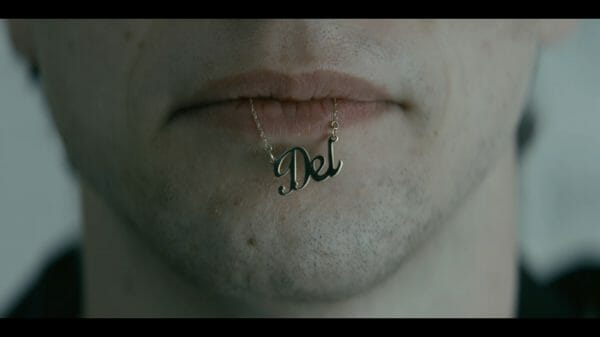 I'm trying to understand Bobby's logic. With your truck, going a decent speed, it seemed like a good idea to ram the driver's side door? What if the car flipped? Heck, considering Del probably barely weighs 100 pounds, what if that car door didn't protect her at all and you killed her? I knew Bobby was dumb but didn't realize it was to this extent. Yet, what can you expect over a man who is an alcoholic with anger issues?
Bobby aside, I liked how this ended for it sets up season 2 in the best way. With Wayne saying he loved Del, and her calling him her boyfriend, they're official. Also, with him going to jail, likely season 2 will feature him getting out and forced to live on the straight and narrow. Something we know is going to be a challenge for while Wayne may get his GED in prison, what can he do from there? Can Wayne clean with his strong sense of smell? Could Wayne be a day laborer again? Also, with only having Del, who will be on the cusp of 17, how will that work out? Well, unless they figure a way to head to LA. A place which Del wanted to go to previously, for reasons not explained.
Highlights
Wayne and Reggie's fight has been a long time coming and didn't disappoint.
While I rushed through it, Sgt. Geller's conversation with Wayne about finding your passion was touching. I'm not sure it got to Wayne, but it was a good speech.
Wayne and Del are such a cute couple. Twisted in some ways, but adorable.
---
Follow Wherever I Look on Twitter, Like us on Facebook and Subscribe to the YouTube Channel.
---
---
Season/ Episode
Synopsis
Director, Writer, and Introduced Actors
Topics & Focused Characters
Season 1/ Episode 10 "Chapter Ten: Buckle The F**K Up" [Season Finale]

Reggie and Wayne finally fight, and we learn whether Wayne and Del get to have a happy ending or not.

| | |
| --- | --- |
| Director(s) | Steve Pink |
| Writer(s) | Shawn Simmons, Greg Coolidge, Kirk Ward |
| Air Date | 1/16/2019 |

She's Having Puppies!:

 

Principal Cole, Orlando, Maureen, Del

You Got To Find Your Skates & Your Strength:

 

Sgt. Geller, Wayne, Del, Reggie

First Love:

 

Del, Wayne, Bobby

Season 1/ Episode 9 "Chapter Nine: Thought We Was Friends"

Del comes to realize Wayne had his eye on her past when she came to his door. Also, Geller and Jay come face to face with Calvin and Reggie.

| | |
| --- | --- |
| Director(s) | Michael Patrick Jann |
| Writer(s) | Kirk Ward, Greg Coolidge |
| Air Date | 1/16/2019 |

A Life Filled With Disappointments & Lashing Out:

 

Del, Calvin, Maureen, Reggie, Wayne, Cole, Orlando

Blackmail & Cookies:

 

Cole, Orlando, Del
Showdown:

 

Jay, Sgt. Geller, Calvin, Reggie, Wayne, Maureen

Season 1/ Episode 7 "It'll Last Forever"

Wayne and Del hit another milestone in their relationship as they barely miss Jay and Sgt Geller.

| | |
| --- | --- |
| Director(s) | Stephanie Laing |
| Writer(s) | Shawn Simmons |
| Air Date | 1/16/2019 |

Daddy Issues:

 

Bobby, Carl, Teddy, Geller, Jay

Saying Goodbye:

 

Trish, Jenny, Del, Wayne
I'll Be There For You:

 

Del, Wayne, Bobby, Sgt. Geller, Jay

Season 1/ Episode 8 "Chapter Eight: Musta Burned Like Hell…"

We meet Wayne's mom this episode, and the man who has distracted her for 11 years, as well as learn a few things about Orlando.

Director(s)
Michael Patrick Jann
Writer(s)
Spencer Sloan
Air Date
1/16/2019
Introduced This Episode
Reggie
Francesco Antonio
Maureen
Michaela Watkins
Calvin
Kirk Ward

The Responsible One:

 

Orlando, Principal Cole

Ma?:

 

Maureen, Calvin, Reggie, Del, Wayne
Where Is My Place In All This?:

 

Wayne, Maureen, Del

Season 1/ Episode 5 "Del"

The reigns of 

Wayne

 are given to Ciara Bravo, and she takes control in such a way you could forget she isn't the title character of the show.

Director(s)
Tessa Hoffe
Writer(s)
Lauren Houseman
Air Date
1/16/2019
Introduced This Episode
Donna
Abigail Spencer
Natalie
Abigail Winter

My Mom Was the Best:

 

Donna, Natalie, Bobby, Del

But Then She Went Away:

 

Del, Donna, Bobby


Season 1/ Episode 6 "Who Even Are We Now?"

The question of where and what to do after Wayne eventually gets his car is asked, and Wayne may have found one option.

Director(s)
Stephanie Laing
Writer(s)
Sophie Pustil, Paul Jaffe
Air Date
1/16/2019
Introduced This Episode
Trish
Odessa Adlon
Jenny
Zoé De Grand Maison

On The Road Again:

 

Bobby, Carl, Teddy, Jay, Sargent Geller
Speak From The Heart:

 

Orlando, Principal Cole
Popping The Bubble:

 

Bobby, Del, Wayne, Trish, Jenny

Season 1/ Episode 3 "Chapter Three: The Goddamned Beacon of Truth"

While things remain a bit of a bore in Brockton, Wayne reveals something which helps Del realize how screwed up he is.

Director(s)
Steve Pink
Writer(s)
Rhett Reese, Paul Wernick
Air Date
1/16/2019
Introduced This Episode
Principal Cole
Mike O'Malley

We Gotta Save Wayne:

 

Orlando, Principal Cole
Second Chances:

 

Jay, Principal Cole, Sgt Geller
Never Call Me A P***y:

 

Wayne, Del

Season 1/ Episode 4 "Chapter Four: Find Something Black To Wear"

As Wayne gets his first job, Del decides to live vicariously through a family she came across. Oh, and it is the twins birthday.

Director(s)
Tessa Hoffe
Writer(s)
Sarah Jane Cunningham, Suzie V. Freeman
Air Date
1/16/2019
Introduced This Episode
Carl
Jon Champagne
Teddy
Jamie Champagne
Ramon
Juan-Carlos Velis
Eric
Maxwell McCabe-Lokos

What About Our Birthday?:

 

Carl, Teddy, Del, Bobby
A Working Man's Blues:

 

Wayne, Eric, Carl, Del
You Can't Fix It, But You Can Be There:

 

Del, Wayne

I've come to realize that Wayne is the American equivalent of The End of the F***ing World but with more off-kilter characters.

Director(s)
Steve Pink
Writer(s)
Shawn Simmons
Air Date
1/16/2019
Introduced This Episode
Tracey
Janet Porter
Jay
James Earl
Sgt Geller
Stephen Kearin

Meanwhile, Back Home: Bobby, Jay, Seargent Geller
You Abandoned Me: Del, Wayne
I'd Do Anything For Love: Tracey, Del, Wayne

Wayne may very well be the first show that makes you want to have YouTube Premium.

Creator
Shawn Simmons
Director(s)
Iain B. MacDonald
Writer(s)
Shawn Simmons
Air Date
1/16/2019
Genre(s)
Comedy, Drama, Young Adult
Good If You Like
Teenage Debauchery

Teen Psychopaths With A Heart of Gold

Road Trip Shows

Isn't For You If You
Find Bad Ass Kids Annoying

Don't Like A Lot Of Vulgarity

Aren't Much For Violence

Introduced This Episode
Wayne
Mark McKenna
Wayne Sr.
Ray McKinnon
Del
Ciara Bravo
Orlando
Joshua J. Williams
Gail
Lisa Berry
Bobby
Dean Winters
---