A monkey wrench is thrown into Emma and Nico's pending relationship as Eddy comes across some terrible news and Lyn, well she decides to be assertive.
---
Network
STARZ
Director(s)
Nancy C. Mejia
Writer(s)
Tanya Saracho, Mando Alvarado
Air Date
5/23/2019
Introduced This Episode
Zoe
Cara Santana
Images and text in this post may contain affiliate links which, if a purchase is made, we'll earn money or products from the company. Affiliate links and external links have an upward facing, superscript, arrow.
Goodbye To That Fuzzy Feeling: Johnny, Lyn, Emma, Nico, Zoe
With meeting Zoe, who leaps onto Nico, it seems Emma found her out and is ready to exit whatever there was between her and Nico. As for Lyn and Johnny? Well, between the baby coming and wanting to respect his ex, things seem capable of moving forward but are immensely complicated. Yet, Lyn loves Johnny enough to deal it appears.
Who Really Wants To Have Hard Conversations?: Emma, Nico, Baco, Eddy
Getting back to the Nico thing, however, Emma decides to avoid them the rest of the day. Partially since now, she has to worry about the wall ad being defaced, but also due to Baco still being a bit frustrating to her. If only because he is so strange as a businessman that Emma doesn't seem able to figure him out and it bothers her. Like, who runs a company that isn't trying to bleed clients for every penny they have? It makes her trust issues flare up in hives.
She may not be alone, however. Eddy is still dealing with what Emma said and through her friend's connect, she learns not only was she and Vida not married, but also Vida never divorced her husband, Victor. On top of that, Victor is alive.
The Truth Is A Mother: Eddy, Emma, Lyn, Baco
Learning that really messes up Eddy since it begins to shift her perspective of Vida from her loving wife to the woman Emma had her appear to be. Which is rather hard to deal with. Yet, the truth hurts. Take Baco noting how used he feels and Emma coming to terms she has essentially created a #MeToo situation with him. Realizing how low she has come seems to have taken her out. Which for Lyn is good timing, since she wants to assert herself, but can the bar really survive if Emma isn't working the numbers as Lyn handles the social aspect?
Highlights
Lyn Stepping Up & Using Her Talents
Let's be clear: Lyn always had potential. The problem is, between the hangups her mom caused, and comparing herself to the work Emma does, she has downplayed a lot of her efforts. Making it so she, similar to Emma when it comes to relationships, wouldn't necessarily go all in for she wanted to just deal with the fun part. Not the actual work and challenges of doing things. Yet, I think Emma not being check up on by neither Emma or Marcos was a wake-up call that she really has to look out and focus on herself more. Yes, she is pretty, but while her beauty gets her attention, it doesn't inspire loyalty and the kind of relationships she wants and deserves. So now it seems she is realizing she has to demand the things she wants or she just won't get them.
Emma's Pending Breakdown
Between the headache earlier this season and not it appearing she is about to have a depressive episode, it makes you wonder if Emma may break open? For whether it is talking to Lyn about the time they were separated or the rest of her life, Emma has to open up sooner or later. Either to Lyn or Marisol.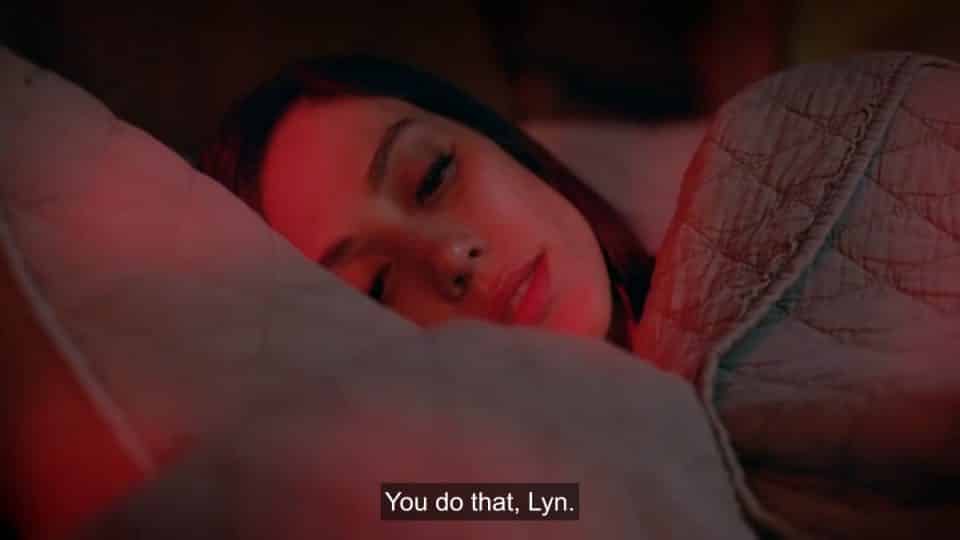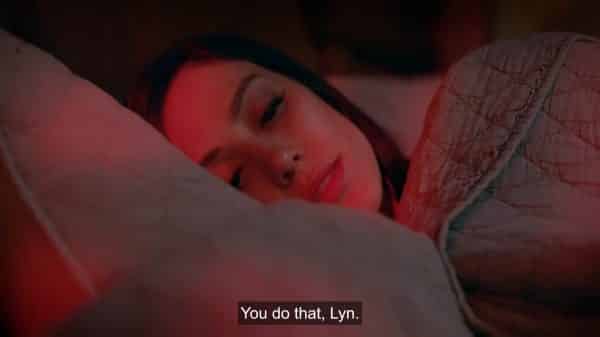 On The Fence
Victor's Return
While Victor's name isn't new, with how shows like Vida are set up, it requires you to rewatch the first season to try and remember how much you really know. Much less, what are the known unknowns in regards to Victor? Such as, does he know Vida is dead? What about the state of her children, possibly his children? Is he aware Vida has been saying he was dead all this time? There are so many questions and honestly, considering the cast is slowly becoming bloated, it is hard to gauge how he can fit into all of this.
Follow Wherever I Look on Twitter, Like us on Facebook and Subscribe to the YouTube Channel.
Season/ Episode
Synopsis
Episode Information
Topics & Focused Characters
Season 2, Episode 3

As Emma starts thinking about how life can be now that she left Chicago, she comes to some decisions. Of which some don't make Lyn too happy as she struggles with life.

Director(s)
Jenée Lamarque
Writer(s)
Nancy C. Mejia, Jenniffer Gomez
Air Date
5/23/2019
Introduced This Episode
Rudy
Adrian Gonzalez
Nico
Roberta Colindrez

Swallowing Your Pride:

 

Johnny, Tlaloc, Marisol, Eddy, Emma, Lyn
When Effort Doesn't Lead To Results, Beyond What You're Used To:

 

Lyn, Rudy, Dona Tita
Ending What Was Old & Welcoming Something New:

 

Cruz, Emma, Nico

Season 2, Episode 4

In a rather emotional episode, Mari makes a mistake with Eddy and Emma has a bit of an emotional awakening.

| | |
| --- | --- |
| Director(s) | Jenée Lamarque |
| Writer(s) | Chelsey Lora |
| Air Date | 5/23/2019 |

Unnecessary Cruelty:

 

Marisol, Eddy, Lyn, Emma, Baco, Johnny
Learn To Use Your Feathers:

 

Dona Tita, Lyn
When You Know What You Want, But Settle For What You Need:

 

Baco, Nico, Emma

Season 2, Episode 5

As more is taken from Eddy and Emma's memories, one can only hope they realize it is lightening their cross to bear.

| | |
| --- | --- |
| irector(s) | Gandja Monteiro |
| Writer(s) | Nancy C. Mejia, Elena Crevello |
| Air Date | 5/23/2019 |

Inclusion:

 

Eddy, Emma
When Bad Turns To Worse:

 

Nico, Emma, Eddy, Nelson, Lyn, Johnny
Flaunt Your Feathers:

 

Rudy, Lyn, Emma

Season 2, Episode 6

The s*** hits the fan and may drive Emma to a panic attack.

Director(s)
Gandja Monteiro
Writer(s)
Mando Alvarado
Air Date
5/23/2019
Introduced This Episode
Lisa
Diana Danger

He Is Not Your Father!:

 

Emma, Lyn
Dismissed:

 

Lisa, Marisol, Tlaloc, Eddy, Emma, Nico
Just When They Were In Recovery:Marcos, Lyn, Emma

Season 2, Episode 2

As Emma slowly removes the stick out of her bum, Marisol is dealing with some interesting developments.

Director(s)
Catalina Aguilar Mastretta
Writer(s)
Evangeline Ordaz
Air Date
5/23/2019
Introduced This Episode
              Baco
Raúl Castillo

Same Old Mistakes:

 

Marisol, Yoli, Tlaloc
Let Me Keep Some Dignity:

 

Lyn, Emma, Eddy, Johnny
Compatibility Questions:

 

Cruz, Emma, Lyn, Eddy, Baco

Season 2, Episode 7

As Emma deals with Lyn's betrayal, Marisol and Eddy are trying to handle being rejected by their assumed family.

| | |
| --- | --- |
| Director(s) | Jenée Lamarque |
| Writer(s) | Gladys Rodriguez |
| Air Date | 5/23/2019 |

Exposed:

 

Mari, Johnny, Tlaloc
Trying To Get Back On The Good Foot: Marcos, Nelson, Lyn
It's Not Right, But It's Okay:

 

Marisol, Emma, Nico, Eddy, Lyn

Season 1/ Episode 1 [Series Premiere]

With STARZ barely featured in "water cooler" conversation, it seems with Vida, there is a push to really be taken seriously as a network which promotes diverse stories.

Creator
Tanya Saracho
Director(s)
Alonso Ruizpalacios
Writer(s)
Tanya Saracho
Air Date
5/6/2018
Noted Actors
Vidalia
Rose Portillo
Lyn
Melissa Barrera
Emma
Mishel Prada
Eddy
Ser Anzoategui
Juniper
Jackson Davis
Johnny
Carlos Miranda
Mari
Chelsea Rendon

Season 1/ Episode 2

Emma learns the state of Vida's books as Lyn searches for some answers out of Lupe about life.

Director(s)
So Yong Kim
Writer(s)
Tanya Saracho, Santa Sierra
Air Date
5/13/2018
Actors Introduced
Lupe
Elena Campbell-Martinez
Tlaloc
Ramses Jimenez
Nelson
Luis Bordonada
Cruz
Maria-Elena Laas

Mari Got A Lot Going On: Mari
It's So Hard To Really Let Go: Johnny, Emma, Lyn, Juniper
Standing Against Adversity: Emma, Lyn, Eddy

Season 1/ Episode 3

As Emma hunkers down and starts working on the books, Eddy has a breakthrough with the girls and Lyn? Well, she deals with Karla.

Director(s)
Rashaad Ernesto Green
Writer(s)
Evangeline Ordaz
Air Date
5/20/2018
Actors Introduced
Karla
Erika Soto
Doña Tita
Renée Victor

The Sweet Escape: Mari, Tlaloc, Johnny
The Wrecking Ball Meets Steel: Lyn, Johnny
The Women You Don't Know: Eddy, Emma, Lyn

Season 1/ Episode 4

We finally get to know the details of Emma's beef with Vida as Mari learns Tlaloc is not a good dude – despite his excuses.

Director(s)
Rose Troche
Writer(s)
Chelsey Lora
Air Date
5/27/2018
Actors Introduced
Jackson
Anthony De La Torre
Harper
Tru Collins
Aurora
Laura Patalano
Little Girl
Aaliyah Samara Lopez

The Grand Betrayal: Mari, Tlaloc, Eddy, Emma
One of Us: Lyn
Learned Shame: Emma, Cruz, Eddy

Season 1/ Episode 5

As Lyn and Emma start planting roots, Eddy continues to try to break through to the girls and form some sort of family. Also, Mari and Emma have a conversation.

| | |
| --- | --- |
| Director(s) | Catalina Aguilar Mastretta |
| Writer(s) | Mando Alvarado |
| Air Date | 6/3/2018 |

I'm Not Going To Fight No More: Karla, Johnny, Lyn
Dealing With Things In My Own Way: Emma, Eddy, Mari
Taking Back My Power: Mari, Tlaloc

Season 1, Episode 6 [Season Finale]

The world shifts for both Emma and Lyn as two major events mean they have closed a chapter in their life and are ready to begin a new one.

| | |
| --- | --- |
| Director(s) | Rose Troche |
| Writer(s) | Tanya Saracho |
| Air Date | 6/10/2018 |

The End of an Era: Lyn, Johnny, Lupe
I Don't Stay Where I'm Not Wanted: Emma, Nelson, Eddy, Cruz
A Breakdown To Rebuild: Emma, Eddy, Lyn

Season 2, Episode 1 [Season Premiere]

As Emma decides to double down on the bar, many question if there is still time to turn their lives around.

Director(s)
Catalina Aguilar Mastretta
Writer(s)
Tanya Saracho
Air Date
5/23/2019
Introduced This Episode
George
Alex Klein

Is It Too Late To Get My S*** Together?: Johnny, Marisol, Lynn
Going All In:

 

Emma, George
Welcome to Vida:

 

Emma, Eddy, Nelson
Lyn Stepping Up & Using Her Talents - 85%
Emma's Pending Breakdown - 84%
Victor's Return - 75%