You may end up in tears during the final moments of this episode as something happens to Lyn she never expected to.
---
Community Rating: 0.00% (0) - No Community Ratings Submitted.
---
---
Network
STARZ
Director(s)
Tanya Saracho
Writer(s)
Tanya Saracho
Air Date
5/23/2019
Images and text in this post may contain affiliate links which, if a purchase is made, we'll earn money or products from the company. Affiliate links and external links have an upward facing, superscript, arrow.
An Unexpected Apology: Baco, Emma
While it seems Emma is going to be out commission for a while, 3 days and counting, an invoice coming in at 0 from Baco rouses her up. After all, what besides sex and money leads to Emma not seeming like a robot? So she goes to his home and addresses not just the invoice but her behavior – she even apologizes. Primarily due to her recognizing the whole sex thing is what happened to her when she was coming up in the corporate world and just because it was done to her doesn't mean she had any right to do that to Baco.
The Ultimate Betrayal: Marisol, Yoli, Lyn
It has been around a week or more since Mari has been living with the Hernandez family, but with the mural being covered, and Yoli, among the rest, wanting to hit Vida's, she realizes she has to go. Which leads to a series of strange moments when she could have said something, yet doesn't. This is kept in mind after Lyn finds out and catches Mari leaving. She confronts her about what the family has done and Mari, the shamed little girl she is, just walks with head low as she preps for what she knows is coming.
Which, that night, is Yoli leading a protest on a rather successful night of the bar. Followed by Lyn, trying to speak to them, explain they are Latinx owned, only have Latinx artist, but Yoli is so full with rage she doesn't want to hear that so she throws powder detergent at Lyn. Mind you, with Mari in the background not doing a damn thing.
Love Penetrates Deeper Than The Best Lotion: Nico, Emma, Lyn
Yet, with hearing the commotion, seeing her sister get detergent thrown on her, Emma flies into action and whoops Yoli's ass. Well, she does get her on the ground, but Emma isn't hitting her with closed fists so she doesn't do much, if any real, damage. However, the sentiment is noted.
But before Emma decided to show, despite us not seeing her work out ever, she got strength, her and Nico reconcile. On top of that, Nico reveals she has feelings for Emma and guess what Emma does? Not only does she have sex with Nico but actually tries to be reciprocal! For once, it isn't just about her getting off, but she makes sure the other person does as well. Add in this is all done in that bathroom Emma wanted remodeled, and it is full circle moment. At least in terms of Nico noting how bathrooms are safe spaces and things like that and while you understand that in terms of trans rights and inclusion, there is also that modicum of privacy as well to explore your sexuality with another person. Which, not getting too deep into it, if you don't have a place to do it there or money for a hotel, is much safer than doing something outside.
The sex aside, there is also a sweet moment between Lyn and Emma reminiscent of when Lyn made Emma smile during her birthday. Though, this may make you cry. Take note, Lyn has thought herself as some form of a failure for a long time, also has been raised to rely on her looks. So for Emma to praise the work and turnout at the bar, a genuine compliment without an insult included, it's easy to understand why she cried. For perhaps the first time in her life, she was praised for what she did, not her potential, and that came from Emma. Her only, at this time, known family member and one of her harshest critics.
Other Noteworthy Facts & Moments
Eddy finds Victor, preaching at a church.
Highlights
#MeToo
There are levels to the #MeToo movement which aren't necessarily explored as much as the older man taking advantage of the young woman. For example, as Emma shows, there is that woman deciding to create a cycle in which she abuses someone who works for her. Alongside that, there is, for a vulnerable population, the possibility, to keep a client, one who clearly knows her stuff, allowing yourself to be used to keep the cash flow. And the importance of Emma putting that out there is to remind people this is a systemic issue which goes beyond the Weinsteins of the world. They might be the first to be exposed, but they are also just the most prolific. So don't downplay other ways the system is screwy.
Lyn Getting Her Props
TEARS! TEARS I SAY! Yet, they were well deserved since, how often has Emma looked anyone in the eyes and praised them? I'm talking, no sense of obligation but just handed out a genuine compliment? Add in her jumping to Lyn's defense despite their issues, I think that reminded Lyn that Emma truly loves her. That she has, and still is, invested in her, and knowing she made her sister proud isn't something that could solely expressed in a smile. You have to breakdown a bit.
Emma Not Only Letting Her Guard Down But Caring About Someone Else's Pleasure
As said in an earlier recap, Emma is a selfish ass lover. So for her to worry about Nico's pleasure, trust her again, it seems like growth. Maybe not by leaps and bounds, to some people, yet between holding herself accountable with Baco, to forgiving Nico, who did nothing wrong, there is growth.
Low Point
Eddy Finds Victor & Nothing Comes Of That
All we see is the back of Victor's head and hear him preach. Eddy finally got a storyline of her own, and it was left on a cliffhanger. Ain't that a moose?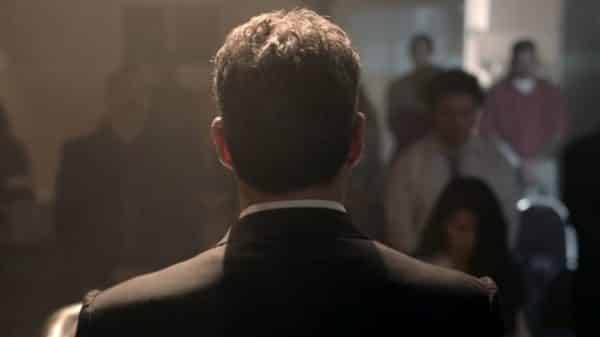 Lyn Is Such A Player Now
So, taking note of how in love Lyn seemed with Rudy, pegging and all, and then she got with Johnny, does that mean she is in love with both or using both? Like the Victor storyline, we're left without a definitive answer since Lyn didn't end things with Rudy. They kissed just this episode, after she spent a whole day with Johnny and seemingly making long term plans. So now it seems Rudy is being kept for his connections, unless pegging, rimming, and stuff like that, is Lyn's thing.
On The Fence
Mari Just Watching As Lyn Was Attacked By Yoli
I understand Mari's conflict, to a point. Yoli and that group gave her a sense of identity, community, and belonging. Something that went beyond her father provided, Johnny perhaps as well. Yet, Emma has been so invested in Marisol for the last few months that her not speaking up for Vida and the Hernadez family had me feeling a certain type of way.
Then, during the protest, her still showing up, and not stopping Yoli from throwing detergent – TRASH! For while I get her and Lyn don't like each other, it isn't like Lyn has gone out of her way to make Mari's life hell in their household. She may not have liked her there, but we never saw her make comments or treat her with any cruelty. Hell, considering she saw what Lyn's childhood was like, it would have made you think she got why Lyn is as she is.
Yet, I guess the short amount of time with Emma and Lyn in her life doesn't compare to Yoli and the rest. So she had to stand to the side and end up guilty in both parties eyes. Even if that meant, potentially, losing both in the process.
Follow Wherever I Look on Twitter, Like us on Facebook and Subscribe to the YouTube Channel.
Season/ Episode
Synopsis
Episode Information
Topics & Focused Characters
Season 2, Episode 3

As Emma starts thinking about how life can be now that she left Chicago, she comes to some decisions. Of which some don't make Lyn too happy as she struggles with life.

Director(s)
Jenée Lamarque
Writer(s)
Nancy C. Mejia, Jenniffer Gomez
Air Date
5/23/2019
Introduced This Episode
Rudy
Adrian Gonzalez
Nico
Roberta Colindrez

Swallowing Your Pride:

 

Johnny, Tlaloc, Marisol, Eddy, Emma, Lyn
When Effort Doesn't Lead To Results, Beyond What You're Used To:

 

Lyn, Rudy, Dona Tita
Ending What Was Old & Welcoming Something New:

 

Cruz, Emma, Nico

Season 2, Episode 4

In a rather emotional episode, Mari makes a mistake with Eddy and Emma has a bit of an emotional awakening.

| | |
| --- | --- |
| Director(s) | Jenée Lamarque |
| Writer(s) | Chelsey Lora |
| Air Date | 5/23/2019 |

Unnecessary Cruelty:

 

Marisol, Eddy, Lyn, Emma, Baco, Johnny
Learn To Use Your Feathers:

 

Dona Tita, Lyn
When You Know What You Want, But Settle For What You Need:

 

Baco, Nico, Emma

Season 2, Episode 5

As more is taken from Eddy and Emma's memories, one can only hope they realize it is lightening their cross to bear.

| | |
| --- | --- |
| irector(s) | Gandja Monteiro |
| Writer(s) | Nancy C. Mejia, Elena Crevello |
| Air Date | 5/23/2019 |

Inclusion:

 

Eddy, Emma
When Bad Turns To Worse:

 

Nico, Emma, Eddy, Nelson, Lyn, Johnny
Flaunt Your Feathers:

 

Rudy, Lyn, Emma

Season 2, Episode 6

The s*** hits the fan and may drive Emma to a panic attack.

Director(s)
Gandja Monteiro
Writer(s)
Mando Alvarado
Air Date
5/23/2019
Introduced This Episode
Lisa
Diana Danger

He Is Not Your Father!:

 

Emma, Lyn
Dismissed:

 

Lisa, Marisol, Tlaloc, Eddy, Emma, Nico
Just When They Were In Recovery:Marcos, Lyn, Emma

Season 2, Episode 2

As Emma slowly removes the stick out of her bum, Marisol is dealing with some interesting developments.

Director(s)
Catalina Aguilar Mastretta
Writer(s)
Evangeline Ordaz
Air Date
5/23/2019
Introduced This Episode
              Baco
Raúl Castillo

Same Old Mistakes:

 

Marisol, Yoli, Tlaloc
Let Me Keep Some Dignity:

 

Lyn, Emma, Eddy, Johnny
Compatibility Questions:

 

Cruz, Emma, Lyn, Eddy, Baco

Season 2, Episode 7

As Emma deals with Lyn's betrayal, Marisol and Eddy are trying to handle being rejected by their assumed family.

| | |
| --- | --- |
| Director(s) | Jenée Lamarque |
| Writer(s) | Gladys Rodriguez |
| Air Date | 5/23/2019 |

Exposed:

 

Mari, Johnny, Tlaloc
Trying To Get Back On The Good Foot: Marcos, Nelson, Lyn
It's Not Right, But It's Okay:

 

Marisol, Emma, Nico, Eddy, Lyn

Season 1/ Episode 1 [Series Premiere]

With STARZ barely featured in "water cooler" conversation, it seems with Vida, there is a push to really be taken seriously as a network which promotes diverse stories.

Creator
Tanya Saracho
Director(s)
Alonso Ruizpalacios
Writer(s)
Tanya Saracho
Air Date
5/6/2018
Noted Actors
Vidalia
Rose Portillo
Lyn
Melissa Barrera
Emma
Mishel Prada
Eddy
Ser Anzoategui
Juniper
Jackson Davis
Johnny
Carlos Miranda
Mari
Chelsea Rendon

Season 1/ Episode 2

Emma learns the state of Vida's books as Lyn searches for some answers out of Lupe about life.

Director(s)
So Yong Kim
Writer(s)
Tanya Saracho, Santa Sierra
Air Date
5/13/2018
Actors Introduced
Lupe
Elena Campbell-Martinez
Tlaloc
Ramses Jimenez
Nelson
Luis Bordonada
Cruz
Maria-Elena Laas

Mari Got A Lot Going On: Mari
It's So Hard To Really Let Go: Johnny, Emma, Lyn, Juniper
Standing Against Adversity: Emma, Lyn, Eddy

Season 1/ Episode 3

As Emma hunkers down and starts working on the books, Eddy has a breakthrough with the girls and Lyn? Well, she deals with Karla.

Director(s)
Rashaad Ernesto Green
Writer(s)
Evangeline Ordaz
Air Date
5/20/2018
Actors Introduced
Karla
Erika Soto
Doña Tita
Renée Victor

The Sweet Escape: Mari, Tlaloc, Johnny
The Wrecking Ball Meets Steel: Lyn, Johnny
The Women You Don't Know: Eddy, Emma, Lyn

Season 1/ Episode 4

We finally get to know the details of Emma's beef with Vida as Mari learns Tlaloc is not a good dude – despite his excuses.

Director(s)
Rose Troche
Writer(s)
Chelsey Lora
Air Date
5/27/2018
Actors Introduced
Jackson
Anthony De La Torre
Harper
Tru Collins
Aurora
Laura Patalano
Little Girl
Aaliyah Samara Lopez

The Grand Betrayal: Mari, Tlaloc, Eddy, Emma
One of Us: Lyn
Learned Shame: Emma, Cruz, Eddy

Season 1/ Episode 5

As Lyn and Emma start planting roots, Eddy continues to try to break through to the girls and form some sort of family. Also, Mari and Emma have a conversation.

| | |
| --- | --- |
| Director(s) | Catalina Aguilar Mastretta |
| Writer(s) | Mando Alvarado |
| Air Date | 6/3/2018 |

I'm Not Going To Fight No More: Karla, Johnny, Lyn
Dealing With Things In My Own Way: Emma, Eddy, Mari
Taking Back My Power: Mari, Tlaloc

Season 1, Episode 6 [Season Finale]

The world shifts for both Emma and Lyn as two major events mean they have closed a chapter in their life and are ready to begin a new one.

| | |
| --- | --- |
| Director(s) | Rose Troche |
| Writer(s) | Tanya Saracho |
| Air Date | 6/10/2018 |

The End of an Era: Lyn, Johnny, Lupe
I Don't Stay Where I'm Not Wanted: Emma, Nelson, Eddy, Cruz
A Breakdown To Rebuild: Emma, Eddy, Lyn

Season 2, Episode 1 [Season Premiere]

As Emma decides to double down on the bar, many question if there is still time to turn their lives around.

Director(s)
Catalina Aguilar Mastretta
Writer(s)
Tanya Saracho
Air Date
5/23/2019
Introduced This Episode
George
Alex Klein

Is It Too Late To Get My S*** Together?: Johnny, Marisol, Lynn
Going All In:

 

Emma, George
Welcome to Vida:

 

Emma, Eddy, Nelson
Lyn Getting Her Props - 95%
Emma Not Only Letting Her Guard Down But Caring About Someone Else's Pleasure - 84%
Eddy Finds Victor & Nothing Comes Of That - 65%
Lyn Is Such A Player Now - 69%
Mari Just Watching As Lyn Was Attacked By Yoli - 70%
---