Bryce is discovered, and we learned what happened to Chloe's pregnancy. This is alongside Ani continuing to guide us with a fresh pair of eyes.
---
Network
Netflix
Director(s)
Michael Morris
Writer(s)
Allen MacDonald
Air Date
8/23/2019
Introduced This Episode
Amara Josephine
Nana Mensah
Charlie
Tyler Barnhardt
Dr. Singh
Parminder Nagra
Dean
Hart Denton
Images and text in this post may contain affiliate links which, if a purchase is made, we'll earn money or products from the company. Affiliate links and external links have an upward facing, superscript, arrow.
[ninja_tables id="38445″]
Follow Wherever I Look on Twitter, Like us on Facebook, Sign Up For Our Mailing List and Subscribe to the YouTube Channel.
Zach, Charlie, Monty, Jessica | Trying To Change The Culture
As class president, Jessica vowed to hold the jocks accountable in her campaign speech, which included cursing. As head of the football team, Zach is also trying to do his part to undo the enabling of bad behavior. However, for both Jessica and Zach, Monty presents a challenge to that. For whether it is him continuing to bully kids, due to his home life, or trying to influence the next generation, like Charlie, he clearly wants to continue Bryce's legacy for it gave him a sense of power he likely doesn't have in his home life.
Commentary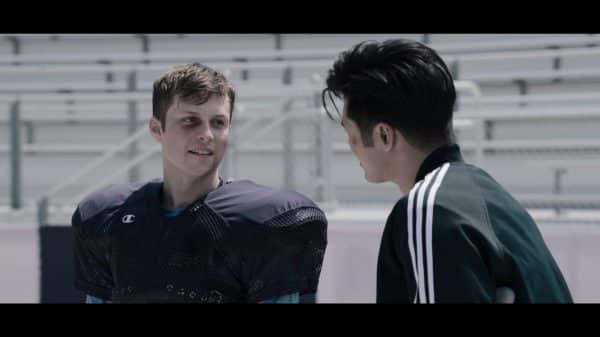 I get bad behavior doesn't just come out of nowhere, but are we going to give every person who is an ass on this show a sob story? Not that Monty's issues weren't talked about last season but with him filling Bryce's shoes, it seems he is supposed to be the person we hate the most. But, it's like going from The Joker to Riddler. Yeah, Monty still is villainous, but Bryce was a serial rapist. Monty was just an enabler who, not to forget, did sodomize Tyler and likely will trigger Tyler doing something drastic, but the charisma isn't the same. The love to hate isn't there.
Which, granted, could change as we see more of Monty beyond being Bryce's former sidekick. However, there remains something cartoony about Monty, like a villain who is only evil to prove something, than just because it comes naturally to him, that throws things off.
Zach, Chloe, Dr. Singh, Tyler, Clay, Monty | Seeking Help
Speaking of Monty and Tyler's relationship, with Monty having the sheriff talk to him, he threatens Tyler, and this puts Tyler on edge. For while he has regular meetings with Dr. Singh, and Clay sort of pays attention to him, gives him the friend experience, that may not be enough. At least, considering Tyler goes into a restricted area and climbs up to a height he can possibly die from, if he jumps, it seems Clay may have to switch up the schedule he made. Meaning, converting it from a schedule that would prevent Tyler from harming others to one which keeps him from hurting himself.
But, at least one person he won't have to worry about is Chloe. For while she is going through things, especially with Bryce disappearance, and still dealing with guilt embedded from those who protested her abortion, she has Zach. Someone who likely wants to be more than Chloe's friend, but is in an odd position. One where he doesn't want to take advantage yet seemingly doesn't want to be there, be a part of her healing process, yet not receive a reward or benefit from sticking by her side.
Commentary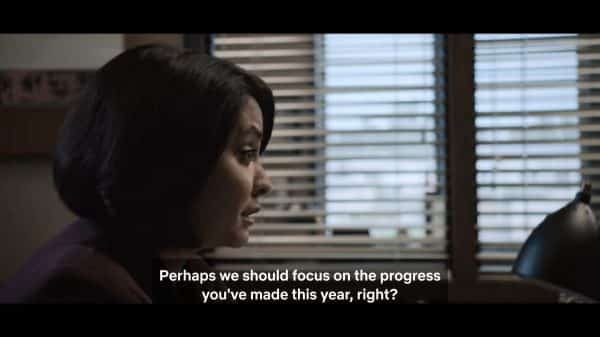 One of the main issues with the Tyler situation is, with there being so many shootings in America, it sometimes feels like Tyler is supposed to represent those shooters. The ones who, if only someone closed to them tried to stop them, talk to them, monitor them, maybe the tragedy wouldn't have happened. Yet, with every moment Tyler and Monty are in, including Tyler taking pictures, maybe making videos without his shirt on, there is this vibe Clay only delayed the inevitable.
But, considering Tyler may jump off that structure he is climbing, that maybe the shock of the season? After all, isn't that what Thirteen Reasons Why is known for? Something which can seem gratuitous but thanks to the built-up to the moment, one can say we actually were seeing someone who felt like they had no other options?
That aside, I must say I appreciated Chloe's abortion storyline. Mostly in showing how challenging it can be to find a clinic which does the procedure, when there are those which seek to trick you and circumvent you towards having the baby. Then how zealous anti-abortion people can be at a legit clinic. Following that, while I don't know how long an abortion takes, the time length we watched Chloe go throw made it feel like, without anything graphic, we got an idea of the experience from start to sitting in a resting room after the procedure. Which, for a show not rated for teens but seen by them, feels important. Mostly since abortion is something talked about but the details in how you get one, what happens, and how people will try to stop you, usually aren't handled in this manner.
Bryce, Ani, Amara, Nora, Dean, Clay | Humanizing A Monster/ Finding Bryce
One of the consistent benefits of Ani is that, with her being an outsider, she gives a fresh take on everyone. Clay seems less whiny and instead is just someone dealing with immense trauma. Which, in an unhealthy way, he deals with it by avoiding his own issues and deep-diving into other people's. Trying to be their hero since he didn't get to be Hannah's.
But it is primarily Bryce who may benefit from Ani's arrival. For while he is getting what is due to him, which includes being bullied at his new school by Dean, then comes the reminder of not just how lonely he is, or how Nora is indifferent towards him, leading to Amara stepping in – to a point – but also why Nora is distant.
Long story short, Bryce is the product of a physically abusive grandfather and emotionally abusive father. Which, depending who you ask, he has the worst qualities of both people. Thus, you can understand why Nora is conflicted about raising someone she knows she can't change and why Amara, while she pities the boy, doesn't want to get too close.
However, Ani can't help herself for she is nosy. Thus she seems to befriend the monster we know, and that might be the reason she seems keen on uncovering how he ended up dead in the river, bloated from his time floating.
Commentary
It's a curious thing to watch and see Nora recognize she has a monster for a son, worse than her own physically abusive father and husband, yet still care for him. Maybe not to the degree he wants, but still. In my mind, it gives Nora that rare role of being the mother of a monster and there being no shock or awe, just acceptance. Which will make fully getting to see how she handles Bryce's death interesting. He may be a monster, one she says shouldn't have been born, but she did still raise him to adulthood. So while she has shown some care, through her interactions with cops and a few others, it should be interesting to see how her tone and actions shift.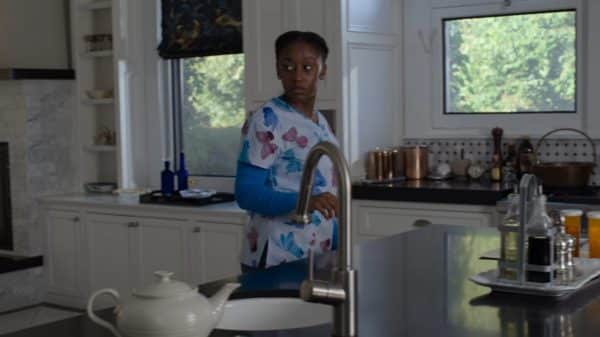 Nora aside, I must admit I'm curious about Amara and Ani. For one, there is this need to wonder where is Ani's dad and whether Amara and her move so much due to Amara's work or maybe something unrevealed? After all, between Ani being nosy and likely having secrets of her own, there seems to be more to their story. Surely Ani can't just be here to give fresh eyes to old characters right?
Not to imply she isn't good at it, since a part of me was trying to calculate how far karma would need to go for me to feel bad for Bryce. Does he need a Monty in the bathroom moment? Would Dean making his life hell be enough? Maybe the families suing in a civil suit and making Bryce's family broke? What kind of restitution and punishment would equate to Bryce's karma being paid and him deserving of sympathy? Or is he simply damned for life?
Question(s) Left Unanswered
Does Ani have a crush on Clay or is he close to her out of fear something could happen to her?
Characters Introduced This Episode & Noteworthy Information
Amara Josephine (Nana Mensah)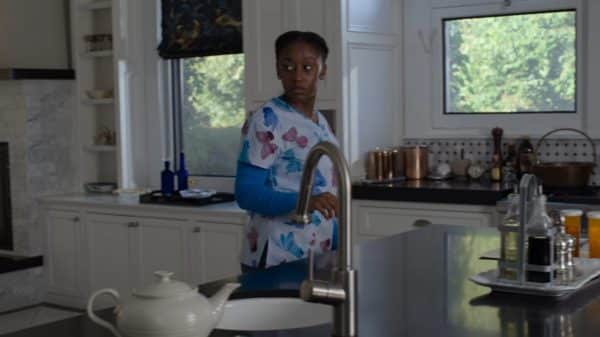 Character Introduction
Amara is a home health aide and mother to Ani. In season 3 of Thirteen Reasons Why she and her daughter live in the Walker's guest house as Amara takes care of Nora's hateful and racist father. She also gets involved in making meals for the family at times and treating Bryce's wounds after he gets bullied. However, Amara does not cross over into becoming a confidant or some kind of mammy to compensate for Nora often giving Bryce the cold shoulder or lacking affection.
Charlie (Tyler Barnhardt)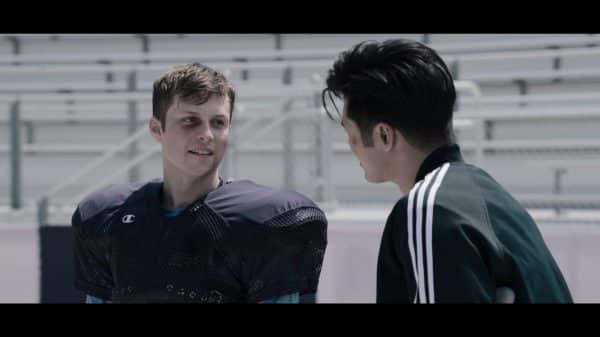 Character Introduction
Charlie is someone new to the football team, and someone Monty is trying to use to continue Bryce's toxic legacy. However, Zach is trying to intervene in an effort to change Liberty High's culture. Especially the jocks contribution to it.
Dr. Singh (Parminder Nagra)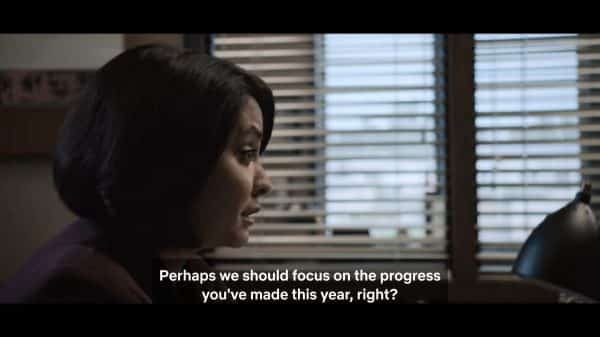 Character Introduction
The person Tyler talks to so that he can manage his emotions and take on life better.
Dean (Hart Denton)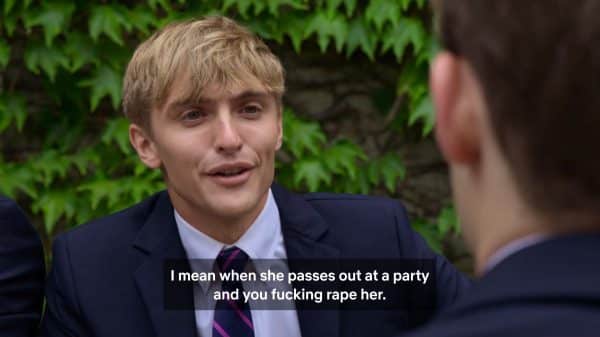 Character Introduction
A member of Hillcrest's student body, as well as their sports team, the HillCrest Knights, he is someone who does not like Bryce at all. He is well informed about the rape charges and, together with many of the members of the football team, they bully Bryce. However, Bryce writes it off as hazing at home. Not that Bryce's mom doesn't blame him for what happens.
Noteworthy Information
Bryce and Zach haven't gotten along since 5th grade Pop Warner, and it was Zach who got Chloe's number for Bryce.
Ani is 17