The Quad: Season 2/ Episode 9 "#HollerIfYouHearMe" – Recap/ Review (with Spoilers)
Jason makes his move, BoJohn has a breakdown, and snakes remain snakes even if they are charming in "#HollerIfYouHearMe." Network BET Director(s) Benny Boom Writer(s) Kevin Arkadie, Wendy Coulas Air Date 3/27/2018 Actors Introduced Flip Lawson George Bryan Being a Ride or Die: Noni, Cedric, Bronwyn Bronwyn is crying her eyes out and be it…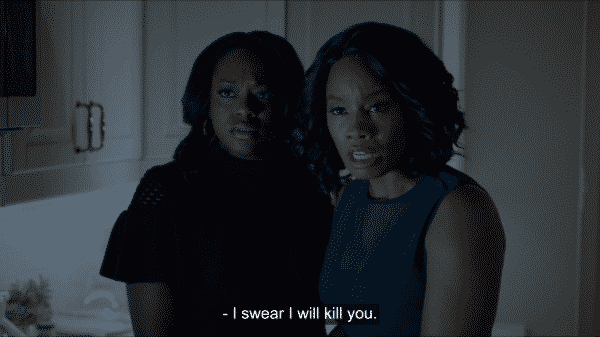 Jason makes his move, BoJohn has a breakdown, and snakes remain snakes even if they are charming in "#HollerIfYouHearMe."
---
Being a Ride or Die: Noni, Cedric, Bronwyn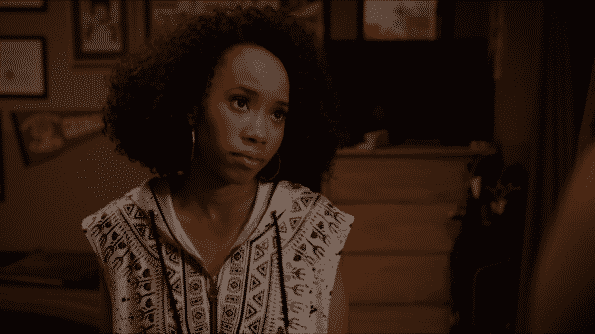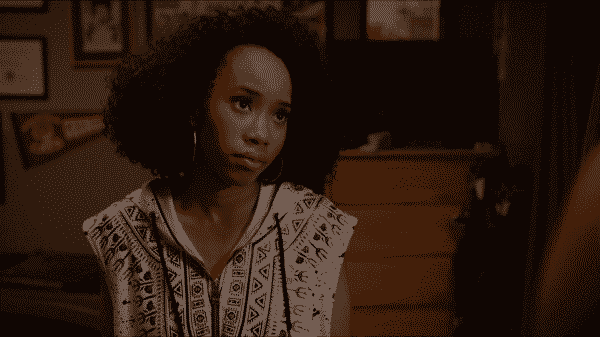 Bronwyn is crying her eyes out and be it because she is a ride or die, or the sound of Bronwyn crying is getting annoying, Noni confronts Cedric. Which, you gotta admit, is kind of funny since a good portion of Cedric's drama comes from Noni doing everything besides talking to Cedric. Whether it was making sure Ebonie had doubts about her relationship with Cedric or making him seem like he messed around during the protest trip to Atlanta state.
So, as you can imagine, he wants Noni to kick rocks. Especially since she is storming into his room, grandstanding, and knows nothing. For it isn't like Cedric isn't trying to step up, it is more so Bronwyn wants him to step out of her life. Which, by the way, considering Noni is Bronwyn's roommate, and we saw how Noni was with Ebonie, just imagine how much crap Noni was talking about Cedric in the room before all of this.
When Football is Everything To You: BoJohn, Coach Hardwick, Tiesha, Dwight, Carlton, Lenny, Eva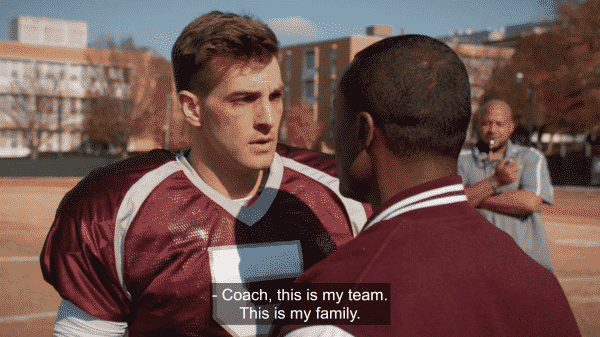 The possibility of BoJohn getting replaced by Dwight becomes a bigger and bigger fear as he can't train or get on the field. And, let's be real, when it comes to athletes like BoJohn, people who find purpose, family, and importance in their sport, taking that away is dangerous. Everything BoJohn has achieved, like going to college, is because of football. His future, his financial future, will rely on having a successful football career in college. So not being out there is a life threat that is hard to deal with.
But of course, other things are making it worse. Tiesha still won't date him because she is uncomfortable with the idea, Coach Hardwick is giving him the runaround and then there is Dr. Fletcher. Her sitting with Carlton, Dean of Students, Dwight, his nephew, and his brother in law Lenny, wouldn't that make you feel like you're actively being replaced? Considering how you are the odd white guy out and had issues with you being a white quarterback, would that not make you feel like a placeholder until someone Black came along? Even after you became part of the reason the team won games?
I mean, it gets so bad BoJohn calls his dad and you know how BoJohn feels about him. But with there being the slightest of hints BoJohn could be thinking suicide, it seems Coach Hardwick is going to try to keep history from repeating itself.
Long-Term Planning Is How You Effectively Get Revenge: Coach Hardwick, Sydney, Ella Grace, Carlton, Cecil, Jason, Eva, Miles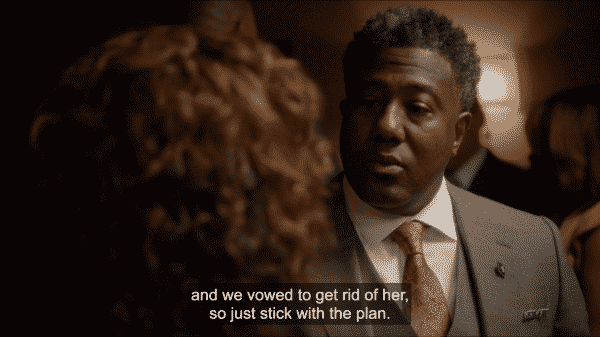 Despite Ella Grace repeatedly trying to stab Eva in the back, it seems whatever plan she had to get her ousted comes to an end. If only because she sees Eva is truly trying and cares about the school. She even reveals the whole Flip Lawson situation and breaks down to Eva how she tried, again and again, to keep the merger from happening, yet it still happened.
But, despite this, Carlton and Cecil still want the plan to happen. Carlton is having dreams with Eva in them, annoying his wife with how much he doesn't like the woman and Cecil? Well, despite how the two have learned to be cordial, let's not forget him and Carlton are frat brothers. He ain't going to turn on him now.
Though, all things considered, Eva has bigger problems in Sydney's choice of men. Whatever is going on between her and Miles is over and done with but Jason has his hooks in her. And Miles can even see something wrong is going down but Sydney is like her mom, stubborn and a bit self-righteous. So it isn't until Jason shows his ass, after getting some of Sydney's, does she even begin to realize what maybe was going down. However, even then, it seemed like she was ready to run after Jason. As if the girl is color struck and the love of some light-skinned man was the kind of validation she just can't do without in life.
Other Noteworthy Facts & Moments
We're at about midterms at this point of the show and BoJohn retook his exam for Ella Grace's class.
We see who Madison had sex with that night and apparently won't have sex with again.
Ula is an instructor.
The threat to Smith Hall is Brian Bean – a tech billionaire who wants to redevelop the building and space because it is near a main road and his company's name advertised would be good for the brand.
Question(s) Left Unanswered
Does anyone else feel bad for Crystal and all she has to deal with when it comes to Eva?
Will there be more GAMU and AS meetings or after that first one, that's it?
Anyone else think Ula felt uncomfortable with Eva and Carlton's banter at the football game. Especially when Eva talked about Carlton noticing her shirt?
Highlights
Ula and Carlton's Relationship
With all the drama on this show, it was nice to see two people who were happy – in a pure way. Much less two people in a healthy relationship. One with love, open affection, and seemingly no secrets. Plus, while it is clear her purpose is softening up Carlton and making him seem less like an ass, Sheryl Lee Ralph quickly captures your affections. Making her heart attack, Ula that is, being perhaps one of the few storylines which seem for the sake of drama which you feel the need to take note of.
BoJohn's Breakdown
While it isn't new to see athletes crack when they can't do what they love there is something about BoJohn's breakdown. Especially in comparison to Terrence's which seemed to just be about heightening the drama of the first season than addressing the issue of suicide, consent, and things of that nature. With this, there is a bit of a slow burn and understanding to the breakdown. BoJohn has consistently felt out of place and with him not being the fancy new member of the team, and how Terrence lost his spot, it is only natural for him to be scared. Just take a look at Junior. There is a serious fear in losing something which is so central to your identity. Especially when it is completely out of your hands to fight for it. You have to hope you fit into someone else's strategy and plans and prove yourself not just on the field, but your value.
Something that, as I'm sure you can imagine, at BoJohn's age, trying to prove your worth, monetary wise or otherwise, is a bit too much pressure to handle.
On The Fence
Noni Always In Someone's Business and Causing Trouble
I really need Noni to get her own business to mind. It was cute and comical in season one, but now it is just getting annoying that she is just acting as a catalyst for drama and has really nothing of her own going on. As if they have no idea what to do with this character so they just have her kick things up or remind us how terrible someone appears to be.
The Bronwyn and Cedric Situation
It's hard to figure out what will happen with this situation. There is the possibility of an abortion but there is also Bronwyn keeping it. However, the big problem here is that Bronwyn came in hot, fizzled out quickly, disappeared and then suddenly was given relevance with the type of storyline which deserves more time and effort. But, we can only hope that something better may come from this than what is currently expected.
---
Follow Wherever I Look on Twitter or Like us on Facebook.
---
Previous Episode's Recap
[visual-link-preview encoded="eyJ0eXBlIjoiaW50ZXJuYWwiLCJwb3N0IjoxOTQzMiwicG9zdF9sYWJlbCI6IlBvc3QgMTk0MzIgLSBUaGUgUXVhZDogU2Vhc29uIDIvIEVwaXNvZGUgOCBcIiNUaGVCZWF1dGlmdWxTdHJ1Z2dsZVwiIC0gUmVjYXAvIFJldmlldyAoV2l0aCBTcG9pbGVycykiLCJ1cmwiOiIiLCJpbWFnZV9pZCI6MTk0MzUsImltYWdlX3VybCI6Imh0dHBzOi8vd2hlcmV2ZXItaS1sb29rLmNvbS93cC1jb250ZW50L3VwbG9hZHMvMjAxOC8wMy9UaXRsZS1DYXJkLTYucG5nIiwidGl0bGUiOiJUaGUgUXVhZDogU2Vhc29uIDIvIEVwaXNvZGUgOCBcIiNUaGVCZWF1dGlmdWxTdHJ1Z2dsZVwiIC0gUmVjYXAvIFJldmlldyAoV2l0aCBTcG9pbGVycykiLCJzdW1tYXJ5IjoiVW5lYXJuZWQgbG95YWx0eSBhbmQgZmVhciBvZiBiZWluZyB1bmp1c3RseSBzY3Jld2VkIG92ZXIgbGVhdmVzIGEgbG90IG9mIGNoYXJhY3RlcnMgc3R1bm5lZCwgb3IgcGVyaGFwcyBjYWxsaW5nIHZpY3RvcnkgdG9vIHNvb24uIiwidGVtcGxhdGUiOiJkZWZhdWx0In0="]
---
Follow, Like, and Subscribe
Community Rating: 0.00% (0) - No Community Ratings Submitted (Add Yours Below)