The Quad ends with pertinent unanswered questions as many take a last stand for what they believe in.
---
Network
BET
Director(s)
Rashaad Ernesto Green
Writer(s)
Felicia D. Henderson, Rose McAleese
Air Date
4/3/2018
Actors Introduced
Beretta Hobbs
Demetria McKinney
Brian Bean
Adam Boyer
We All Need Somebody To Lean On: Cecil, Carlton, Coach Hardwick, BoJohn
With Ula's sudden death, Carlton is going through it. Which Cecil helps a lot with but there comes a point Carlton just wants to be left alone. Especially once all the funeral arrangements are done.
As for Coach Hardwick and BoJohn? Well, with memories of Terrence running through his head, and murdering someone – albeit in self-defense, the BoJohn situation speaks volumes for coach. To the point that, as coach makes sure BoJohn gets some much-needed therapy, he looks into getting himself some help.
You're Not Ready Son: Beretta, Bronwyn, Cedric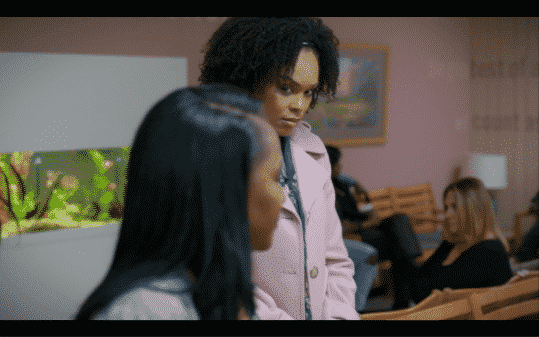 Beretta comes to visit Cedric and seemingly her goal is to make sure Cedric's life isn't ruined or put on pause because of this baby. So, there is some manipulation done so that Bronwyn ends up at a clinic. However, Cedric, with memories of his dad not being there, due to dying when he was 4, goes to the clinic and reassures Bronwyn, no matter what, he'd be there for the baby.
The Last Stand: Cedric, Eva
The merger isn't 100% final, but pretty much there isn't anything or anyone who has the oomph to stop it. One thing done though, to push how unhappy Eva is about it, is visiting Brian Bean, of Strongbox Tech, to talk about the issues the students have. Of which he kind of blows off, says that they can hit him up on his app and if a majority aren't for it, then he'll back off.
But, all that really comes from that meeting is Eva pissing off the board and learning she will be fired and not return for the fall semester. Which triggers the students, led by Cedric, deciding that, in honor of E.W. Smith, they are going to burn his hall down. Just like he burned his home down once it was compromised by slave catches when it was part of the Underground Railroad.
Question(s) Left Unanswered
How is Ebonie doing after that nosebleed situation?
Are you telling me Eva waiting all through the night to reveal to Sydney some semblance of the truth about Jason?
Highlights
The Protest Poetry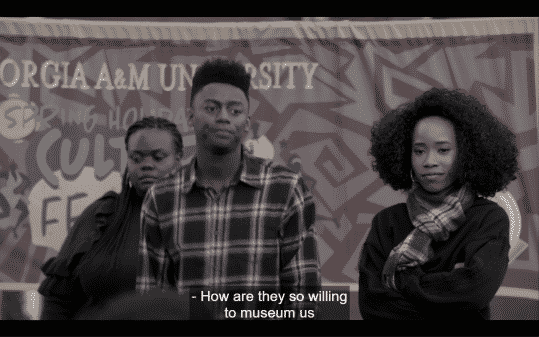 Was the poem Cedric, Noni and others did absolute fire? Depends on your taste. However, you have to admit that as The Quad tries to highlight the students and their talent, it was a welcome showing. To the point, considering this episode was released around Dr. Maya Angelou's birthday, it is surprising the title of the episode wasn't based on one of her books. Especially since the poem sounded like it could have been inspired by her work.
The Lengths Beretta Was Willing To Go To End Bronwyn's Pregnancy
Beretta straight up tried to manipulate both her son and Bronwyn to make sure that pregnancy was terminated and it left complicated feelings – in a good way. On one hand, you get why she did it since Cedric doesn't even have a work study job to buy a pamper, never mind pampers and while his rap career is going somewhere, that brings a new issue. What can he do if Bronwyn is stuck somewhere and he is touring? Especially if she is too afraid to tell her family she is pregnant?
Thus pushing the idea she could get disowned for having a kid out of wedlock. Which would mean, possibly, after raising Cedric, Beretta may end up raising another kid. For it isn't like, with Beretta telling her family about the baby, they are just going to have some stranger raise her. You know they are going to harp on her about how the baby is doing, what is she doing, Cedric, and etc. So, nipping it in the bud seemed like the right thing.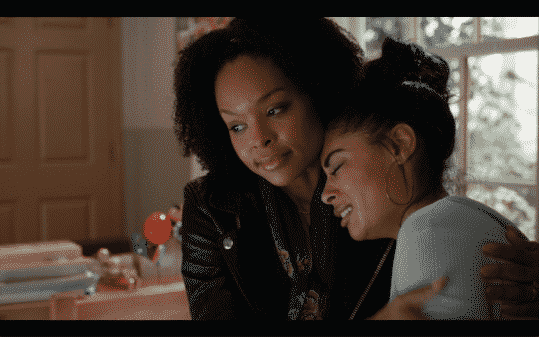 But then Cedric wants to step up and a part of me felt a bit touched by that. Especially since it pushed another issue, which is communication. Cedric didn't want to be a baby daddy – this is true. However, being a baby daddy vs. being a father are two different things. And I think, through being inspired by his mom, and believing it could be a two-person operation, that is what may or may not have saved his kid.
Leaving the only thing missing here is what Bronwyn wants. It's her body and she is being pushed by Beretta to do one thing and Cedric to do another. Yet, Beretta she just met so while she is playing nice, she gets exposed for being a liar and with Cedric? Great he wants to be a dad but he was still a dog towards her. Be it ignoring her when she was alone and wanted company, or when he cheated on her. With that in mind, it is nice he is talking about stepping up but this is the easy part. What about when the baby is crying? How about the sacrifices which have to be made so school doesn't end up something either one has to possibly put off? Heck, what if they have to? Money is a major issue and Cedric's family don't have money and Bronwyn's? Who knows if she is just making it to afford college or not?
So, needless to say, this should be interesting to follow up on in season 3.
Bo John and Coach Hardwick Seeking Help
Men in therapy isn't something you commonly see. Much less them seeking help or allowing someone to help them. This especially goes for Black men, like Coach Hardwick. So, with him especially, recognizing the pattern in his boys and recognizing he needs to see someone to be sane, possibly a good husband, as well as a good father, you have to applaud that.
Season 3 Looks Like It Could Be Good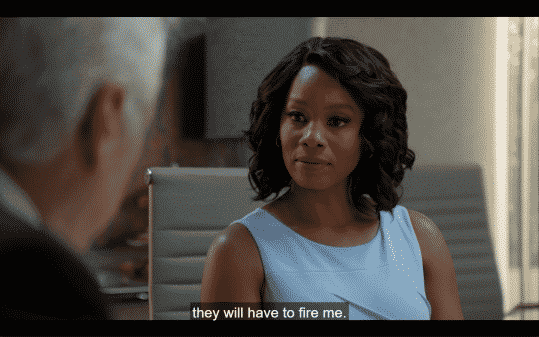 Season 3 hasn't been confirmed yet but, factoring in the above, Eva being fired, and what that could mean for the show's dynamic and it brings up a lot of positive possibilities. Does this mean Carlton may push for the presidency or will he do a 180 and try to help Eva get her job? Will Bronwyn keep the baby and how will she deal with doing so or the psychological effects of getting rid of it? Much less Cedric's reaction, especially considering how his mother influenced the situation?
With Coach Hardwick, how will going to therapy effect his life, both professionally and personally? Then with BoJohn, with managing his anger and anxiety, could that mean he finds something outside of football? For most of the students, it isn't clear what their majors are, so it would be nice if someone got pushed to declare to us and maybe we saw them take their education as seriously as their drama.
And of course there is the question of Noni's future, Ebonie's, maybe Madison becoming relevant again, Tiesha evolving, and so much more. For with the show seemingly rearranging who gets focus, surely Tiesha is due to step into the sun and get fleshed out a bit. Alongside Noni be more than just a troublemaker.
On The Fence
The Humanization of Carlton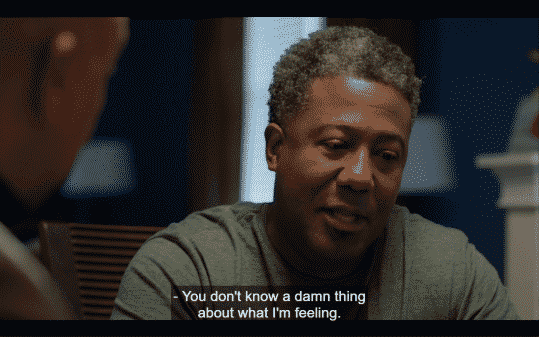 With Carlton being an outright bastard since the beginning, him suddenly having a wife and her dying not too long after her introduction is eye-roll inducing. If only because it feels like such a cheap way to humanize him and get him sympathy. Now, if Ula was introduced season 1, that would be one thing. However, the woman was barely in season 2, pretty much was more there to push the Dwight storyline than anything, with her being a loving wife almost secondary. So all the tears, seeing a softer side of Cecil, and all that? I get the point but also felt unmoved.
Sydney
While season 2 ended far better than season 1, certainly with better cliffhangers and what to hope for, I must admit there remains some things you have to feel "eh" about. Sydney being one of them. While her bougie personality made for good fodder when it came to Tiesha, and the post-rape storyline was noteworthy in the first half of the season, after that it seemed like they didn't know what to do with her. Make her another pawn in pushing Eva to pills? That's pretty much all we get out of her really. Be it her joining the protest, messing around with Jason, and distancing herself from Maddie and Miles, it is like, after being a major focus in season one, she slowly, but surely, got demoted.
---
Follow Wherever I Look on Twitter or Like us on Facebook.
---
Previous Episode's Recap
[visual-link-preview encoded="eyJ0eXBlIjoiaW50ZXJuYWwiLCJwb3N0IjoxOTYxMiwicG9zdF9sYWJlbCI6IlBvc3QgMTk2MTIgLSBUaGUgUXVhZDogU2Vhc29uIDIvIEVwaXNvZGUgOSDigJwjSG9sbGVySWZZb3VIZWFyTWXigJ0gLSBSZWNhcC8gUmV2aWV3ICh3aXRoIFNwb2lsZXJzKSIsInVybCI6IiIsImltYWdlX2lkIjoxOTYxNiwiaW1hZ2VfdXJsIjoiaHR0cHM6Ly93aGVyZXZlci1pLWxvb2suY29tL3dwLWNvbnRlbnQvdXBsb2Fkcy8yMDE4LzAzL1RoZS1RdWFkLVN5ZG5leS1hbmQtRXZhLnBuZyIsInRpdGxlIjoiVGhlIFF1YWQ6IFNlYXNvbiAyLyBFcGlzb2RlIDkg4oCcI0hvbGxlcklmWW91SGVhck1l4oCdIC0gUmVjYXAvIFJldmlldyAod2l0aCBTcG9pbGVycykiLCJzdW1tYXJ5IjoiSmFzb24gbWFrZXMgaGlzIG1vdmUsIEJvSm9obiBoYXMgYSBicmVha2Rvd24sIGFuZCBzbmFrZXMgcmVtYWluIHNuYWtlcyBldmVuIGlmIHRoZXkgYXJlIGNoYXJtaW5nIGluIOKAnCNIb2xsZXJJZllvdUhlYXJNZS7igJ0iLCJ0ZW1wbGF0ZSI6ImRlZmF1bHQifQ=="]