The Good Doctor: Season 4/ Episode 7 "The Uncertainty Principle" – Recap/ Review (with Spoilers)
---
Community Rating: 0.00% (0) - No Community Ratings Submitted (Add Yours Below)
---
This post may contain affiliate links and spoilers. Please read our disclosure policy.
---
With Lea revealing information that is jarring to Shaun, so comes the question of whether relationships can last forever, especially with both parties constantly changing.
---
Director(s)
Gary Hawes
Writer(s)
Doris Egan
Aired (ABC)
1/18/2021
Introduced This Episode
Sophie
Jess Salgueiro
Wyatt
Benjamin Ayres
Alan
Matthew MacCaull
Hannah
Ashley Williams
This content contains pertinent spoilers. Also, images and text may contain affiliate links, which, if a purchase is made, we'll earn money or products from the company.
Recap
I Do Wanna Live Forever – Sophie, Alex, Shaun, Wyatt
For Shaun and Alex's patient, he has started the process to modify his genes in order to extend his lifespan, and in doing so, he creates a disease that isn't on the books. Thus leaving Shaun and Alex scrambling for some sort of treatment until the man, Wyatt, notes he believes the side effects are temporary. For with his CRISPR physician working closely with him, he'd rather deal with the pain he is experiencing now than stop or have the process reversed.
Mind you, beyond work, one of the reasons he is modifying his genes is to be with his partner Sophie, who is due to have her genes modified after him. However, with him getting sick and her worried, she issues an ultimatum. For exercising, eating right, doing all that the average doctor would recommend, she is down for. However, what she is seeing him go through is too much. But with him wanting to live longer and willing to sacrifice their relationship if she doesn't support it, the two break up.
Don't Knock The Hustle – Jordan, Olivia
With Jordan soliciting testimonies for her insole product, Olivia gives her a bit of a side-eye. Especially since she talks to a patient's husband, named Alan, a venture capitalist, about investing. The shade is taken with some offense and leads to Jordan explaining she has, throughout her life, helped people and took care of them for free. So her becoming a doctor was about getting paid for such services and her making and selling the insoles was about using her research and knowledge to diversify her income.
Which in time Olivia gets, especially since she wears platform heels during her shift and her feet do hurt at the end of it.
Wanting A Love That Will Last – Shaun, Lea, Enrique, Morgan, Dr. Lim, Claire, Hannah, Alan, Dr. Andrews, Wyatt
After Lea received a package in the mail that Shaun is confused about, Lea reveals it was from her ex-husband, who she was married to more than a decade ago. Due to Shaun not knowing about the divorce and his take on marriage and relationships, he is a bit shaken. For while he was in a relationship that ended previously, and he survived, Lea is different.
Thus leading to the theme of the episode dealing with what makes a relationship last and how? Take Claire's patient Hannah, who has a disease that makes her prone to cancers. What surety can her husband Alan, the Venture Capitalist, give when her first two bouts of cancer strained the marriage? Heck, bringing in Shaun's patient Wyatt, if a person lived 1000 years, could they still be in love for hundreds of years?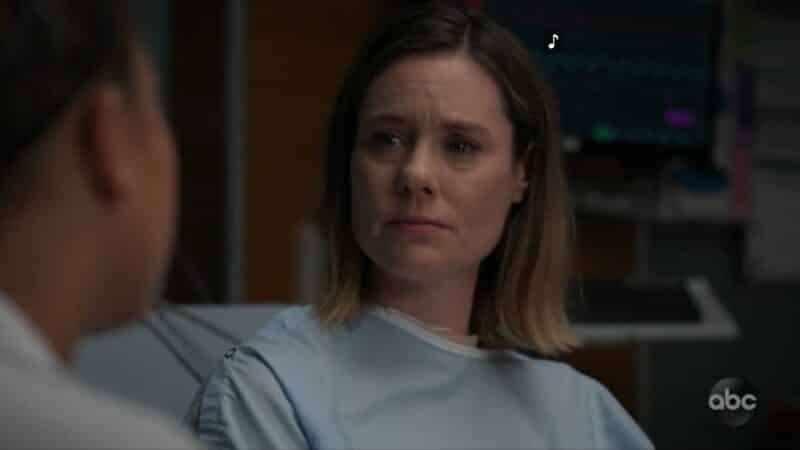 Shaun receives a lot of mixed responses from people simply being unsure, to romantic, to the idea that an effort would be made, but most get married under the understanding they won't live 1000 years. Yet, in the end, rather than become a pessimist, ready to break up with Lea to get it done with, Shaun is an optimist. This is not because Alan quits his job to be with Hannah and commit, but he understands, as quoted below, part of what makes a lasting relationship.
As for everyone else? Well, they don't have the same epiphany. In fact, for some like Claire, relationships remain a significant challenge. Granted, she does allow Morgan in without pushing back as she formerly did when it comes to friendship. Also, Claire and Dr. Lim have seemingly allowed what began as trauma bonding and a dash of mentorship to evolve into something new.
But, while Claire is experiencing growth in her professional and platonic relationships, with Enrique speaking to Claire with him putting it out there he would date her, she is uncomfortable. Mind you, her reasons vary from him being a subordinate to his polyamory, but I can't say it is because she doesn't find him attractive. So while she may take it slow, with hesitation, and has drawn friendship boundaries, who knows if Enrique may adhere to that or if Claire may find her walls coming down?
Collected Quote(s) & .Gifs
[…] the problem isn't really change. It's whether two people change in the same direction.
— Shaun
Review
Highlights
Claire Opening Herself Up To Not Just Love, But Friendship
While we are aware Claire does have friends outside of work, being that our view of each doctor's personal life is so limited, outside Shaun, while they exist, at the same time, they don't. Sort of like how we know Morgan has a family, Dr. Andrews' wife and sister exist, and others, but we rarely see or hear from or about them. In the case of Claire, Claire has always made her relationship with Morgan interesting since Morgan, like Claire, often comes off isolated and married to her job.
However, unlike Claire, Morgan didn't necessarily blow up or make herself small for a lengthy amount of time. Not to imply Morgan hasn't gone through things on the show, which caused her grief and anger, like losing her ability to be a surgeon or the death of the young man multiple. But the difference is, Morgan was never written to be defined by her trauma and often operated on ways to pivot. On the other hand, Claire often chose negative ways to deal with her issues ranging from isolation, uncommitted sex, making herself small, and sometimes lashing out.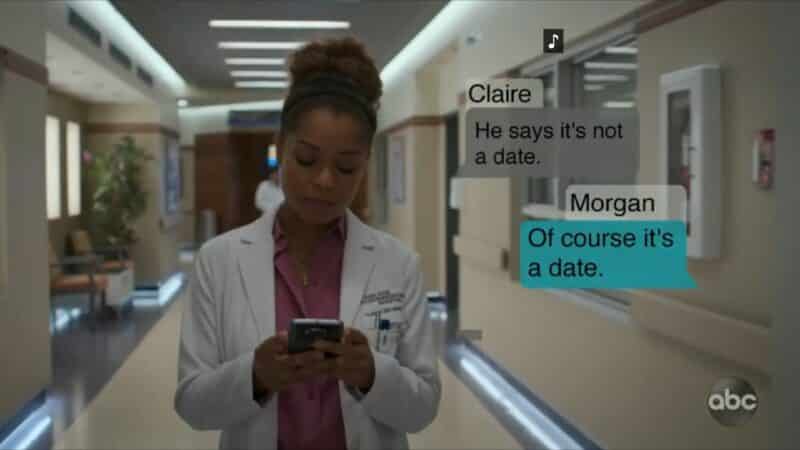 Thus making Claire opening up once more, dare I say finding a rhythm with Morgan and willingly letting her in her personal life, a huge step! And considering how much work Morgan has put in to befriend Claire and form the bond we've seen her develop with Alex, you could even add this means people have gone beyond tolerating Morgan. That may be, while her truth and perspective can be biting, it has its place.
Heck, even with Dr. Lim, as noted above, their relationship, Claire and Dr. Lim, began in the form of recognizing each other as women of color amongst a sea of white men. Then there was mentorship, trauma bonding, and while they aren't equals, it seems Claire is approaching that. And what really makes her relationship with Lim interesting is she is willingly seeking to be closer to her, rather than what we usually see Claire end up with, which is being imposed with doing emotional labor for others. So with that switch up, truly, we may have permanent growth.
Appreciating That, Once Shaun Asks All His Questions, His Understandings Simplify The Complex
While there are many times I don't understand Shaun, there are also moments when I either feel connected with him or see his brilliance. Because one thing you have to appreciate about Shaun and him having autism, is that it reminds you how fearful an atypical adult is to just ask questions. Rarely does Shaun only assume without taking note of what you say, what you do, and asking questions. Hence why Asher is such a mystery to Shaun since he no longer feels able to ask what he needs to know.
But, when you set aside some of Shaun's journey to finding answers, the answers themselves click together so well that you find yourself adapting to his train of thought. Take the quote used above in regards to how people can stay together. Shaun polled people, asked questions of those he knew were married, took note of those divorced, and because he is given the environment to ask questions, a certain level of grace which is enviable, he doesn't lose that ability to explore.
And I think this is the benefit of showing autism in that capacity. For while the savant moments lead to cool graphics, it is in seeing Shaun's honesty, his uninhibited curiosity, and remembering what it was like to be that and not feel shamed for it that lets you see autism as a gift. Because, while everyone else is shackled by shame or the desire to seem like they have it all together, Shaun is actually asking the necessary questions to adapt and be ready for life. Including just the simple question many adults have trouble asking: Can you help or explain this to me?
Jordan Admittedly Being In It For The Money
Generally, when someone talks about becoming a doctor or in the medical profession, it's for altruistic reasons – especially in media. So to hear someone say it was because they did it for their whole life for free, and now they want to get paid? It made me enjoy Jordan. Not that I didn't appreciate her standing her ground when it comes to her faith and generally not being a pushover, but this just tipped her over.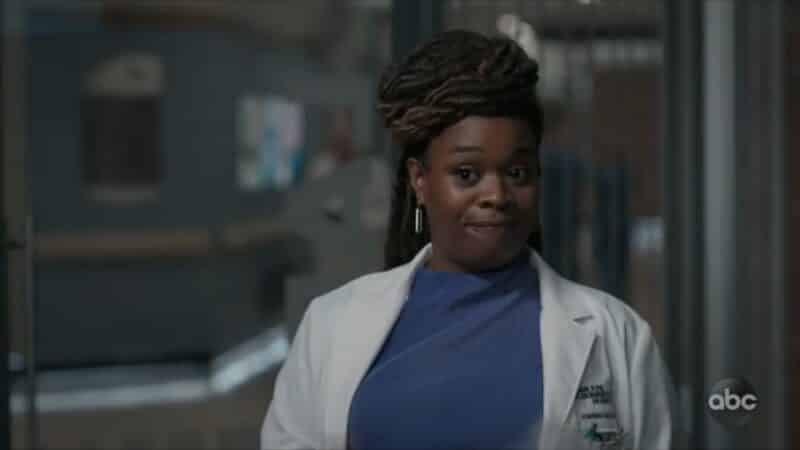 Lea Development
Is Lea revealing she was married over 10 years ago a big deal? Yes. For though there have been bits and pieces dropped throughout the series, Lea's development isn't like Claire or Morgan, when you can really remember the situation when she revealed this about that. We know she is from the east coast, likes a fast car, was very much into serial monogamy at one time, but then the information begins to taper off. Mainly since you'd have to remember details from the first season when Shaun met Lea, and he developed a crush on her.
On The Fence
Enrique & Olivia
With the newbies, each one is starting to carve out their lane as individuals and make a name for themselves. Asher is mysterious due to his religious, or lack thereof, background, the question of his sexuality, and just this overall demeanor, which raises an eyebrow. Jordan has butted heads with multiple people, and though she backs down in time, the audacity has consistently made her one to watch.
Then, with Olivia, admittedly, she isn't living up to this idea of reintegrating Dr. Andrews as one of the prominent cast members. Instead, she is someone who is around, who may get the occasional bit part in someone else's storyline, but as an individual? She doesn't make an impact.
Leaving Enrique. As of this episode, I'm not 100% sure how to feel about him. At first, he seemed potentially interesting just because he was unconventional. However, between the makeshift home that the hospital just lets him have in the parking deck, him being polyamorous, and just feeling like they are dropping a notable number of quirks, he comes off like an odd duck. Which, with him being Claire's potential next love interest, as much as you could think to yourself how wonderful it could be since he is so different from what we've seen her with, it does make him come off like another character who she may chew up and spit out.
For at this point, it seems being Claire's love interest is a sign your character is at the end of their storyline. Granted, this has only happened twice, with Jared and then Dr. Melendez, but you must admit it does feel like a pattern is forming.
[amazon bestseller="The Good Doctor ABC" items="3″]
[ninja_tables id="46813″]
Summary
Claire Opening Herself Up To Not Just Love, But Friendship - 88%
Appreciating That, Once Shaun Asks All His Questions, His Understandings Simplify The Complex - 90%
Jordan Admittedly Being In It For The Money - 83%
Lea Development - 82%
Enrique & Olivia - 76%
"The Uncertainty Principle," as it drives you to look more into the longevity of love, brings about Lea getting developed, Claire getting a new potential love interest, and a newfound appreciation for Shaun.